Magnum Tonic Wine is a fortified alcoholic brew that is said to provide a boost of energy and sexual vitality. Derived from Jamaica and the Caribbean, this wine has become all the craze lately due to its intoxicating effects.
While Jamaican Magnum Tonic Wine may be popular, there have been mixed reviews across the internet. That being said, it's important to know all you can about this unique, ready-to-drink fortified tonic wine before purchase.
We've sorted through customer reviews and research to provide you with the nuts and bolts of the tonic wine to help decide if it's right for you. Read on to learn more about Magnum Tonic Wine.
Overview
Before diving into all of the specifications of Jamaican Magnum Tonic Wine, it's important to understand exactly what it is.
What is Magnum Tonic Wine
Magnum Tonic Wine is an alcoholic mead drink that contains Jamaican sparkling water, grapefruit juice, and natural flavoring. The product is a ready-to-drink offering that is bottled at 16.5 alc vol that can be served from the glass container or in a wine glass for enhanced flavor.
Magnum Tonic Wine had found great acceptance in Jamaica, as it's a popular drink that contains vitamins and serves as a sexual stimulant. This drink is named after a dance hall and has become a folk remedy on the island throughout Jamaica.
So, while it's known for its intoxicating effects and can serve as a sexual stimulant, what's actually in this tonic wine from Jamaica?
Ingredients
Magnum Tonic Wine is known to have a sweet, unique, and refreshing taste. That being said, what ingredients lie within this dance-hall-named drink to give it its invigorating flavor?
The ingredients related to the tonic wine include carbonated water, white grape juice, high fructose corn syrup citric acid, contains 2% or less of fresh grapefruit juice from concentrate, artificial color, natural flavoring, sucrose, citric acid, potassium sorbate (preservative), potassium metabisulphite (preservative).
Magnum Tonic Wine Benefits
In Jamaica, there are many claimed benefits that are related to the wine that has found to provide noticeable effects, including: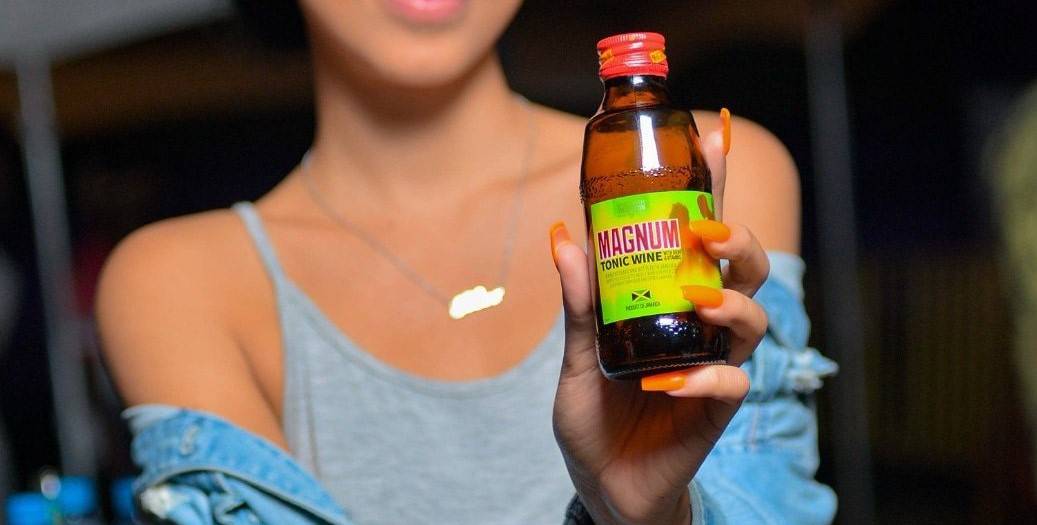 Sexual Vitality
Magnum Tonic Wine from Jamaica has been linked to effects related to stimulating sexual feelings. This is due to its Vigorton 2, which is a sexual stimulant that has similar components related to the prescription medication Viagra.
Intoxication
Magnum Tonic Wine also has intoxication-related effects, as it contains 17.5 percent alcohol by volume per bottle. There's a good reason as to why this drink is associated with the club scene, as it contains triple the amount of alcohol in American beer. According to reviews, this wine has received 5 stars when it comes to its intoxicating nature.
Energy
Not only is Magnum Tonic Wine loaded with alcohol, but it also contains vitamins, minerals, and herbs that give you an energy boost. This is due to the combination of vitamins that lie within the alcoholic drink, mainly iron and B12.
Magnum Tonic Wine Side Effects
While there aren't many adverse reactions associated with this drink specifically, it's important to note the side effects of alcohol when consumed, including:
Vomiting
Headaches
Drowsiness
Distorted vision and hearing
Upset stomach
Diarrhea
Slurred speech
Because Magnum Tonic Wine contains such a high level of alcohol, it's crucial that you monitor your intake to prevent harmful side effects such as alcohol poisoning.
If you feel you've drunk too much alcohol, seek medical care immediately, as medics will be able to provide the proper treatment and monitoring you need to remain safe.
Magnum Tonic Wine Complaints
Although there are many alleged benefits of this product, there have been some customer complaints as well. After its consumption, customers have said that the mouthfeel is very dry, and the roughness of the wine is its downfall. Other than that, there aren't many other complaints about the alcoholic beverage.
Key Takeaways
All in all, this drink is an inexpensive, enjoyable alcoholic beverage option that has a unique and distinct taste. Its ability to provide a boost of energy and sexual vitality makes it a popular choice both in Jamaica and everywhere else it's sold.
Magnum Tonic Wine should be consumed in small doses to avoid any side effects, as it has a high alcohol content of 17.5 percent.
Who is Magnum Tonic Wine best for?
This drink is great for all kinds of social gatherings because of the boost of energy it provides after consumption. The refreshing and distinct taste of this Jamaican drink is typically a popular choice among other alcoholic beverages, but that doesn't mean everyone loves it.
If you fall into any of the below categories, you'll likely enjoy Magnum Tonic Wine:
Those who like rum
Those looking for an inexpensive drink option
Those interested in a sexual stimulant
Experienced drinkers
Related
Can those with a peanut allergy drink peanut butter whiskey?