Druggenius.com is reader-supported. We may earn a commission through products purchased using links on this page. Learn more about our editorial process here.
Calibrate Weight Loss Reviews – Losing weight is a source of anxiety for many of us who struggle with our body image and health and raises questions like "Where do I start?" or "How do I keep the weight off once I've lost it?"
Fad diets and so-called quick fixes like pills and extreme food restrictions are often advertised to help you lose weight, but many of them could be detrimental to our health.
Calibrate is the new kid on the block, promising to help you safely lose up to 10% of your body weight, and keep it off.
Although Calibrate is still a young, growing company, it's already produced the results that many of us dream of. 
With a track record of users losing 10% or more of their body weight, we're curious to know what makes this company and its program so successful.
This article serves as our investigation into what Calibrate is, how it works, and what results you can expect if you join their Metabolic Reset program.
Calibrate Weight Loss (Our Review)
What is Calibrate weight loss? Calibrate was started in 2020. It's a personalized and holistic 12-month weight loss program.
The Metabolic Reset program offers a weight loss solution for people who struggle to lose weight or have hit a plateau on their journey.
Calibrate is one of the only programs that offer a clinically researched approach to weight loss that has been vetted and approved by a clinical advisory board.
During the program, you will work closely with a dedicated Calibrate medical team that aims to 'fight biology with biology'. 
Their approach to long-term weight loss combines four pillars, including improved sleep, a healthy diet, regular exercise, and improved emotional health.
Calibrate is a proprietary telehealth plan that offers a unique program incorporating both education and lifestyle changes. The Metabolic Health Reset also includes a dedicated team of accountability coaches and medical professionals.
Each level of the program furthers your weight loss journey and helps to keep you on track with emotional, exercise, food, and sleep goals. These goals all serve to ensure lasting success after the one-year reset has ended.
Our detailed analysis breaks down the most important aspects of the Calibrate program. We've aimed to answer any questions you may have when considering Calibrate as your weight loss option.
Pros 
Based on clinical studies and scientific research
Medications are FDA-approved
Vetted by medical professionals
Personalized to suit your lifestyle
Holistic approach to weight loss
One-on-one support from coaching and medical teams
Cons 
Expensive
Eligibility requirements may exclude some people 
Calibrate app is not fine-tuned
Detailed Analysis 
Program Structure – What is Calibrate Weight Loss?
Calibrate offers you a year-long telehealth metabolic reset program.
Telehealth is a relatively new concept and allows for health services to be provided to patients over the phone or the internet.
Telehealth is also a great way to provide remote contact between a doctor and a patient. Virtual health services give doctors the ability to remotely offer advice, care, education, medical intervention, and health monitoring. Doctors are also able to order remote admissions. 
The Calibrate metabolic reset encompasses four pillars of metabolic health to create a holistic approach to weight loss. These pillars are regular exercise, sleep regulation, a revised diet, and better emotional wellness.
The program is divided into four levels. Each level spans three months and relies on a regiment consisting of lessons and activities, bi-weekly goal-setting, and virtual coaching.
Your coaching team is considered your accountability partner and helps you to set goals and keep on track throughout your weight loss journey.
Level 1 – 'Learning'
The first three months are focused on learning the foundations of Calibrate's program, including metabolic health. You are required to read 1 to 2 lessons a week to educate yourself on how to begin metabolic reset and make the required changes needed for success.
Level one also pairs you with your accountability coach. This coach will assist you to outline your bi-weekly goals throughout the year.
You'll also have bloodwork and lab tests done and meet with your Calibrate doctor for 45 minutes via a virtual appointment. Your doctor will assess your lab results, answer any questions you may have about the program, and advise you on how it can be altered to suit your needs. 
Level 2 – 'Practicing'
During months 3 to 6, you'll continue to meet with your coach and adjust your goals based on how far you've come.
On months 3 and 6, you'll have a check-in with a medical team to assess your health and ensure your body is adjusting positively to the metabolic reset.
Lessons provided to you during level 2 help to build knowledge and solidify your lifestyle changes. The lessons become more modular and personalized, giving you the ability to choose classes that suit you. Like choosing a college major. 
This narrows your curriculum to make your weight loss journey more specific to your needs. 
Level 3 – 'Setting'
Starting at month 6, you'll begin to further refine your lifestyle changes and create habits that are easy to follow.
Continued meetings with your accountability coach help you to ensure that the skills that you're building are sustainable for you.
Weekly lessons help you to better focus on the content you chose in level 2.
Level 4 – 'Sustaining'
For the last three months of the program (months 9 to 12), you and your coaching team will make sure that you are meeting all of your goals and that you are set up for long-term success.
You'll have outgoing lab tests done and meet with your Calibrate doctor to check your health indicators like cholesterol levels and blood sugar.
Goals
Calibrate's Metabolic Reset program supports your weight loss through constant progress tracking and a team of accountability coaches. These coaches keep you on track and work with you to set easy, attainable goals throughout the program. 
There are long-term goals that Calibrate promises to help you meet at the end of their one-year Metabolic Reset, which is separated into four categories. 
Emotional Goals
Making long-term emotional changes is crucial to sustaining your weight loss and enjoying a healthy lifestyle. 
Calibrate helps you incorporate easy techniques to reduce daily stress by recognizing and targeting emotional triggers.
It's not uncommon to give up on long-term goals when under emotional duress, and high levels of emotion can lead to overeating or comfort eating.
Emotional health triggers include anxiety, anger, loneliness, and feeling overwhelmed. Trauma responses or triggers also have adverse effects on your emotional health.
By recognizing and working on your emotional triggers, you improve your mood and stress levels.
Exercise Goals
Calibrate's Weight Loss regime doesn't require you to subscribe to excessive or intensive exercise regimens. Rather, it helps you to begin making improvements in your current daily activity. 
Making exercise a pleasant rather than daunting experience helps you incorporate 150 minutes of moderate exercise per week into your weight loss plan. This amounts to just over 20 minutes a day. 
Calibrate encourages simple ways of meeting your exercise goals, like brisk walking, swimming and even mowing your lawn. You can discuss your preferred exercise with your team coach. 
Food Goals
Calibrate is focused on helping you achieve your food goals by decreasing the amount of unhealthy and processed food in your diet. Instead, you're given the tools necessary to cook healthy, natural food.
Your Calibrate team works hard to make sure the foods you eat are not only high quality but are also in line with your dietary restrictions and weekly or monthly food budget.
At the end of the program, Calibrate hopes to help users feel in control of their diet, without feeling restricted from the food they enjoy the most.
Sleep Goals
Although it may seem unrelated, sleep is an important part of weight loss.
When you have low energy levels, your body craves more food to use as an additional source. This increases your appetite, which means you run the risk of overeating.
By implementing a regulated sleep schedule, you increase natural energy stores, reducing the body's need for extra calories. 
Calibrate Weight Loss curriculum gives you the education and tools needed to track your sleep and establish your body's baseline. This helps you set up a more consistent sleep schedule and aids you in getting not only more sleep, but more restful sleep.
Calibrate Weight Loss Journeys
@rentastic17
TikTok user and Calibrate subscriber @rentastic17 is down 40lbs since starting her weight loss journey.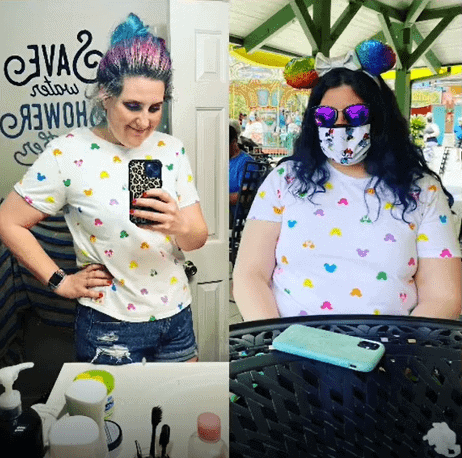 @tyneebublz
User @tyneebublz has lost 30% of her starting weight by combining the Calibrate program with a healthy lifestyle.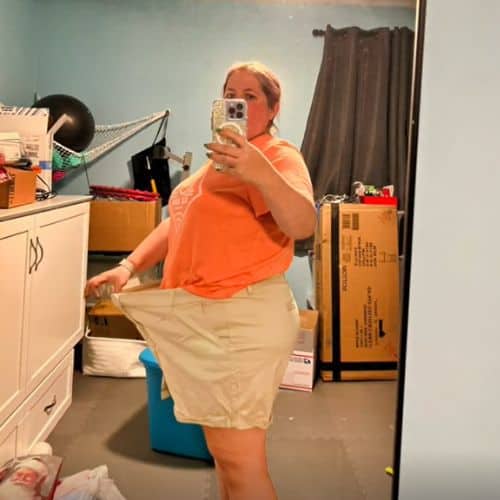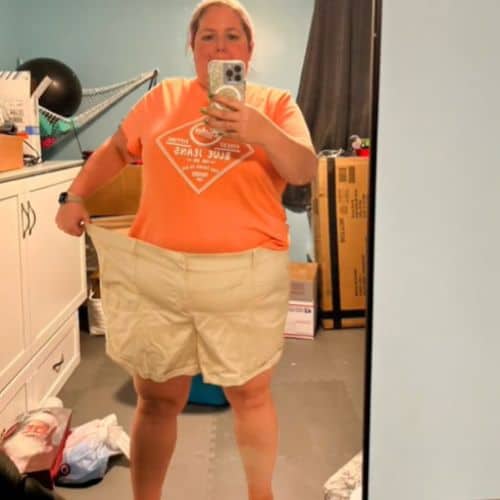 @bennyrn12
User Ashley B has had issues with the customer service provided by the Calibrate team. She notes that she has had to ration her shots due to Calibrate not communicating efficiently with her insurance. She has found the GLP-1 effective in helping her lose weight but states that due to the issues and the cost of the program she would not recommend Calibrate.
Calibrate Weight Loss Eligibility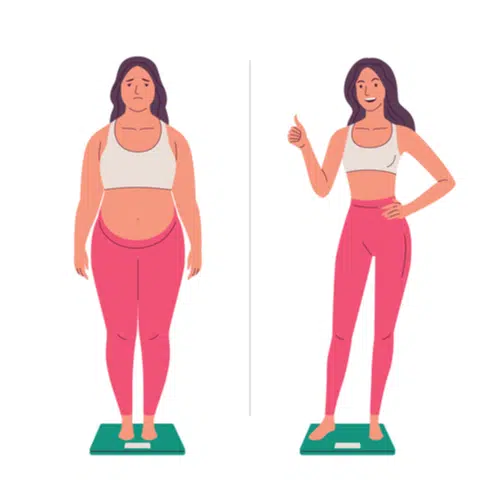 Calibrate requires you to meet certain criteria for you to be considered eligible for their weight loss program. 
You need to be between the ages of 18 and 64, with a BMI of above 30 to qualify for Calibrate's services. You may still be considered if you have a BMI of 27 or above if you suffer from a metabolic condition such as hyperthyroidism. 
The Calibrate Weight Loss program does not accept women who are pregnant or breastfeeding, anyone who suffers from substance abuse, or anyone struggling with an eating disorder.
Similarly, certain medical criteria may also exclude you from the program. If you have cancer, an active gallbladder disease, a history of pancreatitis, or have had recent bariatric surgery, you will not be eligible.
You are also required to have employer-provided or commercial health insurance in order to join Calibrate.
The program is available in 26 states, but Calibrate has plans to expand into other states soon. Calibrate is available in:
Arkansas
California
Connecticut
Delaware
District of Columbia
Georgie
Illinois
Indiana
Kentucky
Maine
Maryland
Mississippi
Missouri
Nebraska
New Hampshire
New Jersey
New York
North Carolina
Ohio
Pennsylvania
South Carolina
Tennessee
Texas
Virginia
Washington
Wisconsin
Calibrate's eligibility standards ensure that everyone who joins their program receives individual attention. Users are monitored during their personalized coaching sessions, which are altered to customize their weight loss regime. 
---
Calibrate Weight Loss Medications
Signing up for Calibrate gives you access to their onboard team of medical professionals and doctors. 
Medication is a part of their holistic weight loss plan and is prescribed by one of the medical staff.
The medications prescribed are known as glucagon-like peptide-1 agonists or GLP-1s. 
These peptides are hormones naturally produced in the gut. They send signals to your brain that trigger improved metabolic functioning, decreased appetite, and regulated digestion.
Better digestion regulation keeps you feeling full for longer after eating and aids in nutrient absorption.
GLP-1 medications work on the same receptors as your body's natural glucagon peptides. They influence various aspects of your body, from inflammation to irregular blood pressure.
Using medications that are formed from GLP-1s improves your metabolic health by lowering your natural set point weight. Once altered, your body will maintain its new weight set point. This can reduce body weight by up to 10%.
These medications are also commonly used to treat type 2 diabetes but have been researched in people without diabetes for their weight loss properties. They have been credited as one of the safest and most effective medications for long-term weight loss.
The FDA has recently approved the use of the GLP-1 medication Liraglutide for weight loss in clinically obese patients.
In a trial of around 3,700 non-diabetic patients, participants were given a daily subcutaneous injection of GLP-1s for 56 weeks. Each participant had a BMI of 30 or above, with some having a BMI of at least 27 if they also suffered from dyslipidemia or hypertension.
The results of the trial showed promise for the use of GLP-1s for weight loss, with 63.2% of participants losing at least 5% of their overall body weight, and 33.1% losing more than 10%. The GLP-1 injections were coupled with a weekly exercise regimen of at least 150 minutes a week and a daily calorie deficit of 500 calories.
In addition to the weight loss experienced, participants reported having an easier time maintaining their weight after the trial ended.
This trial makes it apparent that GLP-1 medications are most effective when used in conjunction with an adjusted diet and regular exercise. 
Calibrate Timeline To Lose Weight
Month One
– Get lab work to establish your baselines.

– Meet with a Calibrate doctor and get an FDA-approved prescription medication that's right for you.

– Meet your coaching team.
Month Two
– Start your prescribed medication.

– Feel more consistent energy thanks to improved sleep habits.

– Start to develop mindful eating habits.
By Month Three…
– Lose 5% of your body weight and reduce your overall body fat percentage.

– Feel improvements in sleep, energy levels, and exercise stamina.
By Month Six…
– Reach your 10% weight loss goal, and measure a smaller waist circumference.

– Reinforce and build on metabolically healthy habits.

– Set and meet new goals, like exercising 150 minutes per week.
In One Year…
– Continue to maintain at least 10% weight loss.

– Get lab work again to check progress.

– Have sufficient metabolic health to reduce or go off medication for health conditions like high blood pressure and diabetes.
---
Calibrate Weight Loss Price – How Much Does Calibrate Weight Loss Cost?
Calibrate currently offers two services on their website, namely the One Year Metabolic Reset and a one-off Metabolic Health Assessment. 
The One Year Metabolic Reset is priced at around $130 a month as part of Calibrate's early access package. You can either choose to pay every month or pay the yearly fee at the start of the program. A yearly subscription fee is around $1600. 
The program offers you a Metabolic Health Assessment, with ongoing access to care from a team of medical health professionals. It also offers 12 months of personalized coaching from a professional team that meets with you for 15 minutes every 2 weeks.
You'll receive a free welcome kit with a blood pressure cuff, a smart scale, and access to the Calibrate mobile app.
The one-off Metabolic Health Assessment is a consultation session with one of the Calibrate doctors through a video call.
Your doctor will order lab tests and bloodwork to give you an accurate assessment of your current metabolic health and review your results with you. They will answer any questions you may have on the program and explain the Calibrate method.
An assessment costs around $250 as part of the early access package but can cost around $500 after this package expires. Your payment will be credited to your Calibrate account if you choose to join the program following your assessment appointment.
Note that these prices do not include the lab work and prescription medications that form part of the program. 
Calibrate promises to work closely with your health insurance to get your lab tests covered and cap your medication payments at around $30 a month.
Calibrate Weight Loss Reviews 
Calibrate is a relatively new program, founded in 2020. Since then, it's received a positive overall rating of 4.49 stars from 80 reviews. This means that 85% of users recommend Calibrate.
5 ★★★★★ – 56
4 ★★★★ – 13
3 ★★★ – 8
2 ★★ – 3
1 ★ – 0
The Calibrate team responds to most of their reviews, both positive and negative. They communicate directly with users and help them with any problems they encounter. 
Positive Reviews
It's obvious, when reading the reviews, that almost every user has seen or felt results.
Reviewers are quick to praise Calibrate's coaching and accountability system. The feeling of continuous support helped many of them to feel less alone on their weight loss journey and make difficult mindset and lifestyle changes
Some Calibrate users also mentioned enjoying the educational aspect of the program, crediting the lessons with giving them the tools to achieve their desired results. 
One user who has already completed the program saw a 23% loss of their body weight and was able to safely come off of their blood pressure and cholesterol medication. 
Negative Reviews
Looking through the reviews of Calibrate, it's difficult to find negative reviews.
Many of the unhappy Calibrate users have brought forward issues related to the progress-tracking app, stating that the application is not as user-friendly as it is advertised to be. 
Other negative comments seem to focus on the changes being made to Calibrate's program, although this could be chalked up to the fact that Calibrate is still in the early stages of implementation.
Although rare, some users are also unhappy with the responsiveness of the coaching and medical teams.
Calibrate Weight Loss FAQ
What is a Metabolic Reset?
A metabolic reset is a way to increase your body's metabolism. Metabolic resets allow your body to respond to food, sleep, health, and emotional triggers in a healthy and sustainable way.
Your metabolism breaks down food for energy and regulates bodily processes like breathing, digestion, blood circulation, temperature regulation, and brain function. 
An increased metabolism can help you burn calories and lose weight, but your metabolism is also important for other bodily functions.
Does Calibrate Metabolic Reset work?
Calibrate's fresh approach to their method of metabolic reset has been clinically tested to prove its efficacy.
The medications used are prescribed by a qualified medical team. They are FDA-approved and have been clinically proven to help aid in weight loss safely and effectively.
Calibrate doesn't advertise an overnight weight loss promise, but rather aims to help its users lose weight in a way that ensures long-term weight loss success. Your coaching teams work closely with you as the individual to set reasonable, realistic goals that fit into your lifestyle and daily schedule.
Calibrate's holistic approach incorporates sleep, exercise, diet, and emotional health. This ensures you're creating changes that work towards your goal of sustainable weight loss.
How much time do I need to commit to the Calibrate program?
Calibrate's Weight Loss program can be adjusted to fit into your day-to-day life, without too much time commitment.
The first consultation with your Calibrate doctor is 45 minutes but is scheduled to a time that best suits you. Follow-up consultations with your medical team are only at the 3, 6, and 12-month mark – meaning you only have to give up a few minutes of your time for check-ins every few months. The Calibrate curriculum is loaded onto your progress tracking app, which is an easy way to access your lessons when it suits you. You only need to read around 2 lessons a week, which are a few minutes each.
Bi-weekly appointments with your accountability coach are only 15 minutes each and can be arranged at a time that suits you.
The amount of time you need to commit to the Calibrate program is minimal, but you will need to make sure you have put enough time aside during the week to meet your exercise goals of 150 minutes.
How is Calibrate different from other weight loss programs?
Calibrate doesn't offer a miracle weight loss solution, but rather a way to lose weight through holistic, sustainable methods.
We're sure you have heard of a pill or diet that promises you extreme weight loss in just a few weeks, but these methods have so far produced poor results.
It's estimated that around 80% of people who lose 10% of their body weight through diet alone will regain the weight. They often end up weighing the same or even more than they did before starting their diet.
Your body seeks out around 100 calories more for every 2 pounds of weight that you lose. This increase in appetite often leads to dieters gaining weight after their diet. 
Calibrate's long-term weight reduction approach is coupled with changes to your lifestyle and ensures that you learn healthier habits that you can easily use long after the program has ended.
---
Related Articles