All licensed clinical psychologists are highly-trained health care professionals with a Ph.D. degree and extensive training in diagnosing and managing mental illnesses. Though you may wonder, can a clinical psychologist prescribe medication for their patients? Let's find out below:
So… Can A Clinical Psychologist Prescribe Medication?
In most cases, a clinical psychologist is NOT authorized to prescribe medication to their patients. There are, however, 5 states that allow psychologists the power to prescribe drugs if they have received the necessary level of training.
These states are: Louisiana, New Mexico, Illinois, Iowa, and Idaho
What Do Clinical Psychologists Do?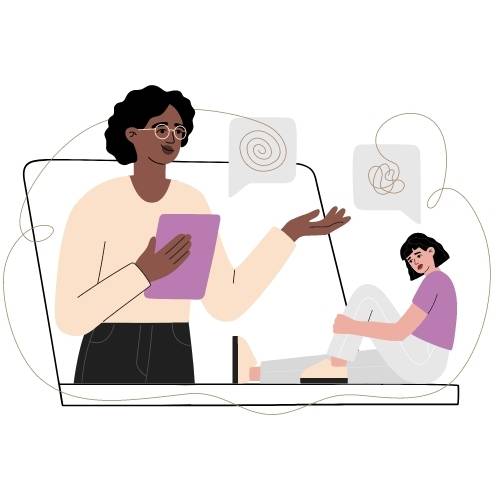 Licensed psychologists are qualified to do counseling and psychotherapy, perform psychological testing, and provide treatment for mental health conditions and disorders. Graduate school for psychologists takes an average of seven years, with coursework that includes the biological basis for human behavior.
Once they have received their doctorate, psychologists must complete 1,500 to 6,000 hours of supervised clinical practice and take a national examination to become licensed. Rules vary in some states like Massachusetts and Texas, where they are required to take a jurisprudence exam.
But while they are referred to as "Dr." by merit of their doctorate, they are not medical doctors. That means most psychologists are not allowed to give medical prescriptions or perform certain medical procedures except in a few states.
Psychologists Vs Psychiatrists — Who Can Prescribe?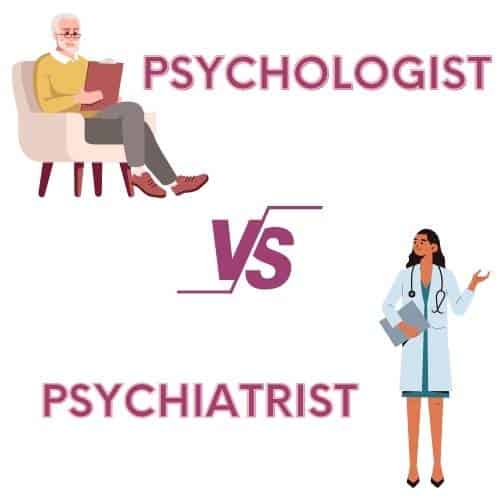 Unlike psychologists, psychiatrists do have prescriptive authority. Psychiatrists are medical doctors having completed medical school and residency with special training in psychiatry. They can conduct psychotherapy sessions, prescribe medications, and other medical treatments for mental health patients.
Where Can Psychologists Prescribe Medications?
Psychologists can prescribe medications anywhere in the military and in five states: Louisiana, New Mexico, Illinois, Iowa, and Idaho. They are also allowed in the Indian Health Service, provided they are licensed in Louisiana or New Mexico.
The late 1960s saw the first movement to grant psychologists the right to prescribe psychotropic medication when the American Psychological Association (APA) identified psychopharmacology, the study of the use of medications in treating mental disorders, as a field of psychology.
In the 90s, the Department of Defense began a six-year trial program to train 10 psychologists to prescribe medication at different military bases all over the country. The trial eventually proved to be a success, but it wasn't until five years later, in 2002, that clinical psychologists in New Mexico officially gained prescribing privileges, followed by Louisiana in 2004. 
Ten years later, in 2014, Illinois became the third state to grant prescriptive authority to psychologists (provided they have undergone appropriate training). In 2016, Iowa eventually authorized prescribing powers to its psychologists, while Idaho was the last state to do so in 2017.
In addition to those mentioned above that have already passed legislation, three states, Oregon, Hawaii, and Texas, currently have pending legislation for prescriptive authority.
Criteria For Prescribing Authority For Psychologists Per State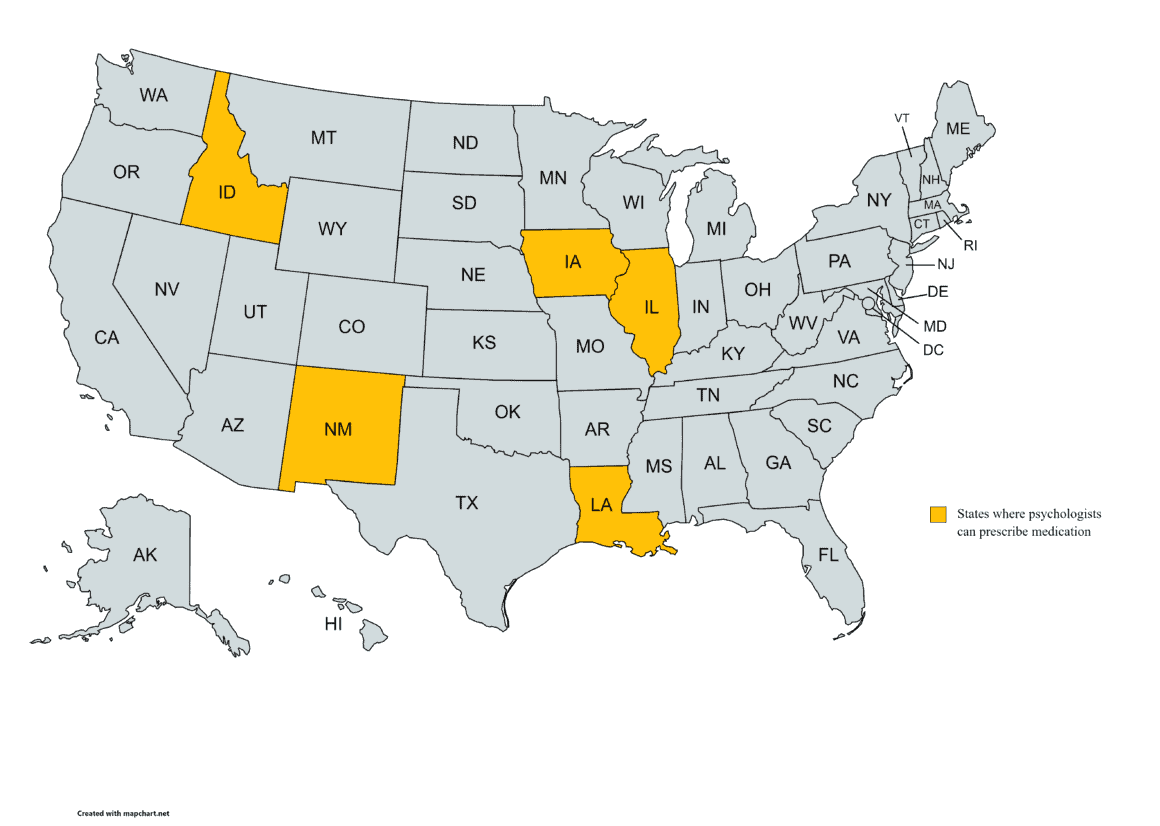 Aspiring psychologists must undergo intensive training and be allowed to prescribe certain medicines used to treat mental disorders. Again, each state varies with its standards: 
Even after completing their degrees, clinical psychologists must be continuously trained in diagnosing, treating, and prescribing proper medication for mental health disorders, unlike primary care physicians, since psychopharmacology is a complex field that requires continuous study to keep current with new advances.
Prescribing psychologists must also coordinate care with a patient's primary care physician, and others must obtain a conditional prescribing certificate before becoming fully independent prescribers.
But psychologists are not the only non-physicians who have been granted prescribing rights. Advanced psychiatric nurse practitioners also have prescriptive authority, although, unlike psychologists, they can prescribe medication in all 50 states. Others include pharmacists, allied health professionals, and physician assistants.
Takeaway
Allowing prescribing rights for psychologists could be considered an essential step to providing thousands of patients with access to comprehensive mental health care and offering an integrated and comprehensive approach to care that saves time and money. That way, it makes mental health care easier and more accessible to obtain, especially where psychiatrists are scarce.
Disclaimer: this article does not constitute or replace medical advice. If you have an emergency or a serious medical question, please contact a medical professional or call 911 immediately. To see our full medical disclaimer, visit our Terms of Use page.
Related Articles