There's no doubt about it: participating in road races is popular in the United States. While the average number of participants is slowly declining, roughly 18.1 million people still participated in such events in 2018 alone, according to a Running USA report. The most popular racing event in the country is currently the 5k (3.1 mi), although completing a full marathon (26.2 mi) continues to be a goal for many amateur runners. Wondering how you stack up to the competition? Keep reading to learn more about average marathon times in the United States.
How Did the Marathon Start?
The event we know as a marathon has a rich history. In fact, you can trace this event all the way back to the ancient Greeks. According to legend, the soldier Pheidippides (Philippides) ran roughly 25 to 26 miles to deliver news to Athens that they had achieved victory in the Battle of Marathon in 490 B.C.. Unfortunately, Pheidippides supposedly died right after delivering the news.

The 1908 Summer Olympics in London began the current tradition of a 26.2-mile marathon; previous marathons had varied between 25 to 26 miles. During these games, though, officials bumped up the mileage to 26.2 miles. Why the extra 0.2 miles? So the race would officially finish in full view of the king at the time.
How Long Does it Take to Run a Marathon?
The answer to this question depends on several factors, including age, average running speed, climate, and more. That being said, one RunRepeat report found the average marathon finish times for the United States varied from 4:24:00 to 5:40:00.
U.S. Average Marathon Times Grouped by Age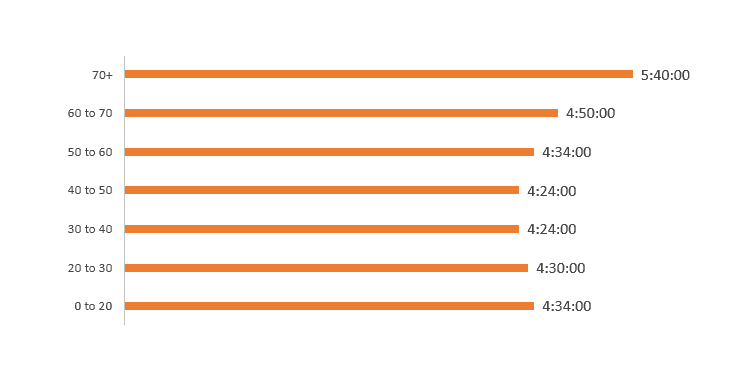 It's important to note that these are the average finish times of amateur runners.
Fastest Marathon Ever Run
So, just who holds the title of "Fastest Marathon Runner Ever"? It's Eliud Kipchoge of Kenya. His fastest recorded time for this 26.2-mile run is 1:59:40 from a 2019 Vienna event, making him the first person ever recorded to run this race in under 2 hours. However, some people don't count the Vienna race as an official record-eligible course.

So, who ran the fastest such course? Once again, it's Eliud Kipchoge, this time from a 2018 Berlin marathon. His finish time was 2:01:39.
Final Thoughts
There's a reason the grueling marathon tops many runners' to-complete list. This 26.2-mile race is a test of muscular endurance and mental willpower, meaning completing one is proof that months or even years of training have paid off.