Druggenius.com is reader-supported. We may earn a commission through products purchased using links on this page. Learn more about our editorial process here.
Duradry is not your ordinary antiperspirant — it's specially designed for those who need extra protection against sweat stains and odor. Now before you make your pick, we're helping you decide which is the best Duradry scent based on customer reviews online.
The Best Duradry Scent – Barça vs Clear Sky vs Limitless vs End Game
Our Favorite: End Game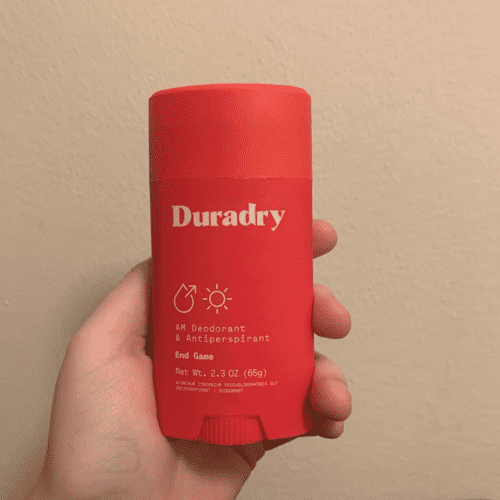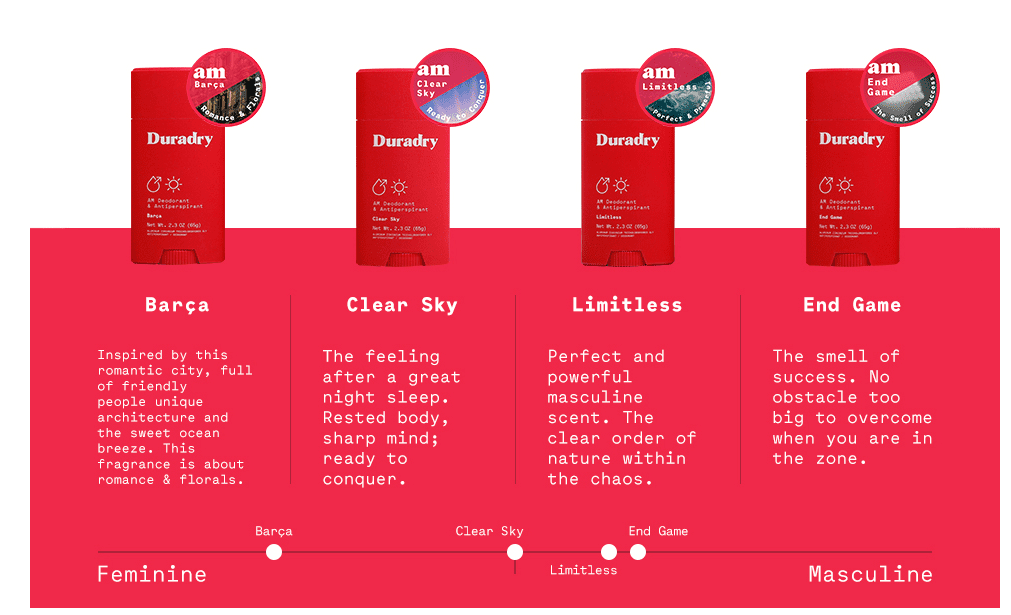 We've tested and reviewed some of the best Duradry scents based on their concepts and what customers have to say about the particular variant based on their experience.
Barça – Aquamarine & Flowers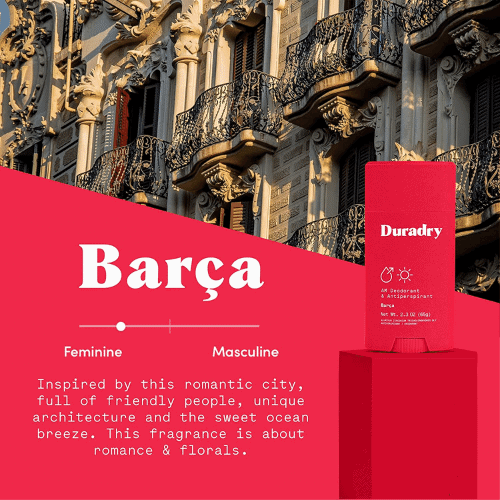 What does Duradry Barça smell like?
Floral scents have always been associated with the feminine, romantic, and elegant. Even in modern times, this particular type of scent is still top-ranked as a woman's staple – an irreplaceable classic. 
Named after the Spanish city of Barcelona, famed for its tourist spots and warm and friendly locals, Duradry's Barça scent works best for people who might want to opt for smelling like a bouquet of freshly picked flowers while evoking a romantic, urban, and Bohemian-like vibe at the same time. 
Customer Reviews
Most of the reviews about Barça commonly note that it was the scent was remarkably girly and feminine, but without being excessive:
"So many women's deodorants are way too fragranced, so I typically use men's. I love that the Barca scent is the happy medium scent I've desired for years. Even better is knowing that this product works to keep my pits dry without causing dryness like other prescription-strength products I've tried. Much love for Duradry products that keep me dry helping me feel confident…" – Angela A.
Clear Sky – Leafy Green & Light Vanilla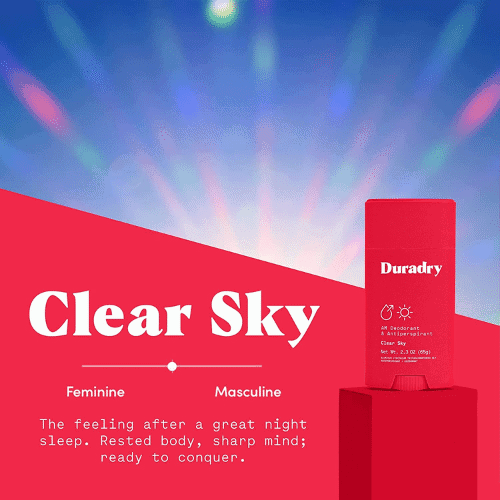 What does Duradry Clear Sky smell like?
Vanilla has a sweet and soft fragrance that exudes a unique calming scent that's incomparable to any other scent, and when combined with leafy green – which gives off the familiar smell of fresh leaves or freshly-trimmed grass, the result is a relaxing combination.
Clear Sky is ideal for those who want something less overpowering but still subtly pleasant. This scent works best, especially if you're freshly showered and are about to hit the sack after a day's rough grind.
Customer Reviews
People who've tried out Clear Sky love its subtle yet clear scent. One customer left this review on the Duradry site: 
"I have tried a lot of deodorants, and this is the best so far. I don't even know if there is any antiperspirant in it or not, but it works. It doesn't just stop me from sweating, but it also cuts down on the odor a lot. The smell is also very pleasant and not overpowering at all. I have tried several scents, but my favorite is definitely the Clear Sky scent." – Shanikka Hill. 
Limitless – Grapefruit & Sweet Musk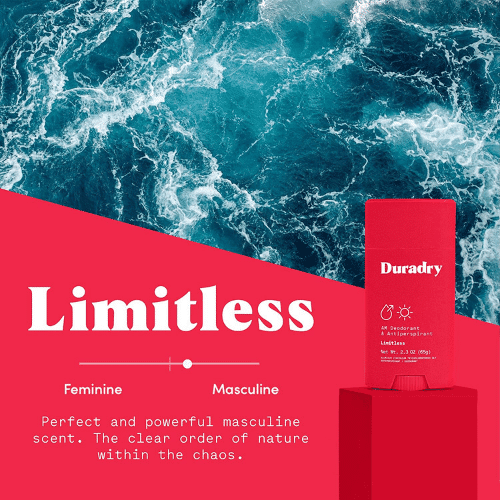 What does Duradry Limitless smell like?
Sweet musk is a fragrance oil made of different flowers and is noted for its delicate floral aromas evoking sweetness and charm, while grapefruit has a fresh, tangy scent reminiscent of lime. But both contain woody, exotic, and musky odors — undoubtedly virile and masculine.
Limitless is ideal for those seeking a more powerful and virile scent.
Customer Reviews
Many reviews for Limitless conclude that it keeps you dry and sweat-free for hours:
"Works great for my wife, and I both love it! No sweat, keeps me dry and smelling good! Lasts me for over 18 hrs or days worth of fun." – Keith. 
End Game – Leather & Sandalwood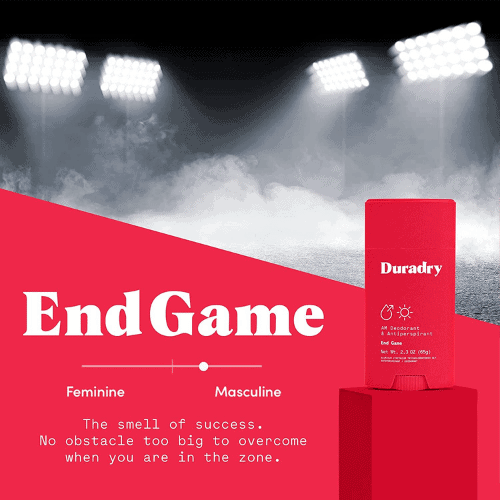 What does Duradry End Game smell like?
The tones of sandalwood are a unique scent associated with high-achievers, perfectionists, romantics, and the passionate. While it has traditionally been considered a "masculine" perfume, it's also been used in many feminine perfumes. On the other hand, leather has smoky, tarry, or burnt odors and is associated with a lively, curious personality.
End Game combines both scents into one, giving you a boost of confidence to successfully overcome any obstacle that comes your way. 
Customer Reviews
One End Game review from Amazon says:
 "…I've tried a couple different scents— Clear Sky and End Game. Both are incredible. Not too strong or overpowering. Not a hint of cucumber, coconut, or overwhelming baby powder…Duradry's scents are modern, clean, and completely delightful in a way that no other products compare…." – Elena.
What Makes Duradry Different
Duradry is an antiperspirant brand that aims to get rid of sweaty underarms in just one week of using products formulated with at least 70% naturally derived ingredients, like hydrogenated castor oil, camellia sinensis (green tea) leaf extract, and aloe barbadensis (aloe vera) leaf juice — which all have properties that prevent excessive sweating and body odor. 
Duradry's AM Deodorant & Antiperspirant is one of the brand's most popular products. It's mainly for people with hyperhidrosis, a common condition in which a person sweats excessively. The sweating may affect the whole of your body, or it may only affect certain areas. Commonly affected areas include the: armpits and the palms of your hands.
Customers attest that it yields the following qualities:
Controls heavy underarm sweating in just one week – More than 97% of users attest that regularly using the Duradry AM Deodorant gives you full dryness and effective sweat and odor defense within just one week of using the products continuously.
Formula anti-sweat & odor control properties – This prescription strength antiperspirant deodorant contains the maximum amount of active ingredients recommended by dermatologists to prevent excessive sweating and block odor molecules.
Doesn't stain clothes – Duradry AM comes in a creamy yet ultra-dry stick, so it doesn't leave unsightly marks on clothes.
All-day odor protection – Aside from causing pit stains and sweat marks, excessive sweating can also lead to body odor. These no-sweat deodorants and deep skin cleansers keep excessive sweating and unpleasant body odor at bay.
Perfect for travels on the go  – The products come in secure, no-leak, and conveniently-sized containers that fit perfectly inside backpacks or toiletry bags without the bulk, making them easy to bring anywhere. 
The brand's other products — Duradry Wash and Duradry PM Gel, are also popular bestsellers. Together with the AM Deodorant, the products are sold as a 3-in-1 pack, the Duradry 3-Step Protection System. 
Factors In Choosing Your Antiperspirant Scent
While most people randomly pick out their antiperspirants or stick to an old favorite, some base their choice on certain factors. If you're considering switching to a new brand, consider the following:
Scent – Like perfumes, deodorants have different scents from which users can pick. Consider one that goes well with your style or personality. 
Ingredients – Ingredients can make or break the product. Certain ingredients in products can do more harm than good for the skin. Make sure to choose a product with ones that are scientifically proven to deliver optimal results.  
Irritation – If your skin is sensitive, you may need to double-check your deodorant choice. Don't continue with a deodorant that irritates your skin.
Reviews – One good way to know more about a product is by checking customer reviews. That way, it will also serve as a guide to which product to use.
Takeaway
Duradry is a highly effective antiperspirant that prevents excessive sweat, blocks out odor-causing molecules, and keeps you dry and fresh for the day. Packed with naturally derived ingredients and 4 different scent blends, you're sure to discover why Duradry is an absolute standout. 
Ultimately, the choice of the best scent depends on your preferences. Factors like scent compatibility, ingredient choice, and customer reviews help you figure out which one will suit you best.