Druggenius.com is reader-supported. We may earn a commission through products purchased using links on this page. Learn more about our process here.
Getting a UV water bottle is a great way to keep your water tasting fresh and safe by eliminating bacteria and viruses residing in it. Water, the most important drink to keep the body hydrated and kicking, needs to be pure and clean since it flows through our organs and cells. Otherwise, it can cause many health problems, and we don't want that now, do we?
What is A UV Water Bottle?
But what's the science behind it? These ultraviolet (UV) powered, self-sanitizing water bottles use UV technology to purify water and destroy any microbes living in it, unlike most kinds of filtered water bottles, which tend to trap pathogens, sediment, and other impurities with filters. 
Reusable water containers often come in shapes and sizes that can be quite challenging to clean with your standard dishwashing tools. Special bottle brushes and cleaners are aplenty, and sterilizing your bottles can be troublesome, if not messy. Still, with a UV bottle, you'll never have to clean your reusable water bottle or worry about whether your water is full of contaminants regardless of the source, even if it's tap or store-bought.
So it's time to ditch your boring old water bottles and get your very own self-cleaning water bottle. You won't need to look further; we've got you covered. We've picked five of the best UV water bottles in the market just for you. 
Let's start with our favorite bottle…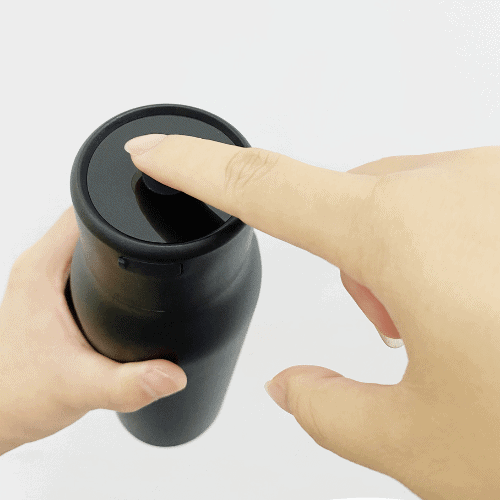 Getting a good self-cleaning water bottle is a worthy investment to achieve good health, and the UVBrite Beam Self-Cleaning UV Water Bottle, for all that it has to offer, makes a good value for your money. This wonder bottle lets you purify your drinking water anytime, anywhere, with just a simple press of a button. 
This bottle prides itself in its intelligent self-cleaning mode goes on every 4 hours to ensure the bottle and water inside are constantly purified. It's equipped with a UV-C LED light located in the cap, which effectively sanitizes water in as fast as 90 seconds. This purification system helps break down chemical bonds and destroys the structure of DNA, RNA, and proteins, effectively killing the microorganisms, mold, bacteria, and viruses present in the water by up to 99.99%. It also has a safety lock feature that prevents any risk of UV-C light exposure.
Truly the perfect travel buddy, the UVBrite Beam bottle's double-walled, vacuum-sealed, and insulated stainless steel build helps maintain temperature, keeping the water inside hot or cold for more than 12 hours. Best of all, it's BPA and mercury-free to ensure maximum drinking safety. 
Pros:
Great price point
Round-the-clock purification system
Chemical, mercury, and toxic-free
Can hold more water compared to other bottles
Elegant, classy design
Temperature control
Lightweight, portable, and easy to use
Cons:
Does not destroy sediment or other particles
The founder of all self-cleaning bottles, the LARQ PureVIs Bottle's antimicrobial power is one for the books. It neutralizes 99.9999% of any waterborne germs, bacteria, and viruses like E. Coli and Salmonella by using innovative non-toxic patented UV-C LED technology to purify water and clean the bottle's inner surfaces by destroying odor-causing bacteria and viruses by damaging the nucleic acids in their DNA. All of that works at the mere touch of a button. It also self-cleans by intelligently activating every 2 hours to maintain the bottle's freshness and keep it from smelling funky inside.
Whether you want your water cool or warm for a long road trip ahead, LARQ does not disappoint! The bottle's double-wall vacuum insulated stainless steel material keeps the water chilled for about 24 hours and hot for up to 12. You also won't have to worry about you getting accidentally exposed to UV-C light when you remove the cap since the bottlecap includes safety deactivation measures to prevent such an instance. 
Best of all, LARQ bottles are BPA (bisphenol A), mercury, and plastic-free, so it's safe for everyone to use and drink from. It also does not need any replacement filters.
Pros:
Efficacy attested by third-party testing
Chemical, mercury, and toxic-free
Sleek, eye-catching sci-fi look
Temperature control
Easy to use
Cons:
Price is relatively higher compared to other brands
Heaviness
Purification system does not remove particles or sediment
If you're a person who's into exploring the great outdoors, you're going to need a trusty self-cleaning water bottle like the CrazyCap 2. You get to reduce a lot of plastic waste and enjoy clean, purified water.
Many third-party laboratories have tested and verified the CrazyCap 2's self-cleaning system's efficacy. This flask sports innovative UV light rays with the same wavelength as those used in disinfecting hospital facilities, water treatment plants, and other industrial uses. Every 4 hours, the UV rays automatically activate to eliminate 99.99% of microbes and pathogens, keeping both water and bottle free of bacteria, viruses, molds, and funky odors in just a minute (or even up to 2 minutes for deeper cleaning)
Thanks to its 304 stainless steel build with double-walled vacuum insulation, the bottle delivers reliable thermal performance that keeps the water hot for up to 12 hours or icy cold for up to an entire day. The build and the matte texture also make it easy to grasp or hold without slipping off easily.
Pros:
Effective water sterilization system
Price-friendly
Faster at sterilizing water and bottle
Activates with just a simple tap
10-year limited warranty
Convenient installment plan
Easy-grip
Cons:
Lid tends to be sensitive and can activate by itself even when held
Bottle opening is narrow, so it may be harder to fill
Tired of empty water bottles cluttering your bag all the time? Switch to the LINK UV-C Self Cleaning Water Bottle, where function follows form. Not only do you get a portable, reusable bottle, it also successfully eliminates 99.9% of bacteria and viruses in your water using the purifying power of UV-C light whenever you're off to work, the gym, or a road trip out of town.
The purification process starts with just a push of a button and lasts for just 60 seconds! This LINK water flask uses patented 275 NM LED UV-C lights to sterilize and eradicate waterborne bacteria and viruses from within by destroying their DNA.  But LINK's magic doesn't stop there; not only will it keep your water bottle bacteria-free, but the double-wall vacuum insulation will keep your water cold for up to 18 hours or hot for about 8 hours. 
The bottle's battery power is also energy-efficient since a single charge can last up to 80 uses, making it perfect for long-hour trips anywhere. The bottle's color and texture complement and go well with various fashion styles. So what's not to like about this bottle? 
Pros:
Portable and compact
Easy to use
Long battery lifespan
Aesthetic appeal
Affordable
Supplier ships in a matter of days
Cons:
Bottle size is smaller compared to other brands
Don't start on your outdoor journey without the UV Self-Cleaning Bottle. Whether tap, lake, or river water, this handy UV water bottle from Sharper Image can certainly do its germicidal magic regardless of your water's source. Make this bottle a part of your must-haves the next time you go camping or hiking in the mountains.
The self-cleaning feature has two cycles to ensure the cleanliness of both water and bottle. Once the water sanitation process starts, the 278 NM LED UV lights built in the bottle cap immediately get activated and purify water as fast as 1 minute for ordinary tap water, and 2 minutes for lake water to fully reduce germs by up to 99.9% without using heat, chemicals, or any kind of substance. At the same time, the double-wall vacuum insulation maintains your desired water temperature for long hours. 
The bottle's solid metal build and sleek and sturdy design are definitely worth noting. Its battery life can last up to 7 days on a single charge, making it ideal for emergencies.
Pros:
Affordability
Long battery lifespan
Solid and sturdy build
Modern, chic design
Lightweight 
Easy to use
Cons:
Size smaller compared to most UV bottles.
Some Frequently Asked Questions
Are UV water bottles safe?
Yes, they are when used correctly. UV water purifiers can kill up to 99.99% of harmful bacteria in water. Most bottle brands also steer clear of using any BPA, plastics, or other dangerous substances, so they don't pose any risk for children. 
Can I use a UV water bottle to purify highly polluted water?
As much as possible, the bottle should only be used in clearing slightly cloudy water from bodies of water that are not heavily polluted or as per the manufacturer's specifications. Why?
The UV light must fully penetrate the water inside to kill all the organisms fully. When water is muddy or murky, the light cannot shine through and eliminate the waterborne bacteria and viruses. It also doesn't work on water with sediment and other particles.
How do I clean my UV bottle?
Simply wash the bottle with soap and warm water and wipe the mouth area from time to time. Technically, since it's used mainly for water, you won't have to clean it so often unless you use it for liquids other than water.
Can it purify other beverages?
UV bottles are mainly intended for water only, so it's not recommendable for other beverages. If you do end up putting drinks like tea or coffee in your bottle, you'll need to hand wash it after each use with warm soapy water.
Can I put them in the fridge or the microwave?
No. Avoid putting your bottle in the freezer, microwave, or dishwasher, as doing so can potentially damage it. Placing the bottle on the fridge, however, while not harmful to the bottle, won't affect the water inside since the insulation prevents it from being affected by external temperatures.
Is it safe to take on flights?
UV bottles are generally safe to carry along with you on flights as long as you empty all the water from the bottle. Also, hand-carrying the bottle is generally more advisable.
Cleaner water for better health
Thanks to modern technological advances, UV water bottles offer an innovative way to purify your water, being 10,000 times more hygienic than your regular reusable flasks. In this way, you won't need to buy expensive machinery or use complicated methods. Simply close the lid and let the UV lights do their magic, and voila! Fresh, clean water on the go, whenever, wherever you want it.
While they are considerably costlier than the bottles you already have, the benefits they offer make it a worthy investment. With all the money you'll be saving from not buying bottled water, you'll easily get back your money's worth and a lot more in the long run.