Druggenius.com is reader-supported. We may earn a commission through products purchased using links on this page. Learn more about our editorial process here.
Taking benfotiamine supplements can help boost your vitamin B1 levels, which is essential to a healthy nervous system, and provides many important health benefits like added nerve support and optimal glucose metabolism.
If you're considering trying out its benefits, check out our selection of the best benfotiamine supplements available in the market and see which one will suit you best. 
Top 5 Benfotiamine Supplements
What Is Benfotiamine?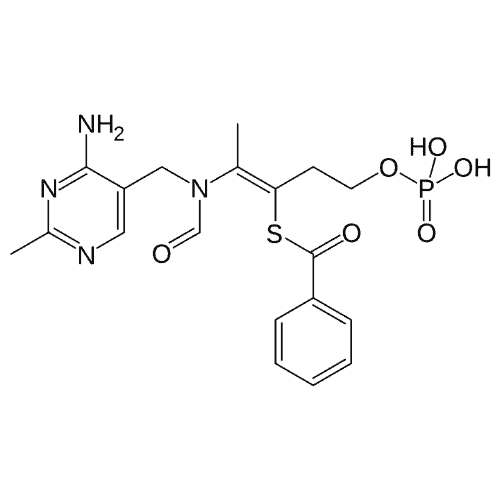 Benfotiamine is a synthetic fat-soluble derivative of vitamin B1 (thiamine). It's principally involved with energy metabolism and the degradation of sugars and carbon skeletons, acting as a modulator to the advanced glycation end products (AGEs). Benfotiamine also has antioxidant and anti-inflammatory properties caused by the inhibition of prostaglandin and leukotriene synthesis.
Health Benefits
Some of benfotiamine's health benefits include:
Diabetic neuropathy
Maintains cardiovascular system
Improves cognitive functions
Protects the liver and kidneys
Promotes better vision
Prevents cancers
Boosts energy levels
Understanding the Need for Benfotiamine Supplements
While thiamine can easily be found in foods like whole grains, meat, legumes, and nuts, some people don't get enough of it due to problems like digestive conditions, lifestyle habits, or diets that can vitamin B1 levels (and even other B-complex vitamins) in the body. 
Taking benfotiamine supplements can help supplement the body's thiamine needs and prevent health risks linked to thiamine deficiency. 
Thiamine Deficiency & Its Effects On The Body
Thiamine deficiency can negatively affect the nervous, cardiovascular, and cognitive systems. Patients with this deficiency may experience symptoms like weight loss, memory loss, confusion, and muscle weakness. In some severe cases (beriberi), some may feel a loss of sensation in the extremities, swelling of the hands or feet, chest pains, vertigo, doubled vision, and memory loss.
This deficiency is mostly caused by eating too many foods with white flour, white sugar, and other highly processed carbohydrates.
Choosing the Best Benfotiamine Supplement
When choosing the right benfotiamine supplement, consider the following factors: 
Potency – When looking at a supplement, always check its reference daily intake (a.k.a. 'RDI,' the measurements used to calculate the appropriate daily intake of a nutrient), which determines how potent the product is. However, a high-potency supplement may not always be appropriate for some users and result in strong side effects.
Bioavailability – A supplement's bioavailability matters, as it increases the amount of the desired nutrient your body can absorb, without taking higher doses.
Ingredients– You may be allergic to certain ingredients used, or contain ones that aren't allowed in certain diets and lifestyles.
Brand reputation – Choosing a well-established brand assures you of the product's safety, efficacy, and quality.
The Best Benfotiamine Supplements: Our Picks
Double Wood's Benfotiamine supplement can help boost you boost your thiamine levels to support nervous system health, Thanks to its antioxidant and anti-inflammatory properties, it can greatly aid with brain function and kidney health.
Being a highly absorbable form of vitamin B1, benfotiamine is converted to thiamine after ingestion and may be up to 5x more absorbable than thiamin alone, and helps boost your energy levels. 
To ensure maximum safety, potency, and quality, each production batch of this supplement is third-party tested. It's also non-GMO, gluten-free, and 100% vegan.
Pros
All-natural ingredients
Vegan
Keto-friendly
Gluten-free
No artificial preservatives
Non-GMO
Soy-free
Ships internationally
Free shipping
30-day money-back guarantee
Cons
Being a relatively new product, it only has a few verified reviews
May cause occasional side effects
Capsule Count
120 capsules 
Dosage Instruction
Take twice daily with water, one capsule after a full meal (e.g., lunch and dinner)
Customer Reviews
The supplement proved to be helpful according to this one user review:
"I read that Benfotiamine could help heal the covering over nerves and reduce transferred pain. It appears to be working in my case. The big toe and thumb pain went away in about three days…I take it mid-day and only 300 mg. It also appears to help with energy in my workouts." – Joseph L. Thornton.
If you're aiming to maintain healthy glucose metabolism, Benfotiamine with BenfoPure can suit your metabolism needs effectively. The combination of benfotiamine with BenfoPure promotes the healthy metabolism of excess sugar in the body and helps greatly with conditions like diabetes.
BenfoPure contains leucine, which is one of the 3 essential branched-chain amino acids (BCAAs), which can be used by skeletal muscles to increase energy during exercises and workouts. The leucine content, along with benfotiamine, can enhance cognitive function and reduce the risk of Alzheimer's disease.
The supplement has zero allergens like gluten and soy, is non-GMO, and suits vegan and vegetarian diets. 
Pros
All-natural ingredients
Vegan
No artificial preservatives
Non-GMO
Free from allergens like dairy and soy.
Free shipping on orders above $25
Cons
Can cause insomnia and other side effects in some people
Capsule Count
60 servings
Dosage Instruction
Take once daily. It's safe to take with or without food. 
Customer Reviews
An anonymous iHerb customer shared their experience with the Doctor's Best supplement:
"Great quality product. it really works as intended. Will definitely get more soon! Thank you so much for this. it was made of high-quality ingredients. Plus the packaging and sizes were perfect. overall good quality. I love the smell and the looks of it. I'm looking forward to purchasing another one!" – Anonymous
Bulk Supplement's Benfotiamine powder contains a concentrated amount of this vitamin B1 derivative that helps promote cardiovascular health, improve brain function, facilitate liver & kidney health, and maintain healthy glucose levels.
Since benfotiamine is easy to absorb, it makes an excellent, all-around vitamin B supplement. You can make it into a pre or post-workout shake to boost your energy levels without the crashes and jitters, or when you're studying to help sharpen memory and focus. 
Bulk Supplements employs stringent quality control standards set by cGMP (Current Good Manufacturing Practices). The powder is made free from GMOs and artificial ingredients. It works best for all diet types, catering to those with wheat, peanut, and allergies
Pros
Vegan
No sugar
No allergens like soy, dairy, yeast, and gluten
No preservatives or additives
Keto-friendly
Gluten-free
Non-GMO
Free shipping on orders over $59
Cons
Doesn't include a measuring scooper
Amount Per Serving
10 grams (0.4 oz) – 67 servings
25 grams (0.9 oz) – 167 servings
50 grams (1.8 oz) – 333 servings
100 grams (3.5 oz) – 667 servings 
250 grams (8.8 oz) – 1667 servings
500 grams (1.1 lbs) – 3333 servings 
1 kilogram (2.2 lbs) – 6667 servings
Dosage Instruction
Take 150 mg of the powder supplement daily. Use a milligram scale to properly measure the dosage.
Customer Reviews
One customer noted in her review of Bulk Supplements' superb product quality and customer service:
"Beautiful product, pure and clean. Packaging is attractive and not bulky. Company response was immediate and shipping was very very quick. Love it! Happy happy customer!" – Arianna P.
Lake Avenue Nutrition's Benfotiamine with Thiamine supplement ensures you get an adequate amount of fat-soluble benfotiamine and water-soluble thiamine to help increase vitamin B1 levels in the body and help support healthy glucose metabolism.
Benfotiamine and thiamine, as we know, help promote healthy blood sugar levels – since vitamin B1 assists in glucose metabolism, where it serves as a cofactor for the enzyme transketolase, helping cells metabolize blood sugar. Benfotiamine also helps prevent cognitive decline, often a side effect of oxidative stress, and helps sustain cardiovascular health. 
Each production batch undergoes strict quality processes and third-party testing to ensure the best quality and efficacy. This supplement contains zero wheat, dairy, yeast, nuts, soy, sugar, GMOs, artificial colors, or preservatives, and is formulated at a GMP-certified facility and third-party tested for maximum quality.
Pros
All-natural ingredients
Vegan
Keto-friendly
Gluten-free
No artificial preservatives
Non-GMO
Free from all major allergens.
Cons
The dosage may be too strong for some people
Capsule Count
120 capsules
Dosage Instruction
Take 1 capsule daily with or without food
Customer Reviews
A customer relates their experience in iHerb on how this supplement benefitted them greatly.
"I didn't know I needed b1 until I started taking this form. I react to most b vitamins so I can't take multi-strain ones. I read a lot about cellular function and the importance of b1 and thought I could benefit. I have. I've noticed an improvement in my energy and a slight digestive improvement. I'm not saying it has changed my life but I feel as though it has enhanced my quality of life. This brand has good ingredients and if affordable so I will continue to buy." – Anonymous 
Benfocomplete's Multi-B Neuropathy Support Formula is specially formulated to provide nutritional support to neuropathy patients and those who need to increase their body's B-vitamin levels.
B vitamins are vital for a healthy nervous system function and are especially effective in treating neuropathy. Vitamin B-1/thiamine in particular helps repair nerve damage, relieve neuropathic pain and inflammation, and utilize carbohydrates for energy production.
Benfocomplete doesn't just supply you with benfotiamine per capsule, it also gives you added vitamins B2, B5, B6, and B12 and folic acid, to help maintain the nervous system and target other health functions in the body.
Pros
All-natural ingredients
Keto-friendly
Gluten-free
No artificial preservatives
Non-GMO
Free from allergens like dairy and soy.
Free shipping
Easy cancellation
Cons
Not suitable for vegans and vegetarians 
Capsule Count
120 capsules
Dosage Instruction
The brand recommends taking 4 capsules per day – twice in the morning and twice in the evening.
Customer Reviews
User AJ considers Benfocomplete as a real blessing from above: 
"I've been taking the Benfotiamine for several months and have felt a lessening of the discomfort in my feet. I have also found that I need to do more on my part and that is walk more. I believe this supplement is a godsend. Thank you for making it available." – AJ
The Science Behind Benfotiamine Supplements
Experts agree and establish benfotiamine's high bioavailability. One study, in particular, reveals that benfotiamine's bioavailability is about five times higher than that of thiamin and almost 4 times more than thiamin hydrochloride.
Benfotiamine was found to prevent nicotine-induced vascular dysfunction. One trial's results showed that benfotiamine treatments can help partially restore macrovascular function in healthy smokers. It's also shown promise in inducing leukemia cell growth inhibition among acute myeloid leukemia patients who are not eligible for standard chemotherapy.
How to Take Benfotiamine Supplements: Dosage and Safety
Recommended Daily Amount
Adults can take benfotamine in doses of 150 – 600 mg, depending on the healthcare provider's prescription. It may be lowered in case of health problems.
Interactions
There is scant information about benfotiamine's potential drug interactions. However, prescription medications like fluorouracil and patiromer may decrease thiamine levels in the body.
FAQ – Benfotiamine Supplements
How long does it take for benfotiamine supplements to work?
A customer can notice some results within as early as 3 weeks of supplementation.
Are there any side effects of benfotiamine supplements?
While benfotiamine supplements are generally safe, they may cause certain side effects like allergic reactions, rashes, itching, coughing, restlessness, fatigue, and wheezing.
Can benfotiamine supplements be taken during pregnancy?
As of date, there is still no sufficient data to establish benfotiamine's safety for pregnant women. Consult your healthcare provider first before considering these supplements.
How should I store benfotiamine supplements?
Store your benfotiamine supplements in a cool, dry place, away from children's and pets' reach. 
Can I overdose on benfotiamine?
Exceeding more than the recommended daily amount of benfotiamine may cause stomach upset, decreased blood pressure, and swelling, among other side effects.
Can I take benfotiamine supplements with other vitamins or medications?
There is little established data on whether benfotiamine interacts with certain medications and supplements. Consult a pharmacist or your healthcare provider regarding your existing medication/supplementation and the possible outcomes.
Recap
Benfotiamine is a lipid-soluble derivative of thiamine. It has an increased bioavailability compared with water-soluble thiamine.
Benfotiamine supports healthy nerve function, maintains optimal glucose metabolism, and promotes cardiovascular health.
When choosing a benfotiamine supplement, consider the supplement that has the better potency, bioavailability, ingredient quality, and brand reputation, to make your supplementation more effective and assured. 
Final Thoughts: Making the Right Choice for Your Health
Benfotiamine supplements help increase thiamine (vitamin B1) levels, which is key to a healthy nervous system and glucose metabolism. Much research, however, is still needed to fully establish its effects on the body.
When in doubt, always consult your healthcare providers before you consider taking benfotiamine supplements for thiamine deficiencies.
Disclaimer: this article does not constitute or replace medical advice. If you have an emergency or a serious medical question, please contact a medical professional or call 911 immediately. To see our full medical disclaimer, visit our Terms of Use page.