Druggenius.com is reader-supported. We may earn a commission through products purchased using links on this page. Learn more about our editorial process here.
Changes in the musculoskeletal system, particularly in the joints, can decrease one's mobility and quality of life. Joint health supplements like Osteo Bi-Flex have been reputed to improve joint problems like joint pain, stiffness, and immobility, but is it truly effective? 
We're breaking down our Osteo Bi-Flex review to check recurring themes and a deeper look at its ingredients to see whether it's really effective or not.
What Is Osteo Bi-Flex?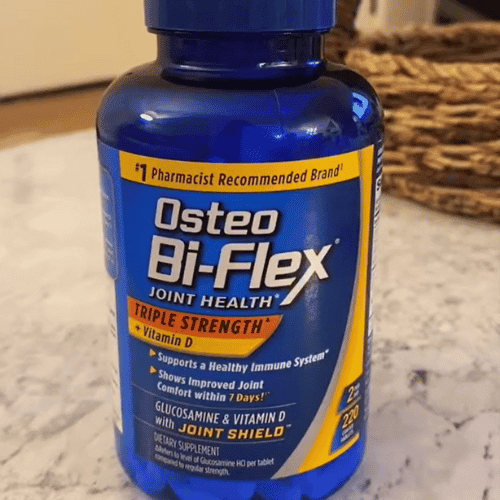 Brand Overview
Osteo Bi-Flex® is a brand manufactured by Nestlé Health Science with a team of scientists, researchers, technicians, and associates focusing on providing high-quality and innovative joint care nutritional supplements to promote optimal muscle, bone, and joint health and an active lifestyle.
Key Ingredients of Osteo Bi-Flex
Osteo Bi-Flex is a joint health supplement that relieves joint-related health problems in as fast as 7 days. It does so through its ingredient blend: 
Osteo Flex-Bi's star blend 5-LOXIN Advanced® is a highly potent concentrated extract of the active ingredient AKBA (Acetyl-11-keto-β-boswellic acid) from the Boswellia serrata herb that effectively reduces joint problems like pain, stiffness, and damaged cartilage. According to studies, the same active ingredient works against cancer, arthritis, chronic colitis, ulcerative colitis, Crohn's disease, and bronchial asthma.
The other active ingredient, CurQfen, is a dietary fiber blend of curcumin and fenugreek that reduces arthritis symptoms and inhibits inflammatory activity. Curcumin (Curcuma longa) is the active ingredient found in turmeric and gives its distinct yellowish pigment and many health benefits, such as pain relief, lower blood pressure, stronger gut health, and many others. Fenugreek, on the other hand, contains potent antioxidant and anti-inflammatory properties.
Osteo Flex-Bi also uses glucosamine, chondroitin, and methylsulfonylmethane. Glucosamine is a naturally occurring amino acid found in the cartilage with anti-inflammatory effects, relieving mild to moderate osteoarthritis. Some studies found glucosamine effective in relieving pain caused by osteoarthritis in the knee, endorsing it as an ideal supplement to treat patients with such conditions.
Other ingredients found among its product variants include vitamin D, essential for bone strength and may support the immune system and other functions like restoring mobility and joint function, and magnesium, which also combats osteoarthritis by strengthening bones and helping maintain joint cartilage. 
Scientific Scrutiny: Does Osteo Bi-Flex Deliver?
Overview of Available Studies
Osteo Bi-Flex's ingredients are scientifically proven to benefit joint health and relieve joint-related problems.
For example, various kinds of research showed that the Boswellia extract or AKBA can significantly reduce macroscopic and microcirculatory inflammatory features and prevent joint pain and other inflammatory conditions. Curcumin is known to block inflammatory cytokines and enzymes, including cyclooxygenase-2 (COX-2), while the saponins found in fenugreek are potential inhibitors of inflammatory cytokines.
Ingredient Dosages
Regarding ingredient dosages, we see that Osteo Bi-Flex goes on to exceed the amounts of some ingredients like glucosamine and lacks in the amount of ingredients like methylsulfonylmethane (MSM) and chondroitin. These could result in side effects and a weaker yield of the supplement's yield of benefits.
Potential Side Effects 
Osteo Bi-Flex is generally safe and has received mostly positive feedback and results, but some side effects like gastrointestinal side effects like bloating, constipation, diarrhea, gas, and stomach pain. 
Since the glucosamine that Osteo Bi-Flex uses is sourced from shellfish, people with severe shellfish allergies should avoid taking the supplement to avoid allergic reactions. 
User Reviews: What Are People Saying About Osteo Bi-Flex?
The following reviews have been taken from Osteo Bi-Flex's iHerb product pages:
Positive Feedback
For Joint Health Triple Strength:
"I felt discomfort in my knees, joints and connective tissues and this supplement really helped to easy the pain. You need to take it in the early stages for it to be useful. Ingredients are balanced and are in right proportions. Doesn't have a taste, but you need to drink it with a big amount of water to make it easier to swallow."
For Joint Health Ease
"…I have arthritis in both my knees. the pain got so bad I had to use a cane to walk. at night when it's cold I have a very hard time trying to get out of bed and walk. I have to use 2 canes at night to walk. after I started taking Osteo Bi-Flex it was a miracle!!! the first night after taking a pill the third time I had to get up I realized I wasn't using ANY cane!! I couldn't believe I was walking on my own. I didn't need a cane or using the walls to get to the bathroom I was so amazed at how fast it works. I've been on Osteo Bi-Flex for 2 months now and I can walk by myself again, I don't need a cane to help me walk…"
For Joint Health (One Per Day)
"My husband drank vitamins for a month, his joints became much better, the pain practically disappeared, he felt better. In general, the vitamins are normal, they suited us, the main thing is that they helped the husband to alleviate his condition. I can recommend it, but it is better to consult a doctor!"
Critical Reviews
For Joint Health Triple Strength + Vitamin D
"I saw through the whole can and did not feel any positive result. It even seemed to be worse – pains in the shoulders were added to the pains in the hip joints along the way. Saw 1 tablet per day, because the dose of vitamin D here is just "horse" -2000 ME. I can't say anything positive about this complex."
For Joint Health Triple Strength:
"I've tried various joint multi-nutrients, but this is almost the only one? A few days after opening, there was an unpleasant odor when taking it. Maybe it's from rancidity. I bought it because it was recommended by a famous pharmacist, but the whole time I ate it, I felt very uncomfortable. I will never buy again!!!!"
For Joint Health Ease Advanced Triple Action
"This product contains UC-II Collagen for joint comfort, and Joint Shield 5-Loxin Advanced Tablets say 7 days to optimize joint comfort. But eating the whole box didn't work for me at all."
The critical reviews showed a common theme – all users took the supplements as prescribed and still did not experience any results. These could stem from the person's response to the supplement or their lifestyle habits during the supplementation period.
Other reviews not featured here also noted the unpleasant odor from the supplements upon opening the package.
Alternatives to Osteo Bi-Flex
Other Trusted Joint Supplements
These other joint supplements are likewise known for effectively relieving joint-related problems and improving overall mobility. If you don't think Osteo Bi-Flex is the one for you, you can check the following supplements out: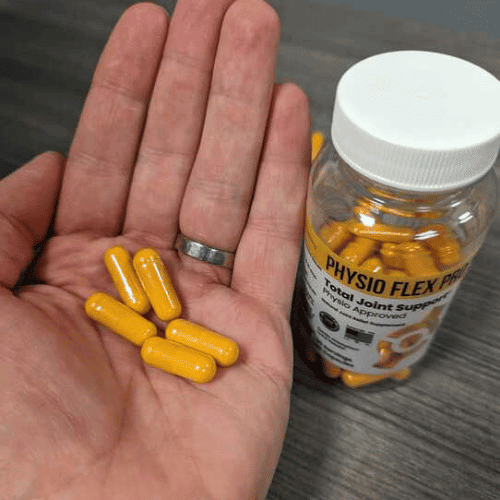 Physio Flex Pro uses select naturally occurring compounds like bromelain, chondroitin, and selenium citrate, which help restore movement, repair connective tissues, and keep the joints flexible and lubricated. Other ingredients like glucosamine, ginger, turmeric, and methylsulfonylmethane have antioxidant and anti-inflammatory effects that strengthen bone and joint health.
This product topped our list of the best joint supplements for several niches.
MoveMD
MoveMD Comprehensive Joint Support restores normalcy and flexibility of joint motion using two patented ingredients – AprèsFlex® and Zanthin® Natural Astaxanthin, which relieve joint pain and reduce oxidative stress in the body to reduce pressure on the joints and instances of inflammation. 
Movewell
Live Conscious' MoveWell Plus aims to lessen oxidative problems and improve joint health through Zanthin® Natural Astaxanthin, ethically sourced omega-3s fatty acids (sourced from krill oil), and hyaluronic acid – both potent and highly bioavailable ingredients that combat oxidative stress, maximize mobility and improve overall joint and bone health. 
Natural Approaches to Joint Health
Eating A Healthy Diet
Consuming highly processed foods, which usually contain excess fats, sugars, grains, and other carbohydrates, can spike pro-inflammatory substances and result in weight gain, putting pressure and tension on the joints.
A healthy diet helps prevent weight gain and reduces joint-related pains and problems. For example, a Mediterranean diet of oily fish like salmon or sardines, legumes, nuts, dairy, garlic, and dark leafy greens is ideal for fighting joint inflammation and benefiting cartilage repair and protection. 
Doing Regular Exercise
Exercising can help combat the effects of joint pain. Many studies show that physical exercise strengthens the muscles around affected joints, prevents bone density loss, lessens joint swelling and pain, and increases the lubrication of the joint's cartilage.
Low-impact exercises like cardio (brisk walking, cycling, swimming, etc.), isometric, and stretching exercises can help maintain strength and improve range of motion. Leg workouts like squats and lunges increase muscular strength and decrease pressure and stiffness from the knees while bending.
Stress Management
The body's stress response fires up the immune system's inflammatory response when under stress. Experts agree that relaxation techniques such as deep breathing, yoga, meditation, tai chi, exercise, and prayer can mitigate joint tension. Sitting quietly for a few minutes and deep breathing can make your body calmer. 
When To Seek Medical Help
If symptoms don't improve with supplementation or the self-care tips above, it's important to see a healthcare provider immediately to help diagnose the condition. They may recommend the following treatment options depending on your condition:
Injections 
Corticosteroid injections can help target and relieve inflammation, while hyaluronic acid injections provide lubrication to the joints to help increase mobility and range of motion.
Surgery 
Doctors may prescribe surgical procedures like joint replacement surgery, which involves replacing parts of an arthritic (partial) or an entire damaged joint (total) with a metal, plastic, or ceramic prosthesis.
FAQ Section
Is Osteo Bi-Flex suitable for everyone?
Osteo Bi-Flex is generally safe for everyone except those with shellfish allergies and chronic venous insufficiency. 
Are there any known interactions of Osteo Bi-Flex with medications?
Osteo Bi-Flex's ingredients, like MSM, Boswellia serrata, glucosamine, and chondroitin, can all interact with blood thinners.
Why are there mixed reviews on Osteo Bi-Flex
There are mixed reviews about Osteo Bi-Flex since everyone has varying responses to the supplement's ingredients and their dosages or how well they observe healthy lifestyle habits. Others may also be currently taking medications that interact with the ingredients. 
How long does it take for joint supplements to work?
There is no fixed time for optimal results since everyone has an individual response to medications/supplements.  However, in most cases, it may take around a month to see noticeable changes.
Can I take multiple joint supplements together?
Taking multiple supplements, in general, isn't advised or recommended. It can reduce absorption and result in adverse interactions and other side effects, harming your health.
Conclusion
Osteo Bi-Flex is a popular joint health supplement that has received consistent positive feedback. While its ingredients are scientifically proven to deliver results, some have experienced a few side effects now and then, but we conclude that Osteo Bi-Flex is effective in relieving joint-related problems.
Researching a particular supplement to see if it fits your health needs before trying it out helps you narrow down to the best choices. You can also consult your healthcare provider for recommendations about ingredient blends, dosages, and other lifestyle changes. 
Disclaimer: this article does not constitute or replace medical advice. If you have an emergency or a serious medical question, please contact a medical professional or call 911 immediately. To see our full medical disclaimer, visit our Terms of Use page.
Related Articles