Druggenius.com is reader-supported. We may earn a commission through products purchased using links on this page. Learn more about our editorial process here.
Joint health supplements like Golden Revive Plus can greatly help a fellow afflicted with osteoarthritis/arthritis or joint-related health problems, which, as we know, can significantly impact the quality of life. But is Golden Revive Plus really as effective as popular acclaim says it is?
To see if Golden Revive Plus lives up to its clout, we will review scientific research about its ingredients and observe recurring themes in its reviews. That way, we'll help you decide whether it's worthwhile or not.
What is Golden Revive Plus?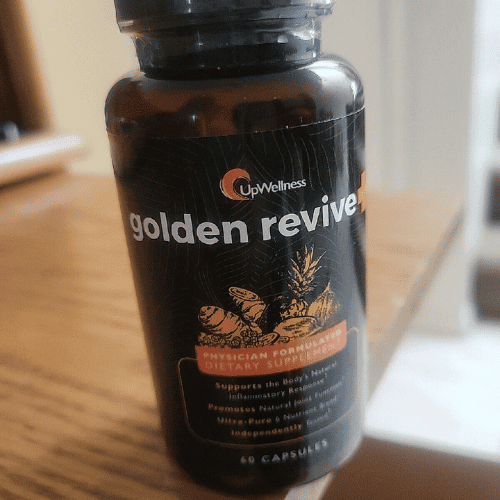 Brand Overview
Golden Revive + offers natural and advanced relief and support for afflicted joints using purely natural and scientifically backed ingredients to effectively revitalize the joints, ligaments, tendons, and muscles affected by inflammation and arthritis-related symptoms.
UpWellness, the brand behind Golden Revive +, is the brainchild of physicians Dr. Josh Levitt, a specialist in natural medicine, and Dr. Amanda Levitt, an expert in nutrition and herbal medicine. The brand upholds the promise of delivering safe and natural supplements for maximum efficiency and promotes a culture of integrity, respect, and transparency to its customers.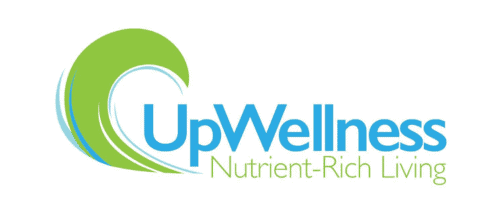 Key Ingredients of Golden Revive Plus
Golden Revive + is made with an advanced combination formula of ingredients scientifically proven and tested to provide relief for osteoarthritis-related symptoms:
Turmeric – Turmeric is a bright yellow spice replete with scientifically proven health benefits, particularly its richness in antioxidant and anti-inflammatory properties thanks to curcumin, which gives it its rich yellow hue and flavor. Turmeric can also reduce cancer risk, lower cholesterol levels, prevent cognitive decline, improve the skin, and relieve symptoms of depression. 
Boswellia – Boswellia serrata is an herbal extract with potent anti-inflammatory, anti-arthritic, and analgesic properties usually used for asthma and joint-related problems like arthritis/osteoarthritis. In Ayurveda, boswellia treats conditions like ulcerative colitis, coughs, sores, and wound healing.
Bromelain – Bromelain is an enzyme in pineapple stems with natural anti-inflammatory properties. It's known for its power in combating osteoarthritis/arthritis symptoms by reducing swelling/tenderness, restoring joint mobility, and relieving joint pain.
Quercetin –  Quercetin is a natural anti-inflammatory flavonoid that protects against atherosclerosis and damage caused by low-density lipoprotein (LDL) cholesterol. It has antiarthritic properties and joint protective effects in various inflammatory joint diseases.
Magnesium –  Having inflammatory effects, studies show that patients with osteoarthritis or rheumatoid arthritis may benefit from magnesium in their diet or as a supplement and experience relief from symptoms. 
Piperine – This alkaloid found in black pepper has shown promise in combating the early acute inflammatory process and can significantly reduce the inflammatory area in the joints.  The same antioxidant also protects against free radical damage in the cells.
How To Use
A bottle of Golden Revive Plus contains 60 capsules. Take 2 capsules daily, every day after a meal.
Scientific Scrutiny: Does Golden Revive Plus Deliver?
Ingredient Quality & Outcomes
One clinical trial aimed to test the efficacy and safety of curcuminoids from turmeric and its combination with boswellic acid vs. placebo for treating 40- to 70-year-old patients with osteoarthritis and found that the combination increased treatment efficiency and was a recommendable treatment option.
One study found that quercetin exhibited anti-inflammatory and anti-rheumatic properties, as well as antioxidant and analgesic effects, making it a potent and highly recommendable treatment for arthritis/osteoarthritis. Another recent trial revealed that oral magnesium supplementation reduced the severity of arthritis symptoms and minimized joint damage.
Piperine was found in one study to have the ability to significantly reduce the inflammatory area in the joints, particularly in the ankles, while another showed the same results, except in pain relief, where it did not produce any strong analgesic effects.  
Potential Side Effects and Concerns
Golden Revive Plus is a generally safe joint health supplement whose ingredients have little incidence of adverse effects. As a fairly new product in the market, no major side effects have been reported yet. 
However, some ingredients may interact with existing medications one may be taking. Ingredients such as turmeric may inhibit blood-clotting medications; quercetin may moderately interact with antibiotics, diabetes, and liver medications (among others), while magnesium interacts with antibiotics, blood pressure medications, and muscle relaxants.
User Reviews: What Are People Saying About Golden Revive Plus?
Positive Feedback
Here are some positive reviews Golden Revive Plus received:
Susan M. Reagan struggled with muscle and joint pain which made daily activities and routines difficult, but gladly found relief with Golden Revive.
"I bought my initial three bottles three months ago and just purchased another three month supply. I was skeptical at first and didn't actually see results for 3 to 4 weeks, but feel noticeably better the longer I've taken it. Before I started taking Gokden Revive, had severe muscular pain and joint pain which made simple tasks like brushing my hair, going up and down the stairs unbearably painful. I had a hard time sleeping because I had so much pain and was taking Motrin and Tylenol every night. Now my pain is very nearly gone or barely noticeable. I will keep taking this as it is definitely working for me." 
One customer decided to give Golden Revive Plus a try after watching an ad about the supplement, and was not disappointed:
"This is the first time that l have used this product. After listening to the detailed internet promotion given by the doctor who developed it. So far so good! I commenced taking it 3 days ago and can lift my right arm more easily than I have been able to for months. As such, l will continue using this product." 
Christian I.  suffered joint pain all over the body for two years, especially in the lower back. Taking Golden Plus Revive within a matter of days provided him with quick, effective relief:
"For two years I suffered pain and discomfort in multiple joints in my body. The worst was my lower back. I had undergone therapy sessions at the Chiropractor which was helpful, but within weeks it to worse. And I could tell something was wrong with my whole body. One day at work, while browsing the web, I stumbled upon Golden Revive+. Because of how desperate I was to find solution to this problem, I took time to watch the video presentation. I was impressed by what I learnt and decided to try a bottle. After two days of 2 capsules in the morning and 2 capsules at night my whole body transformed. I am more relaxed now with little or no pain. I feel like my entire body rejuvenated. Since then I've been a regular subscriber of Golden Revive+. I never let it run out…" 
Critical Reviews
Not everyone has the same spectacular experiences with Golden Revive Plus, as these critical reviews show:
"I have been taking this supplement for a while with absolutely no improvement joint pain wise. It has done nothing at all. I selected this brand from a video I saw ( it supposedly was "invented" by a real doctor) and the reviews of the product…Also the capsules are HUGE, (sometimes sticking in my throat, which is another more serious problem) and I feel the capsules shell break before it reaches my stomach. I found it best to push them down with a full glass of water to avoid this!" – Barbara Bain
"This product is advertised to assist with joint pain and improve joint health. It has ingredients that are advertised to help. It made sense to me to take a supplement that had a combo, but it hasn't been effective for me. I will finish the bottle, but at this time am rethinking what I will do next." – Catherine A. Collins
The recurring theme among the more negative comments was the lack of optimal results, even after consistent intake of the supplement. Other reviews not featured here also showed dismay at the size quality of the capsules themselves, which made supplementation uncomfortable. 
Alternatives to Golden Revive Plus
Other Trusted Joint Supplements
Dietary supplements provide effective relief against joint problems and prevent cartilage damage. Aside from Golden Revive Plus, other supplements have shown promise in relieving joint pain:
Physio Flex Pro uses select naturally occurring compounds like glucosamine, bromelain,  ginger, turmeric, methylsulfonylmethane, chondroitin, and selenium citrate, whose antioxidant and anti-inflammatory effects that strengthen bone and joint health, restore movement, repair connective tissues, and keep the joints flexible and lubricated. 
Instaflex Advanced
Instaflex Advanced is a highly potent joint health supplement that aims to relieve the source of joint discomfort and provides fast, lasting relief starting in 1 week, providing continuous relief thanks to its ingredients backed by substantial clinical evidence to benefit joint health, such as type II collagen, resveratrol, turmeric, and bioperine. 
Turmericx39 – Vitaliv
Vitaliv's Turmericx39 stops inflammation right in its tracks by restoring joint mobility and flexibility and promoting strong, healthy cartilage formation, using the health benefits of Curcugen®, a clinically studied, highly-concentrated whole turmeric extract that's 52.5 times more bioavailable than other concentrates, offering maximum joint and inflammation relief.
MoveMD Joint Support – 1MD Nutrition
MoveMD Comprehensive Joint Support restores normalcy and flexibility of joint motion using two patented ingredients – AprèsFlex® and Zanthin® Natural Astaxanthin, which relieve joint pain and reduce oxidative stress in the body to reduce pressure on the joints and instances of inflammation. 
Alternative Treatments
If symptoms don't improve with supplementation or medication, it's important to see a healthcare provider immediately to help diagnose the condition. They may recommend the following treatment options depending on your condition:
Injections 
Corticosteroid injections can help target and relieve inflammation, while hyaluronic acid injections provide lubrication to the joints to help increase mobility and range of motion.
Surgery 
Doctors may prescribe surgical procedures like joint replacement surgery, which involves replacing parts of an arthritic (partial) or an entire damaged joint (total) with a metal, plastic, or ceramic prosthesis.
Natural Approaches to Joint Health
Eating A Healthy Diet
Consuming a healthy diet of omega-3-rich seafood like salmon or sardines, white meat, legumes, nuts, garlic, and dark leafy greens can help relieve joint pain and inflammation symptoms and benefit cartilage repair and protection. It also helps prevent weight gain and reduces tension in the joints.
On the other hand, consuming highly processed foods, which usually contain excess fats, sugars, grains, and other carbohydrates, can spike pro-inflammatory substances and result in weight gain, putting pressure and tension on the joints.-
Stress Management
When a person is under stress, their stress response fires up the immune system's inflammatory response, putting tension on the joints. Studies show that relaxation techniques such as deep breathing, yoga, meditation, tai chi, exercise, and prayer can remove joint tension.
Doing Regular Exercise
Regular exercise can help combat the effects of joint pain. Low-impact exercises like cardio (brisk walking, cycling, swimming, etc.), isometric, and stretching exercises can help maintain strength and improve range of motion. 
Exercising strengthens the muscles around the joints, prevents bone density loss, lessens swelling and pain, and increases the lubrication in the cartilage.
FAQ Section
Is Golden Revive Plus suitable for everyone?
Given the ingredient quality and the number of positive feedback, it's safe to say that Golden Revive Plus is a suitable treatment option for osteoarthritis. However, it's still wise to consult with a healthcare provider first to see if it suits your health needs.
Are there any known interactions of Golden Revive Plus with medications?
Some ingredients may interact with existing medications one may be taking. Ingredients such as turmeric may inhibit blood-clotting medications; quercetin may moderately interact with antibiotics, diabetes, and liver medications (among others), while magnesium interacts with antibiotics, blood pressure medications, and muscle relaxants.
Why are there mixed reviews on Golden Revive Plus?
People may have varying responses to a supplement's ingredients and how well they observe lifestyle changes recommended to relieve osteoarthritis symptoms. Others may also be taking medications that interact with the ingredients, which could diminish the supplement's efficacy. 
How long does it take for joint supplements to work?
There is no fixed time for optimal results since everyone has an individual response to medications/supplements.  However, in most cases, it may take around a month to see noticeable changes.
Can I take multiple joint supplements together?
Taking multiple supplements, in general, isn't advised or recommended. It can reduce absorption and result in adverse interactions and other side effects, harming your health.
Conclusion
Golden Revive Plus, we conclude, is a supplement that proves itself worthy of its claims and hype, delivering real results. Its ingredients are scientifically proven to target and relieve osteoarthritis-related symptoms and other joint-related issues. There are other joint supplements that we prefer, like Physio Flex Pro but Golden Revive Plus can serve a purpose in certain circumstances.
Before you consider Golden Revive Plus or any other topicals or supplements, consult your healthcare provider first to help you understand your condition more and weigh other options that could better fit your health needs and avoid any adverse effects in the long run.
Disclaimer: this article does not constitute or replace medical advice. If you have an emergency or a serious medical question, please contact a medical professional or call 911 immediately. To see our full medical disclaimer, visit our Terms of Use page.