Druggenius.com is reader-supported. We may earn a commission through products purchased using links on this page. Learn more about our process here.
Fish oil is truly nature's bounty, and its supplements promise many important health benefits, particularly being rich in omega-3 fatty acids, which can promote cardiovascular, visual, and skin health. 
But if you're seeking a more plant-based alternative to fish oil, we're rolling out our top picks for the best vegan alternative to fish oil — algae oil supplements, to help you narrow down on the right product.
Top 5 Vegan Alternatives To Fish Oil
Best Vegan Alternatives To Fish Oil – The List
While fish oil is an excellent source of omega-3 fatty acids, those who follow a vegan/vegetarian diet would naturally want to seek it from non-animal sources. Nuts, oil, and vegetables would then be part of their diet.
Algae oil is a great source of omega-3; others even consider it a greater and more sustainable source than fish oil since fish get their omega-3s from eating algae. Certain microalgae species are especially rich in two main types of omega-3 fatty acids EPA and DHA. As such, these species are grown for their oil.
Total Omega 3: 275mg
EPA: 75mg
DHA: 150mg
Algal Oil: 500mg
Future Kind's omega-3 supplement is a vegan option that uses high-quality algae, a plant-based alternative to fish oil, rich in wellness benefits for the heart, brain, eyes, and joints.
Vegan Omega 3's carrageenan-free algae oil provides additional brain support to help enhance cognitive functions. Its rich EPA and DHA content promotes bone and joint health support, better heart health, sharper eye function, and improved mood. Each capsule is formulated with a citrus tab that prevents fishy burps and ensures great taste.
Approved by dieticians and doctors, Vegan Omega 3 contains no wheat, yeast, nuts, soy, sugar, salt, artificial colors, or preservatives. The products are all formulated at a GMP-certified facility and third-party tested for maximum quality.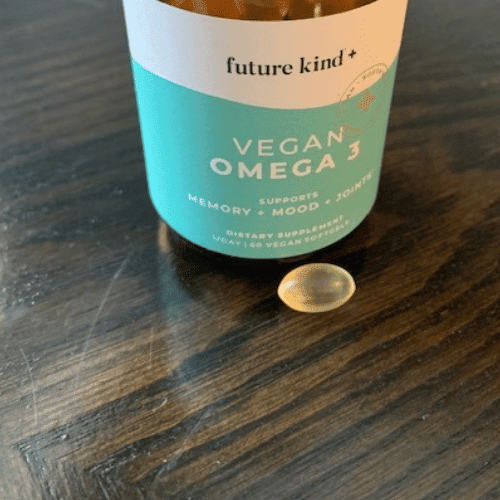 Pros
Uses ethically-sourced, high-quality algae
100% clean, sustainable, and vegan
Third-party tested
No fishy burps
Great taste
Eco-friendly packaging
30-day money-back guarantee
Fast, low-cost, carbon-neutral shipping
Has a self-service return portal
Cons
Not ideal for pregnant/nursing women
Capsule size is a bit too large
Total Omega 3: 550mg
EPA: 150mg
DHA: 300mg
Algal Oil: 1000mg
Calgee's Vegan Omega-3 supplement offers a more sustainable option for those who want a plant-based, fish-free source of omega-3 fatty acids, providing 85% more EPA & DHA fatty acids per serving than most fish oil supplements.
With its ingredient blend considered, it's specially formulated to reduce the risk of cardiovascular diseases, boost health immunity, Improve joint mobility and reduce inflammation and stiffness, and maintain overall brain function for improving clarity and cognition. It also helps improve mood, promote better sleep, and facilitate muscle recovery.
The brand is highly committed to sustainability, using eco-friendly and recyclable or compostable materials. An independent third-party lab tests all Calgee products to ensure they meet high-quality standards.
Pros
Uses ethically-sourced, non-GMO algae
100% clean, sustainable, and vegan
Third-party tested
No fishy smell
Eco-friendly packaging
About 1% of annual sales are pledged to environmental nonprofits
30-day money-back guarantee
Cons
Total Omega 3: 252mg
EPA: 150mg
DHA: 100mg
Algal Oil: 850mg
iwi uses sustainably grown algae oil, which delivers more real EPA and DHA than fish oil without needing conversion and disrupting the ocean.
Being rich in EPA, this iwi supplement can help promote optimal cardiovascular health and get more out of life, help your nervous system stay balanced and communicate properly, strengthen your bones to store calcium properly and keep your joints lubricated and flexible, and promote optimal visual health.
You can be assured of iwi's ingredient purity, with iwi observing full transparency. All products undergo stringent quality and third-party testing to ensure maximum safety and quality.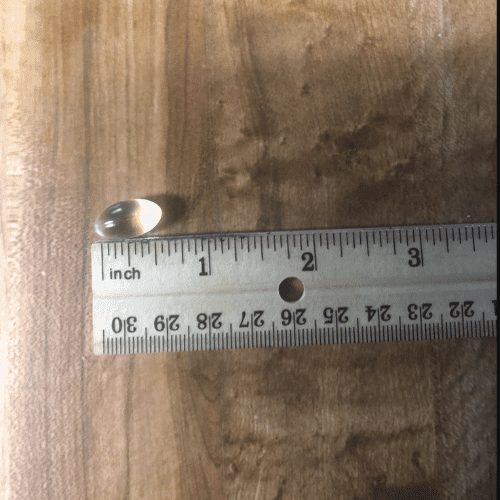 Pros
Uses ethically-sourced algae in the USA
Sustainable
Vegan
Non-GMO
Gluten-free
Cruelty-free
No metals and contaminants
Free shipping
Pause or cancel your subscription anytime
90-day money-back guarantee
Cons
The taste may not be agreeable to some customers
Leaves an aftertaste
Total Omega 3: 1100mg
EPA: 700mg
DHA: 300mg
Algal Oil: 2000mg
Vegan Omega-3 Power's clinically-proven formula uses only the freshest, purest, and most sustainable marine algae available, delivering about 1,100 mg of EPA, DHA, and other omega-3s to power the heart, enhance brain function, promote joint and bone health, and lift the mood. 
BrainMD's Omega-3 Power supplement is made using advanced MSET™-Lipid™ technology, giving it a higher concentration of EPA and DHA than any other fish oil or vegan omega-3 supplement available on the market, which means that you can be assured of the product's quality, potency, and efficacy. 
The supplement is made from microalgae ethically and sustainably grown on algae cultivation farms, which meet strict environmental standards set by third-party inspectors to ensure the safety of ocean life and human health. 
Pros
Uses ethically-sourced, high-quality algae
100% clean, sustainable, and vegan
Non-GMO
Third-party tested
No artificial flavoring/coloring
Dairy-free
Egg-free
Nut-free
Free shipping on all subscriptions & US orders over $75
30-day money-back guarantee
Cons
Large capsule size
Pricier compared to some brands
Total Omega 3: 627mg
EPA: 113mg
DHA: 500mg
Algal Oil: 1650mg
Sunwarrior's Omega-3 supplement uses sustainably grown and harvested algae for bio-available Omega-3, 6, 7, and 9 fatty acids. The blend also contains polar lipids and chlorophyll, which can all help reduce inflammation and promote optimal brain function, keep the bones strong, and the cardiovascular health in check.
Aside from the key benefits of omega fatty acids, the polar lipids also yield health benefits by delivering both fat- and water-soluble molecules, including vitamins A, K, D, and E, throughout the body. While chlorophyll can also boost red blood cells, help with weight loss, heal damaged skin, neutralize toxins, and reduce inflammation.
Sunwarrior uses sustainably-sourced algae to keep ocean life safe and to ensure maximum absorption by the body. The products are also clear of fillers, artificial ingredients, and animal products whatsoever.
Pros
100% clean, sustainable, and vegan
Non-GMO
Third-party tested
No artificial flavoring/coloring
Dairy-free
Gluten-free
Soy-free
Cons
Algae Oil Vs. Fish Oil
Studies show that algae oil has the same nutritional profile to fish oil, providing the same health benefits to your body. But aside from being a vegan/vegetarian option, how does algae oil fare better than fish oil?
Potency
As mentioned above, algae are considered the primary source of omega-3 fats, and all fish get their omega-3 content by eating it, making them only a secondary source, making the omega-3 oil sourced from algae more potent.
Bioavailability
Algae oil is more bioavailable than most leading fish oil-based supplements in the market and is absorbed better by the body compared to fish oil or krill oil.  
Sustainability
Algal oil is a proven, sustainable alternative to fish oil since they are more environmentally friendly and ethical. Studies also consider algae oil a potentially sustainable form of renewable fuel.
Amount of Omega 3, EPA & DHA in the Fish Oil Alternatives
When it comes to any form of dietary supplementation, it's not as simple as more = better. We need to take into account the Tolerable Upper Intake Level (UL) of the active ingredient we're trying to supplement. So, what is the UL of eicosapentaenoic acid (EPA) and docosahexaenoic acid (DHA)?
The Panel on Dietetic Products, Nutrition and Allergies states that dietary recommendations for EPA and DHA based on cardiovascular risk considerations for European adults are between 250 and 500 mg/day. Supplemental intakes of DHA alone up to about 1g/day, do not raise safety concerns for the general population.
Total Omega 3, EPA, & DHA in mg
| Ingredients (mg) | Calgee | Future Kind | iwi | BrainMD | Sunwarrior |
| --- | --- | --- | --- | --- | --- |
| Total Omega 3 (mg) | 550 | 275 | 252 | 1100 | 627 |
| EPA (mg) | 150 | 75 | 150 | 700 | 113 |
| DHA (mg) | 300 | 150 | 100 | 300 | 500 |
| EPA & DHA Combined (mg) | 450 | 225 | 250 | 1000 | 613 |
| Algal Oil (mg) | 1000 | 500 | 850 | 2000 | 1650 |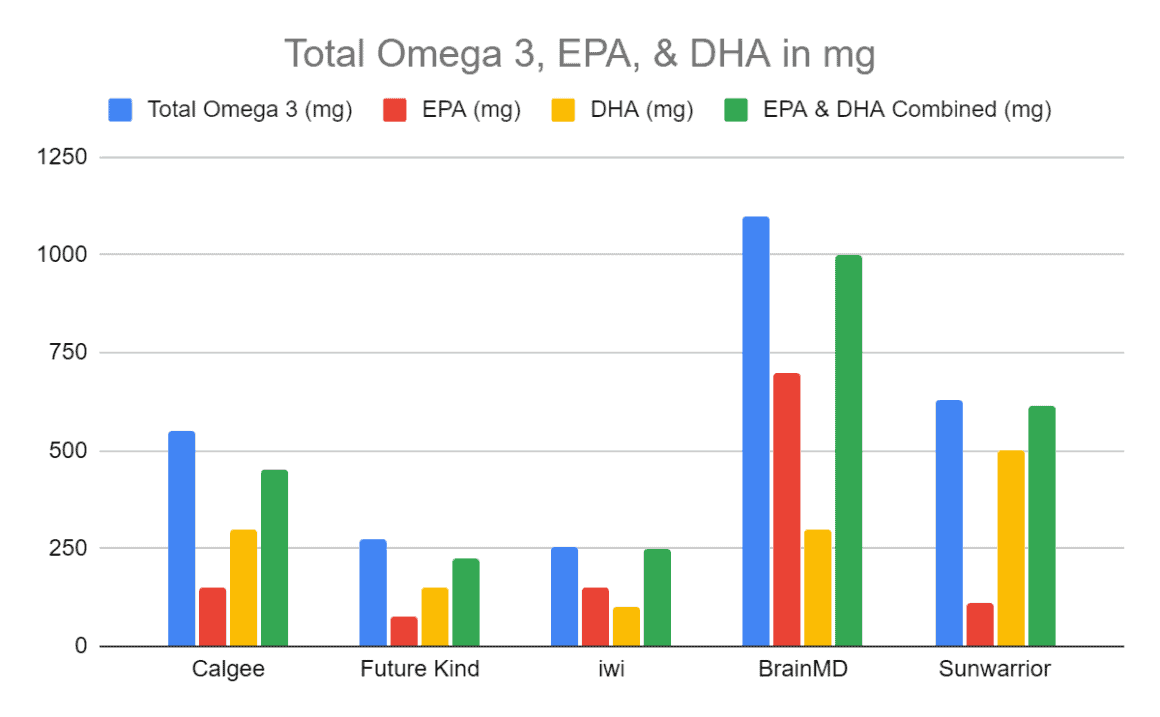 When looked at through the lens of upper tolerable intake limits, we found the Calgee Vegan Omega 3 Supplement to offer the optimal dosages of EPA & DHA. Its combined EPA & DHA dosage of 450mg sits just below the UL of 500mg.
There is some research that suggests much higher dosages are needed to increase the Omega-3 concentration in your blood to the recommended range of 8 percent or greater. They put the daily intake number between 1,750 to 2,500 milligrams (1.75 to 2.5 grams) per day. If you want to follow this advice we'd recommend the BrainMD Omega 3 Supplement.
Benefits Of Omega-3 Fatty Acids
Fish oils come from fatty or oily fish, such as trout, mackerel, tuna, herring, sardines, and salmon. They contain omega-3 fatty acids (also called omega-3 fats and n-3 fats), particularly eicosapentaenoic acid (EPA) and docosahexaenoic acid (DHA),  and many contain vitamins A and D.
Many people take fish oil and omega-3 supplements for their touted health benefits. Omega-3 fats stand out because they provide the starting point for making hormones that regulate blood clotting and bind to cell receptors that control genetic function. It also contains anti-inflammatory properties that prevent damage inside the artery walls and platelet aggregation. 
Since the body can't produce omega-3 fatty acids on its own and must get them from food sources, omega-3 fatty acids are considered essential fats (not all fats are bad!). Aside from fish, foods rich in omega-3 include: 
Leafy vegetables (E.g., seaweed and algae, brussels sprouts, spinach, broccoli, etc.)
Nuts (Walnuts and brazil nuts)
Seeds (E.g., flax seeds, pumpkin, sunflower, chia, etc.)
Flaxseed oil
Vegetable oils
Grass-fed meats (beef, buffalo, and lamb)
Crab and shrimp.
Pasture-raised or omega-3 chicken.
The American College of Cardiology and the American Heart Association (ACC/AHA) recommends eating omega-3-rich fish (e.g., mackerel, tuna, sardines, etc.) as part of a heart-healthy diet, which serves to prevent heart disease, protect the brain and eye health,  contribute to fetal development, and improve skin health. 
Additional studies also prove that regularly eating a healthy balanced diet primarily composed of seafood may significantly improve heart health and lower the risk of coronary heart disease-related death and stroke. Both docosahexaenoic acid (DHA) and eicosapentaenoic acid (EPA) are essential nutrients in preventing and managing heart disease, promoting brain function, and reducing inflammation.
For healthy individuals with a low risk of heart disease, dietitians also recommend consuming oily fish at least twice a week (as part of a healthy balanced diet) to obtain adequate omega-3 fatty acids. 
Omega-3 fatty acids yield other important health benefits such as:
Lower blood pressure
Reduce triglyceride levels
Reduce fat in the liver
Prevents plaque development in the arteries
Lowers the risk of arrhythmia 
Lowers the risk of heart attacks, stroke, and death
Improve eyesight
Promote bone and joint health
Promote brain growth and development in infants
Improve sleep quality
Protect the skin against sun damage
Reduce acne 
Prevents dry, red, or itchy skin
Fight depression and anxiety
FAQs
How do vegan alternatives to fish oil compare to traditional fish oil supplements in terms of their omega-3 content?
Vegan alternatives to fish oil, such as algal oil, can be just as high in omega-3 fatty acids as traditional fish oil supplements.
In fact, some studies suggest that algal oil may be even more effective than fish oil at raising levels of EPA and DHA, the two types of omega-3s that are most important for health.
Are there any potential side effects or risks associated with taking vegan alternatives to fish oil?
Like any dietary supplement, it's possible to experience side effects from taking vegan alternatives to fish oil, such as digestive upset or allergic reactions.
However, these risks are generally considered low, and many people find that switching to a plant-based alternative to fish oil actually helps reduce their risk of certain health problems, such as heart disease and inflammation.
How do I choose the best vegan alternative to fish oil for my needs?
The best vegan alternative to fish oil for you will depend on your individual health goals and dietary preferences. For example, if you're looking to boost your omega-3 intake specifically, you might choose an algal oil supplement that's high in EPA and DHA.
If you're concerned about getting enough vitamin D, you might choose a supplement that is fortified with vitamin D. It's always a good idea to consult with a healthcare provider or registered dietitian to determine what supplement might be best for you.
Our #1 option from our testing is Future Kind's Vegan Omega 3.
Takeaway
Omega-3 fatty acids are vital in achieving an optimal state of health. Fish oil supplementation could help fill the body's omega-3 needs, but algae oil, a plant-based source of EPA and DHA, can offer more for everyone, especially vegans, vegetarians, and non-pescatarians.
When paired with an omega-3-rich diet and a healthy lifestyle, supplementation can reduce your risk of heart disease, support bone and joint health, and sharpen your cognition. 
The best vegan alternative to fish oil that we found from our extensive testing is the Vegan Omega 3 Supplement from Future Kind.
Make sure to choose a product that offers the best purity and transparency in ingredients.
Disclaimer: this article does not constitute or replace medical advice. If you have an emergency or a serious medical question, please contact a medical professional or call 911 immediately. To see our full medical disclaimer, visit our Terms of Use page.