SkinnyFit boasts a wide range of workout and health supplements, including their Super Youth Collagen Peptide range. 
Collagen supplements have become increasingly popular among women to reverse or reduce signs of aging. With such a wide variety of supplements on the market, it can be difficult to decide which one would benefit you.
SkinnyFit's Super Youth powder stands out from other supplements because of its unique formulation of ingredients and seems to offer much more than its competitors. 
In this article, we take a closer look at the pros and cons of Super Youth. We also want to break down the ingredients and determine the overall effectiveness of the product.
Druggenius.com is reader-supported. We may earn a commission through products purchased using links on this page. Learn more about our editorial process here.
SkinnyFit Super Youth (Our Review)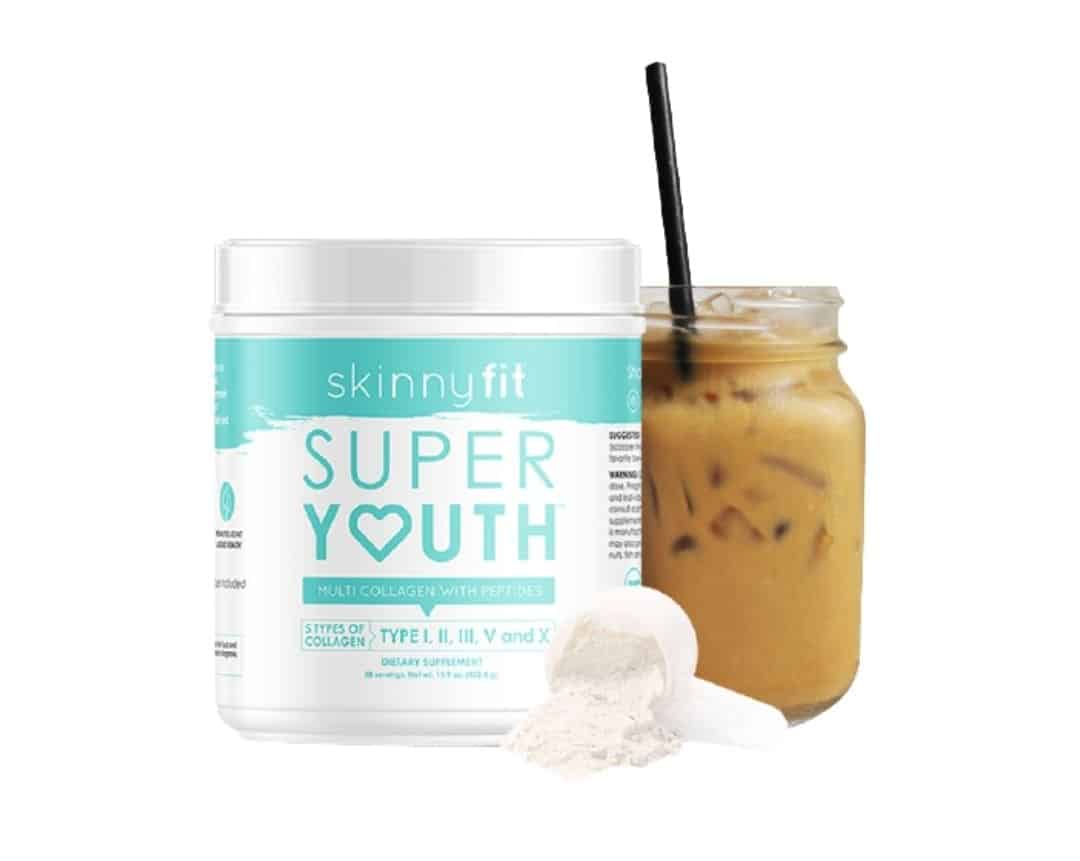 Overall Assessment
SkinnyFit's Super Youth powder is designed for anyone wanting to reverse the signs of aging, lose weight or start their fitness journey with a bang. 
One of the benefits of using Super Youth powder is the ability to easily mix it straight into your food, drinks, or smoothies. Exercise regimes or weight loss programs can be time-consuming, so being able to mix it into your food or take it with you to your workout is a huge plus.
Super Youth is also one of the few multi-collagen supplements on the market. It contains five types of collagen peptides that may all serve a role in giving you naturally younger-looking skin, reducing cellulite, improving gut health, boosting your metabolism to aid in healthy weight loss, and strengthening your hair and nails. 
While Super Youth is a natural, GMO-free product, it contains peptides derived from the connective tissue of certain animals and fish. Super Youth contains hydrolyzed bovine and hydrolyzed fish collagen peptides, eggshell membrane collagen, and chicken bone broth collagen concentrate. 
If you suffer from fish, shellfish, or egg allergies you may want to avoid this product.
Compared to other collagen-based products, Super Youth is one of the more expensive products on the market. So if you're on a budget, you may want to find a cheaper alternative or skip the supplements altogether.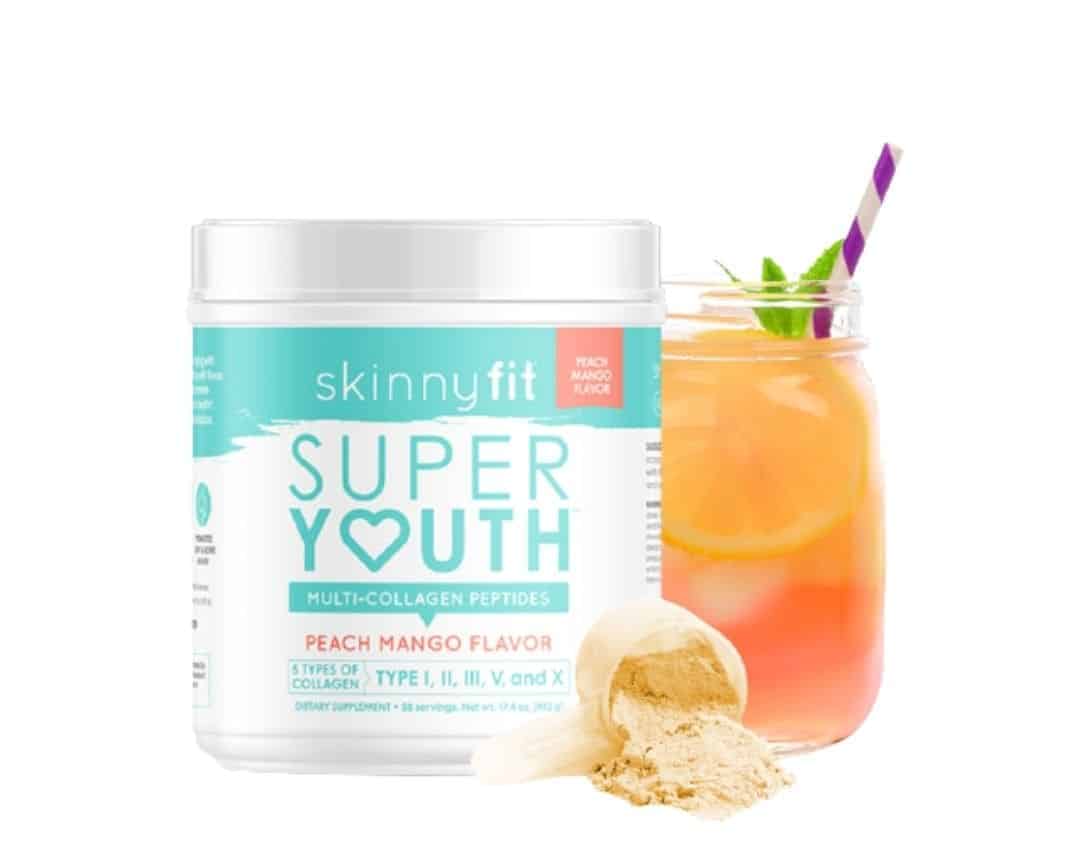 Pros 
The powder is easily added to juices, smoothies, or other foods. 
Collagen is easily absorbed by the body
The protein content found in collagen can help facilitate healthy weight loss and gut health
Taking collagen is a proven way to get smoother, tighter skin for a more youthful appearance 
Natural, gluten-free product and is GMO-free
Low-risk product, with little to no side effects
Cons 
Not allergen-free
One of the more expensive collagen products on the market 
Dietary supplements are not FDA-approved
Detailed Analysis
Ingredients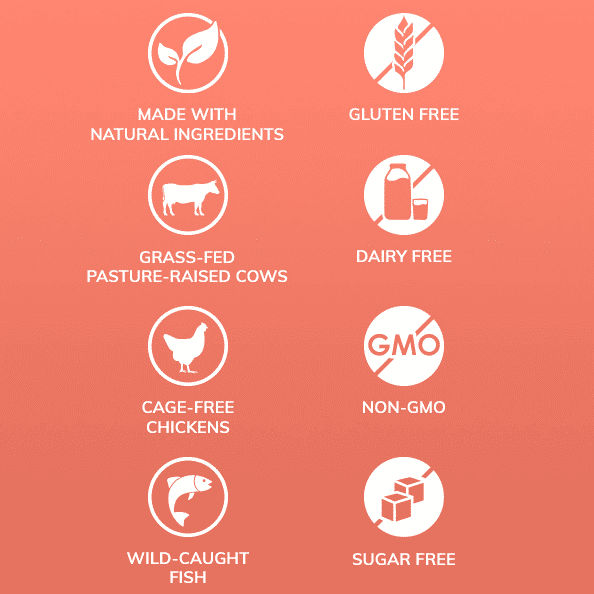 SkinnyFit's Super Youth formula is made up of multiple collagen peptides that work together to give you great health benefits.
Collagen
Collagen is responsible for keeping skin plump and smooth. Around 75% of the dry weight of your skin is made up of collagen.
It is one of the most abundant proteins found in the body, including in your skin, joints, muscles, and bones. Collagen is also constantly being produced by your body, but production begins to decline by around 1.5% every year, hitting 25% depletion by the time you turn 40.
Everyday factors such as smoking, stress, excessive sun exposure, and certain pollutants can further disrupt collagen production.
During the first 5 years of menopause, women can also lose up to 30% of their collagen stores.
The collagens found in Super Youth are Type I, II, and III, as well as Type V and X. By evaluating each of these types individually, you can get a better understanding of how they contribute to improving your skin, body, and health.
Type I
Type I collagen is the most common type found in collagen supplements. It helps improve skin elasticity, which is what gives your skin a more youthful and healthy appearance. It may also thicken your hair and reduce hair loss.
Type II
Type II is found primarily in joints and cartilage and can help to strengthen areas such as your back and knees. By strengthening these joints you can greatly reduce pain and swelling. This makes Super Youth a beneficial supplement to take when exercising.
Type III
Type III collagen may also be beneficial when exercising, as it is found in the cardiovascular system. Supplementing your type III collagen helps to repair and protect the body, making recovery after a tough workout easier. It has also been found to aid in metabolism and gut health, which encourages healthy weight loss. 
Type V
Type I and Type III are primarily formed by Type V collagen, which contributes to tissue quality. Tissue quality is important in firming the skin and strengthening the connective tissue that supports organs like your liver and lungs.
Type X
Similar to Type II collagen, Type X is found within bone and cartilage and is essential to cartilage formation. Type X contains high levels of the amino acids glycine and proline. These amino acids help to maintain and strengthen bone and cartilage.
Many women have started taking collagen supplements from a younger age to avoid lower collagen levels and keep themselves looking young and radiant for longer. Collagen is also a great way to keep your body healthy and feeling strong.
Unlike other collagen supplements that contain one or two of the above types, the unique blend of five different collagen peptides is what sets Super Youth apart.
Super Youth uses collagen extracted from cows, chicken, fish, and eggshell membranes. 
Studies have shown that women who take chicken-derived collagen consistently for three months have better blood flow to their skin, less dryness, and had fewer visible wrinkles.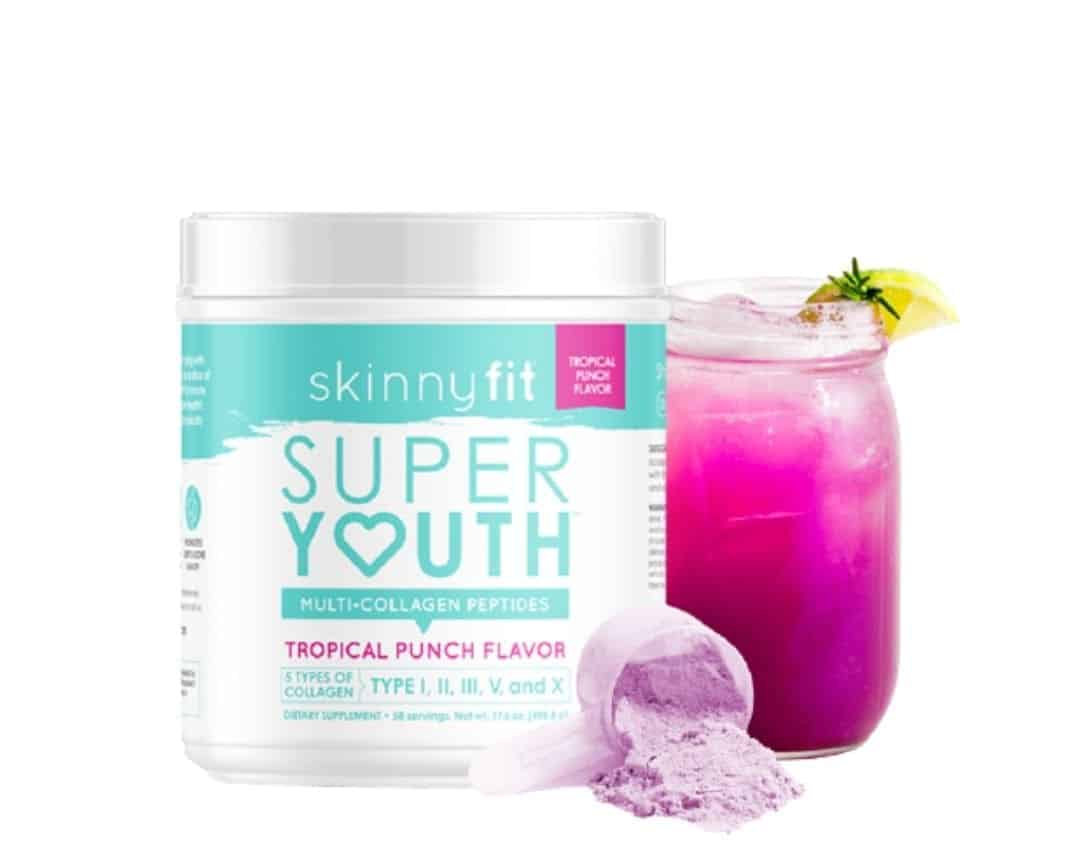 Side Effects 
Super Youth is a natural, GMO-free, and gluten-free product. Because of the nature of the powder, it is safe for most people to take and reportedly has little to no side effects.
The ingredients found in SkinnyFit products may produce mild side effects but are easily managed. Side effects that have been noted are bloating, diarrhea, constipation, or an upset stomach. You may also experience a bad taste in the mouth after use. 
To avoid this, SkinnyFit recommends mixing Super Youth with hot beverages such as tea and coffee, smoothies, or other foods and not with water alone. 
If you experience any side effects you should discontinue the use of the product immediately.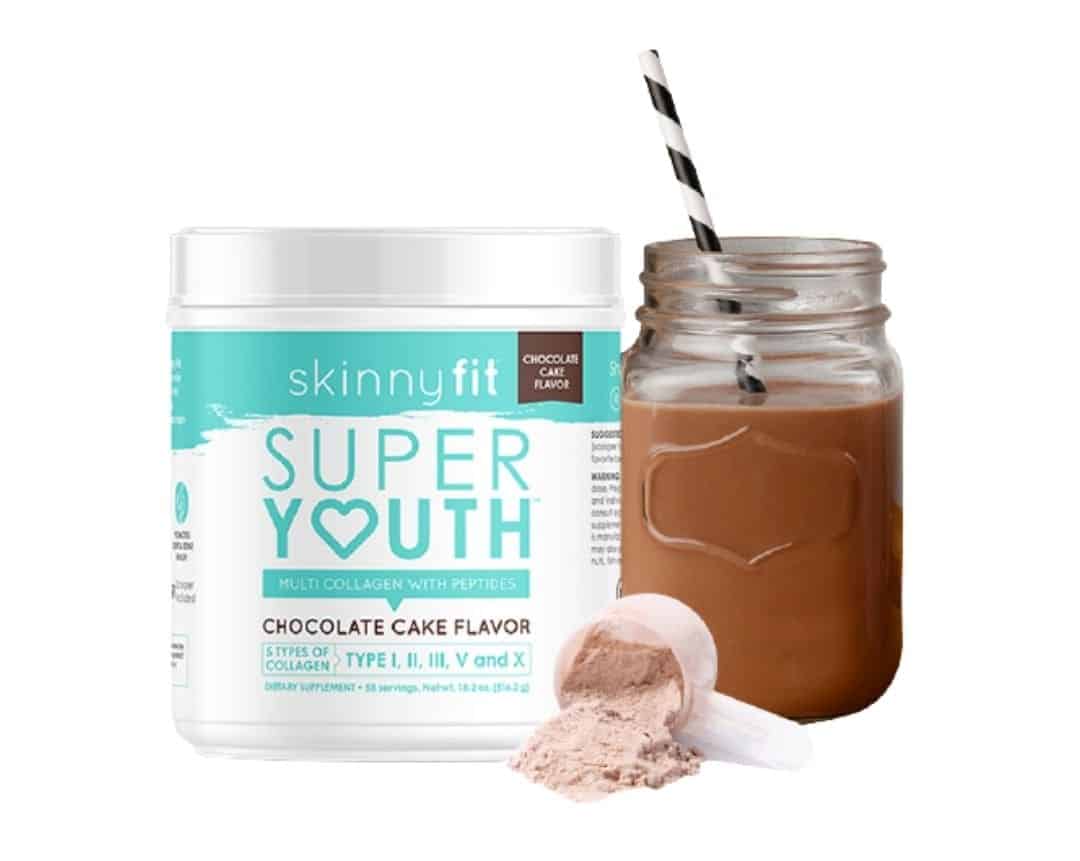 Results 
SkinnyFit's Super Youth promises to give you youthful skin, strong joints, and bones, and to help you maintain a healthy weight, but evidence on the results of Super Youth is uncertain.
While most customers have left feedback in support of Super Youth, it is important to note that many of the negative claims come from customers believing to have seen similar or better results when using other, more budget-friendly collagen products.
Based on reviews found on the SkinnyFit website, most women maintain that they have noticed positive results while using Super Youth.
Some women claim to have noticed results within days, and some say that they have made a repeat purchase but are not sure if they are seeing the results that are claimed to come with using Super Youth.
Amazon reviews on the results of Super Youth seem to be more mixed. Top reviews also claim to have seen results within days or weeks of using the powder, while lower-rated reviewers claim to have seen little to no results after weeks or months of use.
While happy customers attest to seeing results in their skin, energy levels, and joint pain, Super Youth seems to have little evidence to substantiate their claims of the product aiding in weight loss.
Reviews
SkinnyFit's website boasts tons of positive testimonials, with 78% of their customers giving them 5-star reviews. Customers on the site report seeing results ranging from reduced hair loss and smoother, tighter skin to helping them achieve their weight loss goals and minimizing cellulite. 
The testimonials featured on the site contain personalized stories and before-and-after pictures of women who have tested, used, and re-purchased Super Youth, all claiming to have positive and noticeable results.
On other platforms, Super Youth has also received worthwhile feedback, such as a 4.2-star rating on Amazon. 
Customers who left lower ratings of the product blame the cost of the product, taste, or lack of results as the reason for their negative reviews. 
Cost 
Compared to its competitors, Super Youth has a slightly higher price tag than other collagen supplements on the market. You can purchase a 58-serving tub on both the SkinnyFit website and Amazon for around $80.
By signing up for SkinnyFit's monthly subscription, you can save 25% on your ordered products, bringing the cost down to roughly $60.
If you are unhappy with your Super Youth purchase, SkinnyFit does have a 90-day money-back guarantee.
When looking at the cost of cheaper supplements, it is important to note that most alternative supplements do not contain the same ingredients as Super Youth powder. 
Super Youth may prove more cost-effective as it contains all of the collagen you would need, as opposed to buying different types of other collagen supplements that may only offer one or two types. 
A 58-serving tub also contains enough powder to last an entire month, meaning you would only need to pay once per month.
Super Youth contains collagen extracted from fish. Marine collagen is difficult to source, making it one of the most expensive types of collagen to obtain. Supplements containing marine collagen usually have a higher price. 
Keeping this in mind, the steeper price tag may not be indicative of the quality of the product. Marine collagen taken from fish has not been clinically proven to be better than other collagen sources.
SkinnyFit Super Youth FAQs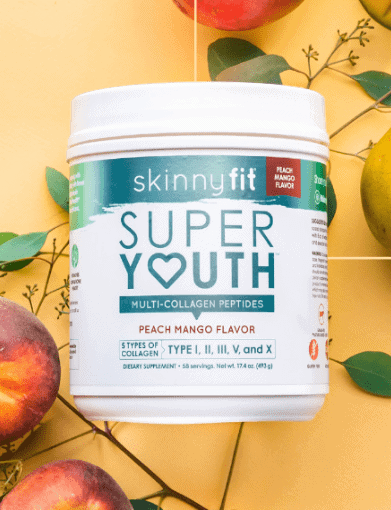 What can I mix my Super Youth powder with?
Super Youth powder comes in both unflavored and flavored versions. According to SkinnyFit, the flavored versions pair well with sweet foods like pancakes and liquids like smoothies and juices. The powder comes in three flavors: Peach Mango, Tropical Punch, and Chocolate Cake.
While it doesn't alter the efficacy of the product, it is suggested that the unflavored version is not mixed with cold beverages to avoid an unpleasant aftertaste.
The unflavored powder is best mixed with hot liquids such as coffee, tea, and soup, but can also easily be used in smoothies, pancakes, oats and, other foods.
SkinnyFit does not recommend taking any of the Super Youth powders with water alone.
How often do I take my Super Youth?
Super Youth powder can be taken 2 – 3 times daily, depending on your lifestyle. One scoop is recommended for those who have a less active lifestyle, or for those who don't have an intensive exercise regime.
The product comes in a tub that contains approximately 58 servings, meaning that one tub would last around one month if taken twice a day.
Is it safe?
If the product is consumed as directed and stored correctly, it is completely safe for most people to use.
Super Youth powder should be stored away from sunlight and direct heat at room temperature. It should also be kept away from children.
Side effects are not common, but some people may experience a bad aftertaste, bloating, or gas. While these side effects may be uncomfortable, they are not threatening to your overall health.
As previously mentioned, Super Youth powder is collagen-based. If you suffer from any food allergens you may also want to check the ingredients to make sure that you do not experience any adverse reactions when using the product.
It is recommended to consult your medical health practitioner before using the product for people who are under 18 years old, if you have pre-existing medical conditions and if you are pregnant or breastfeeding. You may also need to consult your doctor if you are already taking prescription medications.
SkinnyFit's website claims that they follow current Good Manufacturing Processes, which provide strict systems to ensure and monitor proper manufacturing procedures.
Despite this, the FDA does not approve dietary supplements. Super Youth powder is therefore not FDA-approved.
Is Super Youth powder vegan?
Super Youth powder is made up of collagen peptides taken from cows, chicken, fish, and eggs. Collagen cannot be sourced from plant-based foods or materials, and therefore supplements containing collagen cannot be classified as vegan.
A vegan alternative to taking collagen supplements would be naturally increasing collagen in the body. Eating certain vegan-friendly foods can boost your body's collagen production.
Fruits that are high in vitamin C, berries, beans, nuts and seeds, garlic and, bell peppers are all foods that can increase your collagen production.
There are definitive benefits to taking collagen daily as part of a healthy diet. We have seen an improvement in our skin and hair from adding 2 scoops of collagen to our morning smoothie.
You will need to stick to the program for a minimum of 2-3 weeks before seeing the results but we think SkinnyFit Super Youth is a good collagen supplement and recommend it, especially for first-time users. We prefer it to similar products such as vital proteins collagen.