Druggenius.com is reader-supported. We may earn a commission through products purchased using links on this page. Learn more about our editorial process here.
Bone broth protein powder is a calorie-conscious superfood that provides sustainable energy, adds protein to your diet, and even supports gut health.
If you're looking best bone broth protein powder we have spent 10+ hours researching the taste, quality of ingredients, and whether it's better than traditional protein powders.
What Is Bone Broth Protein Powder?
Bone broth protein powder is a popular protein supplement made from bones (usually either beef or poultry, connective tissue, and other nutrients that are simmered for an extended period to extract the nutrients and proteins like collagen and gelatin. This low and slow technique normally lasts 12 – 40 hours to fully harvest the nutrients from the bones. 
Bone broth protein is also available in liquid form. 
Top 5 Bone Broth Protein Powders – The List
Here are our picks for the top 5 best bone broth protein powders based on their popularity among customers online.
Protein Content: 21 g
Source of Protein: Grass-fed Cows
Available Flavors (2):
Bone Broth Protein is an excellent source of long-lasting energy and guarantees longer satiety. This easily digestible, highly bioavailable protein powder is made from real, grass-fed protein – processed correctly to preserve all nutritional value and purity.
Bone broth-based protein supplies the body with enough collagen to reinforce the strength and elasticity of the cells, skin, and soft tissues. The protein also promotes satiety, making you feel fuller for longer and effectively curbing your appetite. A collagen boost serves to lessen wrinkles, firm the skin, and even help gain muscle mass and strength. 
As a shake, it works best as a tasty and creamy pre-workout beverage. If you're not into drinking shakes, you can use the powder in your smoothies, morning coffee, pancakes, or any other recipe that could use a protein boost.
Pros
Only has 2 grams of net carbs
Contains 21 grams of grass-fed protein
Dairy-free
Sugar and sweetener-free
Soy-free
Gluten-free
Grain-free
Non-GMO
Paleo-friendly
Keto-friendly
60-day money-back guarantee
Cons
Pricier compared to other brands
Protein Content: 18 g
Source of Protein: Beef (not from grass-fed cows)
Available Flavors (1):
Bulk Supplement's Beef Bone Broth Protein is made from dehydrated bone broth liquid converted into concentrated, highly nutritious powder standardized to 90% protein and is replete with vitamins & minerals – making an ideal workout supplement. 
The concentrated form of protein yields its touted health benefits more effectively, such as enforcing immune function, promoting better sleep quality, strengthening bone density and healthier joints, aiding digestion, supporting immune function, beautifying the skin, and supporting muscle mass.
This protein powder can mix well into most foods and beverages of your choice – mixing well with no lumps and leaving no aftertaste. 
Pros
Standardized to 90% protein
Sugar-free
Dairy-free 
Keto-friendly
Mixes well
Versatile – can be mixed in most food and beverages
Manufactured to cGMP standards
Undergoes strict quality testing
Cons
Taste may not be pleasing for some consumers
The protein is not sourced from grass-fed cows
Protein Content: 20 g
Source of Protein: European beef bones
Available Flavors (1):
*Note: This product is closer to a standard beef broth, in powdered form, than it is to a traditional protein powder. We included it, though, because we love how clean the ingredients are and how it can be added to a wide range of recipes to bump up their protein content.
True to its name, Naked Nutrition's Bone Broth bares it all with only one ingredient – protein powder sourced from European beef bones, exclusively processed in Sweden to help retain important nutrients and maximize their absorption in the body. 
The bone broth protein increases collagen production with glycine and proline to support gut health, stronger joints, and radiant, firmer skin. Collagen's unique composition of amino acids and BCAA content promotes muscle building and helps those doing weight training workouts.
This powder blend is versatile enough to blend in almost anything — from hot water to soups to stews. Two scoops of the powder already supply 22 grams of extra protein. 
One potential downside is that, unlike most protein powders, it has a savory flavor. This can make it a little hard to drink it cold. We preferred it warm, in a similar way to how you would consume bone broth itself.
Pros
Only has one ingredient
100% from European beef bones
No additives or preservatives
No sugar or sweeteners
Specially-processed to retain nutrients
Gluten-free
Non-GMO
Soy-free
Free shipping for orders over $99
Cons
The savory flavor can take some time to get used to. Some might not like this at all.
Only available in the one flavor
Protein Content: 20 g
Source of Protein: non-GMO, U.S.-farmed chickens
Available Flavors (5):
Pure (unflavored)
Vanilla
Chocolate
Turmeric
Salted Caramel
Ancient Nutrition's Bone Broth Protein sustainably sourced chicken bone broth concentrate comes from non-GMO, U.S.-farmed chickens and is 3x as potent* as homemade broth and promotes a healthy gut, strengthens the joints, and supports against inflammation.
All of the other options on this list are made from protein derived from cows (beef).
One scoop of this bone broth protein powder already provides 20 grams of protein in 90 calories, and contains powerful nutrients including collagen (type 2), glucosamine, chondroitin, hyaluronic acid, and 18 amino acids – all essential in building muscle mass, making this an efficient pre-workout supplement. It also provides other benefits like prolonged satiety, stronger joints, greater bone density, better immune health, and reduced muscle loss.
This broth protein powder's pure and turmeric variants are highly versatile, easily blended into dishes, and serve as a base for soups, stews, and casseroles. While the naturally-sweetened chocolate and vanilla work well in shakes, smoothies, and even pancakes.
Pros
Uses cage-free, cruelty-free, and sustainably sourced chicken bone broth
5 flavors with both sweet and savory flavors
Paleo-friendly
Dairy-free
Grain-free
Gluten-free
Nut-free
Soy-free
Versatile enough to be mixed with dishes and beverages
30-day money-back guarantee
Free shipping for orders over $49
Cons 
A bit pricier compared to other brands
Protein Content: 17 g
Source of Protein: Beef, Turkey & Chicken
Available Flavors (2):
Terra Origin's Collagen + Protein Bone Broth powder is readily your source of collagen, hydration, and protein to help you be in the best shape of your life. A serving easily provides 17 g of protein and type I and III collagen from real whole food sources like chicken, beef, and turkey.
This bone broth powder contains important nutrient cofactors that promote optimal joint function and support healthy hair, skin, and nails. It also serves as an effective pre-workout supplement, given that it contains medium-chain triglycerides, providing sustained energy fuel during exercise.
The product's chocolate and vanilla flavors, naturally sweetened by stevia leaf extract, blend well with various beverages, yogurt, pancakes, or baked goods. 
Pros
Made in the U.S.A 
Uses whole-food sources (beef, chicken, and turkey)
Gluten-free
Non-GMO
No sugar added
Zero calories
Cons
Presence of stevia may not sit well with some customers
Protein per Serving for Each Brand
Here is the breakdown of each brand that we featured with the grams of protein per serving:
Dr Kellyann – 21g
Bulk Supplements – 18g
Naked Nutrition – 20g
Ancient Nutrition – 20g
Terra Origin – 17g
Our number 1 product, from Dr Kellyann has the most mg of protein per serving of bone broth. That's 4g more than the brand with the lowest content, Terra Origin.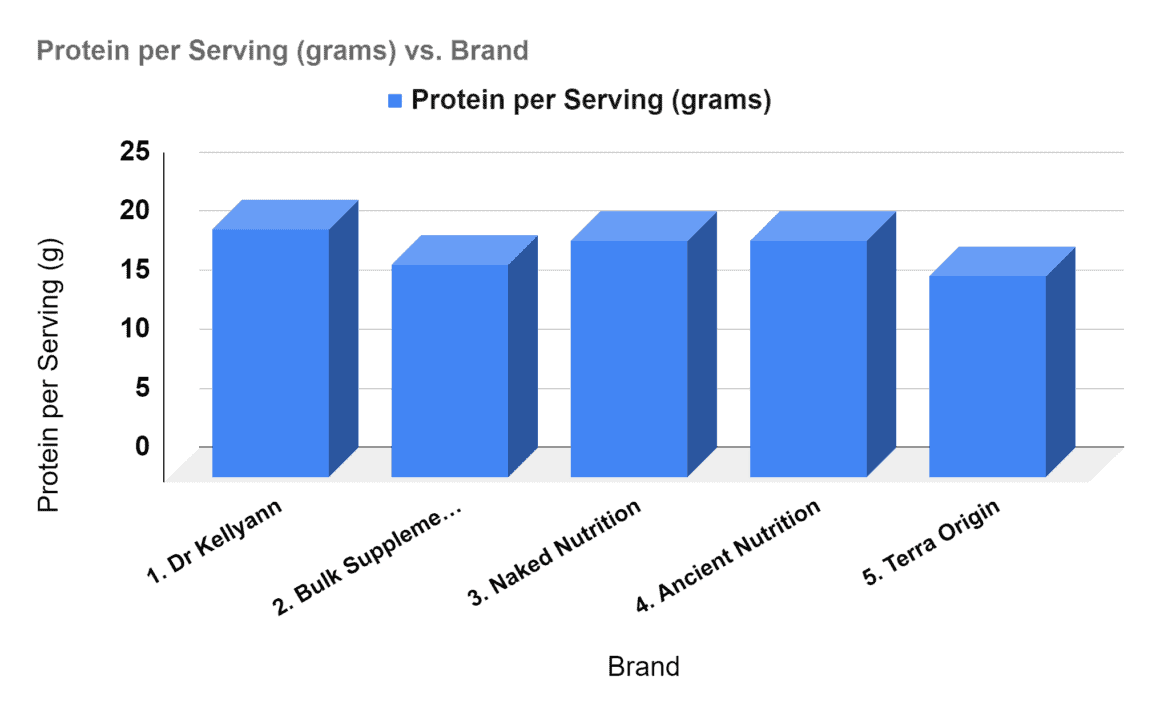 Benefits of Bone Broth Protein Powder
Bone broth protein provides plenty of health benefits:
High in protein – Bone broth is a rich source of amino acids, which are the building blocks of proteins. It then helps build muscles, tissues, and bones.
Protects bones and joints – The collagen found in bone broth also protects joints from age-related deterioration and promotes greater bone density, benefiting those with conditions like arthritis or osteoarthritis. Calcium also plays a role in strengthening bones. 
Helps with digestive issues – Bone broth contains glutamine, an amino acid that improves digestion and gut health, making it possibly beneficial for people with digestive conditions such as inflammatory bowel disease or leaky gut syndrome. 
Contains electrolytes – Bone broth is a rich source of electrolytes, particularly calcium, potassium, sodium, and magnesium, which maintain the fluid balance in your body, stimulate muscle contractions, and transmit nerve signals. 
Improves hair, skin, and nails – Bone broth also contains collagen, which can fortify your hair, skin, and nails. Collagen itself is the main protein in structural/connective tissues like skin, muscles, tendons, ligaments, and bones.
Aids in weight loss – Thanks to its protein content, bone broth keeps you fuller for longer and helps reduce your overall caloric intake. As it curbs the appetite, it promotes weight loss and increases lean muscle mass in the process.
Nutrient Profile
One hundred grams of bone broth contains:
Calcium – 91.1 milligrams (Based on a 2,000 calorie diet) (9% DV)
Copper – 0.3 milligrams (17% DV)
Iron – 4.2 milligrams (23% DV)
Magnesium – 36 milligrams (9% DV)
Manganese – 0.3 milligrams (17% DV)
Phosphorus – 131 milligrams (13% DV)
Potassium – 506 milligrams (14% DV)
Selenium – 11.6 micrograms (17% DV)
Protein – 15 g
The primary amino acids in bone broth are 
Arginine
Glutamine
Hydroxyproline
Proline
Alanine
Glycine
Bone Broth Protein Powder Vs Other Protein Powders
Aside from bone broth, other food sources rich in protein that are manufactured into powder include
Whey (Isolate, concentrate, and hydrolysate)
Egg
Pea
Casein
Soy
Hemp
Brown rice
How Bone Broth Fares Compared To Other Protein Powders
When compared to other protein powders, here's how bone broth goes with its nutritional content per serving.
| | | | | | | | | |
| --- | --- | --- | --- | --- | --- | --- | --- | --- |
| | Bone Broth | Whey | Egg | Pea | Casein | Soy | Hemp | Brown Rice |
| Protein | 10-15 g  | 9-20 g | 20 g | 25 g | 25 g | 25 g | 15 g | 12 g |
| Carbohydrates | 0 g | 7.9 g | 1 g  | 1 g | 1 g | 95 g (per 28.35 g) | 3 g (per 14 g) | 2 g |
| Fat | 1 g | 0.5 g | 0 g | 1.5 g | 1 g | 1 g | 3 g | 1 g |
Cons Of Bone Broth Protein Powders
While taking bone broth protein (powder) is recommendable, it may cause a few occasional side effects:
Headaches
Dry mouth
Acne
Nausea
Digestive problems
Increased bowel movement
Bloating
Bone & joint pain
In some cases, bone broth may carry potential risks such as:
Histamine intolerance – Bone broth is quite high in histamine (due to the lengthy simmering process the animal bones undergo), and while it's generally tolerable for the majority of people, others suffer intolerance. Intolerance symptoms include, Common side effects of histamine intolerance include headaches, rapid heart rate, bloating, constipation, gas, and brain fog.
Glutamate sensitivity –  Glutamic acid is an amino acid that yields health benefits, but some people are sensitive to it. Symptoms include digestive problems, muscle or joint pain, sneezing, and dry mouth.
Lead and heavy metals – Some types of bone broth carry a risk of lead contamination due to several factors – the type of broth, the brand, and where the animals were raised. 
Choosing The Right Bone Broth Protein Powder
Before settling for a bone broth protein powder brand, here are some things you should consider:
Ingredient Quality
Checking a prospective brand's ingredient list on the label or online is important. Brands may not always be transparent regarding the ingredients used, with some using additives, preservatives, chemicals, junk fillers, yeast extracts, natural flavors, and sweeteners to make a product taste good, but losing protein and other crucial nutrients in the process.
The manufacturing process is also another important factor. While claiming to be allergen-free, some products are manufactured in places that use said allergens (e.g., nuts, dairy, soy, etc.) Always check if the brand is cGMP certified to ensure that its facilities continue to meet quality standards. 
Always Check The Label 
Checking the label matters because it lets the customer know what's in the product they're about to consume, whether it's healthy or not, or if it contains ingredients that one could be allergic to or be detrimental to their health. 
How To Use Bone Broth Protein Powder
You can use protein bone broth powder in your cooking or mix it with boiling water and drink it on its own. It is a great choice for people looking for a convenient protein source. It can easily be added to smoothies (or a smoothie on its own), oatmeals, and special dishes for added flavor and as a substitute for milk or juice to get extra amino acids, vitamins, and electrolytes. Flavorless powders work best as a soup, stew, or sauce.
Bone broth protein powders also go well as a pre-workout supplement to help make workouts and training more productive. 
Takeaway
Bone broth protein powder is a natural way to help the body meet its protein needs. As the name suggests, they are made from animal bones and connective tissues, offering a rich source of protein and other important nutrients.
These powders help ensure that metabolism functions optimally. It also yields important health benefits like stronger joints, improved skin, and strengthened hair and nail growth. Each brand may offer unique benefits, so it's important to read about a product before settling for one. 
But before considering bone broth supplementation, consider consulting with your healthcare provider or a registered dietitian to discuss how it can affect your health and suit your health needs.
Related Posts
Should You Drink Protein Shakes On Rest Days?
Is Pea Protein a Complete Protein?
Disclaimer: this article does not constitute or replace medical advice. If you have an emergency or a serious medical question, please contact a medical professional or call 911 immediately. To see our full medical disclaimer, visit our Terms of Use page.