Vital Proteins offers a multitude of collagen products, with Marine Collagen Peptides taking the most popular spot among them all. Available in powder and capsules, Vital Proteins Marine Collagen Peptides are said to boost your need for this structural protein, all while providing you numerous benefits along the way.
That being said, is all the hype surrounding Vital Proteins Marine Collagen worth it? We've sorted through the ins and outs of this brand of dietary supplement to help you determine if it's the right fit for you.
Druggenius.com is reader-supported. We may earn a commission through products purchased using links on this page. Learn more about our editorial process here.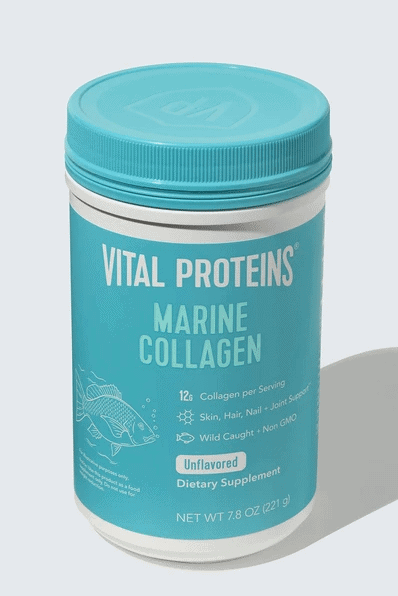 What is Marine Collagen?
Within the human body lies 28 different kinds of collagen that provide numerous valuable functions. Among these different types of collagen is marine collagen, which is absorbed by the body faster than other kinds of this abundant protein.
Made from the scales of wild-caught fish, marine collagen offers a plethora of health and beauty benefits for healthier hair, skin, nails, joint pain, and multiple internal benefits as well.
While this highly digestible and bioavailable structural protein is beneficial, there's a decreasing amount of it in our body as the years go by. That being said, it's important to find ways to give you the boost you need so you can reap the benefits of marine collagen. One way to augment this lack of marine collagen is through a dietary supplement of Vital Proteins Marine Collagen Peptides.
For other types of collagen supplements take a look at our SkinnyFit Super Youth reviews.
An Overview of Vital Proteins Marine Collagen
The only ingredient in Vital Proteins Marine Collagen is collagen peptides from wild-caught fish. Besides this minimal ingredient list, the marine collagen peptides are also dairy-free, gluten-free, and there are no artificial flavors.
The dietary supplement is also Whole30 approved and paleo-friendly, allowing you to take the collagen quickly for maximum benefits in a natural and healthy way.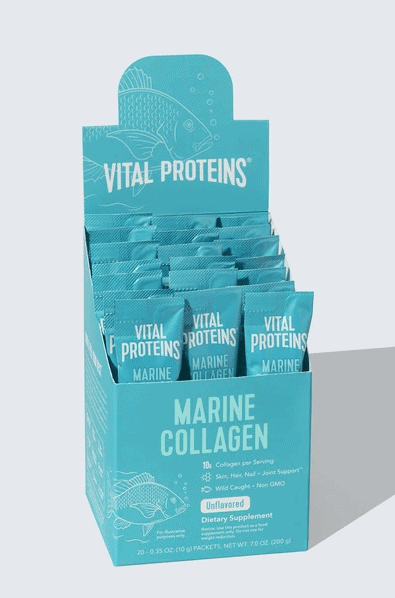 The brand offers four different packaging options to choose from including a 7.8-ounce bottle, a Stick Pack Box (20 ct), a 360-capsule bottle, and a 180-capsule bottle, and each packaging option offers different servings of collagen each time you take it.
For a 7.8-ounce bottle of Vital Proteins collagen peptides, users receive 10 grams of marine collagen peptides per serving of 2 scoops daily. In a 20-count Stick Pack Box, users also receive 10 grams of marine collagen peptides per packet of powder.
As for the capsule bottles of collagen peptides, users receive 5 grams of marine collagen daily in both the 360-capsule bottle and the 180-capsule bottle.
Each of these forms of Vital Proteins Marine Collagen is said to provide benefits for skin, hair, and nails that customers reportedly love. Plus, the products aim to help you feel as good as you look.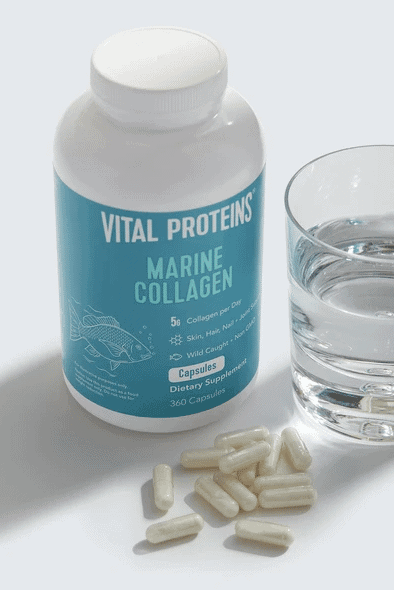 Customer Reviews
As with any product on the market, there are bound to be benefits and drawbacks associated with this dietary supplement. We've scoured hundreds of reviews in order to determine if customers recommend this collagen on a scale from 1 to 5 stars.
What People Love:
It's easily dissolvable in hot or cold liquids
It's said to be light and unflavored
The diverse range of health benefits from usage
It's said to provide noticeable results
Common Complaints Include:
It can smell of fish
It's often out of stock
The relatively high price
Its capsule size
Using verified reviews on a scale of 1 to 5 stars is a great way to determine if the collagen product is something that customers recommend. In order to be sure of your purchase, be sure to see what other people who have bought the product think of the supplements.
Benefits of Vital Proteins Marine Collagen
According to Vital Proteins, their marine collagen peptides product is beneficial in multiple ways. While the product is not intended to diagnose, treat cure, or prevent conditions, it may provide beauty and internal benefits that help improve your overall health, including:
Verified to be non-GMO, hormone and antibiotic-free
Offers 8 out of 9 essential amino acids in each serving
Most reviews are rated 5 stars by customers
It's water-soluble in hot or cold liquids
The collagen is said to be flavorless, making it easily digested and absorbed
Contains only one high-quality ingredient
Drawbacks of Vital Proteins Marine Collagen
While the general consensus of these supplements is positive, there are a couple of downsides to taking these supplements that customers have experienced.
Some Vital Proteins Marine Collagen reviews find that the collagen causes them to have a skin reaction, but that's likely due to an intolerance for marine collagen rather than the brand itself. Some reviewers also found that the supplement powder doesn't mix well in coffee because it can give the liquid a weird taste. Despite this, it still is found to be easily dissolvable.
Another complaint according to customer reviews is that it's on the higher side as far as the price-related factor goes. But, the quality of the product is said to often make up for it, as customers have reported that they have experienced a noticeable difference in health and beauty-related areas like skin, hair, and nails that they love.
Some users have found that collagen makes you poop more frequently. While this isn't necessarily a drawback, it could become inconvenient.
How to Use Vital Proteins Marine Collagen
There are several reasons as to why one would purchase Vital Proteins collagen peptides. Marine collagen is made into products specifically for those who experience joint pain, desire healthier hair, skin, and nails, and are looking to promote the quality of their sleep.
Depending on each packaging option, the serving size differs for both the powder versions and the capsule versions of marine collagen. Serving sizes of Vital Proteins Marine Collagen are as follows:
7.8-ounce bottle of powder: 2 scoops
20-count Stick Pack Box: 1 packet
180-capsule bottle: 7 capsules
360-capsule bottle: 7 capsules
If you choose to purchase the Vital Proteins Marine Collagen product in powder form, the consumption is easy as it's easily digested and soluble in cold water and hot water. To use the 7.8-ounce bottle of Vital Proteins Marine Collagen, pour 2 scoops of the powder into cold or hot liquids.
The collagen protein product can mix into your morning coffee for convenient consumption. Because it's soluble in cold and hot liquid, all it takes is for you to first pour the product and then mix it for healthy consumption. In the reviews, it is mentioned that the taste of your coffee may be altered a little from the product.
As for the Stick Pack Box packets of the Vital Proteins Marine Collagen product, follow the same instructions as the 7.8-ounce bottle, but with 1 packet per serving.
But, how long does it take for collagen supplements to work? Results vary by the quality of the supplement and the desired benefit.
Conclusion
Incorporating Vital Proteins Marine Collagens into your daily diet is said to offer numerous health benefits that are vital to your health. The brand is said to provide healthy hair, skin, nails as well as relieve joint pain throughout the body.
This fresh, non-GMO, gluten-free, fish-derived product easily dissolves into cold or hot liquids including coffee, allowing it to digest into the body quickly for maximum results.
Along with their gluten-free, non-GMO marine protein collagen, this verified brand offers a multitude of other popular products like their unflavored bovine collagen peptides and their matcha collagen.
While the brand has received hundreds of reviews marked with 5 stars, it's important you evaluate whether or not Vital Proteins marine collagen will benefit your health and your body specifically. In order to do so, consult with your doctor first before the product is bought to ensure it's healthy for you to consume.
Related Posts
Does Collagen Help With Hair Growth?