Druggenius.com is reader-supported. We may earn a commission through products purchased using links on this page. Learn more about our editorial process here.
One gulp of your favorite Gatorade electrolyte drink can give you that much-needed boost in the middle of your workout. But if you're looking for a healthier alternative to Gatorade? Check out our top picks for the best hydration sports drink.
Top 5 Gatorade Alternatives
The Benefits Of Electrolytes
Electrolytes are minerals that maintain the body's ionic balance, which is essential for nerve, muscle, and brain function. They balance your body's acid/base (pH) level and move nutrients into your cells. With carbohydrates, electrolytes help the body refuel and rehydrate. It helps regulate the body's fluid balance while the carbs provide energy. 
Examples of electrolytes include:
Calcium
Magnesium
Chloride
Phosphate
Potassium
Sodium
Regarding hydration, water is the best beverage for the job, as it keeps the body cool and helps make the muscles and joints work better while preventing cramps and fatigue. But the electrolytes are responsible for directing water (and nutrients) to the areas of the body where it's needed most and maintaining optimal fluid balance inside the cells.
Gatorade – Is It Good For You? 
Because of their electrolyte content, popular sports drinks like Gatorade help restore lost electrolytes and keep a person hydrated during intense activity. Gatorade contains sugar and electrolytes like sodium and potassium, helping replace fluids lost during intense physical exercise or activity, especially in the heat. 
Through time, Gatorade became one of the more popular electrolyte sports drinks worldwide and is a favorite among athletes and fitness junkies, giving them a kick of energy and helping them perform better.
Gatorade's purposes also go beyond the athletic. Some healthcare providers recommend drinking Gatorade to help replace electrolytes lost during an illness involving vomiting, diarrhea, or intense exposure to excessive heat. Others also experienced relief from hangovers and even sore throats.
Downsides
While Gatorade is a household favorite for its benefits and familiar taste, it doesn't go without a few, yet significant, cons.
The sugar content for Gatorade variants tends to vary, with certain variants containing as much as 36g. It may be slightly less than what sugared drinks like coca cola have (44g), but it can still impact one's health — especially oral health. 
Gatorade also contains artificial food dyes, which can substantially destroy the nutrients in the food because of their chemical composition. It can also lead to further health problems like skin allergies, stomach problems, and even breathing difficulties.
Healthier Alternatives To Gatorade – The List
Here are some of the best electrolyte drinks and powders that can be used as healthier alternatives to Gatorade.
While Gatorade might be cheaper, these options provide a better electrolyte profile and a cleaner list of ingredients. This means they provide more efficient hydration per serving.
A stick of Hydration can give you that much-needed energy boost to help you accomplish your workout routines effectively, sharpen your focus, finish the day's grind strong, and stay energized throughout the day.
Hydration's ingredient blend is specially formulated for long-lasting hydration, featuring a combination of apple cider vinegar, which contains sodium and potassium, and 800 mg worth of buffered vitamin C to ease digestion, prevent oxidative stress, and boost the immune system. Best of all, it's sugar-free, which boosts energy levels even further.
The product comes in three flavors — Blue Raspberry Lemonade, Watermelon Cucumber, and Yuzu Lime. You can also opt for the variety pack to best enjoy all flavors simultaneously.
Ingredients
Hydration contains zero sugar, unlike some Gatorade variants, which have about 36 g of sugar. And unlike the latter, it contains Himalayan salt, which is more efficient in helping the body detoxify better:
Apple cider vinegar (ACV) 5% 
Acetic acid powder – 1500 mg
Blue spirulina 25% 
Phycocyanin extract (Spirulina platensis) – 50 mg 
Citric acid
Chloride – 460 mg
Potassium citrate – 400 mg
Sodium ascorbate – 800 mg
Himalayan sea salt
Sodium citrate – 500 mg
Stevia leaf
Fumaric acid
Malic acid
Silica
Pros
Manufactured In America
Gluten-free
Non-GMO
Preservative-free
Peanut-free
Shellfish-free
Sugar-free
Soy-free
Mixes easily
Free shipping for subscribers
365-day money-back guarantee
Cons
Flavors might not be that pleasing for some consumers
Liquid IV's Tropical Punch Hydration Multiplier is an electrolyte drink mix that hydrates the body and directly provides nutrients like sodium, potassium, glucose, and B vitamins to your bloodstream. 
Thanks to the revolutionary science of Cellular Transport Technology® (CTT), it only takes just one stick of Liquid IV to make the body absorb nutrients faster and more effectively. Its ingredient blend contains thrice as many the electrolytes of traditional sports drinks with 5 essential vitamins, provides faster hydration than drinking water alone, and rapidly boosts your energy levels. 
Liquid IV also promotes a culture of sustainability by reducing waste production and greenhouse gas emissions and exclusively sourcing raw ingredients and packaging materials produced with the utmost respect to farmworkers and local communities while simultaneously protecting natural resources. 
For every purchase you make, Liquid IV provides a serving to someone in need of proper hydration (with over 5 million donations made to date).
Liquid IV has one of the best flavor ranges of any hydration brand on the market. We especially love the lemon lime, watermelon, and guava flavors.
Ingredients
A 20-ounce serving of Gatorade contains about 36 g of sugar, while Liquid IV only has about 11 g. Liquid IV also fares better in selecting ingredients that are all-natural and ethically sourced. 
Potassium – 370 mg
Vitamin C – 73 mg
Niacin – 22.8 mg
Vitamin B – 2.28 mg
Vitamin B2 – 6.82 mcg
Organic pantothenic acid – 11.4 mg
Stevia leaf extract
Dextrose
Mined salt
Potassium citrate
Pros
Quality, all-natural ingredients
Suitable for all diet types (Dairy-free, soy-free, gluten-free, and non-GMO)
Innovative and responsible packaging
Hydrates body cells a lot faster than water
Eliminates hangovers
Sources ingredients and partners with sustainable farms to reduce carbon footprints.
Free domestic shipping
Cons
A bit costly when purchased online
Doesn't ship internationally
Some might consider the 11g of sugar excessive for their diets.
A dose of DripDrop can deliver quick dehydration relief whenever and wherever you need it most. Thanks to ORS science, its patented ingredient blend helps promote fluid absorption into the bloodstream up to three times better than most electrolyte beverage brands. 
The blend contains an exact measurement of sodium electrolytes and low glucose levels to promote faster fluid absorption. Ingredients like potassium, magnesium, zinc, and vitamin C serve to ensure stronger immune support. 
With its effective formula considered, it's not surprising that it's becoming a favorite among healthcare professionals, military men, and even athletes. Customer reviews also rave about it being great for relieving bad hangovers.
If you prefer something without sugar, Dripdrop has a sugar-free variant that offers the same benefits but with higher efficiency, especially in increasing energy and promoting optimal heart health. 
Ingredients
Regarding sugar content, a packet of Dripdrop only contains about 7 grams, while Gatorade can range from 23 – 36 g, depending on the variant. 
Bold Variety (common ingredients) 
Sugar
Fructose
Sodium citrate
Citric acid
Potassium Citrate
Dextrose
Natural flavor
Magnesium citrate
Silicon dioxide
Salt
Ascorbic acid (Vitamin c)
Sucralose
Zinc aspartate
The Zero Sugar option is packed with more nutrients compared to Gatorade.
Zero Sugar
Citric acid
Sodium citrate
Potassium Citrate
Natural flavor
Magnesium citrate
Maltodextrin
Salt
Silicon dioxide
Ascorbic acid (vitamin c)
Sucralose
Niacinamide (vitamin b3)
Turmeric for color
Zinc aspartate
D-calcium pantothenate (vitamin b5)
Acesulfame potassium
Pyridoxine
Hydrochloride (vitamin b6)
Cyanocobalamin (vitamin b12)
Pros
Non-GMO
Vegan
Gluten-free
Dairy-free
Soy-free
100% Kosher
Offers a zero-sugar option
Free shipping on every order
100% Money-back guarantee
Cons
Some customers have reported a few side effects 
Ultima Replenishers' Electrolyte Hydration Powder replenishes electrolytes your body loses from intense physical activity and promotes rehydration, so you can be at your peak, whether you're playing out in the field, dancing on stage, or crushing your workouts.
The hydration powder's blend contains all six principal electrolytes — sodium, calcium, potassium, chloride, phosphate, and magnesium, which regulate body pH levels, control nerve and muscle functions, hydrate the body, balance blood acidity, and rebuild damaged tissue.
Ultima is 100% sugar-free and uses organic stevia leaf, a natural, healthier sweetening substitute with many health benefits, and made with real fruit flavor extracts that make each packet that will complete your daily routines. 
Ingredients
Compared to Gatorade, Ultima contains all six principal electrolytes and uses organic stevia instead of sugar. 
Sodium – 55 mg
Calcium – 65 mg
Potassium – 250 mg
Chloride – 78 mg
Phosphate – 70 mg
Magnesium – 100 mg
Tartaric acid
Rebaudioside A (from organic stevia leaf)
Zinc citrate
Manganese citrate
Pros
Vegan
Non-GMO
Paleo-friendly
Plant-based extract colors
Caffeine-free
Sugar-free
Keto-friendly
Real fruit extract flavors
Cons
Flavors might not be pleasing to some consumers
5. Make Your Own Gatorade Alternative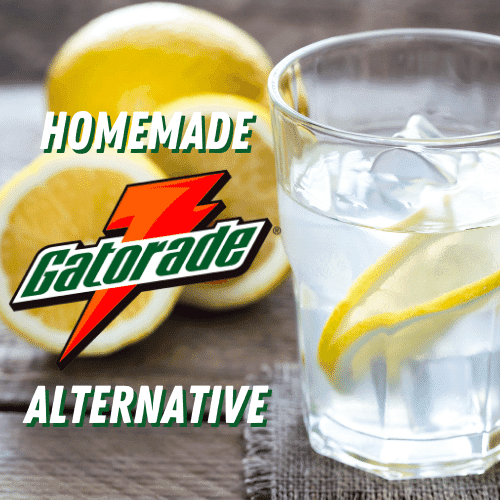 If you love getting crafty and creative with your kitchen stash, you can actually whip up your own Gatorade-inspired alternative just the way you like it — free from artificial and potentially harmful ingredients and it saves you from the need to rush to the store to buy a week's supply. 
You can follow this quick recipe for starters:
3 cups 100% pure coconut water
4 cups water
1 cup 100% fruit juice (Any flavor is good)
2 tablespoons honey
¼ teaspoon salt (Preferably mined or Himalayan salt)
You can also add a dash of fresh lime/lemon juice for added taste, or add your own ingredients or adjust ingredient ratios as you please:
Simply mix all the ingredients together in a punch bowl and stir continuously until the salt and the honey have been completely dissolved. Refrigerate the contents in pitchers or your favorite bottles/canteens.  
Takeaway
While Gatorade has become a popular go-to brand for athletes and fitness enthusiasts, it falls short of ingredient purity and efficiency, which could affect one's physical performance and even result in health problems in the future.
Luckily, brands like Hydration, Dripdrop, and other brands offer themselves as safer alternatives that even give and deliver more results. You can also make a healthier sports drink at home, just the way you want it.