Druggenius.com is reader-supported. We may earn a commission through products purchased using links on this page. Learn more about our editorial process here.
Supermush is a spray supplement that combines functional mushrooms and superfoods to increase energy levels, boost immunity, and induce relaxation. With so many reviews popping out online, we've decided to try out the product to test its efficiency.
With this Supermush review, we will break down each ingredient used and its benefits, see what verified customers have to say about their experience with the product, and detail our own take about using it. Then we'll cast our judgment on whether or not Supermush will be worth the buck.
Review Summary
SuperMush mushroom sprays are a good introduction to the world of functional mushrooms and their benefits. We like that each blend aligns with a desired mood and found that they were all effective at encouraging the feeling they target.
We would recommend getting a bundle to begin with as this is the most cost-effective and allows you to sample the sprays and see what works for you.
The Brand Behind The Product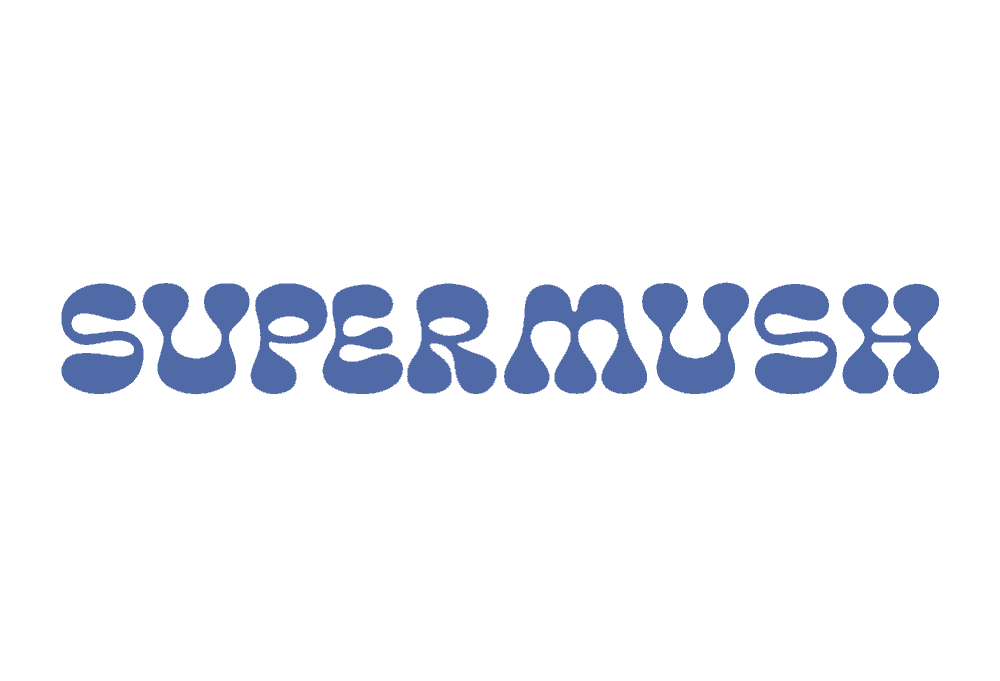 New and emerging brands are successfully conquering the field of pharmaceuticals by creating modern, creative, and innovative products that appeal to like-minded, fast-paced consumers, and Supermush is one such example.
Considered the brainchild of duo Alli Schaper and Brian Friedman, SuperMush was borne out of inspiration from the music genres prevalent in the 60s up to the '70s and compelled by the world's urgent need for health and vitality. 
The creators advocate for the legalization of psilocybin and other psychedelics for responsible therapeutic use and personal flourishing, believing that fungi of all types produce health benefits and that harnessing them, especially those of psychedelic and functional mushrooms, could make a difference in relieving a host of physical and mental health conditions.
What Is SuperMush?
An exhausted mind and body, worn out after an exhausting day at work/study, need to have a "boost" to regain their energy levels or simply opt to relax, and a supplement like Supermush can do just the trick. 
Supermush is a dietary supplement that contains 20g of functional mushrooms and superfoods into a convenient, on-the-go daily mouth spray. Like magic in a bottle.
Various types of fungi/mushrooms have always been used for their benefits in boosting the immune system, maintaining healthy gut flora, remediating certain health conditions, sharpening one's brain functions, and managing stress anxiety levels to enhance your well-being.
Supermush uses these four common ingredients:
Cordyceps – a genus of parasitic fungi that help treat conditions like respiratory disorders, liver disorders, arrhythmias, high cholesterol, and even sexual problems among men. It can boost physical performance and is good for heart health (study).
Reishi – endemic in hot and humid locations, this mushroom is used to treat helps boost the immune system, reduce stress, improve sleep, and lessen fatigue. One study found it able to increase the production of estrogen and progesterone. (study)
Lion's Mane – these mushrooms are used to support digestion, prevent cognitive decline (e.g., Alzheimer's, dementia et al.), facilitate faster recovery from nervous system injuries, and cut the risk for heart disease.
Turkey Tail –  a mushroom rich in antioxidants, it helps increase energy levels,  boosts your immune system, promotes cellular health, and improves your gut bacteria's balance. It is also known to relieve stress, anxiety, and fatigue.
It's also available in three different variants. Each of them contains additional ingredients that give additional support:
Flavor: Tangerine Crush
This particular variant focuses more on energy and is said to be just as effective as a cup of joe, so this spray could come in handy whenever you need an energy boost for you to keep going. 
Functional Mushroom Content:
Organic Cordyceps
Organic Lion's Mane
Energy also contains the following:
Rhodiola – used for increasing energy, stamina, strength, and brain function. It helps relieve stress, headaches, depression, and anemia and has anti-cancer properties.
Green Tea – helps attain weight loss, reduces the risk of several diseases, including diabetes, heart disease, and cancer. It can also lift the mood and sharpen one's focus.
Elderflower – best known for supporting healthy respiratory systems and as a natural diuretic and can help eliminate water retention, bloating, and edema. It contains antibacterial and antioxidant properties which help combat oxidative stress.
Vanilla is a spice rich in antioxidants and anti-inflammatory properties that can help prevent the breakdown of cells and tissues in the body and stimulate the body's natural regrowth. It is also considered a natural aphrodisiac, increasing arousal by 9 percent in men.
Monk Fruit – traditionally used to make hot drinks that relieve sore throats and reduce phlegm. It's rich antioxidants that help fight off free radicals that lead to health problems like cancer and heart diseases. A natural sweetener that is growing in popularity.
Flavor: Cinnamon Toast
The Immunity spray aims to boost and enhance your immune system, protecting you from foreign invaders like bacteria, viruses, parasites, and fungi that cause infections, illnesses, and diseases.
Functional Mushroom Content:
Organic Turkey Tail
Organic Reishi
Immunity also contains the following:
Acerola – being the fruit with the highest vitamin C content, it's rich in antioxidants, has a detoxifying effect, and can improve eye health. It's also used for preventing heart disease, atherosclerosis (hardening of the arteries), blood clotting, and cancer.
Cinnamon – contains anti-viral, anti-bacterial, and anti-fungal properties. It can support gut health, help manage blood pressure, lower blood sugar levels, and enhance cognitive functions.
Honey –  rich in antioxidant properties, provides faster wound healing, relieves inflammation, and prevents damage from free radicals. Studies show that honey can also have antidepressant and anti-anxiety benefits and help prevent memory decline.
Ginger – contains gingerol, a compound with antioxidant properties to help boost your immunity. It helps your body fight off high blood pressure, heart disease, and lung disease. 
Flavor: Hibiscus Dream
After an exhausting and dragging shift at work, you'll just want to forget the day's cares, sit back and unwind. The Chill spray will help you feel calm, cool, and collected throughout the day in just a quick spritz:
Functional Mushroom Content:
Organic Reishi
Organic Lion's Mane
Chill also contains the following:
Ashwagandha is an ayurvedic plant that can help normalize cortisol levels and reduce stress and anxiety. It also lowers blood sugar levels, increases muscle mass, improves sexual function among women, and increases fertility and testosterone levels in men.
Hibiscus – helps boost the immune system and may help prevent cell damage caused by free radicals in the body. It may also help reduce blood pressure levels, boost liver health, and facilitate weight loss.
Lavender – has antiseptic and anti-inflammatory properties, gives better sleep quality, reduces blood pressure and heart rates, and treats blemishes. Research suggests that it could also help treat anxiety, insomnia, depression, and restlessness.
Lemon – a fruit rich in Vitamin C, aids in weight loss and digestive issues and reduces the risk of cancers and heart disease. It also promotes hydration, lightens the skin, decreases excess oils, reduces skin damage and premature aging, and prevents acne.
Recommended Dosage
To use Supermush and see results, simply spray four times on your tongue and swallow. Shake before use and can be used up to 3 times daily.
Pros And Cons
So far, we've noted the following ups and downs of using the Supermush spray: 
Pros
Uses natural, scientifically-backed ingredients 
Has excellent bioavailability
Conveniently-sized
Suitable for all diet types
100% vegan, gluten-free, dairy-free, and soy-free
USDA organic
Third-party lab tested
Great taste
Excellent customer service
Cons
The Chill variant has a slightly bitter aftertaste which others could find unpleasant.
May take prolonged and consistent usage to see visible results.
Product Cost
An individual spray bottle of Supermush costs $27.00. The bottle can last for about a month (max of 30 days) when taken daily. Subscribing monthly lets you enjoy a 10% discount (save $2.70), get free shipping, and other exclusive deals. Can't decide on which bottle to get? Supermush offers the Bundle option, which includes all of the variants for $67.00 ($60.00 for monthly subscribers).
Since other people are also looking for alternatives to caffeine, other mushroom-related products are also available online. MycoShield is another mushroom spray that is manufactured by the Host Defense brand.
Available in flavors like peppermint, cinnamon, citrus, licorice, and winter mist, Mycoshield is a cheaper option at $19.95 per 1oz bottle. Compared to MycoShield, Supermush has the upper hand with the number of ingredients and their variation.
Supermush Mushroom Spray Review – What Customers Have To Say
SInce SuperMush is a relatively new brand, there are only a few verified customers reviews at this point, but so far, they have all been pretty positive: 
"The benefits of functional mushrooms have been huge for me and Super Mush provides those benefits in a way that's unlike any mushroom product I've tried before. Through a delicious mouth spray with fun psychedelic branding, Super Mush supports three major need states: energy, immunity and chill."

Jesse I.
"I love the concept and am a big believer in the power of mushrooms. The flavor profiles are delightful, and I really appreciate the additional samples they included in the order (that really helped me narrow down which ones I'd like to order in the future). I was a little worried about how some of the flavors would come out, so the samples helped me make decisions."  

Kelsie H.
"I thought the Bundle and concept of spray mushrooms was so unique and when it arrived I wasn't disappointed. I love the little bottles and pretty labels. I am an antique person, so I especially love the Daily Energy. I spray in the early morning and it gives me a wonderful boost! I can't use caffeine, so this is the answer for me! And then it's great to have the Immunity during this pandemic time, and then the Chill for the evening. " 

Victoria W.
Frequently Asked Questions
Does the Supermush spray have caffeine?
Supermush doesn't use caffeine per se in any of its products. Though green tea, used in the Energy spray, does contain some amounts, it shouldn't make you feel jittery or anything.
Will the mushrooms make me trip?
No, they won't. Supermush uses functional mushrooms, not psychedelic ones (AKA magic mushrooms), but they are just as powerful. Functional mushrooms are rich in health benefits that balance your energy levels, strengthen your immune function, sharpen brain function, and many others.
Do the sprays expire? How should they be stored?
A SuperMush mouth spray can have up to a year shelf life when stored properly. It should always be stored away from extremely low or high temperatures.
Final Thoughts
Having used and tested Supermush and seeing its positive results and effects, it's safe to say that the Supermush spray is an effective way to consume and enjoy the benefits of functional mushrooms without having to chew them. It can be a good alternative if you want to steer clear of anything caffeine-related.
When in doubt, ask your doctor before taking the supplement to discuss the effects of these mushrooms on your health.
Disclaimer: this article does not constitute or replace medical advice. If you have an emergency or a serious medical question, please contact a medical professional or call 911 immediately. To see our full medical disclaimer, visit our Terms of Use page.
Related Articles
Best Turkey Tail Mushroom Supplements