Turkey tail mushroom supplements can have a significant impact on your health and wellness. These capsules and powders have been exploding in popularity in the last couple of years. In this article, we'll dig into the benefit of adding this supplement to your daily routine and identify which are the best turkey tail supplements available today.
Druggenius.com is reader-supported. We may earn a commission through products purchased using links on this page. Learn more about our process here.
What Are Turkey Tail Mushrooms?
Despite its colorful name, turkey tail mushrooms do not actually have anything to do with turkeys or their tails!
Named for their specific look, resembling a turkey tail thanks to the red and blue circles that they have on them, the turkey tail mushroom also goes by the name Trametes Versicolor, Coriolus Versicolor, and Polyporus Versicolor. This specific kind of mushroom is an edible, somewhat mild, and bitter mushroom that is heralded for its medicinal purposes, being one of the most tested of all mushroom variants.
The turkey tail mushroom has been used for medicinal purposes for many generations, such as in traditional Chinese medicine, where it has been used for more than 2,000 years.
With its medicinal properties, it is often used as an ingredient in medicines for a wide variety of illnesses from minor stomach problems to the likes of cancers, it is no surprise that turkey tail mushroom supplements have become such a popular form of health supplement all over the world. 
Fruiting Body Vs Mycelia
These supplements are created from two different parts of the mushroom itself:
The fruiting body – (the stem, gills, and cap, which are the areas that are the most commonly eaten but are also the reproductive components in nature which are used to inoculate hosts and deploy spores)
The mycelia – (a fungal-like component used for crafting that can be found on mushrooms of all shapes and sizes).
Beta-Glucans
One of the biggest benefits of turkey tail mushrooms is that they contain beta-glucans. Make a note of that as we are going to be mentioning them quite a lot! Beta-glucans are a kind of soluble fiber source that has been linked to a wide range of health benefits, such as a stronger immune system, lower cholesterol, and a healthier heart.
It is a fiber source that originates in the cell walls of certain plants as well as yeasts, bacteria, and most importantly to what we are discussing here, fungi. Turkey tail mushrooms are known to have some of the highest levels of beta-glucans in comparison to other small mushrooms.
The extracts of the mushroom that are used in turkey tail supplements will carry over these beta-glucans, with around 45g of turkey tail extract being made up of more than thirty percent beta-glucans.
This is usually a selling point with turkey tail mushroom supplements, and for good reason, thanks to the benefits that beta-glucans have on general health!
Ways to Take Turkey Tail Mushroom
Capsules – the most convenient way, easy to trasnport, accurate dosage, zero taste. All of the products we suggest on this page are in capsule form due to these benefits.
Powder – similar to the capsule form but for those who prefer to measure out their supplements. Useful for combining supplements or adding mushrooms to your smoothies.
Tinctures – liquid extract form of mushroom supplement that only requires a few drops under the tongue. It allows for quicker absorbtion but due to method of extraction you may lose thewater soluble beta-glucans.
Tea – a traditional way to administer turkey tail. Read our full post on turkey tail mushroom tea here.
Whole Mushroom – a dried whole body mushroom. Can be added to recipes or used to make your own powders.
The List
Now that we have an idea as to what turkey tail mushrooms are, what they are made up of, and how they are harvested to create supplements, let's take a look at a few of the best available turkey tail mushroom-based supplements that are on the market. 
Save 10% with code: Genius
Let's begin with this option of turkey tail mushroom supplements from the respected company Real Mushrooms, who yep, you guessed it make products from one hundred percent organic mushrooms.
Their turkey tail mushroom supplements are no exception to this rule, as they are made from certified organic mushrooms. As well as that, their mushrooms are all gluten-free, vegan safe, and non-GMO (so they aren't made from any genetically modified organisms).
There are no additives with this choice of turkey tail supplements, such as grain, starch, or mycelium (the rooting system of a mushroom). This supplement is available in a bulk powder version too, making it a highly versatile option to suit various personal preferences and tastes.
The turkey tail mushroom has been lifted via a hot water extract to create this particular supplement. This method is considered by many as essential for supplements containing mushroom extracts as, without the heat of the water, the extract can lose its efficacy.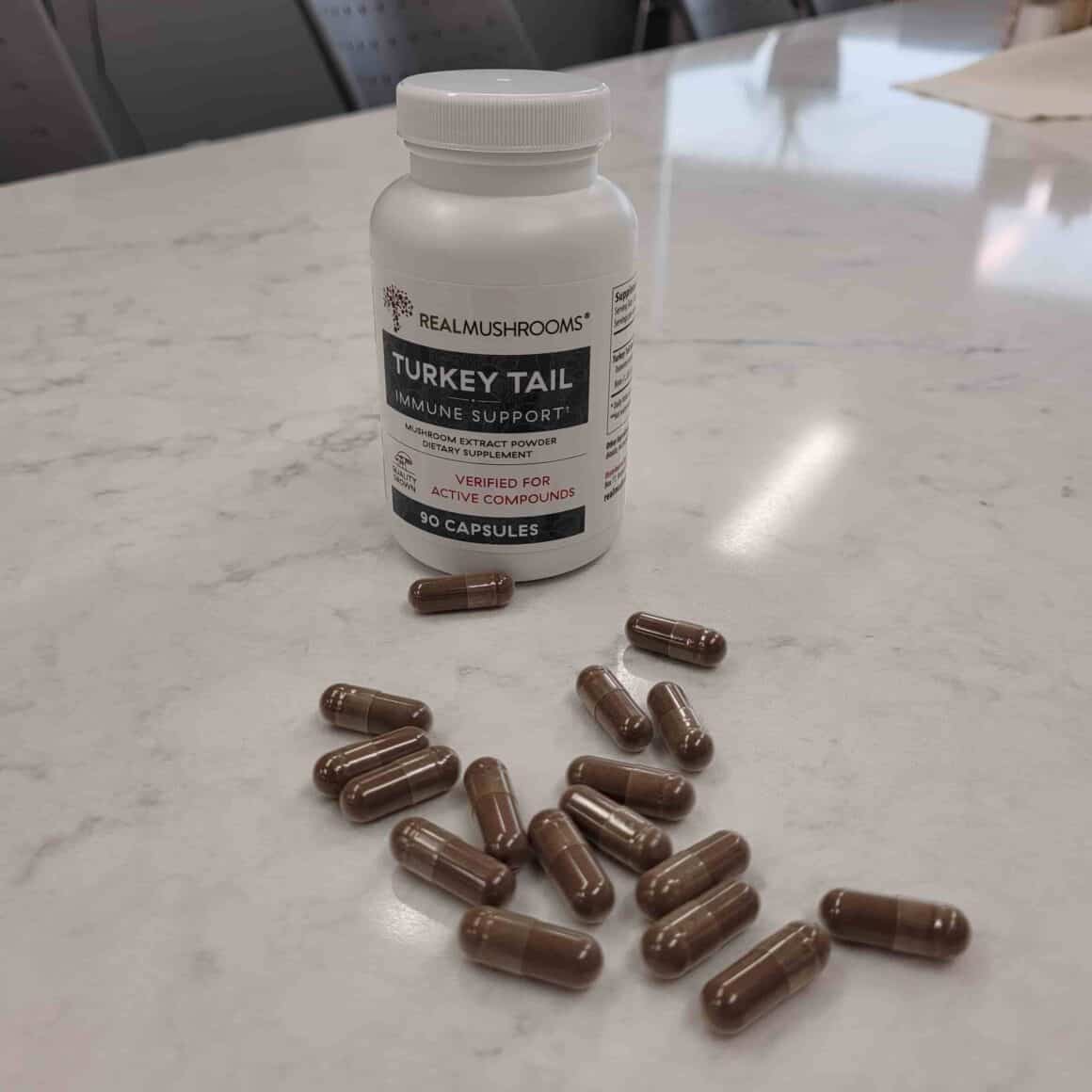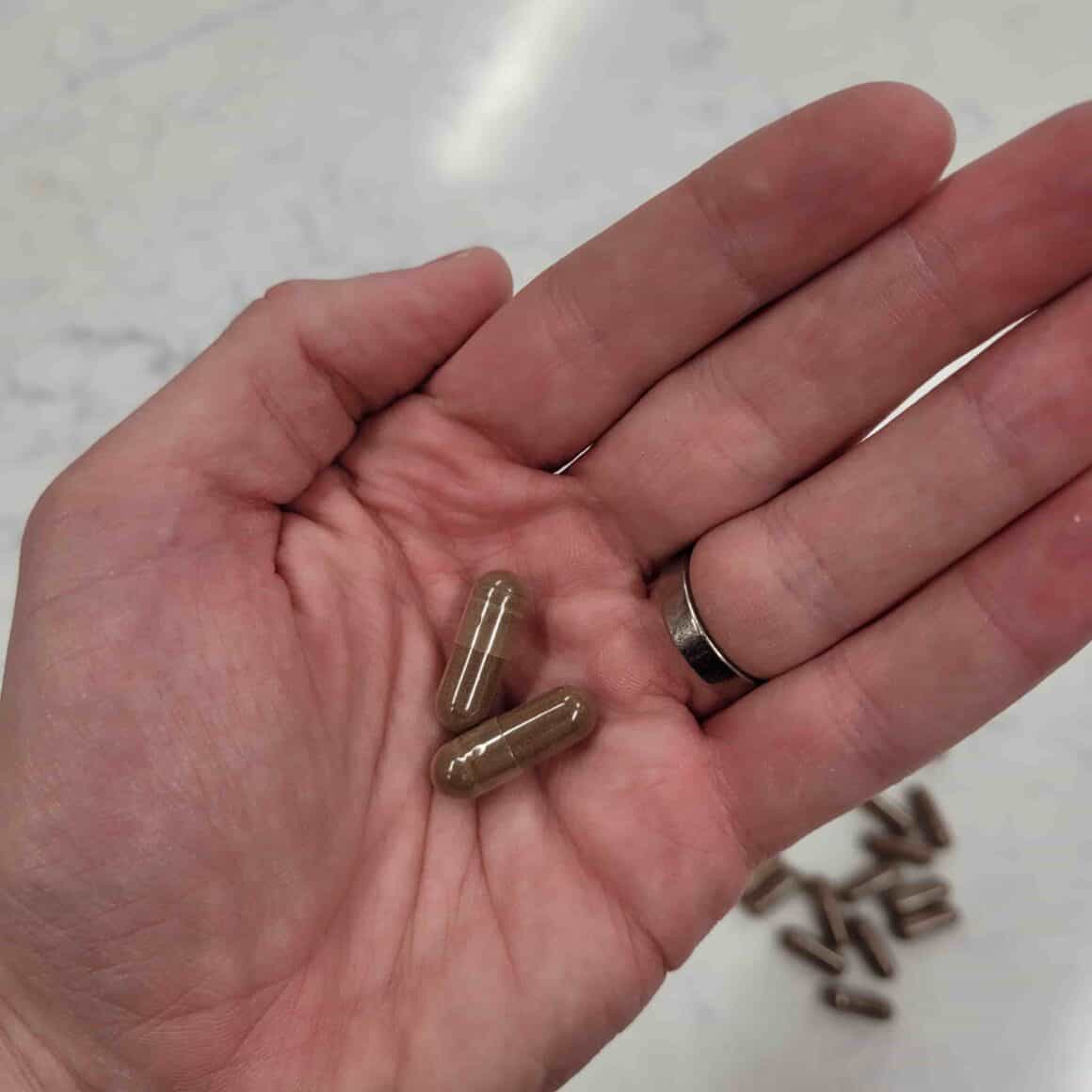 The beta-glucans within the extract are also unable to escape from the cell walls of the mushroom without damage if the process has not been conducted via a hot water extract. 
The Real Mushrooms Turkey Tail Mushroom supplement (the capsule version that is) has a serving size of two capsules a day, which totals to 1000 mg of the mushroom supplement daily as each capsule is 500 mg.
You can also opt for a container of 90 capsules (with 45 servings) or 200 capsules (with 100 servings). As we mentioned when previously discussing beta-glucans, this is a supplement that is made up of more than thirty percent beta-glucans, which can be incredibly beneficial to health.
All in all, this is a great option when it comes to turkey tail mushroom supplements thanks to its dedication to organic products, proper production, and its option of either capsules or powder. 
Ingredients List
Turkey Tail Mushroom Extract
Beta D-Glucans
Other Ingredients
Hypromellose (Vegetable Capsule)
Stearic Acid
Cellulose
Silicon Dioxide
Microcrystalline
Pros:
Made organically
Available in capsule form and powder form
Choice of 90 capsules or 200 capsules
Gluten-Free
Vegan
Non-GMO
No additives
Quality has been verified at a third-party laboratory. 
The hot water extract process has been used in the production of the supplement 
Cons:
Statements not evaluated by the Food and Drug Administration
Save 10% with code: Genius
---
Peak Performance is a company that provides organic supplements, foods, and drinks such as protein powders, organic coffee, and superfood powders and they offer their own take on the turkey tail mushroom supplement.
These particular supplements are made from high-quality, non-GMO ingredients with nothing artificial added, such as artificial sugars, binders, preservatives, refined flours, hormones, pesticides, or added sweeteners.
The formula is also vegan-friendly with no traces of products such as shellfish, corn, wheat, soy, gluten, milk, peanuts, or eggs. The turkey tail mushrooms that are used for the extracts are grown ecologically and are then harvested carefully to preserve as many natural nutrients as possible.
They are then tested for potency and quality, all whilst maintaining an organic methodology during the production process.
The mushrooms are rich in beta-glucans and are full of healthy, digestive, and prebiotic enzymes that work brilliantly when it comes to maintaining your stomach health. 
Peak Performance has three different quantities of their turkey tail mushroom capsules: a single pack, a three-pack, or a six-pack.
The single pack can be bought in subscription, whilst the three-pack has free shipping and a ten percent off discount. The six-pack also has this free shipping offer and the extra incentive of a twenty percent discount.
The company also offers a thirty-day money-back guarantee should you not be satisfied with the capsules, and they are also rigorously tested by a third party to make sure that they are safe and healthy for human consumption.
Peak Performance also offers a one-for-one donation service, wherein the company supplies a child at risk of malnutrition with vitamins for one year via their partnership with the non-profit organization Vitamin Angels with every one item that is purchased. 
Ingredients List
Organic turkey tails fruiting body and mycelium
Other Ingredients
Pros:
Organically made
Vegan
Non-GMO
No artificial additives
One for One donation to Vitamin Angels with every purchase
Tested by a third-party laboratory 
Thirty Day Money-Back Guarantee
Options of subscriptions, discounts, and free shipping
Cons:
Only available in capsule form

No mention as to whether the mushroom extract is done via a hot water extraction method, which is vital in maintaining the efficacy of the extract. 
---
FreshCap is another company that offers completely organic turkey tail mushroom supplements with absolutely nothing added.
FreshCap claims to take their organic values incredibly seriously, by organically growing their mushrooms, carefully extracting them via the hot water extraction process, and then analytically testing them to ensure that only the most beneficial of compounds are left.
The mushrooms are thoroughly examined for a range of different contaminants such as pesticides, gluten, heavy metal traces, and microbial contamination.
This is done both before and after the mushrooms have been packaged in the FreshCap GMP Certified facility, located in the United States.
This thorough testing process is certainly a positive for those who might be wary of what exactly they are ingesting when it comes to supplements!
Freshcap offers both extract powders and capsules for their turkey tail mushroom supplements, with the capsules coming in a container of 120 and the powdered extract available in a tub with 60 servings.
The powder is sold alongside a small scoop, making it easier for you to know the exact measurements that are needed for a healthy dosage.
You can add the powder to drinks or food, such as tea, coffee, or smoothies so that you don't have to consume it by itself (powders such as this can sometimes be a little bitter if consumed alone!).
You can get the capsules on a subscription service too if you so choose. This allows you to save around twenty percent when you purchase the capsules via FreshCap and you can also choose whether you want to receive the subscription every month, every two months, every three months, or every four months.
Each serving size is two capsules, and a larger container of 120 capsules offers 60 servings. The powdered variant offers 60 servings too!
Ingredients List
Organic Turkey Tail Extract (standardized to contain thirty five percent beta-glucan) (the fruiting body of the turkey tail mushroom)
Other Ingredients
Pros: 
Uses the whole fruiting body of the turkey tail mushroom
Organically made and sustainably farmed
Tested thoroughly for safety and quality
No fillers or grains included
Available as both a powder and as capsules. 
The hot water extraction process is used during the production of the supplement
Cons:
The statements made on the website have not been evaluated by the United States Food and Drug Administration. 
---
Much like the companies that we have already discussed, Real Mushrooms and FreshCap, Host Defense is another store that specializes in the beneficial, healing properties of mushrooms by creating supplements that incorporate the vegetable.
Host Defense has its own take on the turkey tail mushroom supplement formula, but it is also an entirely organic supplement choice that is sustainably cultivated in organic farms in the United States.
The capsules are vegetarian safe, containing mushroom mycelium whilst the mushroom extract itself contains freeze-dried and activated mushroom mycelium (which has a wide variety of constituents such as glycoproteins, triterpenoids, polysaccharides, ergosterols, and an array of more myco-nutrient variants).
The freeze-dried mycelium is also rich in beta-glucans such as fucose, glucose, mannose, and galactose to name a few.
Host Defense offers two alternatives to the capsules: a powder and a liquid extract. Having this option is always useful in case some prefer one form over another, such as those who may have difficulty swallowing capsules. 
The Host Defense capsules come in doses of two a day, with 60 capsules available in each container. There is also the option of a container with 120 capsules if you want to opt for a dosage that will last longer. 
Ingredients List
Other Ingredients
Freeze Dried Myceliated Brown Rice
Pullulan (an extracellular polysaccharide)
Pros:
Organically made
Vegetarian Safe
Available as a powder and a liquid extract as well as a capsule
Cons:
Lots of ingredients. This might scare away those who are only interested in a supplement that is pure turkey tail mushroom extract. 
Only the mycelium is used from the turkey tail mushroom, rather than the more potent fruiting body. 
No mention of that all important hot water extraction process
---
The turkey tail mushroom supplement that is available from Double Woods is another choice that is free from GMO and gluten and is entirely safe for vegans too. It is also a completely organic option that was created in the United States.
As well as the usual benefits that can be found with turkey tail mushroom supplements such as aiding with digestion, supporting and defending the immune system, and working as a powerful antioxidant.
Thanks to the inclusion of antioxidants such as flavonoids and phenols the Double Woods supplement also do something a little unique in comparison to the other supplements that we have included here that it highlights how it is also a supplement that can be beneficial for dogs too! 
Turkey tail is completely safe for dogs and can aid with battling against yeast infections, boosting the immune system and digestive and urinary health conditions for our canine companions.
Basically, it can do everything for dogs that it can do for humans! The Double Woods turkey tail mushroom supplement is a great option for both people and their puppy pets!
This particular supplement choice comes with enough capsules to last for two months (120 capsules) and much like the other turkey tail mushroom supplements that come in capsule form, the dosage is two a day at 500 mg each to make for 1000 mg of the supplement daily. 
Ingredients List
Organic Turkey Tail (entire fruiting body and extracellular compounds) 
Other Ingredients
Hypromellose (Capsule)
Organic Rice Flour
Pros:
Organically made
Two months worth of capsules
Non-GMO
Vegan Safe
Gluten-Free
Cons:
No mention of the hot water extraction method
Only available as a capsule. 
---
Verdict
As you can see, there are tons of options available when it comes to turkey tail mushroom supplements (these are only a few of the supplements that are on the market at the moment!).
What we can gather from the supplements listed above is that there are certain factors to look out for when considering investing in a supplement of this kind, as there are elements that will make for a more potent mushroom supplement.
For instance, the hot water extraction method is considered a selling point for turkey tail mushroom supplement purists, yet only a few of the ones that we have mentioned above discuss this method.
This doesn't necessarily mean that the supplement has not been made via the hot water extraction process, but it is something that you can chase up with the manufacturer should you want to know more about it.
You can also check to see if the supplement has been organically manufactured as all the ones that we have discussed today have been as well as whether it is safe for vegetarian and vegan consumption.
Luckily, organic turkey tail mushroom supplements are pretty common thanks to the natural ingredients, but it is always best to double-check to ensure that your chosen supplements have been properly assessed to avoid any nasty inclusions of contaminants such as pesticides. 
Some companies will use freeze-dried mushroom mycelium within their turkey tail mushroom supplements, whilst others will only use the fruiting body of the mushroom, so this is certainly an element to consider with this particular supplement.
Which would you rather have? If you are unsure, do a bit of research first and then make your choice once you feel that you are better informed on the turkey tail mushroom in general and the process of transforming it into a supplement.
The health benefits are pretty amazing with this kind of supplement and with only a few potential side effects, this is certainly a health supplement that is worth giving a try. 
Related Articles