MUD/WTR is a rising coffee alternative that offers all the benefits of coffee without the cons that come with it. But with the recent rise in the demand for coffee alternatives, we see some more affordable brands standing out. Check out our top 5 picks for the best MUD WTR alternative.
Top 5 MUD/WTR Alternatives
Our Favorite Alternatives To MUD/WTR – The List
With its ingredients and benefits considered, MUD/WTR is truly a high-quality coffee alternative. But it can be pricier than most brands, so we picked a few budget-friendly MUD/WTR alternatives that pack the same punch, which you can easily buy online or in shops:
Best price per serving: $1.00
6 Mushroom Blend 

Reishi
Chaga
Cordyceps sinensis
Cordyceps militaris
Turkey Tail

No Sugar
Made in the USA
Free Shipping for Subscriptions
This is the closest ingredient and taste match to MUD/WTR. It contains the exact same mushroom blend and comes in at a best price of $1 per serving (MUD/WTR best price = $1.22 per serving. You don't get any free gifts with Beyond Brew but if you want an alternative that is cheaper and has the closest ingredient profile, this is the option for you.
Make a new morning ritual with Beyond Brew! It boasts a powerful blend of 6 organic functional mushrooms and a selection of powerful pre and probiotics for digestive support, specially formulated to support sharper brain function, gut & immune health, and overall optimal health.
Functional mushrooms like cordyceps, lion's mane, and chaga help promote mental clarity, focus, and energy, Reishi, on the other hand, helps calm the mind and relax the body, while turkey tail supports digestive and immune health with its potent nutritional qualities. The pre/probiotic duo help maintain digestive health, the Bacillus coagulans, a heat-resistant probiotic strain, and prebiotic fibers that nurture the gut microbiome
Live Conscious uses exclusively organic mushrooms since they don't absorb any fungicides or other contaminants during growth. The company also delivers its commitment to ingredient transparency, safety, and product quality with third-party testing.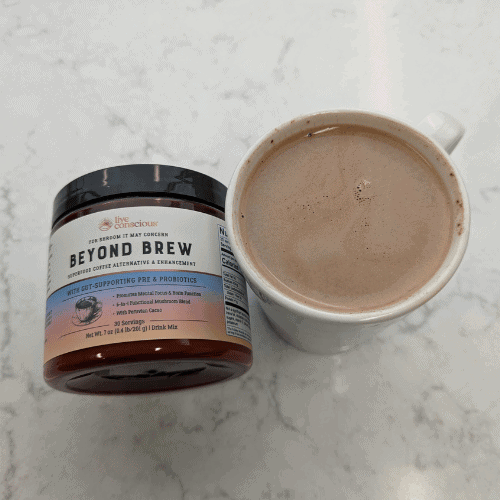 Ingredients
Organic Cacao
Organic Tahl
Beyond Brew Mushroom Blend 

Organic Lion's Mane Extract
Organic Reishi Extract
Organic Chaga Extract
Organic Cordyceps sinensis Extract
Organic Cordyceps militaris Extract
Organic Turkey Tail Extract

Organic Allulose
Bacillus coagulans
Organic Ginger
Organic Stevia
Organic Ceylon Cinnamon
Organic Monk Fruit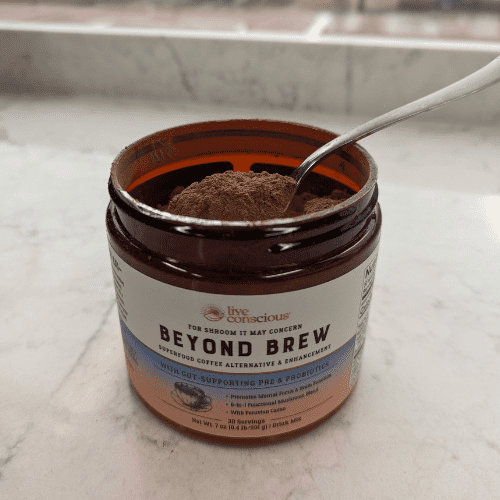 Price
Price
Beyond Brew
MUD/WTR
Single Price
$39.99,
$1.33 per serving
$50,
$1.66 per serving
Subscription Price
$34.99,
$1.16 per serving
$40,
$1.33 per serving
Highest Tier – Best Price Per Serving
$29.99,
$1 per serving
$100,
$1.22 per serving
Pros
Uses purely organic functional mushroom and ingredients
Made in the USA
Non-GMO
100% vegan
Gluten-free
Zero soy, dairy, shellfish, and peanuts
365 Day, 100% money-back guarantee
Cons
Taste is a little closer to hot chocolate than it is to coffee
Doesn't mix perfectly with just a spoon. Much better experience if you use a milk frother
Best price per serving: $0.92
6 Mushroom Blend

Lion's Mane
Reishi
Shiitake
King Trumpet

No Sugar
Made in the USA
Free Shipping
RYZE Mushroom Coffee is a powdered mix containing six functional adaptogenic mushrooms, organic Arabica coffee, and organic MCT oil. While it contains caffeine, it's considerably lower in levels and packs many more nutrients. It also provides sharper focus, increased energy, and immune support for a balanced body and clear mind. 
The 2000 mg-strong adaptogenic mushroom blend contains cordyceps, reishi, king trumpet, shiitake, lion's mane, and turkey tail. Once roasted and brewed, the coffee beans are spray-dried into a pure instant powder before being added to our formula. Overall, a cup of RYZE contains just 48 mg of caffeine.
Each cup has a smooth, creamy, and natural coffee flavor with a distinct earthy flavor. And unlike regular coffee, you won't experience any energy crashes after drinking it or even hours later. A cup every morning provides a consistent, steady flow of energy that lasts the entire day and will gradually go down at the day's end, just in time for bedtime. 
We wrote a full MUD/WTR vs Ryze comparison.
Ingredients
RYZE Organic Mushroom Blend 

Cordyceps 
Lion's Mane
Reishi
Shiitake
Turkey Tail
King Trumpet

Organic MCT Oil 
Organic Arabica Coffee
Price
Price
RYZE
MUD/WTR
Single Jar Price
$30,
$1 per serving
$50,
$1.66 per serving
Subscription Price
$30,
$1 per serving
$40,
$1.33 per serving
Highest Tier – Best Price Per Serving
$55,
0.92 per serving
$100,
$1.22 per serving
Here are some of the things we've noted about this particular product. These might help you decide:
Pros
Uses purely organic ingredients
100% gluten-free
100% vegan
No sweeteners or additives
Less acidic than standard coffee.
Instant powder mix makes it easier to stir.
1% of sales go to teaching mindfulness in schools.
Provides free shipping.
Cons
Subscription only – no one-off purchase option (although canceling is very easy)
The earthy flavor might not be pleasing to some people
Contains coffee beans – if you're looking to eliminate coffee from your diet, avoid this option
Only ships to the US and Canada.
Best price per serving: $1.61
50mg caffeine
2 Mushroom Blend 
Made in the USA
Free Shipping for Subscriptions
Clevr blend's Coffee SuperLatte is truly superlative at making you feel amazing. With only 50 mg of caffeine and only 80 calories per serving, each cup provides earthy and nutty goodness that will make you nostalgic for the good old days.
This blend features six specific ingredients that each deliver its intended benefit. Adaptogens like reishi & ashwagandha provide long-term stress support and strengthen the immune system, 
and lion's mane mushrooms help reduce symptoms of anxiety and depression. The Arabica coffee beans help provide an effective energy boost, while oat & coconut serve as vegan creamers. 
The Bacillus coagulans probiotic strain helps promote optimal gut health,  prevent respiratory infections, and give additional support for the immune system.
Clevr Blends exclusively uses responsibly and ethically sourced ingredients and steers clear of refined sugars or dairy products. Their products also undergo independent 3rd-party quality testing for optimal safety and potency. 
Clevr SuperLatte contains many of the same ingredients as MUD/WTR but it comes in at an even higher price. This is why it ranked lower on our list of alternatives.
Ingredients
Gluten-Free Organic Oatmilk Powder
Organic Coconut Cream Powder
Monk Fruit* (Erythritol, Monk Fruit Extract)
Organic Instant Arabica Coffee
Organic Ashwagandha Extract
Organic Lion's Mane Extract
Organic Reishi Extract
Himalayan Pink Salt 
Bacillus Coagulans GBI 30-6086 Probiotic
Price
Price
Coffee SuperLatte
MUD/WTR
Single Price
$28,
$2.00 per serving
$50,
$1.66 per serving
Subscription Price
$48.45,
$1.61 per serving
$40,
$1.33 per serving
Highest Tier, Best Price
$48.45,
$1.61 per serving
$100,
$1.22 per serving
Pros
Uses ethically and responsibly sourced natural ingredients
Made in the USA
Vegan
Zero dairy and refined sugars
Money-back guarantee
Free shipping for orders above $47
Cons
Taste may not be for everyone
Best p

rice per serving:

$0.72 per serving – *Cheapest alternative
0mg caffeine
2 Mushroom Blend 
Made in the USA
Free Shipping for Subscriptions
Rasa's Herbal Coffee Alternative's 12-herb blend offers a distinctly rich, toasty, and nutty blend that contains 3100 mg of adaptogens per serving and zero caffeine, supports you with calm, nourishing energy to help you make the most of the daily grind and keep you stress-free. 
This coffee alternative's adaptogen blend is unique from other products. Aside from ashwagandha, it features lesser-known adaptogens like Rhodiola, which provides stress relief and improved brain function; codonopsis, which helps promote digestion and greater immunity; and Shatavari, which prevents collagen breakdown and helps maintain the skin's elasticity. 
Rasa strictly uses organic and ethically-sourced ingredients. Rasa Herbal Coffee Alternative is free from grains and sugars of any kind and are suitable for all diet types like vegan and keto. 
The products also undergo meticulous quality processing to ensure the best quality. 
Rasa is the cheapest MUD/WTR alternative but it does not contain any caffeine so we ranked it lower in our list.
Ingredients
Roasted chicory
Burdock
Dandelion roots
Eleuthero
Roasted date seeds
Roasted maca 
Shatavari
Codonopsis
Chaga mycelium
Ashwagandha
Rhodiola
Ceylon cinnamon
Reishi fruiting body extract
Price
Price
Original Rasa
MUD/WTR
Single Jar Price
$29.99,
$1 per serving
$50,
$1.66 per serving
Subscription Price
$23.99,
$0.83 per serving
$40,
$1.33 per serving
Highest Tier, Best Price
$86.40,
$0.72 per serving
$100,
$1.22 per serving
Pros
Uses ethically-sourced organic ingredients
100% vegan
Keto-friendly
No grains and sugars
30-day money back-guarantee
Cons
Taste may not be agreeable to some consumers
5. Make Your Own MUD/WTR Alternative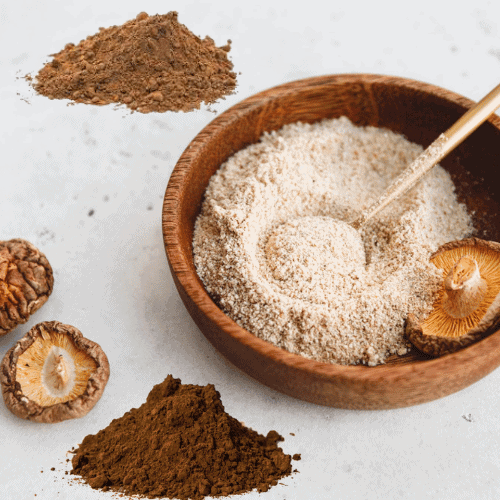 If you're on an extremely tight budget and want to be crafty with your kitchen stash, you can concoct a DIY coffee alternative recipe. While you might think this might be complicated and messy, it's quick and easy!
For example, you can start with the following ingredients. 
Turmeric
Cinnamon
Cacao
Masala chai
Chaga
Cordyceps 
Reishi 
Lion's Mane
For convenience in getting the herbs, you can get them in all-in-one packs like Four Sigmatic Blend Mix and Mushroom Extract Sacred 7 Powder.
You'll also need to prepare the following utensils:
Mixing bowl
Whisk
Frother (optional).

Making The Blend
When ready, open the bag and mix them with a whisk in the large bowl. You can adjust the quantity of ingredients to your liking. 
Once done, store the blend in an airtight container, and use 1 tbsp per cup of water or milk of choice. 
You can also add your own choice of adaptogens. Feel free to add a dash of Himalayan sea salt or your favorite creamer, al gusto.
Opting For Coffee Alternatives
A lot of people drink coffee for multiple reasons, like to get an energy boost before going to work, sharpen their mental focus, or be they end up being dependent on coffee, which gradually evolves into an addiction, which then causes health problems.
Here's where coffee alternatives come into the picture. For example, beverages like tea, golden milk, or yerba mate are often used as a substitute because they have less caffeine and fewer side effects. However, many would still prefer having the old familiar smell and flavor of their regular cup of joe, so that's why brands like MUD/WTR have formulated coffee alternatives made from different sourced ingredients, replicating the taste of coffee sans the jitters and other negative effects that come with it.
What is MUD/WTR
MUD/WTR is a coffee alternative whose ingredients mostly consist of a variety of organic spices and powdered mushrooms to bring out the same benefits of coffee, but with only less than a fraction of the amount of caffeine you'd get in an ordinary cup of coffee. The low caffeine level is ideal for those sensitive to larger amounts or those who want to avoid being too dependent on coffee.
MUD/WTR coffee has two different variants: 
:rise
MUD/WTR :rise serves as the morning cup of coffee. All of the ingredients included in the blend work to keep your health at its prime by providing a quick energy boost to help last the day and improve brain function. It's also loaded with antioxidants.
:rest
:rest is the nighttime, caffeine-free drink made with ingredients like valerian root, chamomile, and turkey tail, that help induce calm and relaxation so that you can rest well. Ideally, this beverage should be taken before bed to promote relaxation and calm and improve sleep quality.
Ingredient Profiles Vs MUD/WTR
Takeaway
MUD/WTR is an excellent coffee alternative for all those who would like to avoid caffeine's negative side effects without giving up the familiar flavor of coffee, but it is packed with better ingredients like adaptogens which offer exceptional health benefits.
But given its benefits and quality, it comes with a rather heftier price than similar brands. Those with a smaller budget can opt for more affordable products with the same health benefits or even more. You can even create your own coffee mix right in your kitchen!
Related Posts