Druggenius.com is reader-supported. We may earn a commission through products purchased using links on this page. Learn more about our editorial process here.
MUD\WTR is a coffee substitute made with choice ingredients whose health and performance benefits are proven by science to bring the same efficiency of a cup of coffee, but with a lower amount of caffeine and minus the usual coffee jitters and energy crashes
This article will break down all of the MUD\WTR ingredients used and discuss their benefits, how they work, possible adverse health effects, and their variety of uses to help you get an idea of what this beverage offers.
MUD/WTR Ingredient List
Cacao Powder
Chaga Mushroom
Cordyceps
Lion's Mane Mushroom
Reishi Mushroom
Masala Chai
Cinnamon
Turmeric
Himalayan Salt
Cacao Powder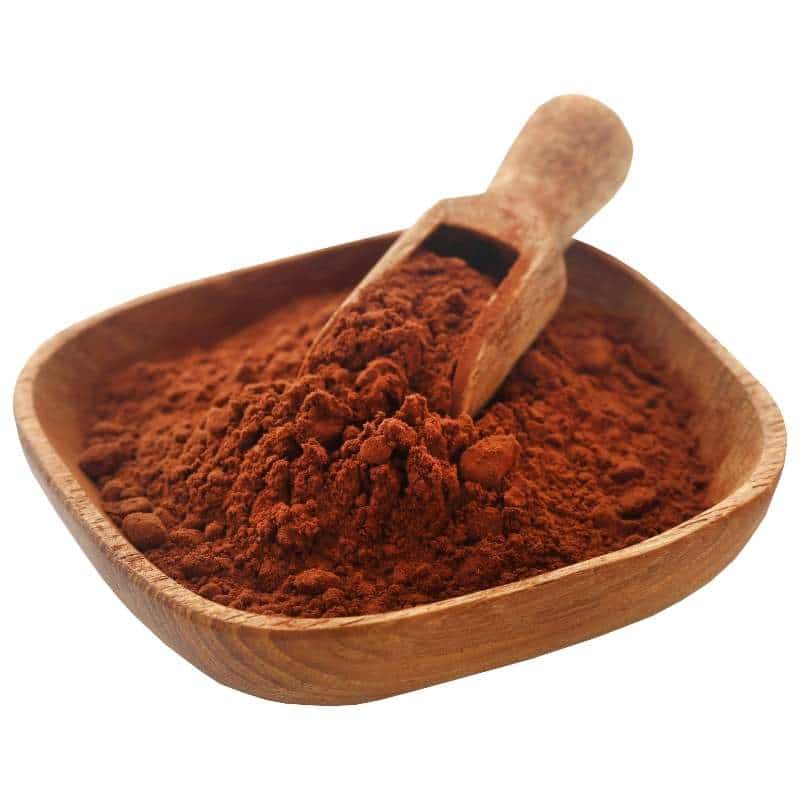 Per Serving: 1.9g
Native To: Amazon Rainforest and tropical parts of Africa and Asia
Benefits
The cacao plant is mostly known for and used in the production of chocolate, cocoa powder, and cocoa butter, among other things. It is also considered a superfood due to its richness in magnesium, calcium, zinc, copper, selenium, and iron. Cacao contains more antioxidants per gram than other fruits like blueberries, raspberries, pomegranates, or tomatoes.
With its properties considered, cacao serves many health functions: it helps lower blood pressure, improves blood flow, and prevents blood clots. It reduces the risk of diabetes, inflammation, and heart diseases, promotes heart health, and improves brain function.
Side Effects
Despite being a coffee substitute, cacao servings still contain about half the caffeine of a brewed cup of coffee, so consuming large amounts might cause caffeine-related side effects such as sleeplessness, nervousness, frequent urination, and a faster heartbeat. It can also cause weight gain, allergic skin reactions, and even migraines in some cases.
Chaga Mushroom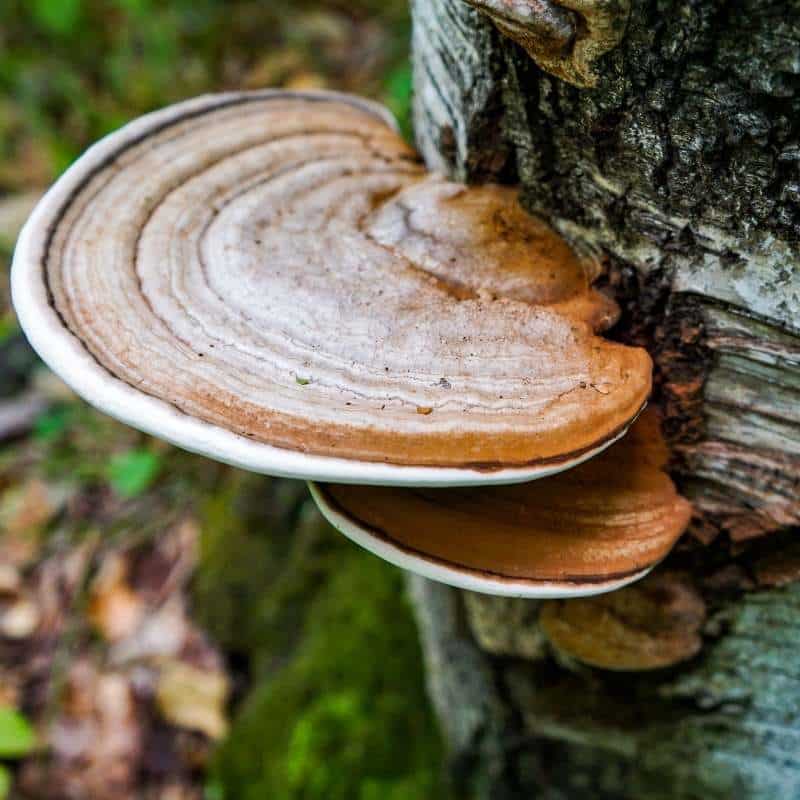 Per Serving: 0.56g
Native To: Northern Europe, Siberia, Russia, Korea, Northern Canada, and Alaska.
Benefits
The Chaga mushroom (Inonotus obliquus) is a type of mushroom that grows mainly on birch trees in cold climates. It's often used across northern Europe as a popular remedy for various ailments and is served as an herbal tea.
Chaga mushroom is particularly rich in B-complex vitamins, Vitamin D, potassium, calcium, and iron. Its high anti-inflammatory and antioxidant properties are mainly used to boost the immune system and reduce bodily inflammations, which could also help lower cholesterol and reduce the risk of cancers and heart disease. Several studies have also discovered its ability to reduce blood sugar levels and improve insulin resistance.
Side Effects
Consuming Chaga mushrooms is generally safe, but one still has to be prudent in taking them.
For example, those who have Type 2 diabetes should seek their doctor's advice before considering taking Chaga; otherwise, it could result in hypoglycemia, a significant drop in their blood sugar levels. These mushrooms are also high in oxalates, which can increase the risk of kidney stones.  
Cordyceps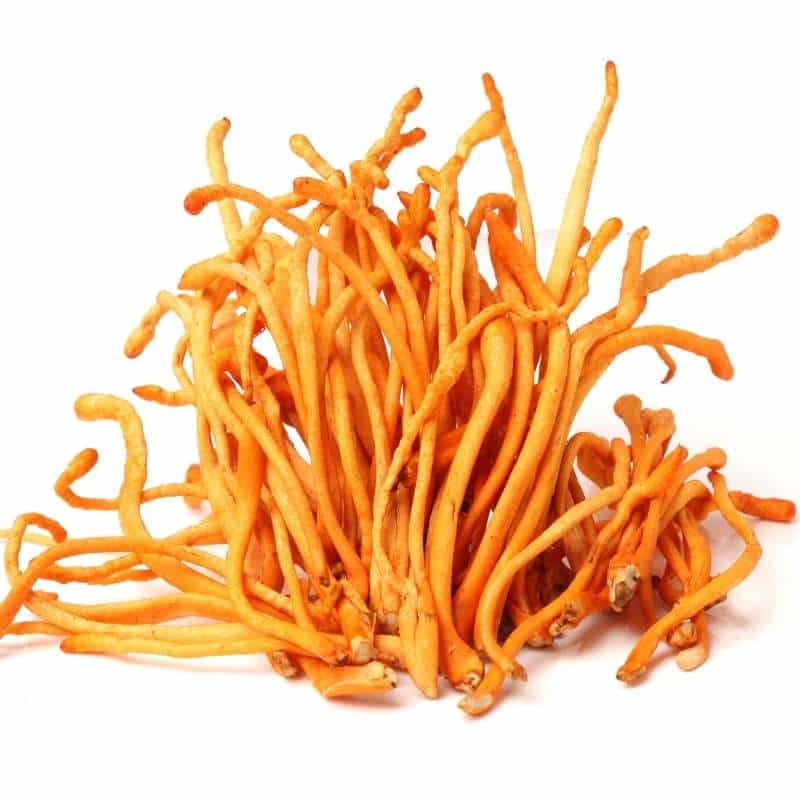 Per Serving: 0.56g
Native To: Parts of Asia like Nepal, China, Japan, Korea, Vietnam, and Thailand
Benefits
Otherwise known as "Himalayan Gold" because it is often farmed in the plateaus of the Himalayas, cordyceps is a type of fungus said to offer medicinal, antioxidant, and anti-inflammatory benefits, which made it part of ancient Chinese and Tibetan herbal medicine. 
Cordyceps is rich in vitamins E, K, B1, B2, and B12, and minerals like potassium, calcium, magnesium, iron, copper, manganese, and zinc. It helps treat conditions like respiratory disorders, liver disorders, arrhythmias, high cholesterol, and even sexual problems among men. It can boost one's physical performance and is good for heart health.
Side Effects 
Taking cordyceps can sometimes cause mild side effects like diarrhea, constipation, and stomach troubles. Those with bleeding disorders should steer clear of them since it can slow down blood clotting and increase the risk of bleeding. 
Lion's Mane Mushroom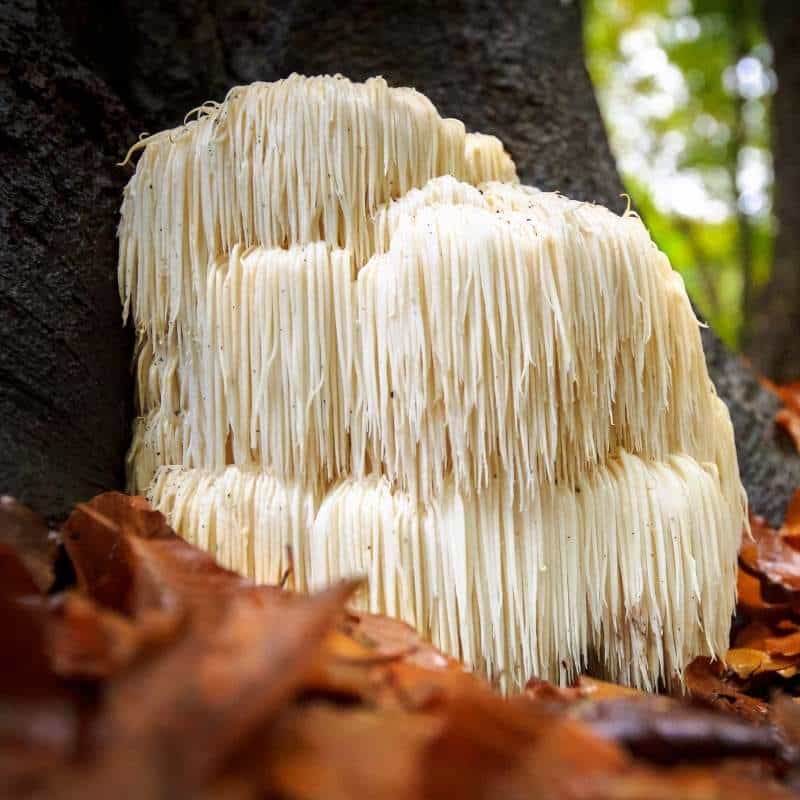 Per Serving: 0.56g
Native To:  North America, Europe, and Asia,
Benefits
Lion's mane mushrooms are edible mushrooms whose shaggy appearance resembles a lion's mane as it grows. They can usually grow on dead tree logs found in North American forests.
Typically used in cooking, it is often used to promote good digestion, prevent cognitive decline (e.g., Alzheimer's, dementia et al.), relieve symptoms of anxiety and depression, facilitate faster recovery from nervous system injuries, and reduce the risk for heart disease.
Side Effects 
Exposure to lion's mane mushrooms has sometimes caused allergic reactions like skin rashes and breathing problems. But contrary to popular belief, they are not psychoactive, so consuming them doesn't get you high.
Reishi Mushroom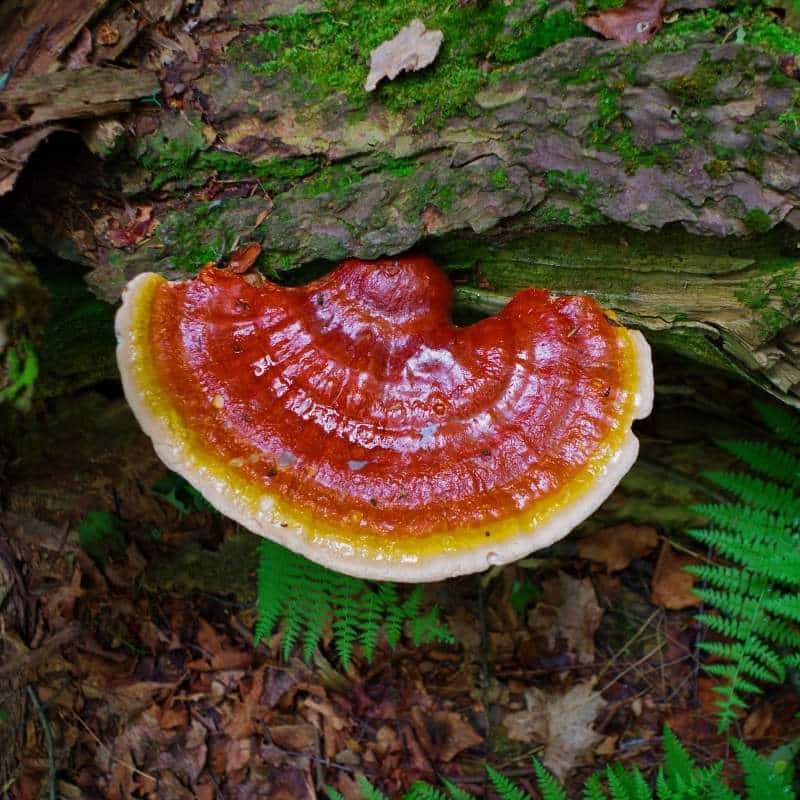 Per Serving: 0.56g
Native To: California
Benefits
Reishi mushrooms grow mainly in hot and humid locations; this mushroom is used to help boost the immune system, reduce stress, improve sleep, control blood pressure and cholesterol levels, and lessen fatigue. Some studies found it beneficial to the production of estrogen and progesterone.
Side Effects
In some cases, taking reishi mushrooms can cause side effects like headaches, dizziness, itching, nausea, stomach troubles, drying mouth, and rashes.
Masala Chai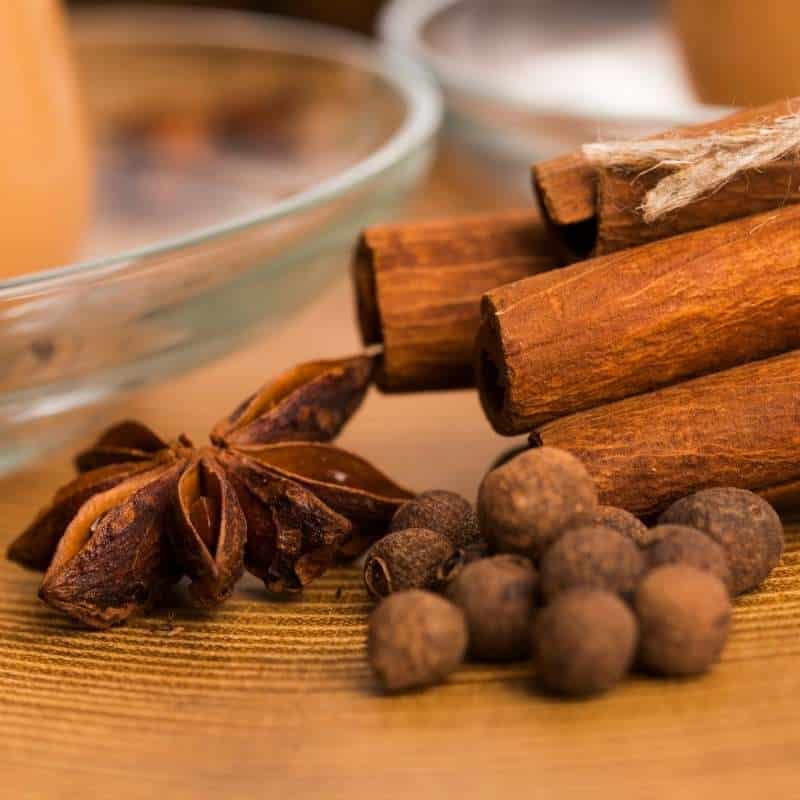 Per Serving: 0.75g
Native To: India & Sri Lanka
Benefits
Literally meaning "spiced tea" in Hindu, the masala chai combines loose leaf black tea such as Assam, whole milk, sugar, and various fragrant and warming spices. It is a popular beverage that started in India and is often served in coffee houses worldwide.
Rich in health benefits and antioxidants, drinking masala chai helps boost the immune system, promote heart health, aid digestion, prevent cancer risk, increase energy levels, and reduce bodily inflammation.
Side Effects 
Since masala chai has black tea as its base, its caffeine content could negatively impact the body when consumed in large amounts, causing restlessness and nauseousness.
Cinnamon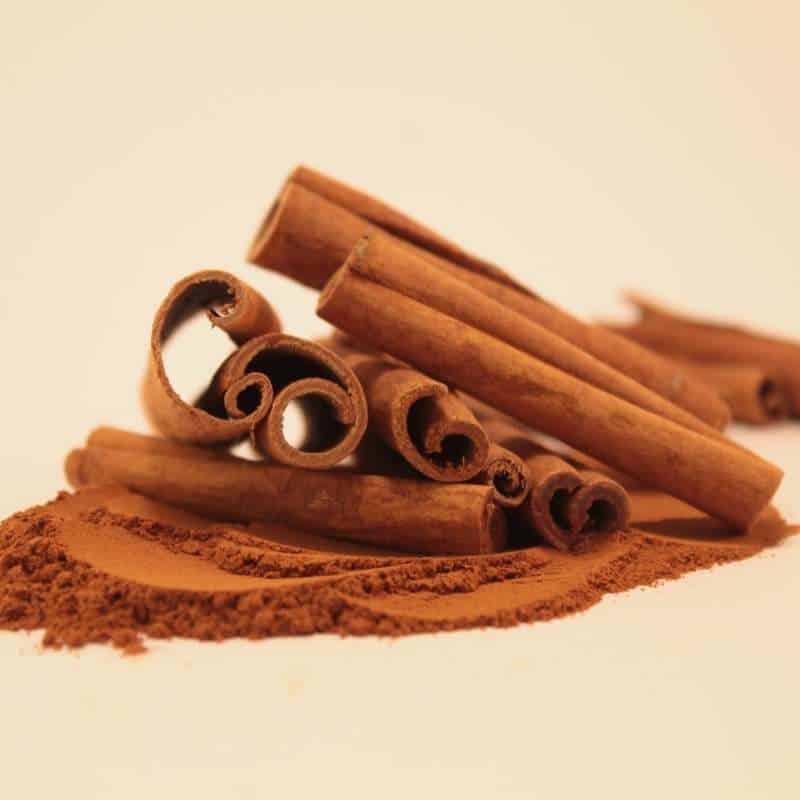 Per Serving: 0.50g
Native To: Sri Lanka. Also cultivated in India, Myanmar, South America, and the West Indies.
Benefits
Cinnamon is primarily characterized by its rich brown color, delicately fragrant aroma, and warm sweet flavor. Since time immemorial, it has always been used as a cooking ingredient, but the earliest reports of its use date back to the Egyptian pharaohs, where it was used in mummification rituals. 
This spice is rich in vitamins B and K and contains antioxidants such as choline, beta-carotene, alpha-carotene, beta-cryptoxanthin, lycopene, lutein, and zeaxanthin, which can all prevent oxidative stress. Its anti-viral, anti-bacterial, and anti-fungal properties made it a popular remedy in Chinese medicine. Cinnamon also promotes gut health thanks to its prebiotic properties, reduces blood pressure, and lowers the risk for type-2 diabetes and cognitive decline.
Side Effects 
Studies have discovered that consuming too much cinnamon could cause liver toxicity and damage. Others have also reported experiencing tongue or gum swelling, mouth sores, and white patches in the mouth. On the other hand, accidentally inhaling it could cause breathing problems, coughing, and gagging.
Turmeric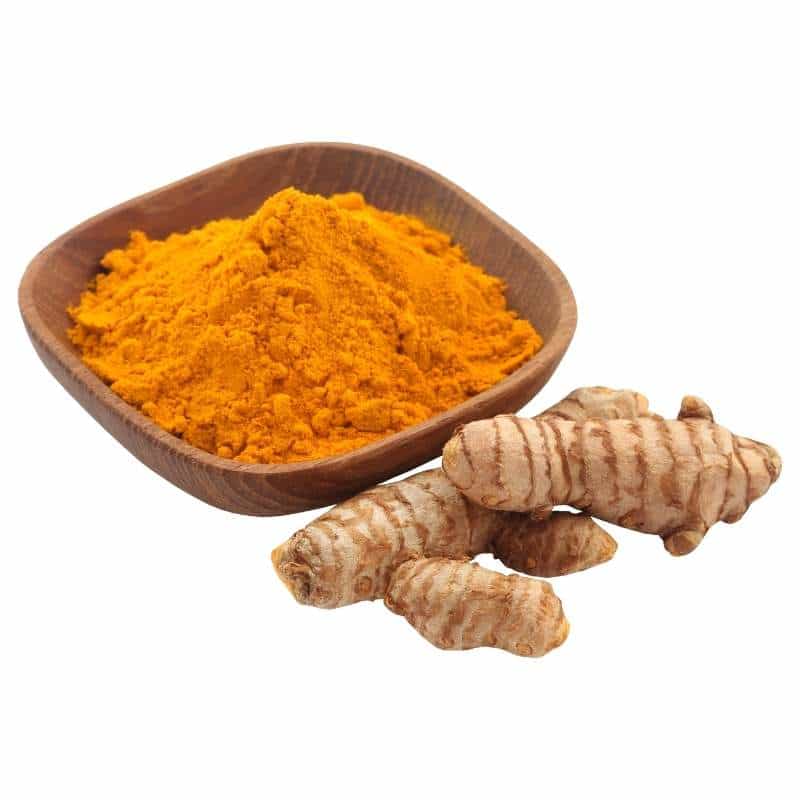 Per Serving: 0.42g
Native To: India
Benefits
Turmeric is a brilliant yellow spice from India that's a constant in many a kitchen cupboard in restaurants and homes.  Aside from its culinary use, it has been used as a herbal remedy for many ailments.
And rightfully so, since turmeric does have many scientifically-proven health benefits, particularly its richness in antioxidant and anti-inflammatory properties, which keep one's health in an optimal state. Turmeric can also reduce cancer risk, lower cholesterol levels, prevent cognitive decline, improve the skin, and relieve symptoms of depression. 
Side Effects 
Taking turmeric doesn't normally trigger serious side effects, but mild ones are more common when consumed in high doses. These include stomach troubles, nausea, or diarrhea. Applying turmeric on the skin, on the other hand, is considered safe.
Himalayan Salt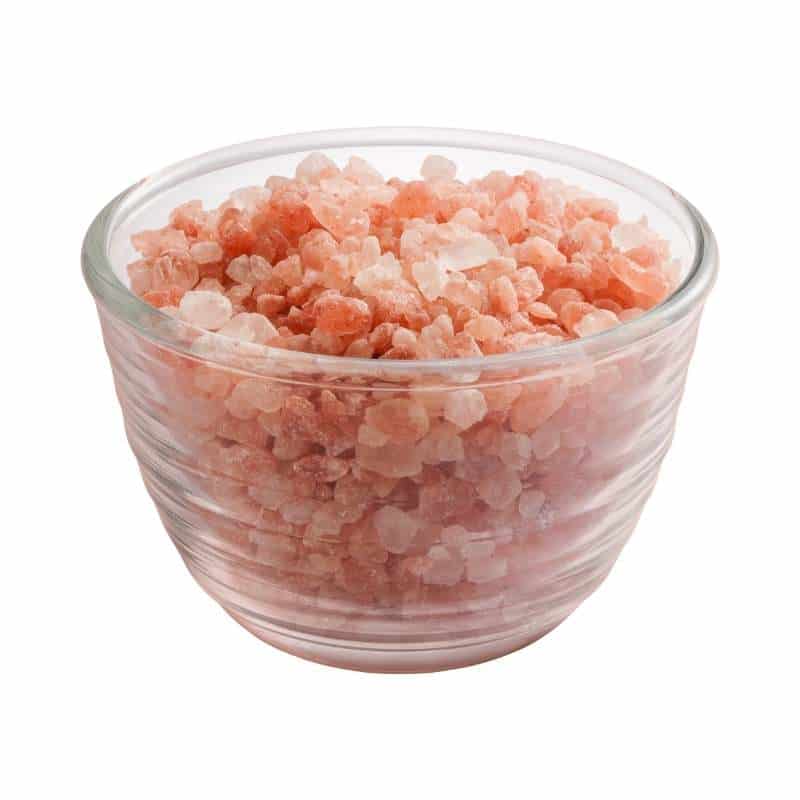 Per Serving: 0.02g
Native To: Punjab region in Pakistan (Himalayas)
Benefits
Pink Himalayan salt is made from rock crystals of salt that have been mined from the Punjab region in Pakistan, close to the Himalayas. Its pink color is more than just an aesthetic since they are trace minerals in the salt, like calcium, magnesium, and potassium.
Thought to be a healthier alternative to ordinary salt, most of its supposed health benefits include alleviating respiratory diseases, regulating blood sugar levels, reducing signs of aging, improving sleep quality, and increasing libido.
Side Effects 
As with regular salt, taking too much Himalayan salt could be bad for the health. It could cause dehydration, kidney problems, high blood pressure, stroke, and heart disease, so one should take it in moderation.
Related Posts