Balance of Nature Pros and Cons – If you've ever considered getting your five-a-day the easy way, you may have thought of investing in Balance of Nature supplements and all they deliver. But you may also be wondering if they live up to all they promise.
After all, everything (yes, even your fruit and veg portion) may have a downside. Product listings often neglect to include side effects, price comparisons, or the good old pros vs cons list.
So, if you have been unsure whether to purchase Balance of Nature products or simply require a little more information before you commit, look no further. We have compiled a list of the ups and downs of these popular health supplements.
Pros of Balance of Nature
---
Pros:
🍅 Daily dose of fruit and vegetables
🚫 Gluten-Free, Sugar-Free
🚫 No preservatives or Pesticides
➡️ Can pick and choose from the range
Can help with digestion
Your Daily Dose of Fruit and Veg
Balance of Nature prides itself on delivering people's daily fruit and veg intake by simply taking a few capsules a day.
Yes, it's that simple. No chopping, blitzing, or peeling – just pop it with a glass of water and go about your day.
The Balance of Nature range consists of fruit capsules, veggie capsules, and a fiber and spice supplement, which gives you all-around nutrition any time of day.
These products are made by vacuum freezing fresh produce which preserves 99% of the nutrients and placing it in an easy-to-swallow capsule and supplement powder. 
Gluten-Free, Sugar-Free, Preservative Free, Pesticide Free
These supplements are pure produce and nothing else. This almost makes them better than eating actual fruit and vegetables, which are often treated with pesticides.
Balance of Nature supplements are also suitable for keto and vegan diets and GMO-free, which makes them an attractive and healthy choice for many. 
As a bonus, it is a perfect way to get the little ones to eat their greens (if you can get them as far as taking the supplements).
You Don't Need to Buy the Whole Range
It can be tempting to splurge on the entire health system to get the full benefits of the product but these supplements can also be taken separately according to your needs. 
For example, you can choose between fruit or veggie capsules. If you struggle with digestion, you can opt for the fiber and spice supplement.
Whatever you choose, you will be getting more nutrients and improving your overall health. 
It Assists with Digestion
Whether you opt for the fiber supplement or simply use the fruit and veggie capsules, you will see a change in your digestive activity. 
This is because all of the products, which consist of dense and nutrient-packed fruits and veggies, contain plenty of fiber. 
You have probably heard about the importance of fiber in aiding digestion but it can be difficult to get your daily dose of fiber (which stands at a whopping 25g for women and 35g for men). 
So, why not take the guessing out of it and invest in something that promises to deliver on your daily fiber needs?
It Can Aid with Weight Loss
Balance of Nature supplements aid in weight loss for two reasons. 
Firstly, there are a vast array of nutrients in these supplements which improves overall health and as a result leads to a smaller waistline. Secondly, these supplements provide you with your daily fiber intake, which has also been linked to weight loss. 
If you are focused on weight loss, remember to maintain a calorie deficit and exercise regularly, as the benefits of these products probably won't cancel out a diet consisting of doughnuts.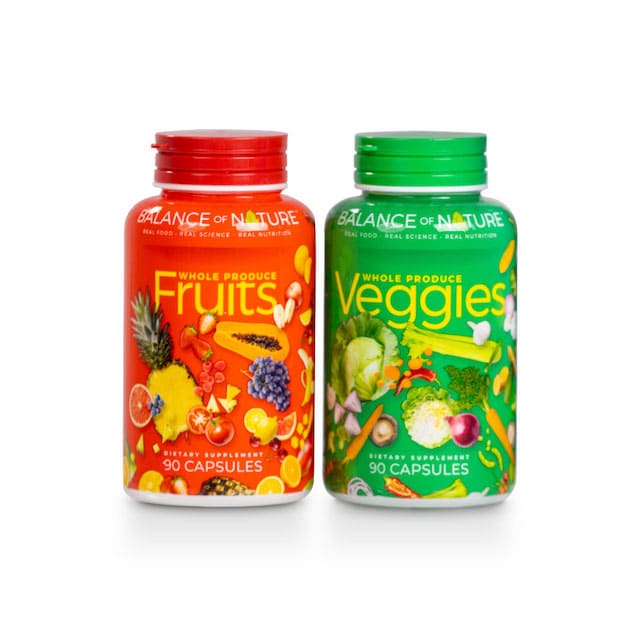 Cons of Balance of Nature
Cons:
💰 Quiet expensive
❓ Exact dosages of fruit and veg not listed
👅 Bad taste
It's a Bit Pricey
Okay, so it may be more than a "bit" for some people, especially if you splurge on the entire range of products.
Some competitors' products are far cheaper, so this one stays at the high-end range of the natural supplement market.
If you are not willing to pay so much for natural supplements, wait for a discount before you order these or look at some cheaper options on the market. 
Alternatively, you can become a "preferred customer" for a once-off fee and get an immediate discount on all the products plus nutritional and health advice from a health coach. 
They Don't Tell You Exactly What You Are Getting
One of our biggest complaints with this product is that you don't know the exact serving of each of the fruit and veggies, so, you don't know how much of each makes up your daily helping. 
The bottle simply states which veggies and fruits and which parts are contained within the capsules. 
There is an indication of milligrams, but this is for the entire capsule. Many other supplements tell consumers what percentage of each vegetable is in each capsule.
It's Not Organic
Well, not technically. The website states that they are not aligned with what the USDA certifies as organic, so they are not certifiably USDA organic. 
If this bothers you, you should note that their products are examined by 3rd party testers and the company states that it is of high quality, even though it is not technically, or even officially "organic".
The Fibre and Spice Supplement Tastes a Bit…Gross
Many consumers complain of the bad taste of the fiber supplement powder. The supplement is generally mixed with water but many people mix it with milk, milk substitute, or juice. 
Unfortunately, the powder supplement is not disguised in capsule form (although people have praised the taste of the fruit capsules) so you just have to man up and drink it. 
Good luck giving this one to the kids, though.
Balance of Nature Alternative
Balance of Nature – Fruits & Veggies
Price (without subscription): $89.95
Price (with subscription): $69.95
180 capsules (90 fruits + 90 veggies)
Full 'system': $159.95
Must pay 1 time member fee of $24.95
Peak Performance
Price (without subscription): $29.96
Price (with multi-pack): $23.96
150 capsules
---
Balance of Nature Pros and Cons – Key Takeaways
So, are the Benefits of Nature supplements worth the hype? After weighing up all of the Balance of Nature pros and cons we think, yes: if you need your daily dosage of fruit, want to improve your health, and do not mind the bitter taste. 
Also, you need to be willing to invest in the products as they are expensive. Luckily, there are options for those on a budget, such as becoming a preferred customer.
If you're still not fully convinced, take a look at some of the clinical trials that have been run in regards to Balance of Nature.
Similar Articles