Druggenius.com is reader-supported. We may earn a commission through products purchased using links on this page. Learn more about our editorial process here.
FLO Vitamins Review – What would you say if we told you there was an off-switch for those pesky PMS symptoms most of us suffer from every month? Sounds too good to be true? We thought so too.
Cue FLO PMS Gummy Vitamins, a delicious and easy way to make premenstrual pains a thing of the past.
FLO Gummies promise to make periods less stressful by fighting bloating, cramps, hormonal acne, and mood swings.
We want to find out if their claims are true, and take a closer look at what makes these gummies work.
---
Overall Assessment 
FLO PMS Gummy Vitamins are marketed to help women who suffer from PMS-related symptoms.
PMS, or premenstrual syndrome, is the combination of physical and emotional symptoms that develop before a woman's menstrual cycle begins, and after ovulation. 
Flo Gummies were created to fight the anxiety, bloating, breast pain, migraines, muscle pains, and even depressive moods and irritability that come out of nowhere before your period. They wanted to create one of the best supplements for hormone balance.
For around 5% of women, these symptoms become severe enough to impair day-to-day activities and functioning. This can lead to a diagnosis of premenstrual dysphoric disorder or PMDD. 
That's where FLO PMS Gummy Vitamins come in.
For any of you who have found yourself curled up in bed, cursing at your body and asking, "Why is this happening to me?", you are not alone. We have found what could potentially be the solution to your PMS pain.
FLO Gummies claim to help you get rid of pesky period problems like mood swings, cramping, bloating, and even hormonal acne. 
And let's face it, who of us wouldn't jump at the chance to make our lives that little bit easier?
Pros 
Contain ingredients traditionally used to treat PMS 
All-natural, gluten-free, and vegan
No serious side effects
Low-risk
Great taste
Cons 
Potential for worsened symptoms for women who suffer from disorders like endometriosis
Not FDA-approved
Detailed Analysis 
Ingredients
FLO PMS Gummy Vitamins are made of a unique blend of ingredients that are all used for the treatment of gynecological disorders and symptoms. 
These gummies contain chasteberry (vitex), dong quai, vitamin B6 (pyridoxine), and lemon balm.
To understand how FLO Gummies can help your PMS symptoms, it's important to look at each ingredient and its individual benefits. 
Chasteberry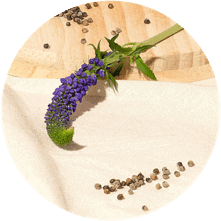 Chasteberry, or vitex, is a small fruit produced by the chaste tree. Traditionally, it's used to treat gynecological disorders. It earned its name from the belief that it decreased libido and promoted chastity, but there's no scientific research to back up this claim.
More recently, it's been used as a herbal remedy to treat PMS and menopausal symptoms. 
Research has been done into Vitex for its ability to lower prolactin hormones, which rebalances your estrogen and progesterone levels. 
These hormones are important for reducing PMS symptoms like irritability, depression or mood swings, constipation, hormone-induced migraines, and breast tenderness.
Studies have been done into chasteberry's influence on breast pain. There were positive results in calming hormone fluctuations that cause period-related breast pain or cyclical mastalgia.
In another study of around 1,600 women, 93% of participants that took chasteberry supplements had a significant decrease in symptoms related to PMS after three menstrual cycles. 
It's important to note that vitex may not be safe for women who suffer from hormone-sensitive conditions. These include endometriosis, polycystic ovarian syndrome (PCOS), and cancer of the uterus, ovaries, or breasts.
Dong Quai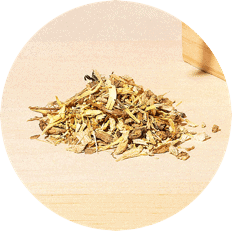 Also known as Angelica sinensis, dong quai is a part of the same plant family as celery, parsley, dill, and carrots. 
The herb contains ferulic acid, an antioxidant that acts as a natural anti-inflammatory and antispasmodic. 
The antispasmodic properties of dong quai relax the muscles that line the uterus, which eases the painful cramping that many women experience during PMS.
PMS often results in the release of inflammatory prostaglandins in the uterine lining, causing an increase of inflamed tissue. 
Our bodies react to inflammation through stress responses, including bloating.  
Dong quai can relieve or reduce bloating thanks to its anti-inflammatory qualities.
A 2004 study into the remedial effects on menstrual-related symptoms showed that 39% of women who took concentrated doses of dong quai twice a day felt a significant decrease in pain and did not have to take painkillers when experiencing PMS symptoms. 
The same women also claimed to have experienced more normalized menstrual cycles. 
Vitamin B6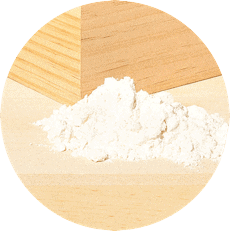 Vitamin B6 is an essential nutrient that we need to create hemoglobin and certain neurotransmitters. 
Our bodies are not able to naturally produce B6, meaning we have to source it from foods and vitamin supplements. Food like pork, chicken, avocados, oats, and bananas are excellent sources of vitamin B6.
Emotional symptoms like moodiness and irritability and uncomfortable bloating and nausea can all be controlled with a healthy dose of B6.
Higher B6 levels increase hemoglobin production, a protein found inside red blood cells that transports oxygen around the body. This is important because of the need to replace blood lost through menstruation.
Additionally, vitamin B6 aids in the production of neurotransmitters like serotonin, gamma-aminobutyric acid (GABA), and dopamine that helps to regulate mood. People that experience vitamin B deficiencies are twice as likely to suffer from depression.
Better mood regulation can help to lessen the risk of premenstrual depression and emotional fluctuations. 
B6 can also help to reduce menstrual-related nausea.
Lemon Balm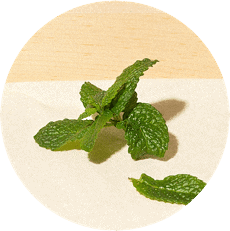 Lemon balm is a herb belonging to the mint family. Traditionally, it's used to treat depression and reduce stress. Studies have shown that it could also ease menstrual cramps, help to treat insomnia, and curb anxiety.
These benefits are useful when experiencing PMS in part due to the hormonal changes that take place before menstruation. Many women experience anxiety and premenstrual depression leading up to their cycle. 
Being able to lessen these emotional responses makes PMS symptoms less stressful.
Pain and cramping, as well as feelings of discomfort when you are bloated, may cause you to lose sleep in the days leading up to your period. Because of this, lemon balm's natural calming effects could be just what you need to get a good night's rest.

Safety
The risk of severe side effects is limited when taking herbal supplements. But, as with all medications, it's recommended to exercise caution.
If you experience any side effects, you should stop taking FLO Vitamins immediately.
Most side effects experienced from dietary supplements are limited to an upset stomach, headaches and dizziness, a rash or similar allergic reactions, and weight gain.
FLO PMS Gummy Vitamins are intended to change hormone levels to lessen the symptoms of PMS. However, these changes could have a detrimental outcome if you are pregnant, breastfeeding, on birth control, or if you take any prescription or chronic medications.
If you suffer from hormonal disorders such as endometriosis or ovarian cysts, there's a chance that FLO Vitamins could worsen your PMS symptoms. 
It's important to consult your doctor or gynecologist before taking hormone-altering medications or PMS supplements.
The Food and Drug Administration (FDA) does not approve dietary supplements, and so FLO PMS Gummy Vitamins are not currently FDA-approved. 
According to FLO's website, they follow current Good Manufacturing Practices (cGMP). The FDA established these practices to ensure the integrity and quality of medications by regulating and monitoring the manufacturing processes. 
So while FLO PMS Gummy Vitamins are not FDA approved, they are manufactured in accordance with FDA standards.
---
Price
FLO Gummies fall right in the middle when comparing their price against similar products. . With hormone-related supplements ranging from around $20 to $40, FLO Gummies sit at a mid-range price of about $30 a bottle.
FLO's prices depend on what you buy and whether or not you have a subscription.
Your first purchase earns you a 10% discount using the code on their site. A one-off purchase of a 2 month supply could cut the cost to around $50. These prices exclude shipping.
If you are a FLO subscriber, you automatically pay a discounted rate for every bottle and get free shipping.
Taste
While other herbal gummies can leave an unpleasant and lingering aftertaste, FLO Gummies have come to be known as some of the most delicious gummies on the market.
FLO Gummy users rave about the sweet strawberry taste of the vitamins, with some even comparing taking their gummies to eating a dessert.
Not only do you get a low-risk, all-natural product with FLO, but you also get to enjoy the experience of taking your vitamins every day. That's what we call a win.
The ingredients used to make FLO gummies are all-natural. This means that on top of tasting great, FLO uses no artificial flavorings or colorants.
FLO PMS Gummies are also gluten and GMO-free and are sweetened using organic tapioca syrup and raw cane sugar.
Each serving of 2 gummies contains only 5 grams of carbohydrates and 3 grams of sugar.
Flo Vitamins Reviews
There are a total of 2,921 reviews on FLO's site at the time of writing. The PMS gummies seem to have plenty of positive reviews, with an overall rating of 4.3 stars. 
5 ★★★★★ – 1,877
4 ★★★★ – 444
3 ★★★ – 246
2 ★★ – 176
1 ★ – 178
Even with negative reviews, there is one thing everyone can agree on, no matter what their experience was: FLO Gummies are delicious.
Positive Reviews of FLO Vitamins
When looking at the reviews of FLO PMS Gummy Vitamins, the most common positives that users experienced were improvements in premenstrual acne and cramping, followed by better mood stability and decreased bloating.
To achieve these results, most users took the gummies twice daily for a minimum of 1 month. 
Negative Reviews of FLO Vitamins
While there are only a few one-star reviews of the gummies, most negative reviewers seem to express the same concerns.
Almost all of the negative reviews come from customers who used the vitamins on a daily basis for more than 2 months but saw no differences in their symptoms.
A few of the users complained of worsened symptoms and lethargy. This may be attributed to the few contraindications of the gummies.
---
FLO Vitamins FAQs 
How long does it take for FLO PMS Gummy Vitamins to work?
According to the FLO Vitamins's website, you should take the gummies for at least 2 menstrual cycles (2 months) to feel their full effects.
Each bottle of FLO PMS Gummy Vitamins contains 60 gummies. The recommended dosage suggests taking 2 gummies per day.
This means you would have to buy at least 2 bottles until you are able to determine their effectiveness.
What is FLO Vitamins's shipping policy?
FLO currently only ships within the USA, but they are planning to have global shipping as an option.
FLO Vitamins has a 'happiness guarantee,' which encourages you to try FLO PMS Gummy Vitamins risk-free for 2 months.
Their guarantee states that you can refund your first two bottles of FLO Gummies if you are unhappy with the product for any reason. This is provided you log your return and refund within 60 days of your first order.
Shipping costs are not a flat rate, but rather based on your location. Shipping is non-refundable should you wish to return your product, although subscribers get free shipping.
How does the subscription and cancelation for FLO PMS Gummy Vitamins work?
FLO has a subscription option that offers you discounted prices and free shipping.
You are charged for your subscription as soon as you place your first order. Consecutive charges depend on your subscription plan. You can choose to have your FLO PMS Gummy Vitamins shipped every 30 or 60 days and you will be billed before every shipment.
If you decide to cancel your subscription, the process is simple.
To cancel, simply log in to your FLO account and find the 'Manage Account' tab. Click on the tab and choose the subscription you want to cancel.
Key Takeaways
So that's the end of our FLO vitamins review, we suggest trying out a one-month supply to see if you feel the benefits and then subscribing to get the lower price if they are effective for you.
The consensus of verified FLO gummies reviews are positive and found that this supplement could help several of your PMS symptoms.
More Vitamin Articles