Everything in life requires balance, including your hormones. If you feel that you're suffering from a hormonal imbalance, we've gathered the best supplements for hormone balance to get you back on track.
This round-up will help you decide which supplement will get your hormones back on track and help you stay in balance.
If there's anything you're still unsure about, we've put together an FAQ section at the end to help you out.
5 Best Supplements & Vitamins for Hormone Balance (Our Review)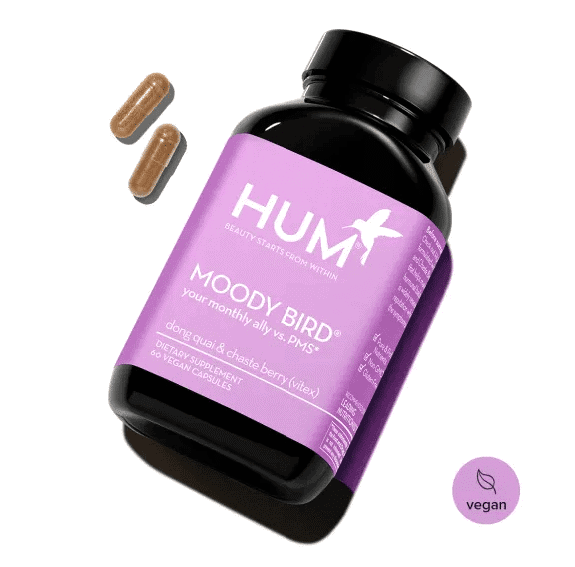 General Overview
Hum is a Los Angeles-based beauty and nutrition brand with products ranging from facial cleansers to hormone balancers.
Hum's Moody Bird vitamins regulate your hormones and aim to quell unusual mood swings.
This is accomplished by easing the symptoms of PMS and clearing up your skin by reducing hormonal acne.
Moody Bird is for anyone who struggles with painful cramps and has a lack of energy as its ingredients contain natural remedies to ease pain and discomfort.
You should take one capsule twice a day with food.
Be aware that if you're on birth control, Moody Bird isn't safe to take.
Ingredients
Hum's Moody Bird vitamins contain a mix of healthy herbs to combat the symptoms of PMS. This includes Dong Quai, chaste berry, maltodextrin, magnesium stearate, and silica.
What we're interested in is the first two herbs as they have many positive effects on your hormone levels.
Dong Quai, or female ginseng, is indigenous to China and aids in rebuilding healthy blood after your period as well as assisting in uterine function. It also prevents clotting, reduces the pain caused by cramps, and reduces hot flushes.
Chasteberry is a fruit belonging to the verbena family.
It stimulates the pituitary gland to create a hormone that encourages you to produce more progesterone.
This results in easing the discomfort of PMS and reducing headaches, bloating, and depression.
Price
Avoiding pain shouldn't cost you a fortune.
Hum's Moody Bird will cost you around $25, excluding shipping. For a 30-day supply, this isn't the cheapest supplement for hormone balance.
However, you get free shipping on any order over $50.
Pros
Clears hormonal acne
Improves mood
Gives an energy boost
Reduces period cramps
Cons
Can't be taken with birth control
Expensive for 30 days worth of supplements
---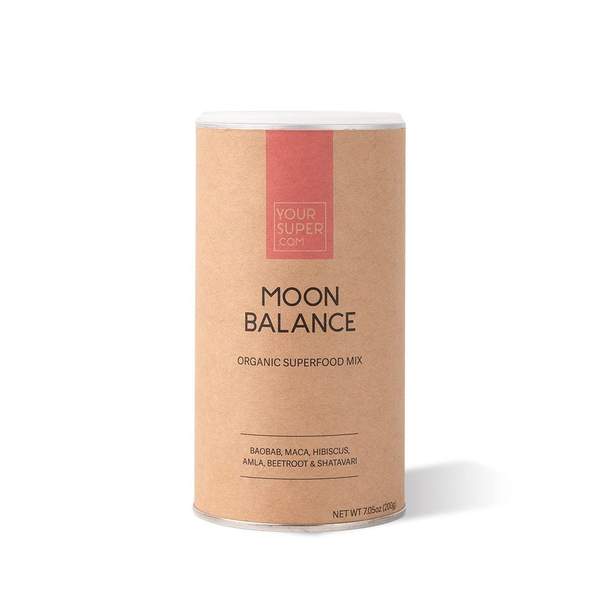 Your Super creates superfood and plant-based protein mixes that improve your physical and mental health. They're big believers in transparency, meaning you know what you're putting into your system before you buy it.
Moon Balance is a latte powder that helps balance your hormones and assists in combating the challenges that come with PMS.
You'll soon notice an improvement in getting a better night's rest, less frequent night sweats, and clearing brain fog.
Whether you're having a morning latte or afternoon smoothie, Moon Balance can be enjoyed in many ways and should be used once per day.
Ingredients
Your Super's mission is to improve health by incorporating super plants into all their products. The Moon Balance Mix stays true to this claim.
The ingredients in this mix include Baobab, maca, hibiscus, amla berry, beetroot, and Shatavari powder.
The Ghanaian baobab in the Moon Balance Mix is rich in nutrients and vitamins that play a key role in keeping your hormones balanced and your mood stable. Egyptian hibiscus has the same effects with the inclusion of reducing PMS pain.
Peruvian maca along with the Indian Shatavari are adaptogen superfoods that increase your energy levels throughout the day.
Also from India is the alma berry. Sometimes referred to as Indian gooseberries, they balance estrogen levels, reduce stomach cramps, and support the reproductive tissues.
Lastly, we have the Canadian beetroot which reduces water retention – which is often the cause of bloating – and promotes blood flow to the uterus. The best beet supplements offer a host of benefits so it's inclusion here is great.
The Moon Balance Mix is a plant-based, gluten-free product making it a healthy, organic option.
Price
One tin of Moon Balance Mix will cost you around $35 with a 30-day money-back guarantee if you feel that it isn't working for you.
Pros
40 servings per tin
Rich in superfoods
Gluten-free
Can be enjoyed in many ways
Cons
Expensive
The earthy taste won't be for everyone
---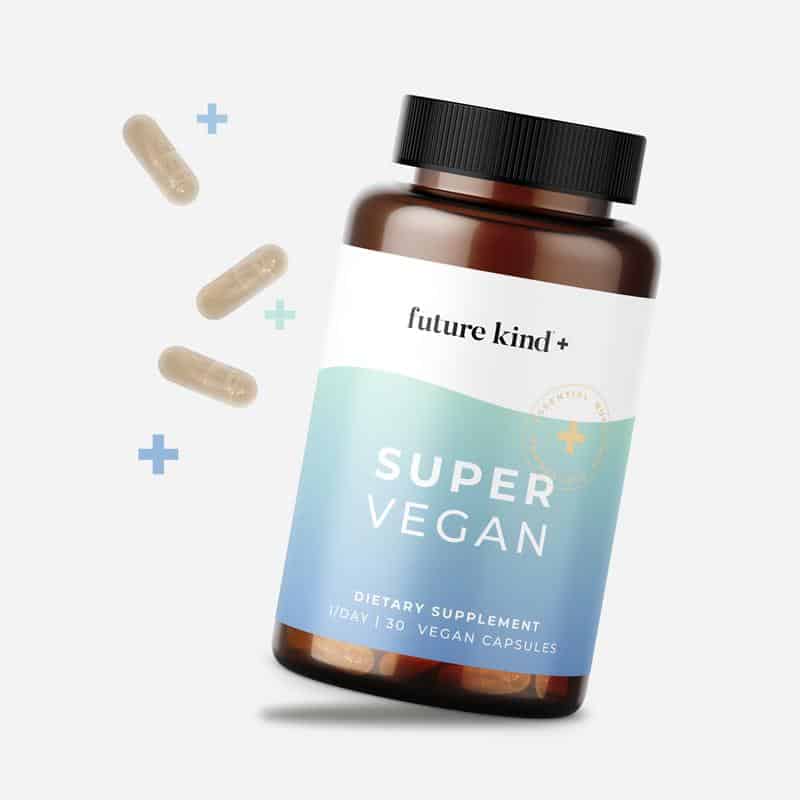 Future Kind is a vegan brand that provides vitamin-rich products that are gluten and sugar-free.
Super Vegan Anxiety & Stress supplements aren't marketed as hormone balancers, but they will certainly lessen the effects of PMS.
As its name suggests, this product reduces stress, physical and mental fatigue, and gives your body and mind a burst of energy.
This assists in any period-related energy drops or mood swings.
We wouldn't recommend this if you are solely seeking a solution to period cramps. This is because the product is designed to heal the mind and provide a mental pick-me-up during your period.
One capsule should be taken every day with a glass of water.
There are 30 tablets per bottle of Super Vegan Anxiety & Stress supplements, giving you a month's worth of supplements before the next refill.
Ingredients
The word Super describes the blend of three herbs used to form this product.
These three herbs are ashwagandha, Rhodiola, and lemon balm.
We've already expanded on the benefits of lemon balm found in FLO gummies and this product has many of the same benefits.
Ashwagandha, also known as Indian ginseng, has just as many benefits.
These include assisting in weight loss, an increase in sex drive, helping to regulate blood sugar levels, and controlling hormonal fluctuations.
Rhodiola grows in the mountainous regions of Asia and Europe under extremely cold conditions.
The benefits this herb brings to the table include reducing stress and symptoms of depression which can occur during times when your hormones are in flux. It also improves brain function.
The combination of the three herbs makes for a product that not only serves as a good anxiety and stress supplement, but the inclusion of Ashwagandha makes it a good hormone balancer.
Price
Super Vegan Anxiety & Stress supplements cost around $60, making it the most expensive product on our round-up.
Pros
Vegan
Positive effect on mental health
Sugar-free
Cons
Hefty asking price
Not designed for hormone balance specifically
---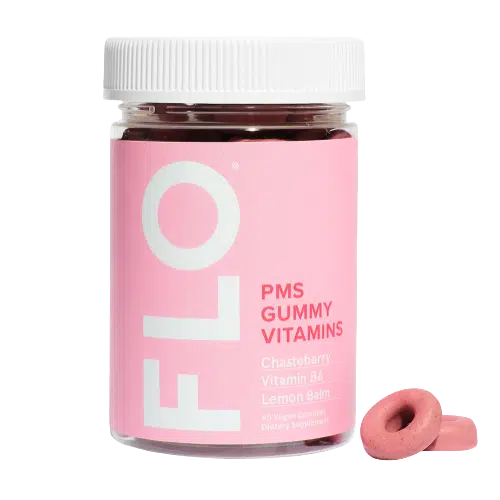 General Overview
FLO gummies not only taste great but are packed with vitamins to combat the symptoms of PMS.
FLO empowers women with products that allow them to feel their best.
The PMS Gummy Vitamins are small and strawberry-flavored. They help alleviate cramps, mood swings, bloating, and hormonal acne.
The gummies also contain vitamin B6 which keeps your immune and nervous system healthy whilst giving you a natural energy boost.
If gummies aren't for you, the same product is also available in a sugar-free capsule variation for those who want to avoid any sugary products such as diabetics.
Taking these products won't completely remove the effects of hormonal imbalance, but it will reduce the pain and improve your skin and your mood.
The dosage on the capsules is one per day. The gummies should be taken twice a day, and each comes with a one-month supply.
Ingredients
Like Moody Bird, FLO's PMS gummies contain chaste berry and Dong Quai.
This means you get many of the same benefits from these gummies as you do from Moody Bird.
Along with the two herbs, the gummies contain vitamin B6 and lemon balm.
As mentioned earlier, vitamin B6 helps with the immune and nervous systems. However, when it comes to hormonal imbalances, B6 plays a big role in fighting off premenstrual depression by increasing your natural production of serotonin and dopamine.
Another interesting ingredient is lemon balm. This herb has many psychological and emotional health benefits.
These benefits include relieving stress, reducing anxiety, and easing insomnia. This means no more sleepless nights and having a clear headspace as hormonal imbalances can interfere with your sleeping patterns.
The combination of these herbs and vitamins makes for a product that excels in clearing hormonal acne, preventing mood swings, and reducing bloating and cramps.
Price
Thankfully, FLO charges one price for both products, so you don't have to worry about paying extra for some gummies.
The one-month supply is around $30 whilst the two months' supply is $50, which makes this one of the more expensive supplements for hormone balance.
Pros
Choice of gummies or capsules
Strong strawberry flavor
Includes vitamin B6
Fights the symptoms of PMS
Cons
Expensive
Exact amount of ingredients aren't listed
---
Love Wellness, as its name suggests, makes wellness products designed for women. Their products range from body wash, to vitamins, to pills that alleviate the effects of PMS.
#Mood Pills are designed to help with mood swings and erase stress and frustration associated with PMS.
They're made from natural ingredients and work well if you've had a stressful day and want to wake up feeling refreshed.
A possible side effect of these pills is excessive sweating. However, this won't apply to everyone as your body may react differently to the various side effects.
One capsule should be taken first thing in the morning, and another just before you go to sleep. If swallowing tablets isn't your thing, you can always open the capsule up and pour it out into a smoothie.
There are 60 capsules in one container.
Ingredients
#Mood Pills contain nutrients and herbs that specifically cater to helping with stress, irritability, and frustration.
These include vitamin B6, GABA, organic St. John's wort, and chaste berry.
GABA helps regulate muscle tone and inhibits neural activity. It reduces mental and physical stress, improves your mood, and helps with anxiety as it's a natural brain relaxant.
Saint John's wort is mostly used for preventing mood swings and fighting against depression. Although, you should be aware that it can trigger anxiety attacks, rashes, and even depression.
This product contains tree nuts, so it's not suitable for anyone with an allergy.
Price
#Mood Pills are the most affordable product on our round-up, costing around $25 for a one-month supply and $20 with a subscription to the Love Wellness club.
Pros
Affordable
Less frequent mood-swings
Helps mental health
Combats fatigue
Cons
Can lead to sweats
Aren't transparent with their ingredients
---
Supplements for Hormone Balance FAQs
Can I check my hormone levels at home or should I go to a doctor?
Provided you follow the instructions given on the hormone testing kit, you can record your levels in the comfort of your own home.
This can be done through a saliva test or a drop of blood.
What is the best herb for hormonal balance?
5 of the best herbs for hormonal balance are Ashwagandha, chaste berry, marjoram, black cohosh root, and nigella seeds.
The first two herbs are found in the products in this round-up.
How do I know if I have a Hormone Imbalance?
Common signs you should look out for include weight gain, fatigue, muscle aches, frequent urination, decreased sex drive, purple or pink stretch marks, heavy or irregular periods, night sweats, and acne, to name a few.
More Articles