Arthritis affects one in every four adults, which causes many people to turn to supplements like Relief Factor and other alternatives to help manage the pain. Everything seems to work perfectly in our younger years, however, as we get older, stiff, immovable joints can cause havoc with your health.
If you sustain any kind of injury, it can aggravate the situation. Healthy eating habits and regular physical activity should be prioritized. You can also give your body a big boost by taking vitamins.
Dozens of supplements claim to work. Relief Factor is one such supplement that many consider the best in the market, but it comes at a hefty price. This article looks at safe and cheaper alternatives to Relief Factor that can get the job done.
---
What is Relief Factor?
Relief Factor is a fish-oil-based pain-relieving supplement that aims to reduce body and joint pain caused by everyday activities, age, and exercise. The blend contains ingredients that prevent inflammation and provide instant relief while restoring flexibility and mobility.
This supplement targets four different metabolic pathways to relieve pain at its source.
Relief Factor is intended to be used over a lengthy period. The manufacturer states that the product's effects become stronger over time.
Ingredients
Relief Factor contains the four active ingredients.
Omega 3
Omega 3 contains EPA and DHA – oils that reduce inflammation. People with arthritis benefit from this product because it reduces swelling and pain in the joints.
Resveratrol
Resveratrol features in a variety of nutritional supplements. These supplements limit the effects of aging diseases like arthritis, metabolic bone disease, and osteoporosis.
Curcumin
Curcumin is a yellow substance predominantly found in turmeric. It's a powerful antioxidant with anti-inflammatory qualities. This helps to alleviate and prevent symptoms of arthritis.
Benefits
Improved immune system
Reduced aches and pain
Reduces swelling and inflammation
Alleviate all types of joint aches
Relief Factor has received a lot of positive feedback from customers. Everyone knows this is a quality product that works, but it's considered to be prohibitively expensive by most. The following section reviews other products that are cheaper but just as effective.
---
List of Alternatives to Relief Factor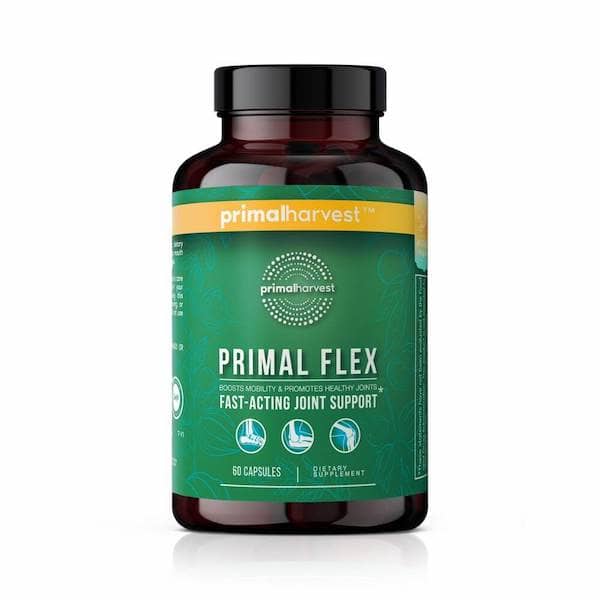 Price for a 60 count supply: $39.95-$49.95 (dependent on pack size)
No subscription necessary
Relief Factor price for standard 60 count supply with no subscription: $93.95
Primal Harvest offers a great option that can be used as a cheaper alternative to Relief Factor – Prima Flex. The supplement is formulated with BioCell Collagen, turmeric, and astaxanthin, vitamin C, magnesium, ashwagandha, and boswellia.
---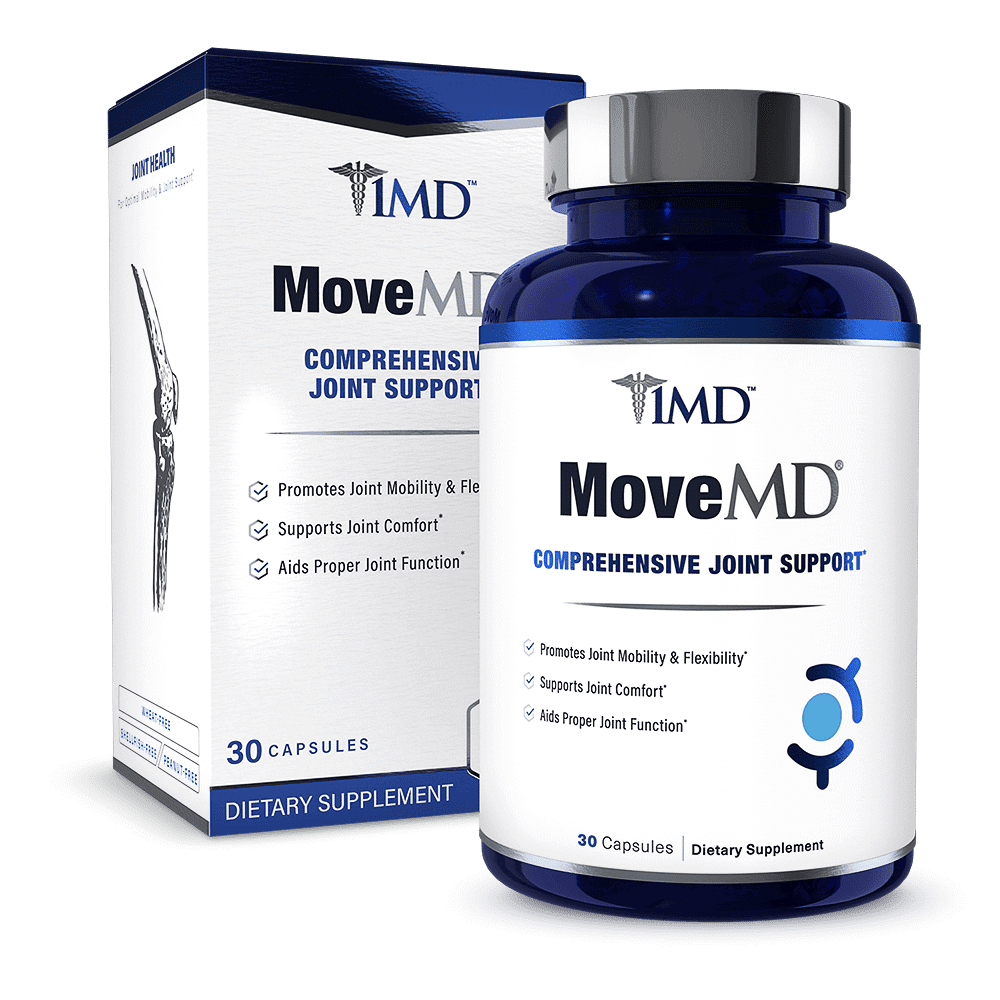 Price for a 60 count supply: $60-$80 (dependent on pack size)
No subscription necessary (however, savings are larger with subscriptions)
Relief Factor price for standard 60 count supply with no subscription: $93.95
90 day money back guarantee
Made in the USA
Progression Timeline
5 Days
While individual results will vary from person to person, a clinical study has found that AprèsFlex® Boswellia Serrata in MoveMD® may significantly reduce joint discomfort in as few as 5 days.*
Month 1
Astaxanthin, one of the most active of all antioxidants, works to reduce the damage caused by oxidative stress in your joints.*
Month 2
Aiding joint discomfort takes time to help everyday issues. Boswellia serrata extract can significantly reduce knee discomfort and increase joint function after two months.*
Month 3 and Beyond
As each aspect of joint health is supported, it helps improve the benefits of all the others. When moving around is easier for you, you tend to move around more, which can snowball into further joint health improvements.
*Individual results may vary. This timeline may not reflect the typical purchaser's experience and is not intended to represent or guarantee that anyone will achieve the same or similar results.
Ingredients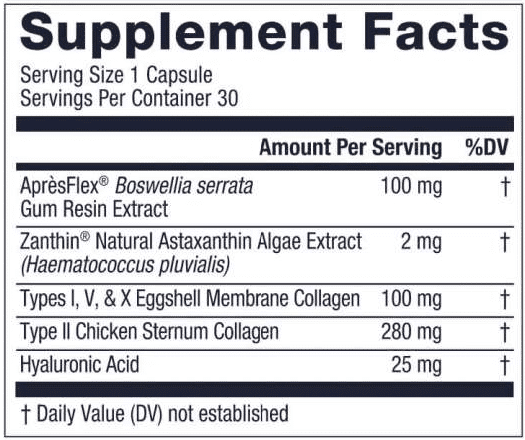 ---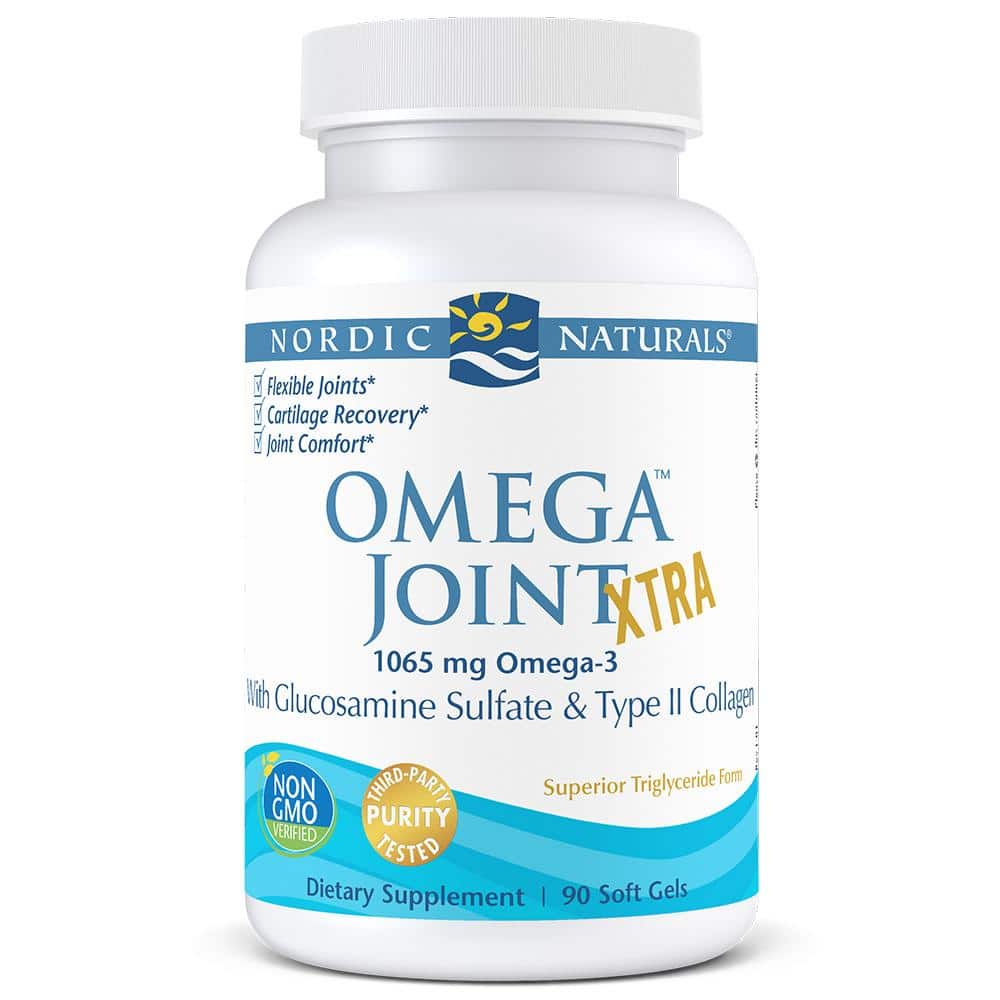 This is a joint support supplement developed by Nordic Naturals to alleviate joint pain and stiffness. It also claims to assist with cartilage recovery.
The formula is based on the most recent human clinical trials. Findings reveal that a combination of omega-3 oils and glucosamine works better to restore joint functioning than glucosamine alone.
Omega-3 increases calcium in bones, thus reducing the risk of osteoporosis. Glucosamine sulfate, on the other hand, treats various bone and joint disorders.
ProOmega also contains undenatured Type II collagen. This causes the body to produce substances that fight pain and swelling and is good for people who suffer from arthritis and other bone disorders.
ProOmega Joint Xtra provides expedited, targeted assistance for joint mobility and comfort in adults.
Glucosamine Sulphate
Glucosamine sulfate is a naturally occurring chemical found in the body's connective tissues, such as articular cartilage. It keeps the joints healthy and well lubricated.
Articular cartilage is the smooth white substance that covers the ends of your bones where they come together to form joints.
This type of tissue, together with a lubricating liquid called synovial fluid, allows bones to slide smoothly across one another. This reduces friction and allows joints to move painlessly, alleviating symptoms of arthritis.
Several studies show that glucosamine can reduce cartilage degeneration and relieve joint discomfort.
Fish Oil
Fish oil promotes bone and joint health by encouraging calcium absorption, lowering inflammation, and enhancing joint lubrication. Research shows that purified fish oil lowers joint stiffness and pain in people with rheumatoid arthritis.
Type II Collagen
Type II collagen alleviates joint inflammation and improves lubrication, which helps to protect cartilage from deteriorating. This keeps your joints healthy and pain-free for longer. It also aids in the reduction of knee joint synovial inflammation.
Benefits of Nordic Naturals
Allergy safe
Helps joints regenerate cartilage
Rebuilds joints
Restores mobility
This product comes in a package with 90 soft gel capsules, of which you take 3 daily with food.
ProOmega Joint Xtra is a safe and healthy supplement that uses organic ingredients. Most customers have reported that the product is helpful in relieving pain and swelling and improving flexibility within the first 2 to 3 days.
Some users experienced full relief within three months. Compared to Relief Factor, it's relatively inexpensive, costing about $45.
---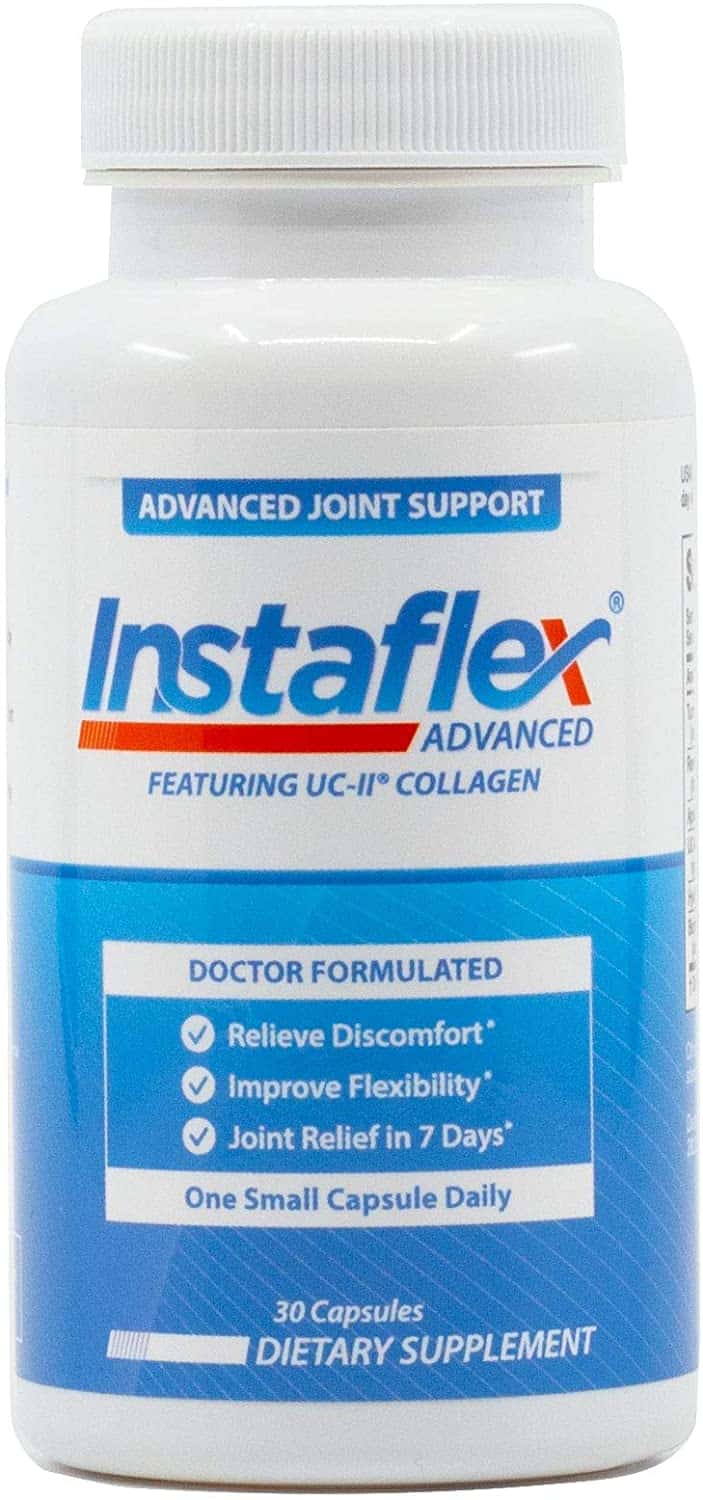 Instaflex Advanced is a once-daily glucosamine-free capsule that can provide joint pain relief in as little as 7 days for people who engage in light to moderate activity.
With prolonged use, the product is believed to provide long-term pain and stiffness relief, as well as enhanced mobility.
Instaflex has high amounts of antioxidants, which are nutritional components that help the body heal and strengthen the immune system. It also contains anti-inflammatory properties that relieve joint discomfort and swelling.
According to a study published in Nutrition Journal, antioxidants help with knee osteoarthritis by preventing cartilage damage. They also improve the function of the knee and provide pain relief. Antioxidants are also beneficial in the treatment of chronic joint ailments and neurological disorders.
This arthritis supplement contains several major active components.
Turmeric
Curcuminoids are natural plant chemicals found in turmeric – a root in the ginger family.
Curcumin is the most powerful of these chemicals. Curcumin is a potent antioxidant that boosts the immune system and speeds up the healing process. It also has robust anti-inflammatory compounds.
Instaflex Advanced also contains piperine, a component of black pepper that increases curcumin absorption by 2000%.
Type II Collagen
Type II collagen is present in elastic cartilage, which cushions the joints. A healthy dose of type II collagen prevents cartilage deterioration and relieves joint pain.
Hyaluronic Acid
Hyaluronic acid is a clear chemical created by the body. Its primary purpose is to retain water in order to keep your tissues moist and lubricated. It's found primarily in joints, where it lubricates the area between your bones.
Bones are less prone to grind against each other and create discomfort when joints are properly lubricated.
Hyaluronic Acid reduces pain and increases joint mobility.
AprèsFlex
This is a fast-acting, safe, and powerful anti-inflammatory substance that is especially useful for relieving joint discomfort. It particularly helps with stiffness and pain in the knees.
Benefits of Instaflex Joint Support
Improves flexibility
Relieves discomfort
Works in as little as 7 days.
The supplement comes in 30 capsules with a recommended dosage of 3 capsules per day with water.
While both Relief Factor and InstaFlex include promising components, the former can cause dizziness, loose stool, and nosebleeds, which is unpleasant. For those that are not allergic to shellfish, though, it is still a preferable alternative.
Both supplements are expensive. However, Instaflex eked out an edge, costing around $60, while Relief Factor costs closer to $80.
---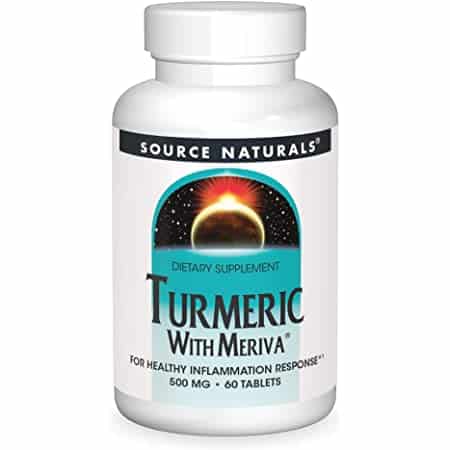 Turmeric curcumin promotes a healthy inflammatory response via a variety of complex biochemical pathways. Turmeric With Meriva uses a unique turmeric extract coupled with phosphatidylcholine.
The product aims to improve muscle pain and joint inflammation. The added Meriva helps absorb curcumin and makes it last for 12 hours instead of the usual 8.
The formula consists of turmeric, dibasic calcium phosphate, silica, magnesium stearate, stearic acid, and modified cellulose gum.
Turmeric
Turmeric relieves pain and stiffness caused by bone diseases. It's an alternative to pharmaceuticals for individuals who prefer natural treatments to deal with inflammation.
A mixture of milk and turmeric aids in healing bone fractures. Curcumin controls the production of osteoclasts, cells that absorb old bone, without preventing new bone formation. The bone-healing process depends on these cell activities.
Silica
Silica is a mineral that gives your body's connective tissues, such as cartilage and bones, strength and flexibility. It helps to strengthen your bones by managing the flow of calcium and other minerals, reducing the risk of fractures.
This is particularly useful for people who are active, since exercises like running, cycling, and weights can often result in hairline fractures.
It also reduces the risk of developing osteoporosis, a disease that affects many people as they age.
Dibasic Calcium Phosphate
Calcium phosphate is a mineral used as a supplement by people who do not obtain enough calcium from their diet. It's used to treat calcium deficiency symptoms such as low blood calcium, parathyroid disorders, osteoporosis, and other bone diseases.
Benefits of Source Naturals Turmeric with Meriva
Supports bone health
Alleviates joint pain
Brain support
Improves quality of sleep
The supplement comes in 120 capsules. Users take 1 tablet 1 to 2 times daily with food.
This product is a wonderful alternative to Relief Factor because it offers the same benefits and more at a reduced price. It costs roughly $25.
---
Key Takeaways
These supplements claim to ease joint pain and contain a blend of organic ingredients that target specific bone and joint issues. People with arthritic-related pain were happy with the outcomes. Each supplement we have listed is a cheaper alternative to Relief Factor.
There's a chance you'll experience minor side effects like nausea or dizziness while taking them. Consult your doctor to ensure that whichever supplement you choose is appropriate for you.