Druggenius.com is reader-supported. We may earn a commission through products purchased using links on this page. Learn more about our process here.
Primal Harvest Multivitamin is a single source, daily supplement that provides 21 key vitamins and minerals in each capsule. If you're looking for a comprehensive multivitamin we compiled this review to answer any and all questions you might have about the Primal brand and the effectiveness of their multivitamin.
Review Summary
The Primal Harvest Multivitamin is one of our preferred choices when it comes to a single dose vitamin supplement. It covers the bases for your daily dose of vitamins and minerals and uses preferred forms of base ingredients.
➡️ 90 day money back guarantee.
➡️ It is made in the USA in a GMP certified facility.
➡️ High quality base ingredients.
---
The Brand Behind The Product

Now, a lot of people would normally base their choice of products on brand reputation. So if you're for reputability, then Primal Harvest is an excellent choice. 
Founded in 2018 by Dan Harper, Primal Harvest believes strongly that the main purpose of supplements is to fill in any deficiencies and make up for the inadequacies of a person's lifestyle and health habits and that the whole body should be treated as one integrated system instead of parts being treated separately.
Thus it promotes a more holistic approach to health practices and supplements by restoring balance in the body and preventing further health issues by improving the body's ability to function the way it's intended to be. To achieve that, the company uses select, globally sourced ingredients (domestic and imported) whose beneficial effects are based on scientific research and standardized clinical studies to ensure visible and efficient results.
Additionally, Primal Harvest is a GMP-certified facility (Good Manufacturing Practices) that faithfully complies with strict manufacturing standards and procedures. Its products are independently third-party lab-tested in the USA to guarantee maximum quality. 
---
What Are The Benefits Of Primal Harvest Multivitamin?
We've talked about the brand, now let's delve into the product.
Primal Harvest Multivitamin is a full-spectrum multivitamin supplement that boasts an expertly-formulated blend of 21 key vitamins and minerals, basically all the elements necessary to build a strong nutritional foundation, giving you optimal immune health, increased bodily functions, and ideal mental wellbeing.
Boosts Energy Levels
Feeling worn out already, and it's just 10AM? Primal Multivitamin help you regain control of the daily grind by helping you meet nutritional needs so your body can perform optimally and help you accomplish more tasks.
Improves Mood And Cognitive Functions
A person's mood can strongly affect their productivity and pervasively affects their basic cognitive functions like learning, reasoning, comprehension, and discernment. Here, Primal aims to hit two birds with one stone by improving the mood and enhancing one's cognition at the same time.
Increased Immune Support
Being the body's first line of defense, the immune system protects you from foreign invaders like bacteria, viruses, parasites, and fungi that cause infections and diseases. Primal's blend of vitamins all work together to keep the immune system healthy and running.
Provides Antioxidants
This Primal supplement arms you with antioxidants to protect your cells against free radicals, which are unstable atoms that play a role in developing heart disease, cancer, and other conditions. Not only that, but the antioxidants also work together to keep your skin feeling healthy, balanced, and vibrant.
Improves Eyesight
Having good eyesight isn't just for seeing things clearly without your glasses or contact lens, but it improves your overall quality of life. Good vision contributes to improved athletic ability, increased productivity, better driving skills, and an overall feeling of ease and safety. 
Ingredients
Primal Harvest Multivitamin contains a combination of ingredients specifically designed to jumpstart your day and provide it with the energy and mental capacity to achieve maximum productivity. The following ingredients make all of that possible:
Vitamin A – promotes a stronger immune system, optimal eye health, and the natural moisturization of the skin.
Vitamin B – supports cell health, boosts energy levels, enhances mood,  improves cognitive functions, and promotes healthy digestion. 
Vitamin C –  responsible for the development and repair of all body tissues. It also helps absorb iron better and boosts the immune system.
Vitamin D – ensures bone and dental health, supports the immune, brain, cardiovascular, and nervous systems, regulates insulin levels, and supports skin rejuvenation.
Vitamin E – Vitamin E focuses more on skin health. It moisturizes the skin, prevents UV damage, facilitates the healing of scars and wounds, and treats hyperpigmentation.
Vitamin K – plays an integral role in blood clotting, supports bone metabolism, and regulates blood calcium levels.
Vitamin B6 – enhances the immune system and the metabolic rate, fights off infections, and helps relieve stress and depression.
Vitamin B12 – supports the formation of red blood cells (RBCs), reduces inflammation, facilitates brain and nerve cell development, and improves heart health. Primal use methylcobalamin as the form of B12 in their multi opposed to cyanocobalamin that is regularly used by cheaper, less effective supplements.
Biotin –  provides an important source for creating energy and maintaining overall bodily functions. It's also ideal for skin nourishment and healthy hair growth.
Calcium – ideal for optimal bone and cardiovascular health, strengthens teeth, promotes muscle development, and cuts the risk of cancer. 
Copper – helps maintain healthy bones, strengthens the blood vessels, and boosts the nervous and immune systems.
Manganese -helps the body form connective tissue, strengthens the bones, promotes blood clotting factors, and improves digestion.
Selenium – acts as a powerful antioxidant to prevent any kind of infection, boosts the immune system, reduces asthma symptoms, and keeps thyroid health in check.
Zinc – helps keep the immune system strong, builds muscle mass, improves memory, and aids in skin problems like acne and inflammation.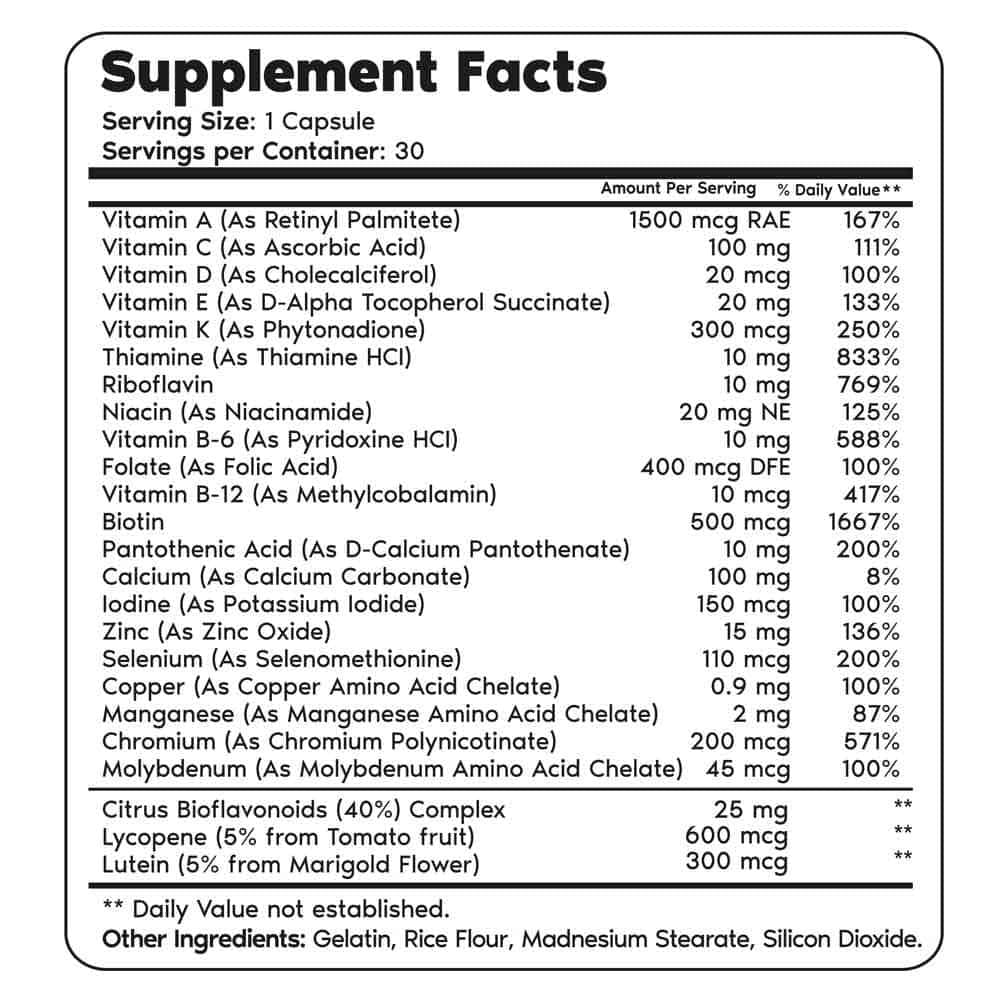 Recommended Dosage
The recommended dosage is one (1) capsule a day with a glass of water at any hour of the day, but ideally after your morning or afternoon meal. Having eaten something before consuming the capsules is important since it reduces the chances they'll cause stomach troubles. It also stimulates digestion and makes absorption faster.
Don't take a higher dosage than what has been recommended. When in doubt, you can always ask your doctor regarding proper dosages. 
In general, consistency is key, and you will maximize the benefits by taking the supplement consistently.
Pros and Cons
Let's break down Primal Harvest Multivitamin's positives and negatives to help you decide thoroughly:
Pros:
Uses scientifically-backed ingredients.
Has excellent bioavailability.
High quality base ingredients.
Capsules are easy to swallow.
100% gluten-free, dairy-free, and soy-free.
Made in the USA,
GMP-certified.
Third-party tested.
90-day 100% money-back guarantee.
Free shipping on orders of $75 or more.
Quick shipping.
Cons:
A bit more expensive than other similar supplements.
May take prolonged usage to see visible results.
Has a bit of a smell and aftertaste, which might be displeasing for some.
Not vegan as bovine gelatine is used for the capsule.
Primal Harvest Multivitamin Reviews – What Do Customers Have To Say?
Read what people who have used Primal Harvest Multivitamin have to say about the product:
"Every vitamin supplement seems to be lacking something. But this one has a wide range of vitamins and minerals in good concentrations…You only have to take one capsule a day which is a nice advantage. I also like that it has some added lutein. I notice that my teenage son has less trouble with breakouts when he is taking a good multi-vitamin. Very pleased with this one." – S. Sadler 
"Since using this product, I have not felt the least bit under the weather. Everyone else in my home has had the flu and colds several times during the last year. Truly a product that works!
Everyone in my home is a believer and now takes Primal Multivitamin daily. We have never felt better. Thank you, Primal Harvest." – John M. 
"I love this product; you only need to take one capsule daily, which is very easy to swallow. And doing my research, I have found that most multivitamins on the market have added fillers to their products and do not meet the 100% or greater threshold for each vitamin and mineral listed, which is very important. I have noticed that I have more energy since I have been taking my Primal multivitamins. I would recommend these to anyone." – Gary R. 
"I have been using PrimalHarvest for six months. I'm 73 years old. My hair was falling out, breaking and dull. All of that has changed. I couldn't believe the shine came back, it stopped breaking and it is growing again. Thank you for an excellent product. It works, and I'm relieved. Hair conditioners didn't do anything for my dull hair. So this is amazing." – Anonymous
Product Cost
The Primal Harvest Multivamins individually costs $29.95. That will provide you with 30 easy-to-swallow capsules, and can last for about a month (30 days). 
Subscribing monthly to it lets you enjoy a 20% discount ($23.96 which saves you $5.99), get free shipping, and other exclusive deals.
Best Place To Buy Primal Harvest Multivitamin?
The best place to buy Primal Harvest products is through their online store. Though other stores sell Primal Harvest merchandise online, it's still best to buy directly from them for you to be assured of the product's authenticity and quality. Otherwise, purchase at your own risk. 
Purchasing directly from their website lets you in on subscription deals and discounts and would allow you to avail of the 90-day money-back guarantee should you feel unsatisfied with any of their products.
Frequently Asked Questions
Can Primal multivitamin cause allergies?
The product is generally safe. While it does not contain dairy, tree nuts, peanuts, wheat, or soy. Primal Harvest's manufacturing facilities do process some of those products. Always review the details on the product label for the most accurate information and when in doubt. 
Can I take Primal even with a medical condition?
Primal Multivitamin is manufactured for use by healthy adults over 18. If you have a pre-existing medical condition or are taking prescription medications, it's important to consult first with your trusted physician before subscribing to any kind of supplement to prevent health risks.
How do I properly store Primal Multivitamin?
Store your Primal Multivitamin in a cool, dry place away from moisture, direct sunlight, and extreme temperatures for maximum efficiency and shelf life.
What is the normal shelf life of these multivitamins?
Primal Multivitamin should generally maintain their shelf life for up to two years provided if they are stored properly and remain unopened. Once opened, the product is recommended to be consumed within 90 days for maximum effectiveness.
Where are primal harvest vitamins manufactured?
Primal Multivitamin is formulated and manufactured in the USA in a GMP-certified facility (a key point to look for when buying any supplement).
They do use both domestic and imported base ingredients but this is common for most supplement brands.
All of their products are third-party tested in the USA.
Key Takeaways
For all of the reasons outlined in this Primal Harvest Multivitamin review we can recommend this product for those looking to add a daily dose vitamin and mineral supplement to their diet.
Disclaimer: this article does not constitute or replace medical advice. If you have an emergency or a serious medical question, please contact a medical professional or call 911 immediately. To see our full medical disclaimer, visit our Terms of Use page.
Related Articles