Druggenius.com is reader-supported. We may earn a commission through products purchased using links on this page. Learn more about our editorial process here.
ZuPOO reviews – You're interested in this popular colon cleanse and gut support supplement but before you dive in you want to find out if it's really worth it?
ZuPOO Colon Cleanse and Gut Support is a natural product that contains a range of organic components and herbs. As people generally carry 5-20 percent extra waste, the product claims to aid in the removal of extra toxins from the body's digestive system.
It also helps to relieve symptoms like bloating and gas, as well as improve overall digestive health. ZuPOO helps you lose weight by suppressing your appetite.
This article provides an unbiased overview of the product, including its advantages, side effects, ingredients, and a section with frequently asked questions.
Umzu ZuPOO (Our Review) 
---
UMZU created zuPOO, a well-balanced dietary supplement that promotes gut health. The supplement claims to contain numerous organic products and herbs to aid the digestive system to cleanse 5lb – 20lb of harmful waste from your body.
By assisting your body in getting rid of waste, zuPOO aids your digestive system in regaining control by acting as a reset button. The digestive system produces less gas as a result of getting rid of toxic waste, resulting in reduced bloating.
The much-needed support to flush out all of the toxins from your body is a wonderful treatment for your gastrointestinal troubles. Not only is waste elimination made easier, but the entire process is made possible by a single supplement. 
It essentially acts as a laxative, keeping the digestion process simple by preventing bloating, constipation, and other gastrointestinal ailments.
The zuPOO colon cleanse has various pros and cons, just like any other product. Before making a decision, we suggest that you consider these.
Pros 
It aids in weight reduction.
It's been shown to boost enzyme production, which aids in the digestion of difficult foods. 
It's made from all-natural ingredients
Boosts the immune system.
There is some evidence the formula can lead to gut health support.
It is useful in the elimination of toxins.
Cons 
This product can induce allergic reactions.
Some people may experience some side effects from the product
After using it, toilet tours become more common.
Compared to traditional laxatives this product is pricey.
The product can't be purchased locally, only online.
Results vary from person to person.
Detailed Analysis of the Umzu ZuPoo Colon Cleanse
ZuPOO Ingredients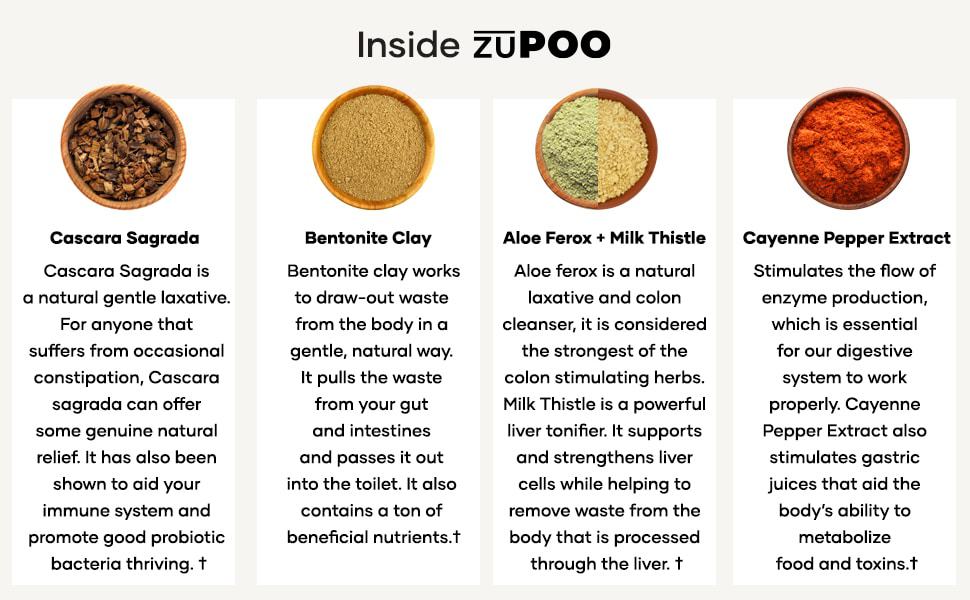 ZuPOO contains 1,270mg of ZuPOO formula which contains nine significant ingredients discussed below. Their website has a detailed breakdown of all ingredients used in all of their products.
Cascara Sagrada
Cascara is commonly known as buckthorn and comes from the bark of a tree or shrub. Anthraquinones are the active chemicals in the plant, and they aid in the removal of waste, particularly in the colon.
The excrement passes through the intestine before being expelled. Excretion is smooth with the help of anthraquinones and helps keep diarrhea at bay. They also prevent the large intestine from reabsorbing electrolytes and water as part of the digestion process.
As a result, it is an excellent option for persons who suffer from persistent constipation. It also improves intestinal health and promotes immunity by preserving the survival of healthy bacteria. 
Bentonite clay 
Clay is known to have a high concentration of minerals such as calcium and magnesium. These micronutrients aid in the absorption of waste products thus flushing toxins from the body.
Food undergoes absorption as waste is pushed down the intestine, preventing it from clogging and allowing the system to function well. Because of this, there is no undesirable waste accumulation in the body.
Cayenne pepper extract 
It's known for its ability to stimulate the stomach and salivary glands. It aids in the production of saliva as well as stomach fluids. Both of them contain enzymes that aid in the breakdown of your food's complicated components.
Enzymes, on the other hand, boost your metabolism by causing your digestive system to work overtime. As a result, irritable bowel syndrome and excessive bloating are no longer a problem. The stomach lining is healthy and releases acids that aid in food digestion.
Aloe Ferox 
Aloe Vera extract is well-known for its ability to soothe your digestive tract and aid digestion in the treatment of a variety of diseases. They include stomach distress, acidity, and stomach ulcers, among other things.
You can also wave goodbye to irritable bowel syndrome if you ingest the extract in the form of juice or a paste. It's refreshing and a great way to deal with gastrointestinal issues that might make you weary and irritable.
Aloe ferox, the aloe in ZuPOO, is not the same as aloe vera. Aloe ferox, on the other hand, has anthraquinones and is a powerful laxative.
Slippery Elm Extract 
The bark of the slippery elm tree is demulcent. This implies it can calm the lining of the stomach and intestines from inflammation, as well as reduce discomfort. In one clinical research, slippery elm was observed to improve bowel movements in patients with constipation-predominant IBS.
An extensive study showed that Individuals who used slippery elm formula experienced decreased gas, indigestion, diarrhea, stomach pain, and constipation.
Milk Thistle 
This is another crucial herb that benefits the health of your digestive tract. Milk thistle naturally tones down the liver and prevents unnecessary deposits from forming, thus preserving its overall health and well-being. Additionally, It also offers other benefits, such as controlling cholesterol and alleviating depression.
Senna leaf 
Senna leaf has been used for constipation for a long time and is also an anti-parasitic. Senna leaf powder's capacity to relieve constipation may make it an effective treatment of hemorrhoids, though more research is needed to confirm this.
Fennel seed powder 
Fennel is a Mediterranean plant related to carrots that originated in the Mediterranean region. They are packed with fiber which can help reduce gas and constipation by relaxing the smooth muscles of the intestines. 
They also have other health benefits such as reducing inflammation. This may help soothe swelling or irritation in the intestines and improve digestion.
Burdock root powder 
According to new research, burdock root includes active chemicals in its root system that can eliminate toxins from the bloodstream. The powder has several health benefits such as inhibiting certain types of cancer and significantly interferes with the growth of cancer cells.
Studies also show that the burdock root can successfully detoxify the blood and stimulate enhanced circulation in the skin's surface.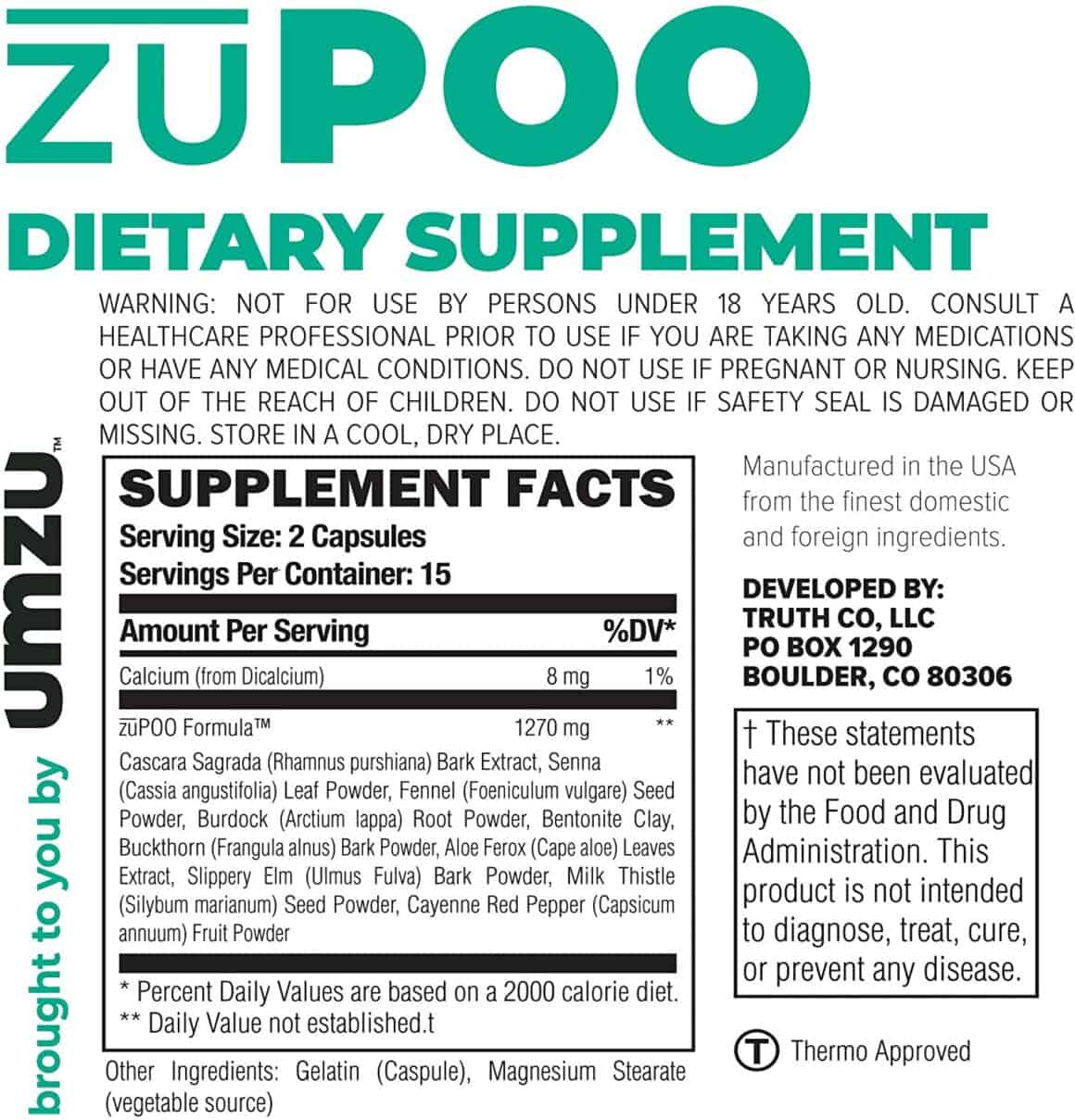 Weight Loss
Bentonite clay is a weight loss component found in the product. It balances intestinal bacteria and cleanses the colon, thereby helping the body process nutrients more efficiently and aid weight loss.
Cayenne pepper has an important role in human health and has various metabolic benefits, including a fat reduction in overweight persons, according to research published in PLOS One. 
The potential method of isolating active compounds from plants is widely regarded as being similar to Traditional Chinese Medicine, which employs a holistic approach to treat diverse tissues and internal organs. However, there isn't a lot of proof that this supplement, in particular, can help.
Safety
Overall, UMZU ZuPOO is a safe product that contains substances that have relatively minor adverse effects. This product, however, is not suitable for persons who suffer from Crohn's disease, ulcerative colitis, irritable bowel syndrome, or sprue.
Pregnant ladies and breastfeeding mothers are next in line. They should avoid the product because its safety level in these subjects is uncertain. As a result, there is a possibility that the product will transfer to a developing fetus or a growing infant.
Crash dieters and persons with eating disorders are other groups of people who are at risk.
They may become obsessed with the Umzu ZuPOO and endure the harmful consequences of addiction. Due to the laxative impact of the pills, it might also cause malnutrition and illness in the long run.
Even though there aren't many reviews mentioning this issue, it's best to visit your doctor first.
zuPoo Cleanse Performance
Umzu ZuPOO promotes itself by claiming to wipe out the entire system in two weeks. As a result, in only 15 – 20 days, you'll have a clean, high-functioning gut that's free of toxic build-up.
The waste is eliminated as a result of higher water use. As a result, the more water you drink, the easier it is to flush the waste out of your system.
With the accumulation of waste comes an increase in issues that obstruct weight loss. ZuPOO's mode of action is straightforward, and it complements your training program and lifestyle.
Another useful approach to promote gut health is to increase the consumption of nutritious food. Doing this helps ZuPOO work faster and produce better outcomes. Your bowel movements will improve on their own, and a colon cleanse will make the procedure much easier.
ZuPoo Colon Cleanse Side effects
The number of side effects is limited, and they are entirely dependent on the structure of your system and its reaction mechanisms. If you suffer from many stomach troubles, your stomach and colon are likely to be troubled even more.
In addition, several reviews mention diarrhea. If you're predisposed to it, you'll experience all of the symptoms that come with a case of food poisoning. Because of the constant outflow of electrolytes and fluids from the body, you may feel weak and euphoric. Furthermore, frequent trips to the restroom can cause intestinal cramping, nausea, and dizziness.
You may have confusion and loss of stamina as a result of the electrolyte imbalance, as well as sporadic bouts of nausea and abdominal discomfort.
Thus, only add Umzu ZuPOO to your diet if you are certain of your good health and that of your digestive tract. Otherwise, it is too harmful to you. Also, you can always seek assistance from a dietician or nutritionist.
Umzu ZuPoo Dosage
Before going to bed, take two capsules with a full glass of water. Make sure you drink plenty of water throughout the day. During the first 12-24 hours, you may detect a buildup of gas. Expect frequent bowel movements within 48 hours.
For a complete digestive system flush, continue supplementing before night for a full 15 days. To keep the cycle going, remember to take the pills every day for 15 days. There's also no need to keep it longer than 15 days. You can easily take a break in between and return to it in a month or later, whichever is more convenient for you.
ZuPOO Price
ZuPOO Colon Cleanse comes in a bottle with 30 tablets, which is enough for a 15-day supply. It usually costs around $30 per bottle, but you can get it at a discounted price if you sign up for an auto-ship every 30, 60, or 90 days. All of UMZU's goods come with a 60-day money-back guarantee when purchased for the first time. Additional handling and shipping charges may apply.
ZuPoo Colon Cleanse & Gut Support Reviews

On the official Umzu site, the zuPoo colon cleanse has a 4.8 out of 5 rating over 1,236 reviews. The breakdown is as follows:
5 ★★★★★ – 1054
4 ★★★★ – 107
3 ★★★ – 56
2 ★★ – 14
1 ★ – 5
Positive Reviews
The bulk of the positive reviews note that the product made them less bloated and gassy while making them feel as though their stomach was flatter. 38 of the 1,236 reviews use the term 'cleaned out' which seems to be the ultimate goal of the Umzu ZuPoo cleanse.
The review that has been upvoted as the most helpful by other site users is a 5-star review titled – "You Might **** Yourself".
The user notes – "This stuff works so well, it should come with a disclaimer and require a signature of consent before customers purchase it. All I can say is you better invest in a family pack of some high-quality toilet paper before you start taking this."
They also noted that – "Absolutely do not plan on going out on any dates until you have finished your cleansing cycle, there will be no second date. Also, if you choose to look at what you have created after you have expelled what has been sitting in your body for so long, you will have nightmares. Just flush and rush, do not investigate. But yeah, it works. You'll drop a few pounds and feel way leaner."
Negative Reviews
The main complaint that is present in the 1 and 2-star reviews is that 'the product just didn't work' for them. They are generally well-mannered but disappointed at not seeing the results that other users have had during their ZuPoo cleanse.
Obviously, as these reviews are hosted on the Umzu site they could have been 'cleansed', where they have removed all of the distinctly negative, more annoyed reviews.
ZuPOO Alternatives
Double the supply.
Cheaper base price and far cheaper if you buy 3 or more bottles.
Prebiotics + Probiotics + Postbiotics
---
Umzu ZuPOO FAQs
Dietary supplements have a long list of benefits that can prove to be more beneficial than ever, but there's always a caveat. There are hidden benefits that no one tells you about, as well as studies that show the benefits of long-term use. And Umzu ZuPOO is no different.
Is ZuPOO Worth It?
The dietary supplement has mixed reviews and has therefore been rated average. According to several ZuPOO reviews, it aids in the detoxification of the colon and assists with digestion. 
Some people claim it worked wonders for them after only a few uses, while others claim they are still waiting for a miracle.  Be that as it may, the majority of consumers are pleased with this product.
Is ZuPOO Legit?
There's no doubt that UMZU ZuPOO is a genuine product manufactured by the UMZU corporation.
They use high-quality ingredients and base their compositions on scientific data. Several UMZU ZuPOO reviews attest to the fact that this is a trustworthy supplement.
What is UMZU ZuPOO's Return Policy?
The manufacturer offers a 60-day return period that begins two weeks after you get the item. Contact the company and return the product within the 60-day term if you want a refund.
Is UMZU ZuPOO vegan?
Unfortunately, ZuPOO is not suitable for vegans because the coating of the capsules contains gelatin, a collagen-derived protein that is found in the skin, hair, nails, connective tissues, bones, ligaments, and tendons of all animals.
Due to the fact that the source material is animal body parts, it is not even vegetarian-friendly.
More Dietary Supplements
Balance of Nature Pros and Cons