Relief Factor Review – Relief Factor is an anti-inflammation supplement made up of four natural ingredients – turmeric, icariin, resveratrol, and omega-3 oils. It's a supplement that helps your body by naturally reducing joint and muscle aches. 
Relief Factor is not limited to any particular group of people and isn't a prescription that needs you to jump through hoops just to get it. It's a lot more straightforward. 
You can get your hands on the supplement through a monthly subscription on the company website, it comes in the form of four pills that need to be taken regularly – two capsules and two soft gels.
If you are someone who struggles with joint and muscle pain then this could be just the product you need.  
Druggenius.com is reader-supported. We may earn a commission through products purchased using links on this page. Learn more about our editorial process here.
Relief Factor (Our Review)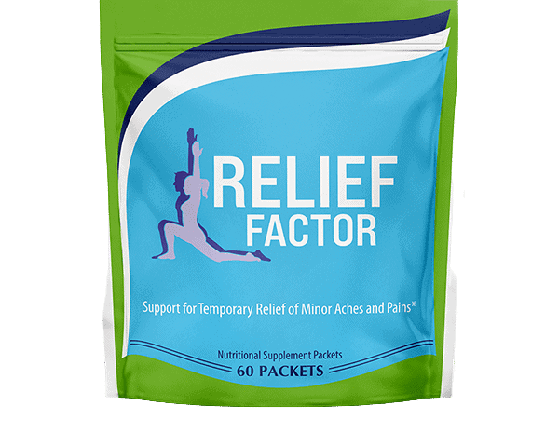 Overall Assessment
Relief Factor is a 100% natural supplement geared toward reducing the pains and aches associated with aging, daily exercise, and some chronic illnesses. The supplement is promoted by Promedev, LLC in the USA. Relief Factor prides itself on only using natural ingredients. 
This is a big difference when you compare it to other anti-inflammatory supplements that make use of pharmaceutical drugs or topical steroids; some of which can interfere with your body's natural reaction to inflammation. 
Relief Factor is also much safer to use than the alternative anti-inflammatory supplements. Imagine it as a home remedy your grandma always made but it's been put through testing to validate its properties. 
The supplement helps reduce pain by using each of the ingredients' beneficial properties to fix underlying problems. It's supposed to be taken on a long-term basis as its effects increase with time. 
Relief Factor is widely available for use by anyone, regardless of whether you're young or old. This is the driving philosophy behind Relief Factor, and it's admirable for a company to do that. 
If you're nearing the age where your joints aren't what they used to be, or you're suffering from an athletic injury or exercises are starting to hurt more than usual, then Relief Factor will work for you. 
It is also good for people who suffer from chronic illnesses like arthritis or osteoporosis. More often than not, they're using something expensive or ineffective. Relief Factor would be a good solution. 
Pros
No artificial or processed ingredients 
High customer satisfaction 
Helps with inflammation, joint and muscle pains 
Drug-free 
Cons
Potential side effects 
Refunds not guaranteed
Detailed Analysis
The Relief Factor website states that it uses four natural ingredients aimed at treating joint and muscle pain. These ingredients are icariin, resveratrol, turmeric, and omega-3. 
The neat thing is that each ingredient plays its own role in minimizing pain and works together as a potent combination. We're also going to look at other aspects like the cost, safety, effectiveness, and those pesky side effects. 
The Four Natural Ingredients 
Icariin
Icariin is a component of Epimedium, also known as horny goat weed. It helps to ease the pain caused by conditions like osteoporosis or arthritis. It also has anti-depressant, anti-atherosclerosis, and anti-aging properties. 
Interestingly enough, common usage was traditionally aimed toward helping people who were suffering from E.D. (erectile dysfunction). While it was predominantly used to treat low sex drive, various other beneficial properties started rising to the surface.
Turmeric
Turmeric and its main component, curcumin, contains anti-inflammatory properties. It helps to reduce any discomfort in the joints while improving flexibility and overall movement. It is considered one of the most powerful natural anti-inflammatories available.
Equally remarkable is the fact that turmeric increases the antioxidant capacity of the body. The curcumin component of turmeric has even more potent antioxidant properties because of its long-chain chemical structure.
Resveratrol
Also known as Japanese Fleeceflower, resveratrol encourages healthy blood flow and improves blood vessel health. This is because resveratrol has anti-inflammatory properties. The stronger your blood flow, the better your body can react to inflammation. This is one of David Sinclair's favorite supplements.
Omega-3
Omega-3 is most often found in fish oils. 
Omega-3 also contains two specific ingredients that fall under the Omega-3 Fatty Acids: EPA and DHA. According to a study, these fatty acids helped to reduce morning stiffness and symptoms like tender and swollen joints.
We wrote a whole post about what is in Relief Factor for those looking for an even deeper look at the supplement.
Is Relief Factor safe to use if I have other health conditions?
Unfortunately, Relief Factor's website does not discuss any side effects or complications regarding their supplement and other health conditions. For this, we had to rely on customer testimonies to understand what we're dealing with. 
When in doubt, consult your doctor – it's definitely the safest route. 
Many people are concerned about the presence of heavily processed or artificial chemicals in their medication and supplements. With Relief Factor, you can rest easy. They only use naturally occurring ingredients and process them as little as possible. 
So, you should be good to go, unless you suffer from a specific condition that influences your vascular or digestive system. 
Side Effects
It's nothing too serious, luckily. Relief Factor states that the side effects include nosebleeds, loose stool, and dizziness. 
Loose stool is likely caused by fish oils which can irritate some people's stomachs. Taking the supplement with food will avoid the problem by giving the heavy oils something solid to bind to.
If you have an allergy to either soy or fish oils then you should avoid Relief Factor.
Some of the ingredients in Relief Factor help to increase blood flow, so anyone using blood thinners should speak to their doctor before using the supplement. 
Effectiveness
People who have used Relief Factor claim that it successfully combatted their aches and pains. The majority of people find that the effects start showing after only a few days.
According to the company, Relief Factor can, and should, be taken on a long-term basis as the effects of the supplement compound over time.
The Relief Factor website claims that their supplement does not "mask" the pain only to wear off later, rather it solves the crux of the problem. 
A lot of the time when you use painkillers you are pain-free for an hour or two, only for it to return once the effects of the pharmaceuticals wear off. 
With Relief Factor, it feels like the pain is treated at its source. Even if you were to stop using it for a few days, the pain would be minimal. 
Price
Relief Factor explains how to get a hold of their supplement. There is no confusion and they are pretty straightforward about it. 
You get to choose between two options. The most popular option is the three-week QuickStart. The second option is making a single order for a month's worth of supplements. 
The three-week QuickStart option is the cheapest way to get started, costing around $20. It includes a three-week supply of Relief Factor supplements and comes with a few extra vitamins. After three weeks the subscription will be automatically renewed and you will then be charged around $80 monthly.
The second option is going to set you back $90, more or less. This is the least popular option, but it works well for people who simply want to test the supplement out before committing to it long-term.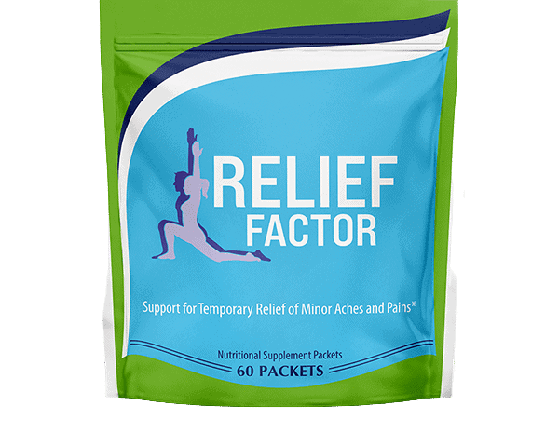 Relief Factor Customer Reviews
After taking a look at reviews of Relief Factor, it's clear that most customers are satisfied with their results after using the supplement.
Positive Reviews
One reviewer, who heard of the supplement from his wife, was suffering from a back injury. Before using Relief Factor, this injury prevented him from being able to work for about a year. 
He followed the program and took the supplement three times a day for three weeks. One morning, he woke up and felt that the pain was entirely gone. 
Another reviewer says that the difference Relief Factor made for her was in how she was sleeping. She remarked that chronic pain feels "like your body is always fighting" and this was having an impact on her sleep. 
She says that Relief Factor improved her quality of life and she doesn't feel constantly fatigued anymore. 
One last customer mentioned that his knees were experiencing pain and that drove him to try all sorts of supplements and tinctures to reduce it. He thought that he would give Relief Factor a chance, seeing as it only cost around $20. 
He experienced results the fastest – after only four days. He realized that his knees were not in constant pain anymore. He has not stopped using the supplement since.
Negative Reviews
Some of the customers that used Relief Factor didn't see any results. While this is unfortunate, it's not surprising. The body is a complex machine, and what works for some won't always work for others.
Some customers remarked that they had used the supplement for over two months without witnessing any noticeable improvement. It's also important to note that a supplement can only do so much. To heal properly, you still need to maintain a good diet and low-strain exercise.
Other criticisms surrounding Relief Factor go further, scrutinizing the company's subscription and refund system. The subscriptions are expensive compared to other supplements. 
This is a real black mark against the company. It's impossible to make a supplement that has the same beneficial effects for everyone, but we would have liked them to more reliably refund unsatisfied customers.
Opting for the three-week subscription costs around $20 but it will automatically renew to a set monthly rate such as $80, more or less. This can be inconvenient to those who might have wanted to try the three-week course before opting for the monthly subscription. 
While the immediate switch to the monthly subscription does offer a steady supply of the product, automatic subscriptions are difficult to cancel. Even if a customer bought only a month's supply at a time, it would cost around $90 every time. 
Relief Factor's return policy is cause for concern. According to their website, refunds are possible if the packaging is virtually untouched – the original green and blue bag intact, unopened, and unmarked.
Relief Factor FAQs
Are the ingredients grown with pesticides?
Relief Factor acknowledges that the ingredients are not organically grown, so pesticides could have been present. However, whether they were used is unknown to the company.
We would prefer that they were clearer about this question because it left us wondering and we're sure that this is an important piece of information that many other people need, too.
The company website goes further to explain that the herbs are technically organic but their supplier has not gone through the process of obtaining certification to prove that they are grown organically.
Is Relief Factor a "scam"?
Relief Factor is not a scam, fortunately.
The ingredients contained in Relief Factor alleviate pain and help with inflammation. Bear in mind that the results differ from one person to the next.
It gets the job done and most customers are happy using it, with many of them continuing to use the supplement for months on end.
Some might argue that you could just buy each ingredient individually and it would cost less. Perhaps, but this begs the question of whether the effort to measure each dose and package it on your own is worth the time and effort.
If I'm not satisfied, will I be able to have it returned and refunded?
Returning Relief Factor for a refund is known to be a difficult and often unrewarding process. The website explains how the process works, but customer reviews have warned that the policy is less than honest.
You can return the product by writing "Refused" on the packaging. You would have to make sure that it's in the original packaging, undamaged and unopened with the blue and green bag intact. You should do this within 90 days of the original purchase.
The refund will be issued once the company has received the product. Although, you would have to pay the cost of shipping if the outer white box has been damaged or tampered with.
This process can be quite a hassle for many people and makes it difficult to appreciate the product itself. The reason being that maybe someone hasn't benefited from Relief Factor's effects and would like to discontinue their subscription.