Druggenius.com is reader-supported. We may earn a commission through products purchased using links on this page. Learn more about our editorial process here.
Primal Mind Fuel is a nootropic formulated to improve cognitive function, increase your ability to focus, and promote alertness. We took a look at the base ingredients and tried the product for 30 days to see if these claims ring true.
In this Primal Mind Fuel review, we will break down each ingredient, see what verified customers have said about the product, and detail our experiences with taking the supplement daily for a month. We'll then give you our opinion on whether we recommend adding Mind Fuel to your daily routine.
The Brand Behind The Product
Brand reputation is a prime factor in selecting a product. Now more than ever, consumers choose a brand that is consistent with the quality of its products and the values it endorses, and Primal Harvest fits that very mold.

Primal Harvest advocates for a holistic approach towards health practices and supplements by restoring balance in the body and improving all bodily functions to prevent further health issues. It also believes strongly that the whole body should be treated as one interconnected system instead of parts being treated separately. 
To achieve that, Primal Harvest uses globally sourced quality ingredients (domestic and imported) whose beneficial effects are attested by scientific research and clinical studies to ensure visible and efficient results. Its GMP-certified (Good Manufacturing Practices)  facilities comply with stringent manufacturing standards and procedures.
As we detailed in our Primal Harvest Multivitamin review, all of its products are subject to independent, third-party lab-tested in the USA to ensure their quality. 
What Is Primal Mind Fuel?
Primal Mind Fuel is a nootropic supplement that has been formulated with the goal of boosting one's daily cognitive performance:
Primal Mind Fuel Benefits
Promotes Productivity And Alertness
The stress of every day can take its toll on one's memory, learning abilities, decision making, and focus, which causes the mind to be idle and eventually diminishes productivity in work or study. As its name suggests, Primal Mind Fuel serves as "mind fuel" to keep all of your cognitive abilities up and running.  
Supports Memory And Focus
Memory is essential to all learning because it keeps and retrieves the information you learn. Focus is the gateway to all cognitive functions: perception, memory, learning, reasoning, problem-solving, and decision making. Without them, your productivity suffers. This Primal supplement aims to enhance and sharpen both functions to keep you in the zone.
Resists The Effects Of Stress
When physical and mental stress overlaps with one's work, study, or personal life, it doesn't just affect their performance; it also leads to exhaustion (both physical and mental), personality changes, behavioral problems, and a decrease in enthusiasm. Primal Mind Fuel increases your resistance and decreases your sensitivity to stress, helping you to work through stressful situations.
The supplement contains a blend of nootropic herbal extracts, adaptogens, B-vitamins, and amino acids that are essential for cognitive functions to be at their best. 
What are these ingredient blends? Let's take a look:
Ingredients – What's Inside?
Primal Mind Fuel features three ingredient blends that work together to put your physical and mental performance at their peak:
Nootropics
Nootropics are natural supplements that support brain health by stimulating blood flow to the brain cells and enhancing cognitive abilities such as learning, thinking, reasoning, remembering, problem-solving, and focus. These also positively affect one's energy and improve sleep quality.
Primal Mind Fuel's NeuroSmart® blend features the following nootropic ingredients like 
L-Tyrosine – helps the body build proteins, produce enzymes, thyroid hormones, and melanin, which gives the skin its pigment, and regulates mood. 
Bacopa monnieri – can greatly enhance cognitive functions and reduce anxiety, stress, and even ADHD symptoms. It is also rich in antioxidants. *study.
Huperzine A – prevents significant decline in cognitive abilities like memory loss and learning difficulties. It can also help improve one's sleep quality.
Adaptogens
Adaptogens or adaptogenic substances are used in herbal medicine to help your body resist physical, chemical, or biological stress by stimulating the body's stress-protection response and helping its systems return to a balanced state or homeostasis. Like nootropics, they also support memory and foster a positive mood.
Rhodiola rosea is one adaptogen present in Primal Mind Fuel. It's a flowering plant whose extract is known to increase energy, stamina, strength, and cognitive capacity, improve athletic/physical performance, relieve the effects of stress, and help manage mental health problems like depression and anxiety.
B-Vitamins
Widely considered the building blocks of a healthy body, the B vitamins play a vital role in maintaining good health and well-being, directly impacting your energy levels, brain function, and cell metabolism.
Primal Mind uses CogniPlex®, a powerful blend of three B-vitamins that are extremely beneficial to one's health:
Vitamin B1 (thiamine) – helps the body's cells convert carbohydrates into energy. It also improves memory and reduces the risk of Alzheimer's disease.
Vitamin B6 (Pyrixodin HCI)- helps boost the immune system, improves the metabolic rate, and relieves depression and anxiety. 
Vitamin B12 (Cyanocobalamin) – plays an important part in the production of DNA and red blood cells. Fosters brain and nerve cells' function and development and fights against fatigue. We would have preferred if they had used methylcobalamin as their source of B12 like they do for their multivitamin. This is a superior form of the vitamin.
Recommended Dosage
The recommended daily serving is one (1) capsule per day. Take it with a glass of water after your morning or afternoon meal. Ideally, you should have already eaten before consuming the capsules to reduce the risk of stomach troubles and to facilitate faster absorption. 
Pros and Cons
Let's break down Primal Mind Fuel's positives and negatives to help you decide thoroughly:
Pros:
Uses scientifically-backed ingredients 
Has excellent bioavailability
Capsules are easy to swallow
Suitable for all diet types
100% gluten-free, dairy-free, and soy-free
Made in the USA
GMP-certified
Third-party tested
90-day 100% money-back guarantee
Free shipping on orders of $75 or more
Orders made by 3 PM are shipped on the same day
Cons:
A bit more expensive than other similar supplements
May take prolonged usage to see visible results
Has a bit of a smell and aftertaste, which might be displeasing for some
May cause a few side effects like dizziness or diarrhea in some cases
Are Nootropics And Adaptogens Really Safe?
Nootropics and adaptogens have powerful benefits for your health. But in some cases, they can cause a few side effects or sometimes even health problems like insomnia, faster heart rates, and even addiction. People with certain health problems should steer clear of them to avoid such risks. It also pays to ask your doctor first before considering such supplements.
Primal Mind Fuel Reviews – What Customers Have To Say
Let's take a look at what customers have to say about Primal Mind Fuel's benefits:
"I have noticed a great difference in my cognitive functions!!! I'm not forgetting as much, I can recall things quicker and overall memory has improved can't say enough about this product took a while for it to work had to build up in your system I guess but since I've been using it for a while it's working great!!!" – Dean M.
"I was having a hard time focusing all day as I work from home on the computer with many distractions.  After taking the Primal Mind fuel for a couple days I found it easier to focus and the afternoon drag started to lessen!" – Alyssa W.
"I'm 68, in physically good health and I work out 6 times a week. I only ordered a single bottle to try It out. I immediately felt more energy and was more alert in general. And I felt great! I soon bought 6 more bottles and I'm a believer. It's part of my daily routine going forward." – Stephen C.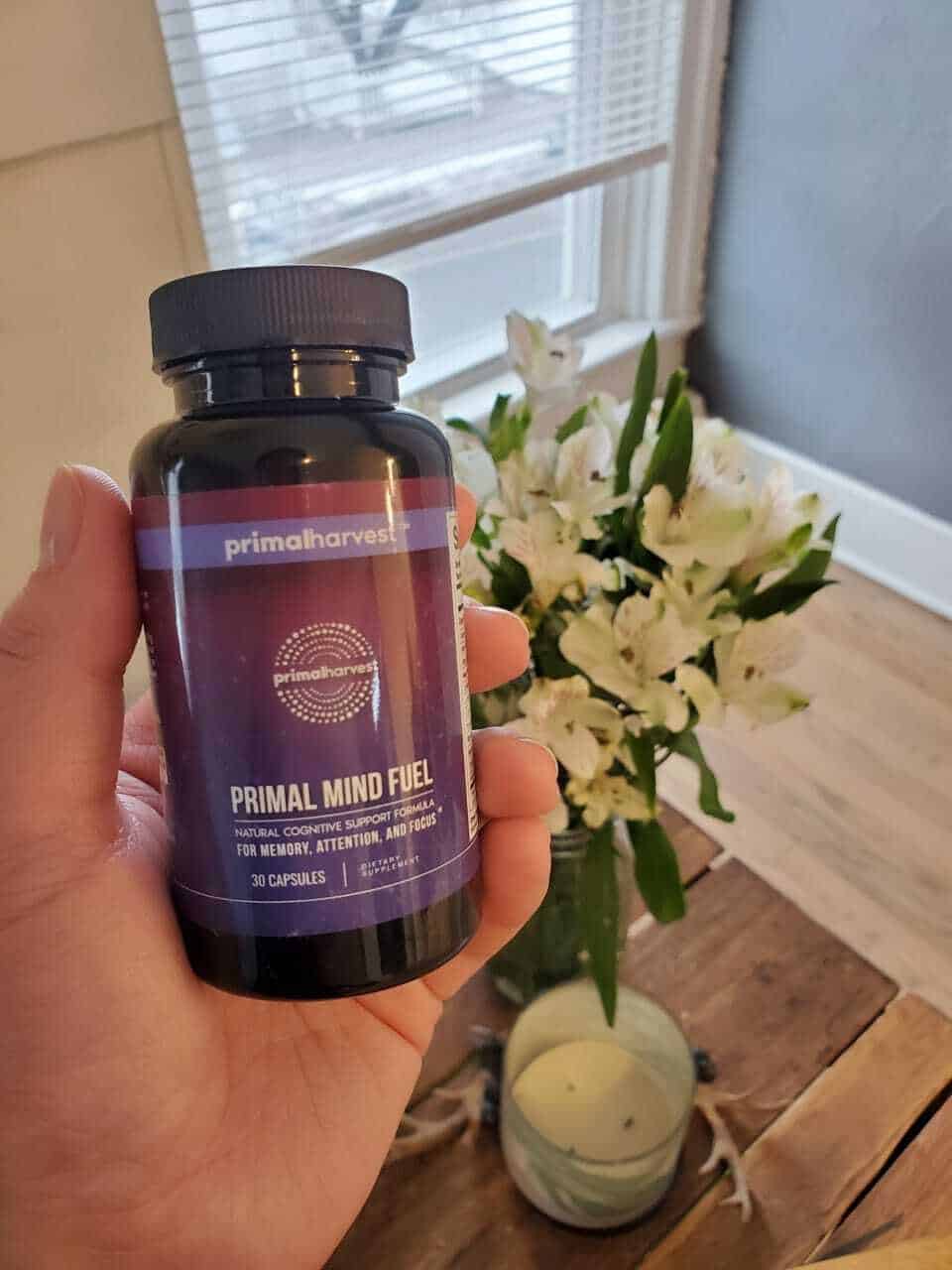 Product Cost
An individual bottle of Primal Mind Fuel costs $29.95. That will provide you with 30 easy-to-swallow capsules and can last for about a month (30 days) when taken daily. 
Subscribing monthly lets you enjoy a 20% discount (save $5.99), get free shipping, and other exclusive deals.
Where To Buy Primal Harvest Mind Fuel?
Though other stores sell Primal Harvest merchandise online, their official online store is the best place to buy Primal Harvest products. since directly buying from them assures you of the products' authenticity and quality. Otherwise, purchase at your own risk since fake products tend to pop now and then.
Purchasing directly from their website gets you access to special deals and discounts. It will allow you to be eligible for the 90-day money-back guarantee if you are unsatisfied with any of their products.
Frequently Asked Questions
Is Primal Mind Fuel safe for pregnant women?
We would avoid Mind Fuel when pregnant.
Most nootropics are generally safe for consumption for expectant mothers, but certain ingredients could cause more harm than good for both the mother and her unborn child. So before considering any supplement, consult with a doctor first.
What if I accidentally skip a day in taking Primal Mind Fuel?
If you happen to miss a day, don't fret just yet. The general rule is to simply take the supplement the following day and continue with the regimen. Though consistent intake is still a must to achieve optimal results.
How many bottles should I purchase before I see results?
It's important to be consistent in taking these vitamins for you to experience and enjoy the supplement's benefits. But should you decide to stop taking Primal Mind, you can avail of its 90-day full money-back guarantee, which allows you plenty of time to try it out and see if it suits you well.
Can I take Primal even with a medical condition?
Primal Mind Fuel is made for consumption by healthy adults over 18, but if you have a pre-existing medical condition or are taking prescription medications, it's imperative to consult first with your physician before subscribing to any kind of supplementation to possible adverse health risks.
Can Primal Mind Fuel cause allergies?
The product is generally safe, but due to the presence of nootropics and adaptogens, it may cause some minor side effects like nauseousness and diarrhea. While the supplement itself does not contain dairy, tree nuts, peanuts, wheat, or soy. Primal Harvest's facilities do manufacture products that do include some of those items.
When in doubt, always check the details on the product label to get the most accurate information.
How do I properly store my Primal Mind Fuel capsules?
Store your Primal Mind Fuel bottle in a cool, dry place away from moisture, direct sunlight, and extreme temperatures for maximum efficiency and longer shelf life.
What is the normal shelf life of Primal Mind Fuel capsules?
Primal Mind Fuel should maintain their shelf life for up to two years provided that they are stored properly and remain sealed. Once opened, the product should be consumed within 90 days to fully enjoy its maximum effectiveness.