Druggenius.com is reader-supported. We may earn a commission through products purchased using links on this page. Learn more about our editorial process here.
Taking nutritional supplements has been a popular health trend these days. Such supplements aim to improve overall health and help manage some health conditions. I mean, who wouldn't want to be fit and healthy where everything is a lot more taxing and demanding these days? So if you're considering taking one, Total Human by Onnit might just be the one for you. Take some time to read this Onnit Total Human review. 
Total Human Review Summary
We found Total Human supplement packs to be the brand that offers the most complete solution when it comes to daily supplementation.
We loved the pre-portioned day and night packs, the convenience of not having to have 10's of different bottles in our cabinets, and the mixture of vitamins, minerals, and even nootropics.
The only solution that we would recommend more would be a multivitamin that is personalized to your body like those from Ritual or Vous Vitamins.
The Brand Behind the Product
A lot of people base their selection of products on brand reputation. So if you're for reputability, then Onnit is definitely an excellent choice. 
Founded in 2010, Onnit is a Texas-based health and wellness company that encourages peak performance by combining unique products and actionable information. It concentrates on creating naturally derived nutritional supplements and functional foods based on leading professional athletes and medical practitioners' latest science and dietary research and strategy.
Aside from manufacturing supplements, Onnit's Gym in Austin, Texas, offers unconventional training to supplement standard fitness equipment to enhance physical strength and cognitive function.
What Is Onnit Total Human?
Onnit Total Human is a nutritional supplement stack formulated to boost your health to its optimum, thereby augmenting your daily performance. This all-in-one supplement contains a varied selection of minerals, vitamins, amino acids, and other herbs that all help increase focus, energy, endurance and strengthen immune function. It also contains nootropics, which are substances that can enhance your brain performance. They are sometimes known as cognition enhancers or memory-enhancing substances.
How does it work?
Total Human comes in two (2) main packs: Total Human Day Pack & Night Pack. Suppose you're wondering why it has to be this way; Onnit explains that this is to better facilitate the spreading out of the supplements throughout the day and night so that the body can absorb a more consistent supply of vital nutrients.
Total Human Day Pack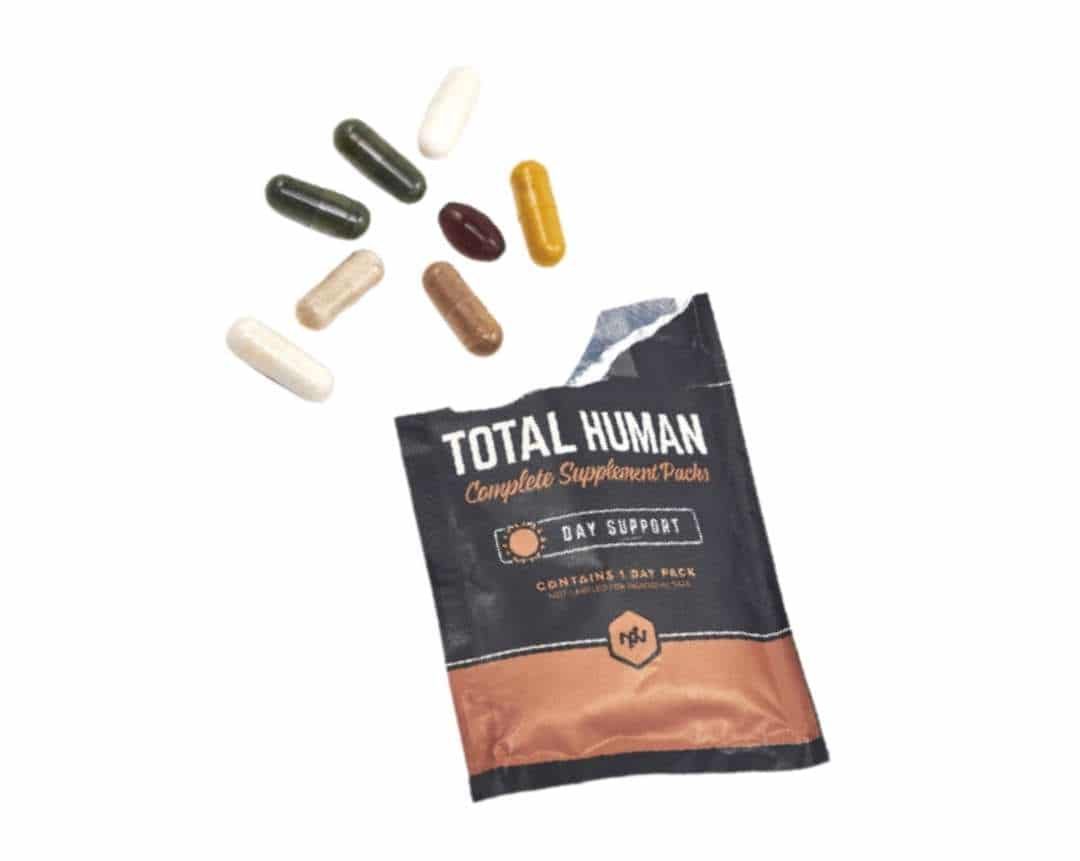 The Day Pack contains a combination of four Onnit products that are specifically designed to jumpstart your day and provide it with the energy and mental capacity to function achieve maximum productivity:
Alpha Brain –  This nootropic is a great addition to the day pack to give you that extra boost, especially if you're working through tasks involving cognitive skills. Some nootropics stand out like L-theanine and phosphatidylserine, amino acids that increase brain wave production and are vital for enhanced cognitive function. Other ingredients like Alpha GPC, Bacopa Monnieri, and Huperzine-A help improve one's focus, memory, and comprehension.
Shroom Tech Sport – As its name suggests, this product uses adaptogens and mushrooms to help the body become resistant to all kinds of stress, helps it maintain normal function in times of stress, and protects against stress-related damage. Adaptogens such as ashwagandha, astragalus, cordyceps, Green tea extract, and vitamin B12 also provide neuroprotection and help strengthen the immune system. 
Stron Bone – Its function is also quite evident from its name. Stron Bone contains compounds that are essential to bone health like strontium, potassium, copper, manganese, Bioperine, and Vitamin K2 and E. 
Total Human B-Complex – The Total Human B-Complex contains B-vitamins B6 and B12 that enhance both energy and brain function. If you always tend to wake up exhausted or drained in the morning, this product should help you get on your feet easier and faster. 
Total Human Night Pack
If the Day Pack helps you start the day way, the Night Pack is designed to help you cool down properly after a long productive day so that you can get that well-deserved good night's rest. This pack contains the three popular Onnit products:
New Mood – Onnit New Mood is a supplement that aids and facilitates mood and relaxation by decreasing stress levels and improving sleep quality. Nootropic ingredients such as chamomile, lemon balm, magnesium, niacin, and Vitamin B6 promote the body's serotonin production.
Key Minerals – A product containing a mix of important micronutrients like molybdenum, calcium, iodine, magnesium, and boron that people might not get by food alone. People whose professions involve a lot of physical effort, like athletes, construction workers, military personnel, and lifeguards/firefighters, could benefit highly from this. 
Virutech –  Virutech is a unique supplement with a masterful combination of vitamin C, zinc, and selenium which all work together to enhance the immune system, further protecting your body from diseases.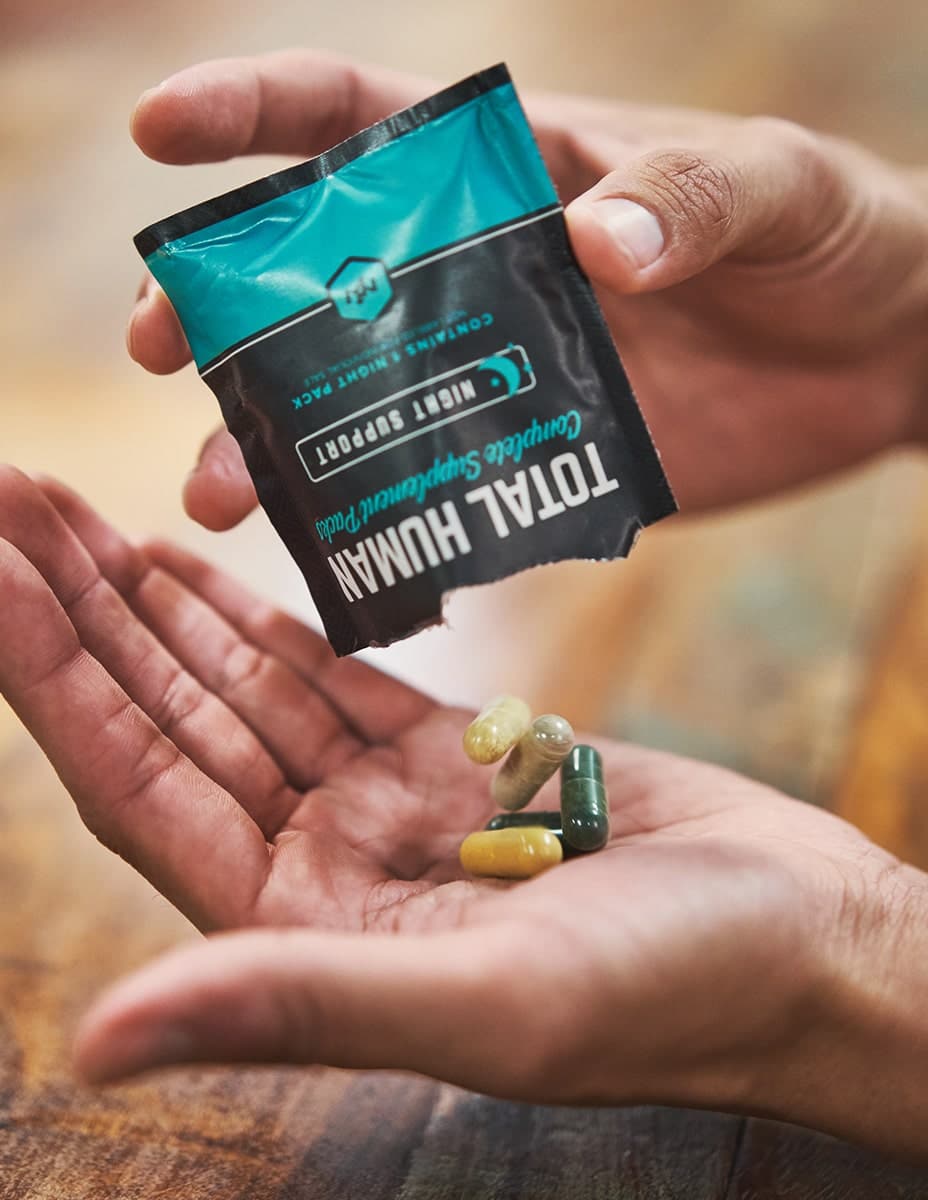 Common ingredients 
The Day and the Night packs share three common Onnit supplements, which provide EPA and DHA to support the brain and immune system and other important aspects like heart and gut health and pain relief.
Shroom Tech Immune – This Onnit supplement utilizes the qualities of mushrooms, herbs, and turmeric in a combination that further boosts the body's immune system by supporting cellular integrity, stimulating adaptive immune responses, and helping the immune system defenses. It also contains polysaccharides which act as a prebiotic to promote good gut health, which is also intrinsically linked to immune health. 
Krill Oil  – Besides fish oil, krill oil is also a great source of omega fatty acids since krill are oceanic omega-3 powerhouses.  Krill oil also contains astaxanthin, a carotenoid with many benefits to the body like healthier skin, endurance, heart health, and joint pain. Due to its shorter lifespan, it has less exposure to ocean toxins. 
Spirulina and Chlorella – This supplement provides a unique balance of these two rather underrated green superfoods. It provides complete protein and boasts an important array of vitamins and minerals that support the immune system, promote optimal heart health, and boost the body's endurance. 
How Many Pills Are In Each Total Human Pack?
Each pack of Total Human contains 8 capsules. So you're getting 16 capsules or softgels per day – 8 in the day pack, 8 in the night pack.
The day pack consists of:
1 StronBone capsule.
1 Alpha Brain capsule.
1 Krill Oil softgel.
1 Total Huma B Complex capsule.
1 Shroom Tech Sport capsule.
2 Spirulina & Chlorella capsules.
1 Shroom Tech Immune capsules
The night pack consists of:
1 New Mood capsule.
1 ViruTech capsule.
1 ShroomTech Immune capsule.
2 Key Minerals capsules.
2 Spirulina & Chlorella capsules.
1 Krill Oil softgel.
Potential Side Effects? 
With all those supplements and ingredients considered, you might be thinking, "this ought to knock me down with all that side effects."  While it's not rare to experience certain side effects after taking food supplements, it's usually because of inappropriate dosages. But let's dig deeper into that.
As we already know, the Total Human is a combination of Onnit supplements that all aim to get you at your most productive. Experts have tested Total Human's ingredients and found them generally safe. Customers also attest not experiencing any adverse side effects during consumption of the said product, adding to seeing satisfactory results.
But that's not an invitation to be daring, of course. To avoid any risk of experiencing side effects, don't consume the supplement in excess nor take all of the packs all in one go. It's important to plan out your intake first. For example, take the day pack over a few hours in the morning after waking up and do the same with the night pack before hitting the sack. That way, the body will take time to get fully accustomed to the supplement's boosting effects. 
What do customers have to say? Verified Total Human Reviews
We'd like to share with you what some Onnit Total Human customers have to say about this supplement. 
"Hands down, this is THE BEST multipack of supplements I've ever taken! It's changed my whole daily routine for the better. I'm way more focused and driven at work and home, and it's helping me multitask life in general like a champ. My energy level has increased tenfold, and my workout recovery has been phenomenal. This is an outstanding mix of vitamins and supplements that's made me feel so glad I found Onnit! I've recommended this pack to several of my close friends and coworkers that have taken the better and healthier path with your products. From the bottom of my heart, thank you guys for what you do!" – David S. 
"This is my second time using this product. The first time, I just decided to take it as a multi-vitamin, more or less. I used it for 30 days, then stopped. Beginning on January 1, 2020, I decided to start a run streak. I'm now over 300 days in and decided to give the total human pack a try again. It has been absolutely incredible. My wrist-based VO2 max estimate has shot up, I'm sleeping better, and it sounds strange, but I generally have a better sense of well-being. I'm generally very doubtful of supplements, so I try them cautiously, but total human is unbelievable" – Anon. from Illinois.
"Honestly, I was a little skeptical of this at first. But I gotta admit I have felt better physically, mentally, and spiritually better after this. I feel much more alert during the day and well rested when I wake up. I did wish the night pack would help me get to sleep a little more (not actually sure if it is advertised to or not), but when I do get to sleep I stay asleep. Exactly what I needed! Thanks Onnit!" – Taylor Stinson from Idaho.
While there were plenty of stellar reviews, a few weren't so crazy about the quantity, but were still hopeful, like this one…
"I have seen probably a slight increase in my day to day. Movements are way more on the herbal side. Taking 8 pills twice a day is crazy to me from not having any but understandable. So I am very hopeful that the rest of the package will work through and I see an improvement. Have not had any headaches like others have reported so thats a win to me." – Robert B. from North Dakota.
One customer wasn't too pleased with the odor.
"Smells like it was soaked in some liquid (water or something else) then allowed to dry." – A. Robinson.
Pros and Cons
Things always have their upsides and downsides. Let's break down Onnit Total Human's pros and cons to help you think them through.   
Pros
🔥All-in-one solution for all your overall health and energy needs.
💰Cheaper than buying each supplement individually.
Easy to consume.
Broad boost of B vitamins, vitamin C, and minerals for your immune system.
90-day money-back guarantee.
Uses all-natural ingredients.
Offers 15% discount to military members and first responders.
Offers free shipping on any order $150 or over.
Cons
Expensive for a month's worth of supply. 
You may need to plot the time of consumption for the different packs.

Recommended dosage
The recommended intake for the Total Human Day and Night pack is a packet each per day, as suggested by Onnit. 
That means you should take one (1) day packet in the morning. Each pack contains eight capsules. Then, in the evening, at least an hour before going to sleep, take the night packet and consume all the capsules. Don't take a higher dosage than what has been recommended.
Make sure you have already eaten something before consuming the capsules. Doing so reduces the chances they'll cause stomach troubles. It also stimulates digestion and hastens absorption.
When in doubt, you can always ask your doctor regarding proper dosages. 
Product Cost
The Onnit Total Human set costs $120. That will provide you with sixty (60) individual packs (both Day and Night), each one containing about eight (8) capsules, and can last for about a month (30 days)
The price may sound expensive at first, when you think about it, you're actually getting a pretty good deal with this product since it's like getting a combination of Onnit's most popular products. 
Purchasing them individually of those might cost you even more, so getting the Total Human package would be a more convenient way of testing out the Onnit brand of health and fitness.
Where to buy Onnit Total Human?
Of course, the best place to buy Onnit products is through their online shop. That way, you are assured of the product's authenticity and quality. Though other stores sell Onnit merchandise online, it's still best to buy directly from the source. Otherwise, purchase at your own risk. 
Purchasing directly from the Onnit website lets you in on the best subscription deals and discounts and is the only one that allows you to avail of the 90-day full money-back guarantee should you feel unsatisfied with their products.
Beware of Fakes!
There has already been quite a number of reports of fake or counterfeit supplements out there, and the risk of complications due to unreliable ingredients is a price too high to pay for your safety, so it pays to be extra careful where you order your items and to scrutinize the product packaging and labeling. 
Recommendation and Takeaway
The Onnit Total Human is essentially a combination of Onnit's top-of-the-line supplements merged into one conveniently packed product. Its summarized benefits include:
Delivers all essential vitamins, minerals, and antioxidants that aren't attained through eating alone.
Boosts the energy and improves brain function.
Helps the body relax and achieve good, quality sleep.
While Onnit's customers already dig their individual products, the Total Human's stellar packaging exceeds all expectations and has also become a fan favorite. If you are looking for a total supplement program where you know you're assured of its quality, caters to your health needs, and brand reputability, in that case, the Onnit Total Human is well worth your every buck.
With all of Total Human's ingredients and their benefits considered, the excellent customer feedback, and the research and testing made on them, there's no reason to say that this Onnit product isn't worth a try. It can be your jumpstart supplement to help you tread the path to a healthy and productive lifestyle.  
But the best, surefire way to figure out if it works for you is to try it out yourself. Of course, not without doing your research about the product and consulting with your physician first if these supplements do suit your various health needs. That way, you get to avoid any possible repercussions that may come, if any.
Related Articles