Dietary supplements for all kinds of health needs are aplenty these days. Some could take supplements for weight loss (or gain, in some cases); others take ones to get beautiful skin or help strengthen or improve the functions of a certain vital organ like the kidney, liver, or pancreas. But did you know that are supplements that help boost one's mood? Well, today, you're in luck! Reading this Onnit New Mood review will help you run through how the magic happens. 
Nowadays, it's pretty commonplace to experience occasional bouts of anxiety every now and then. Still, when it becomes more frequent and irrepressible, it can severely disturb your way of living. It disrupts your work-life balance, and in some cases, even as far as affecting the quality of your sleep. In fact, about 284 million people in the world suffer from anxiety, and in light of the ongoing scourge of the COVID-19 pandemic, that number has even increased up to 28%. And adding to the fact that mental health is still one of the most neglected areas of public health, it's no wonder why such numbers appear. 
Remedies come in the form of various diets, exercises, activities, or in this case, in supplement form. One such kind is the New Mood by Onnit. But what exactly does New Mood bring to the table?. 
Druggenius.com is reader-supported. We may earn a commission through products purchased using links on this page. Learn more about our editorial process here.
---
What is Onnit New Mood?
The Onnit New Mood is a dietary supplement made by Texas-based company Onnit. It aims to boost a person's mood and relaxation, aid the body to foster a normal daily stress response, and allow the body to cool down and unwind after the day's grind, made possible by its ingredients: high-quality herbs and ingredients that increase the production of serotonin, a key hormone that's believed to act as a mood stabilizer. It affects feelings of well-being and happiness, which is why it's sometimes referred to as the "happy chemical."
By taking New Mood, here are some of its expected benefits:
Reduces anxiety and stress levels
New Mood does this by supporting the body to produce serotonin by providing serotonin regulators, L-tryptophan, and 5-HTP. Serotonin helps stabilize the mood, improves sleep, controls anxiety, and eases depression. 
Induces both physical and mental relaxation
The body, exhausted from a day out in the field, needs some loving too. New Mood has properties that help relax the muscles and calm a restless, jittery mind. 
Enables better sleep quality 
This supplement contains tranquility herbs, which produce a calming effect on the body and whose antioxidant properties help promote quality sleep and relaxation.
Enhances mood
True to its name, this Onnit supplement helps lighten and ease up your mood.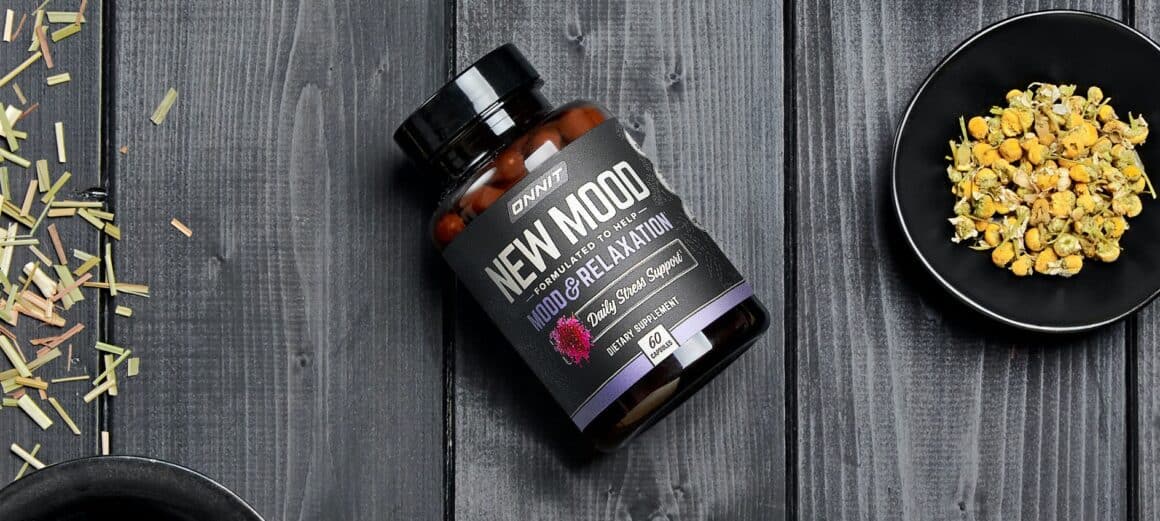 Who Should Take New Mood?
New Mood was formulated to fix problems related to anxiety, tension, and mood through a masterful combination of ingredients beneficial to stress reduction and mood enhancement by promoting serotonin production.
Adults who have problems from bouts of anxiety or have a hard time controlling their moods should give this product a try. Doing so may also induce better, restful sleep by relaxing the body and reducing physical and mental restlessness before going to bed.
New Mood is included in the nighttime Onnit Total Human supplement packs if you're looking for a one-stop way to introduce many supplements in your daily routine.
Ingredients
Ten distinct but stellar ingredients make up New Mood. Each of them offers a specific benefit that when combined altogether, does wonders for your mental well-being
5-HTP
A compound produced in the body from the amino acid tryptophan which can be converted to serotonin in the body, 5-HTP works in the brain and central nervous system and optimizes the body's natural supply of serotonin. 
L-Tryptophan
L-Tryptophan is an essential amino acid that the human body digests and processes into 5-HTP, the direct precursor to serotonin. Many studies show that people who suffer from depression and anxiety have low levels of l-tryptophan in the body. 
Vitamin B-3 (Niacin)
Like 5-HTP, this water-soluble B vitamin also plays an important role in promoting the body's production of serotonin. It is commonly found in meat and fish. 
Vitamin B-6
Vitamin B-6 (Pyridoxine) is one of the body's most essential vitamins, fostering normal brain development and maintaining the nervous and immune system health.  It creates neurotransmitters that regulate emotions, such as serotonin, dopamine, and gamma-aminobutyric acid.
Magnesium
Magnesium is frequently used to relieve occasional stress and restlessness. It helps prepare the body for sleep by relaxing the muscles, it also regulates neurotransmitters that tend to keep you awake. A key mineral in your body's basic functions, its functions include supporting both your heart health and nervous system, as well as keeping your blood pressure levels at bay. 
Lemon Balm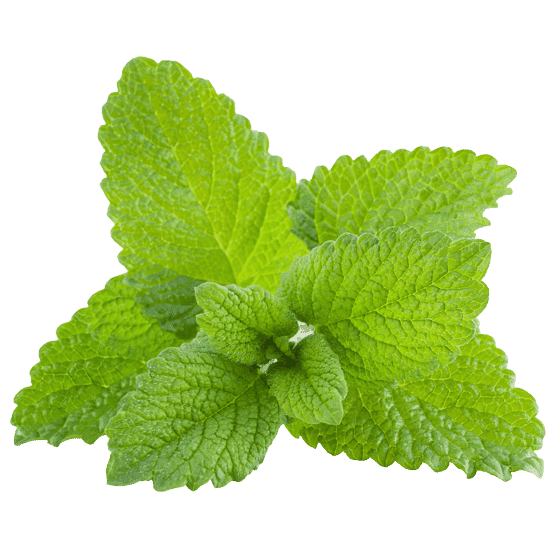 Lemon Balm is a herb that's traditionally used to improve one's mood and soothe symptoms of stress. One study found that taking lemon balm eased the negative mood effects of [laboratory-induced] psychological stress and that the participants felt an increased sense of calmness and reduced feelings of alertness. 
Chamomile Flower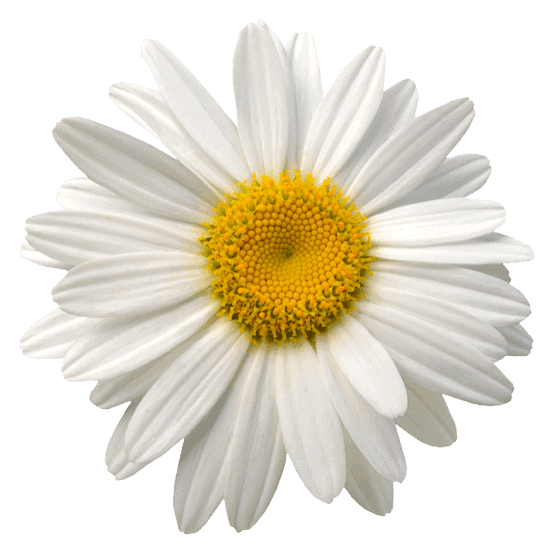 The use of the chamomile flower's extract as a calming/relaxing agent has been popular since time immemorial. Additionally, there is scientific evidence that proves that chamomile contains antioxidant apigenin which helps induce better sleep quality and prevents restlessness and insomnia.
Valerial Root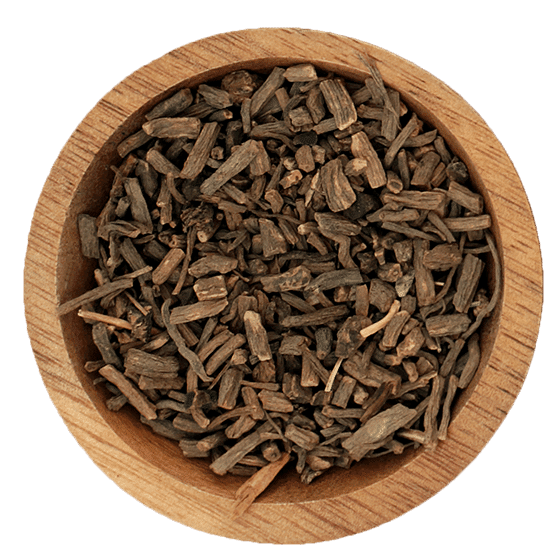 This is a herb common in Europe and certain parts of Asia with a long history of use as a sedative. People often use it to relieve anxiety, depression, and poor sleep quality, thanks to its calming effect. It also works well to relieve both menstrual and stomach cramps.
Jujube Seed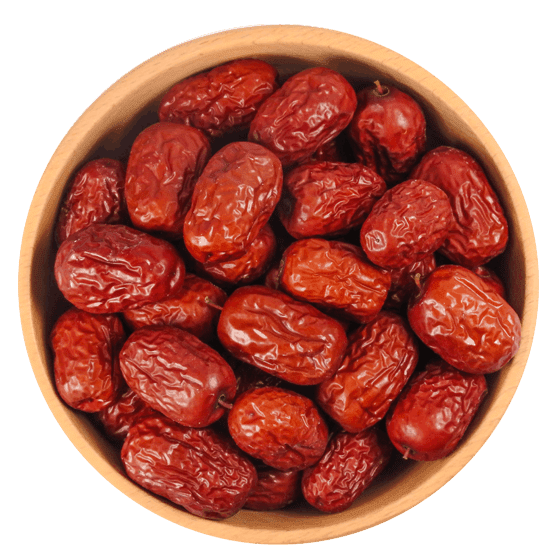 Jujube seed extract is an ancient herb popularly used in Chinese medicine to treat insomnia and other sleep disorders. It contains flavonoids like polysaccharides and saponins which experts believe calm the mind and promote better sleep. Recent studies discovered that it also enhances cognitive abilities like repairing memory and improving learning. 
How To Take New Mood
The good thing about Onnit New Mood is that it's specially designed to be used at any time of the day, whether you want to take it in the morning, noon, or night, it'll still have the same powerful effect. 
Recommended Dosage
Onnit recommends taking up to four (4) capsules daily. You may refer to this guide below.
Two capsules in the evening before going to sleep
Another two capsules during the day for occasional stress support. 
For the body to digest the capsules better, it's important to have eaten something prior to ingesting them. Likewise, it's important to not exceed 6 capsules in any 24-hour period.
However, for those prone to side effects or sensitive to any of the ingredients or other components, it's best to take a single capsule only to test your susceptibility and limit the risk. 
Does New Mood Have Any Side Effects?
Taking Onnit New Mood is generally safe, as long as you're healthy and in good shape. Side effects are rare, a few consumers might experience negative reactions to some of the ingredients. Things like headaches, fatigue, hangover, less energy, nausea, drowsiness, or an increased heart rate have been reported.
Pros & Cons
We've made this pros and cons breakdown to help you assess:
Pros:
Uses natural ingredients.
Third-party tested.
Trial results showed better sleep cycles.
Offers a good money-back guarantee.
Cons:
Might cause a few side effects.
Results may not be the same for everyone.
Price might be a little too expensive for its capsule content.
Where to buy New Mood
The best place to purchase and order is of course, on the official website. 
There are two sizes available: The regular-sized bottle costs $29.95 contains 30 capsules, and the larger bottle costs $59.90 has 60 capsules. 
If you're not satisfied with the product, they have a great 90-day money-back guarantee offer. Not only will they refund the price of the bottle sans shipping, but you'll also get to keep the bottle too.
There are other sites or resellers that also sell New Mood, but buying directly from Onnit will let you avail of the money-back promo and lets you in on special promos and updates on new products.
Aside from New Mood, you can also check out Onnit's variety of supplements for your wellness and well-being.
What do people say about New Mood?
Here's what a few customers have to say about New Mood: 
– "I am a real person. I am studying music education in college and this product helps me get through all the different stresses of day-to-day life as a student. The Onnit New Mood helps with relaxation and sleep but also is nice to take whenever you feel overwhelmed." – Steven González from Chicago
– "I have used New Mood for the last few years during the winter when SAD starts kicking my ass. This is the first year I've used it in conjunction with therapy. I told my doctor what is in it and she is fine with it (we agreed that worst-case scenario, it's a placebo, and the placebo effect is still an effect!). It helps me sleep better, no question. I'm too photosensitive for light therapy, so my options for non-pharmaceutical interventions are more limited than most. Onnit also has a money-back guarantee (which I've utilized on other products of theirs since the old formulation of Alpha Brain made me throw up), so it is worth trying in my opinion." – FJR
– "Cheaper than therapy or prescription drugs. I was having panic and anxiety attacks the likes of which I've never experienced. In 1 hour I went uncontrollably anxious with a racing heart and breathing issues to being cool as a cucumber. It was so effective and I was so grateful that I bought a bottle for a friend." – Robert Besgrove
Real World Experience – Our New Mood Review
Here is the suggested use and dosage recommended by Onnit:
"Adults, as a dietary supplement, take two capsules in the evening prior to sleep. A serving of two capsules may be taken during the day for occasional stress support. Do not exceed six capsules in any 24-hour period."
We tested the product for two weeks. The first week we used it as a sleep aid and the second week we used it as a mood stabilizer. Here's what we thought:
New Mood for Sleep
When it comes to sleep, my main issue is not with falling asleep initially but with staying asleep throughout the night.
So I took 2 capsules of New Mood 30 minutes before bed and continued to be able to fall asleep easily. It did seem to help my transition to the 'bedtime phase' by helping me relax and chill out prior to starting my nightly routine.
I did continue to wake around 3 or 4am so it didn't help me stay asleep as I was hoping but that might not be the real goal of this product.
So for sleep, I would give New Mood the highest rating. It does help you get into 'bedtime mode' but this can also be done with CBD or meditation.
New Mood for Mood Regulation, Stress, Anxiety, & Relaxation
This is where I think Onnit's New Mood really shines. Within 30-60 minutes of taking the two capsules, I would feel a sense of calm throughout my body. It is a similar feeling to taking CBD, my shoulders would relax, my back would loosen up, and I'd generally feel as though a slight weight had been lifted from my body.
Onnit has a slogan that "New MOOD® is like a deep breath and a smile in a bottle" and I found this to be very accurate. I'm not sure about the smile but it definitely feels like it promotes that sense of calmness that comes with deep breathing.
For regulating your mood, helping with stress, and promoting relaxation I'd give New Mood full marks. I think this should be the real use case for this product.
Our Takeaway
Anxiety and depression can take a heavy toll on our overall physical health and well-being, affect our productivity at work or in our studies, and in some cases, even our relationships suffer as a result.
Thankfully, a supplement like Onnit's New Mood has an optimal combination of high-quality, scientifically-proven ingredients to help people who wish to reduce their occasional bouts of anxiety, regulate their mood, and achieve better sleep quality. Not only that, but it can also help boost your cognitive functions as well. It has also been third-party tested to ensure its safety and efficacy. 
But before anything else, it pays to do one's research about your chosen product's ingredients before buying it should you have any possible negative reaction to them, and if they really suit your needs. Consult with your trusted physician first before subscribing to any supplement.
Disclaimer: This article does not constitute professional medical advice, nor can it replace the advice of a licensed professional.