Druggenius.com is reader-supported. We may earn a commission through products purchased using links on this page. Learn more about our editorial process here.
Joint pain, regardless of the cause, joint pain can be extremely bothersome and can restrict much of your physical activities, making it quite a significant health issue. Finding the best OTC supplement can help effectively ease and manage joint pain flare-ups.
We've compiled some of the best joint pain supplements available to help narrow down the best one for you.
Top 5 OTC Joint Supplements
Understanding Joint Pain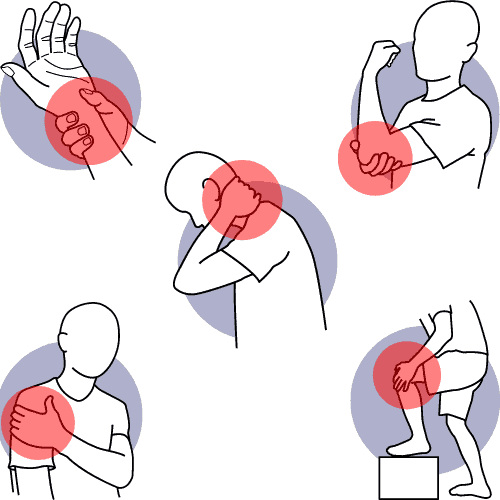 Joint pain is a common condition that refers to discomfort or soreness in any of the body's joints in the shoulders, hips, elbows, and knees. Sometimes it can feel tender or warm, going from mild to severe making even slight movements excruciating. 
Various factors cause joint pain, the most one being arthritis. Other conditions that cause arthritis include:
Ankylosing spondylitis
Avascular necrosis (osteonecrosis)
Bone cancer
Bursitis
Fibromyalgia
Gout
Hepatitis (B and C)
Hypothyroidism (underactive thyroid)
Juvenile idiopathic arthritis
Leukemia
Lupus
Lyme disease
Osteoarthritis
Osteomyelitis
Psoriatic arthritis
Reactive arthritis
Rheumatic fever
Rheumatoid arthritis
Rickets
Septic arthritis
Sprains
Tendinitis
Other injuries
Join pain rarely calls for a trip to the emergency room. However, these more severe symptoms call for immediate medical care:
The pain persists for three days or more
Fever or flu
Joint deformation
Immobility
Over-the-Counter (OTC) Joint Pain Supplements & Their Common Ingredients
If you have joint pain or arthritis, over-the-counter supplements are often prescribed by clinicians to help with joint pain. There are a variety of nutritional supplements for joint pain on the market.
Here are some of the more common OTC joint pain supplement ingredients, noted for their efficiency in combating pain and providing comfort.  
Glucosamine – A naturally occurring amino acid found in the body with anti-inflammatory effects. It provides pain relief, improves muscle function, and increases mobility.
Bromelain – Bromelain is an enzyme derived from pineapple and with powerful anti-inflammatory properties and other health benefits. It helps repair and protect the joint cartilage.
Hyaluronic acid – While known more for its skin-rejuvenating properties, hyaluronic acid is also responsible for the growth and development of joint cartilage and bone by promoting cell and tissue growth. It also provides pain and inflammation relief.
Chondroitin – Chondroitin is made of amino acids and glucosamine sulfate. It helps protect the cartilage in joints, prevents it from suffering further damage, and provides pain relief.
Methylsulfonylmethane (MSM) – Methylsulfonylmethane is an organic compound that contains sulfur. It helps promote joint health, by maximizing joint mobility and reducing joint inflammation.
The Best OTC Supplements For Joint Pain – The List
Physio Flex Pro is a research-based joint support complex that uses natural ingredients to nourish and lubricates your joints to help restore mobility, flexibility, and comfort with each dose.
The formulation includes select naturally-occurring compounds that naturally restore movement and strength – bromelain, chondroitin, and selenium citrate are all clinically proven to support the protection and repair of key connective tissues. They also prevent pain and inflammation and keep the joints flexible and lubricated.
On the other hand, glucosamine, ginger, turmeric, and methylsulfonylmethane have powerful antioxidant and anti-inflammatory effects that promote better bone and joint health and other health benefits.
Physio Flex Pro uses lab-tested A-1 grade GMO-free active ingredients which are carefully extracted compounds from natural sources. All batches are manufactured without soy, additives, bulk, and fillers in cGMP-approved, FDA-registered facilities.
Recommended Dosage
Take two capsules daily with food, preferably on separate meals. 
Customer Reviews
James, a British customer, shares his experience with Physio Flex Pro:
"Worth the wait for my order. 40 days into Physio Pro and can honestly say I have regained a spring my in step. My knees used to seize even bending down to pick something up, now I'm much more comfortable in my movement and the pain is mostly gone. Will be continuing to use it and see how things go."
MoveMD Comprehensive Joint Support is a joint pain supplement that offers the latest in joint health science to help you last through the day flexibly and comfortably.
This formula features two key patented ingredients – AprèsFlex® and Zanthin® Natural Astaxanthin. AprèsFlex, a bio-enhanced form of boswellic acid, is clinically proven to promote joint health and relieve joint discomfort, while the antioxidant Zanthin is shown to reduce oxidative stress. Its eggshell membrane and chicken collagen formulas offer normalcy and flexibility of motion. 
Recommended Dosage
Take one (1) capsule daily, with or without food, or as recommended by a healthcare practitioner.
Customer Reviews
Anita G. and her husband decided to try out the supplement for themselves and are completely sold:
"My husband and I started using movement joint supplement right away. We both are pleased with the results. We both do not have [occasional] joint stiffness, soreness…We noticed the difference within a week. We are sold and will not do without this one tablet a day."
Live Conscious' MoveWell Plus powerful ingredient blend is specially formulated to help decrease oxidative problems and improve joint health, including mobility and joint flexibility.
The blend contains the clinically-proven Zanthin® Natural Astaxanthin, ethically sourced omega-3s fatty acids (sourced from krill oil), and hyaluronic acid, which are potent, highly absorbable ingredients that work synergistically to lessen oxidative stress, maximize mobility, comfort, and flexibility in the joints, and improve overall joint and bone health. 
Recommended Dosage
Take 1 soft gel capsule daily with a meal and 8 oz of water.
Customer Reviews
Jeanna C. has seen fantastic results since she started with Live Conscious:
"I have been using this product for several months and it has helped me very much in movement with cartilage loss in my knee and has relieved the discomfort in movement as well I will continue to order this product."
Transparent Labs' Joint Support helps you rebuild and revitalized sore and inflamed joints to help you get a fresh kickstart back to a healthy, active lifestyle
Joint Support is made exclusively with five of the best clinically-studied, patented ingredients like Curcumin C3 Complex®, FruiteX-B®, Boswellin® Super, UC-II® Collagen, and Bioperine® which promote healthy joint integrity, ease inflammation, and prevent oxidative stress. 
Recommended Dosage
Take 2 capsules on an empty stomach once or twice a day, or as directed by your physician.
Customer Reviews
Christine M. hasn't yielded far better results until she tried out Joint Support:
"TL Joint Support is better than any other joint supplement I've tried. It is so good, I have three other people taking it. This Joint Support has greatly reduced the swelling and hot feeling that comes from inflammation! It is so nice to finish my workout without grabbing the ice packs!"
Essential Elements' Glucosamine Chrondroitin specifically targets and fortifies joint health by promoting optimal joint flexibility and mobility and maintaining healthy joint cartilage.
Each ingredient in its blend has its target purpose – glucosamine forms the cartilage that keeps joints moving smoothly and with reduced typical soreness, chondroitin promotes a dual support system for healthy joint cushioning, while the mix of hyaluronic acid, curcuminoids, methylsulfonylmethane, and Boswellin® Super help ensure optimal joint flexibility and manage inflammatory conditions.
Recommended Dosage
Take 3 capsules a day spread throughout the day's meals. 
Customer Reviews
Reading through reviews convinced Elizabeth C. to try out Glucosamine Chondroitin for herself, and she was not in the least bit disappointed. 
"I ordered this after reading Consumers Report. This product came in as their second favorite. I love that it is manufactured here in the US and third-party tested. Has the right amount of supplement to do the job right. We love it!." 
Comparing OTC Supplements
| | | | | |
| --- | --- | --- | --- | --- |
| Product | Price (Monthly subscription) | Daily Dosage | Effectiveness | Potential Side Effects |
| Physio Flex Pro | $58.00 | 2 capsules | Three of its featured compounds bromelain, chondroitin, and selenium citrate are all clinically proven to support the protection and repair of key connective tissues | No data available |
| MoveMD – 1MD Nutrition | $35.99 | 1 capsule | AprèsFlex, a bio-enhanced form of boswellic acid, is clinically proven to promote joint health and relieve joint discomfort, while the antioxidant Zanthin is shown to reduce oxidative stress. | No data available |
| MoveWell Plus – Live Conscious | $25.99 | 1 capsule | The Zanthin® Natural Astaxanthin is a highly potent and absorbable ingredient that promotes joint flexibility and reduces oxidative stress. | No data available |
| Joint Support – Transparent Labs | $49.49 | 2 capsules | No studies available | No data available |
| Glucosamine Chondroitin – Essential Elements | $20.99 | 3 capsules | Studies show that hyaluronic acid, curcuminoids, methylsulfonylmethane, and Boswellin® Super help maintain optimal joint flexibility and prevent inflammation. | No data available |
In terms of pricing, Essential Elements is the most affordable option but has a greater number of daily dosages.
Physio Flex Pro may be the most expensive product in the selection, but its ingredient blend of naturally-occurring compounds is the most promising according to studies, and may offer more health benefits.
Recent Studies On OTC Supplements For Joint Pain
Several studies have shown that nutritional supplements offer effective relief for joint pain, stiffness, and other symptoms. One trial done on 20 dietary supplements showed that all of them provided moderate and clinically meaningful treatment effects on pain and function in patients with short-term hand, hip, or knee osteoarthritis (OA).
One study highlighted the effectiveness of pairing nutraceutical supplementation with symptomatic treatments (NSAIDs, COX-2 inhibitors, and analgesics) in helping improve pain and physical function in patients with knee/hip OA. Another study found glucosamine effective in relieving pain caused by OA and suggests that clinicians should recommend glucosamine as a supplement to treat patients with such conditions.
How To Choose The Right OTC Supplement For Joint Pain
Consider these factors when choosing an OTC supplement:
Price – Always check if the product price fits well into your budget. Opt for subscription plans that offer freebies and discounts.
Ingredient quality – One should always take time to go through a product's label or research the ingredient profile to ensure compatibility with all its ingredients. Avoid harmful chemicals, possible allergens, and dietary no-nos. 
Brand reputation – A supplement's manufacturer and brand are good indicators of its quality and efficacy. 
Individual health conditions – Make sure the supplement of your choice suits well with your health needs/conditions. Check if they interact with any medications you might be taking at the moment.
Before starting any supplement regimen, it's always important to consult with your trusted healthcare provider to help discuss and weigh your options to help make joint pain treatment more effective. 
Lifestyle Modifications For Joint Pain
There are also non-pharmaceutical ways to help manage joint pain, such as:
Do physical exercise – Exercising reduces joint pain and helps fight tiredness. It also increases strength and makes mobility easier.
Stretching – Stretching before exercising helps provide a good range of motion in the joints.
Make dietary changes – Foods like fatty fish, green tea, avocados, dark leafy greens, and walnuts are beneficial for the joints and prevent pain and inflammation.
Manage your weight – Dropping a few pounds can lessen the stress on the joints.
Get physical therapy – Physical therapy helps joint pain. It can improve joint function and ease up strained mobility. 
Expert Opinions
Arizona-based sports medicine specialist Dr. Holly Beach says that glucosamine, generally speaking, can help slow down cartilage breakdown in the joints but seems more effective when taken much earlier, before the symptoms worsen. 
Dr. Chris D'Adamo also cites the anti-inflammatory properties of glucosamine and chondroitin, adding that they have cartilage-protecting effects through different mechanisms.
Frequently Asked Questions (FAQs)
Are OTC supplements safe for long-term use?
Taking OTC supplements is at most a short-term measure only. Prolonged usage of supplements can lead to health conditions like toxicity and kidney/liver problems.
Can I use OTC supplements along with my prescription medication?
Using both prescription medications and OTC supplements simultaneously can cause interactions and other side effects (depending on the drug or supplement). Always consult your healthcare provider first regarding prescription medications and supplements.
How long does it take for these supplements to work?
There is no fixed time for optimal results to come since everyone has an individual response to medications/supplements.  However, in most cases, it may take around a month to see noticeable changes.
Are there any natural alternatives to these supplements?
Observing a healthy diet and making lifestyle changes can already make a huge difference in one's health. The compounds found in all of these supplements are naturally occuring.
Recap
Joint pain refers to discomfort or soreness in any of the body's joints in the shoulders, hips, elbows, and knees.
Over-the-counter supplements are often prescribed by clinicians to help with joint pain. Common ingredients include glucosamine, chondroitin, and hyaluronic acid.  
Conclusion
Over-the-counter joint pain supplements provide effective relief against joint pain symptoms. Supplement Ingredients like glucosamine, chondroitin, and hyaluronic acid stand out for their properties and benefits. More research, however, is still needed to establish and solidify their role in joint health.
If you have pain in your knee when bending, squatting, or simply walking, adding one of these supplements to your daily routine could be really helpful.
We chose Physio Flex Pro as our pick for the best joint supplement.
When in doubt, always consult your healthcare providers before settling for an OTC joint pain supplement.
Disclaimer: this article does not constitute or replace medical advice. If you have an emergency or a serious medical question, please contact a medical professional or call 911 immediately. To see our full medical disclaimer, visit our Terms of Use page.
Related Articles
When Is The Best Time To Take Glucosamine Chondroitin & MSM?