Knee pain spares no one, regardless of age, sex, or profession, often occurring after an injury or intense physical activity. It makes bending the knees all the more unbearable and strains overall mobility, causing great difficulty in carrying out daily tasks. 
Today's article will tackle what causes knee pain when bending and how to relieve and prevent it.
Knee Pain When Bending Summary
Knee pain when bending can result from injuries, arthritis, or other joint-related conditions. The knee, comprising the femur, tibia, and cartilage, is essential for various movements.

Diagnosis methods include X-rays and MRIs. Treatment options range from physical therapy and medications to surgeries for severe cases.

Preventive measures involve stretching, proper footwear, and weight management. Early medical consultation is crucial if pain affects mobility, ensuring optimal knee health.
The Anatomy Of The Knee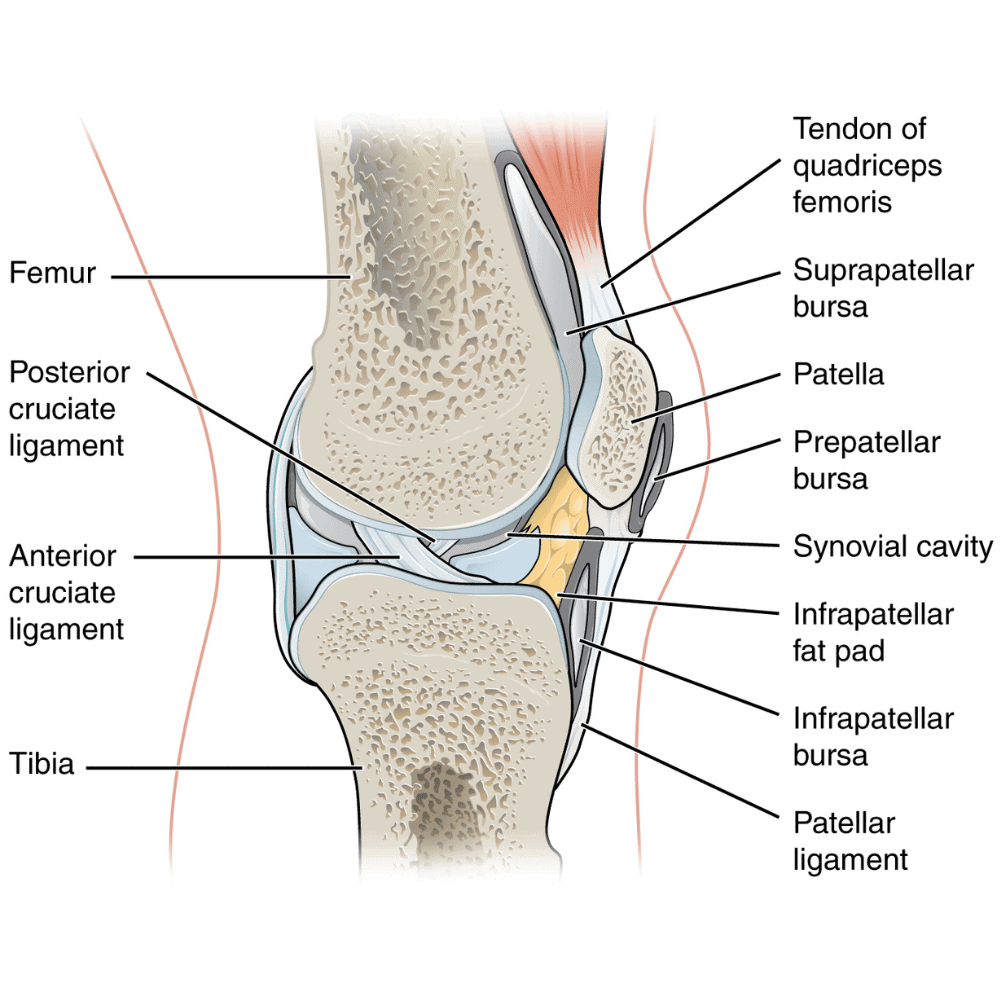 The knee joint is responsible for almost every form of movement – bending, standing, walking, running, swimming, and keeping balance. They are the body's largest joints and it's a fairly complex structure composed of the following:
Femur (thigh bone) – Considered the longest, strongest bone in the body which allows you to stand and move.
Tibia (shin bone) – It's the larger of the two bones in the lower leg. This bone carries the majority of the body's weight.
Patella (kneecap) – The part that caps the femur, protecting the knee and connecting the muscles in the front of the thigh to the tibia.
Cartilage – The tissue that covers the surface of a bone at a joint that helps reduce and cushion the friction of movement within it.
Synovial membrane – Another tissue that lines the joint. It secretes a clear, sticky fluid called the synovial fluid, which surrounds the joint to provide lubrication.
Ligament – An elastic connective tissue that surrounds the joint to support and limit its movement.
Tendon – A strong connective tissue that connects the muscles to the bones and helps control joint movement.
Meniscus – The meniscus is a curved part of the cartilage in the knees and other joints. It functions as a shock absorber, deepens the knee joint, and increases the contact area.
How The Knees Work
The knees work through a series of muscle contractions – when one bends the knee, the hamstring muscles contract and pull the tibia backward, flexing the knee. On the other hand, when straightening it, the quadricep tendon is pulled by the quadricep muscles, pulling the kneecap to extend the knee.
Understanding Your Pain: Acute vs. Chronic
Knee pain is classified into two types acute (immediate) or chronic (long-term). Acute knee pain is a result of a sudden injury or an infection, while chronic knee pain is a result of inflammatory conditions like arthritis, but can also be caused by injuries or infections in some cases.
Types of Knee Pain When Bending & Their Common Causes
There are various types of knee pain, located in different parts of the knee. Each with its own unique underlying cause:
Pain In The Back Of The Knee When Bending
If the pain occurs in the back of the knee when bending, it's most likely caused by conditions like Baker's cyst, hamstring tendonitis, or a knee injury. The pain worsens during movement and is accompanied by a tightening sensation. 
Popliteal vein thrombosis is also sometimes singled out as a cause. It's a condition where a blood clot forms behind the knee and is characterized by pain, swelling, and inflammation in the leg and knee.  
Inner Knee Pain When Bending
Inner (medial) knee pain can be caused by factors like medial collateral ligament injury, damaged cartilage, sprain, rheumatoid arthritis, osteoarthritis, or a meniscus tear, etc. It's also attributed to the overuse of the knee or by the aging process.
The pain may come either as a mild or sharp burning pain that comes and goes. It gets triggered by movements like squatting, climbing stairs, or straightening the leg.
Pain On The Outside Of The Knee When Bending & Straightening
Otherwise known as lateral knee pain, this type of knee pain is attributed to things like lateral collateral ligament injury,  iliotibial band syndrome, osteoarthritis, or simply through repetitive activity. The pain is described as intermittent, sometimes accompanied by a tightening or burning sensation, and is more frequent among runners.
Sharp Pain in Knee When Bending
The sharp pain in the knee when bending is a result of a torn ligament or meniscus, a fractured knee joint, osteoarthritis, patellar tendonitis, or chondromalacia patella, the latter being the degradation of the cartilage on the underside of the kneecap.
Pain in Front of Knee When Bending
Knee pain on the front of the joint could be caused by patellar arthritis, patellar tendonitis, patellofemoral pain syndrome, or by bone fractures. The pain manifests itself more during knee bending, kneeling, or squatting. 
Side Knee Pain When Bending
Side knee pain is commonly attributed to collateral ligament injuries, arthritis, or meniscus tears. It's commonly described as an aching sensation that comes and goes, often triggered by strenuous movements. 
Top Knee Pain When Bending
Likewise known as the runner's knee, the pain in the top knee when bending could very well be a result of knee bursitis, prepatellar bursitis, osteoarthritis, and quadriceps tendonitis. The pain is especially pronounced during movement of the affected knee.
Diagnosing Knee Pain
Some of the most common tests healthcare professionals use to diagnose knee pain include:
X-rays
CT scans
MRIs
Ultrasounds
Joint aspiration
In some cases, some healthcare professionals might also employ other testing methods to better observe one's physical movements and motions through various tests and better address the root cause of the problem. These testing methods include:
Apley test
McMurray test
Thessaly test
Valgus and varus stress tests
Treatment Options for Knee Pain When Bending
Non-Surgical Treatments
Physical Therapy – Physical therapy focuses primarily on employing strategies to protect the joint, like a structured exercise program for the muscles around the knee to allow them to absorb the impact on the knee during movement. 
Medications – Over-the-counter pain relievers and prescription drugs such as ibuprofen (Advil), acetaminophen (Tylenol), and duloxetine (Cymbalta) are typically recommended for those who suffer mild to moderate knee pain flare-ups.
Injections – Injections help relieve knee pain. Corticosteroid injections, for example,  help relieve inflammation, while hyaluronic acid injections provide lubrication to increase joint mobility.
Assistive Devices – Many people with knee pain sometimes depend on assistive devices like walkers, cranes, or crutches to allow them to carry out daily activities and get a semblance of mobility.
Lifestyle Changes
Eat A Healthy Diet – Eating anti-inflammatory foods like oily fish (e.g., salmon and sardines) as well as dairy, garlic, and dark leafy greens work wonders in fighting off infection and inflammation and ultimately helps reduce the effects of osteoarthritis in the joints. 
Manage Your Weight – Maintaining a healthy weight decreases pressure on the knee joints which support upper body weight. 
Do Some Exercise – Doing regular, low-impact exercises like brisk walking, cycling, swimming, and activities like yoga can greatly benefit in maintaining optimal knee health and strength. Squats and lunges increase muscular strength and reduce pressure on the knees while bending.
Quit Smoking – Smoking causes factors like oxidant stress and cartilage degradation, which all contribute to knee pain. Ultimately, it would be better to cut the habit altogether to improve overall health. 
Get Enough Rest – Sufficient rest, both during the day and at night, helps the body recover from knee pain flare-ups and other problems.
Alternative Therapies
Acupuncture – Doctors often recommend acupuncture as a complementary post-treatment therapy for knee pain to provide additional pain relief. Patients may have to undergo up to eight sessions to yield positive results, though it may vary individually.
Massage Therapy – Massaging techniques can help reduce knee pain and stress,  improve circulation, reduce pain, and promote relaxation. It also helps break up scar tissue, reduce stiffness, and improve mobility.
Supplementation/Medication – Supplementation with substances such as glucosamine and chondroitin helps provide effective relief against knee pain symptoms and restore mobility. They are also formulated with other select ingredients, nutrients, and minerals that benefit joint health.
Surgical Treatments
Knee arthroscopy
Knee arthroscopy is a minimally invasive surgery that aims to determine the scope of the damage to the cartilage surfaces and other soft tissues surrounding the joint. 
In this procedure, the officiating healthcare provider makes a small incision and then inserts a long, thin tool with a camera on the end to see and diagnose the problem. If you need surgery, more incisions are made and special tiny tools are then used to repair torn tissues, shave off damaged bone/cartilage, and remove afflicted tissues
Partial knee replacement
Otherwise known as unicompartmental knee replacement, only the damaged parts of the knee are removed and replaced with specially-designed metal and plastic components.
Experts agree that there is a lesser risk of complications like blood loss, blood clots, and infection by opting for partial knee replacement. Patients who undergo this procedure often experience less pain and swelling, making their recovery period faster and easier.
Total knee replacement
Total knee replacement is a surgical procedure where the knee joint afflicted with arthritic or knee pain is removed and replaced with a metal, plastic or ceramic device called a prosthesis.
This procedure is often reserved for those who have arthritis that affects more than one of their knee compartments, damage in their ligaments or are unable to freely bend or move their knee(s).
Emerging Treatments
Stem cell therapy
Stem cell therapy is an advanced, non-invasive regenerative treatment for knee pain caused by arthritis, ligament injuries, meniscus tears, or degenerative conditions. It involves injecting stem cells directly into the affected knee joint to repair damaged cartilage, combat inflammation, and aid tissue healing.
Many studies show that stem cell therapy is an effective, safe, and long-lasting treatment for knee osteoarthritis, showing positive outcomes such as increased joint function and better cartilage quality. 
Platelet-rich plasma (PRP) injections
The concept of platelet-rich plasma therapy involves a patient's own healing system to improve musculoskeletal problems. Here a concentration of the patient's own platelets is injected to accelerate the healing of injured tendons, ligaments, muscles, and joints.
Participants in PRP studies and trials have reported experiencing a significant reduction in pain and stiffness and improved mobility.
Preventing Knee Pain When Bending
Moving about with knee pain can be difficult and painful, so here are some tips you can try to help you go about with ease:
Always stretch your leg muscles, especially the calf, hamstring, and quadriceps to take pressure off of the knees and kneecaps.
When properly bending the knees, do it gently and deeply. Make sure to keep them in line with your feet to remove stress from the joint. 
Stand up and keep your back straight while you bend, and never twist or turn when trying to lift something heavy.
If you feel knee pain after an activity, it is important to give your knees some rest so they have time to heal and recover. 
Wear supportive and comfortable shoes to take pressure off the knee joint. This method promotes proper leg alignment and balance
When To See A Doctor
Consult your doctor immediately if the knee pain already causes a limp or disables you from walking, as these could already indicate bone injuries or degenerative conditions.
Early diagnosis and treatment help address conditions early on before they worsen and make the treatment and recovery processes faster and easier. 
FAQ
What exercises can I do to relieve knee pain when bending?
Low-impact exercises like brisk walking, swimming, cycling, or yoga can help strengthen the muscles around the knee joints and improve joint mobility.
What are the best over-the-counter medications for knee pain when bending?
Medications/supplements containing ingredients like glucosamine, chondroitin, and anti-inflammatory substances like collagen, methylsulfonylmethane, and bromelain are considered to be effective pain relievers for knee pain.
When should I see a doctor for knee pain when bending?
See a doctor immediately if you're already limping or are unable to walk due to the pain. They could be indicators of more serious problems like bone injuries or degenerative conditions.
Can knee pain when bending be a sign of a more serious condition?
While most cases of knee pain aren't serious, it could be an indicator of bone injuries, osteoarthritis, or degenerative diseases like muscle dystrophy or amyotrophic lateral sclerosis (ALS). 
What lifestyle changes can help manage knee pain when bending?
Eating a healthy diet, observing good posture, and doing low-impact exercise can already make a huge difference in pain relief. 
Recap
Knee pain is felt in different parts of the knee, each caused by different joint-related health conditions. It makes overall movement difficult, causing you to be less productive throughout the day.
Lifestyle changes and basic treatments help provide relief. However, in more severe cases, advanced therapies and surgical procedures are employed to address damages in the knee joints.
Conclusion
The knee joints are the body's largest joints and are responsible for almost every movement in the body, so it's important to take good care of one's joint health. Methods like stretching, low-impact exercise, a healthy diet, and sufficient rest can already go a long way. Medical science also continues to develop new methods to effectively treat discapacitating knee pain.
If you feel any sort of pain in your joints, don't hesitate to get a health check-up to diagnose the problem early on. That way treatment and recovery become more swift and effective.
Disclaimer: this article does not constitute or replace medical advice. If you have an emergency or a serious medical question, please contact a medical professional or call 911 immediately. To see our full medical disclaimer, visit our Terms of Use page.