Druggenius.com is reader-supported. We may earn a commission through products purchased using links on this page. Learn more about our editorial process here.
Looking for the best supplement to help you deal with and relieve premenstrual syndrome (PMS) problems? Today, we're featuring 5 of the best PMS vitamins available in the market to help you pick the ideal choice suited for your health needs.
Best PMS Supplements – Our Picks
Our selection of PMS vitamins is based on brand reputation, number of positive reviews, and ingredient quality. Each product also offers additional health benefits that can support women's health. 
✅ Best Overall Vitamins for PMS
✅ Best PMS Gummies
Aura Essentials' Daily PMS Gummy is an all-natural supplement that helps balance hormones to yield optimal reproductive health in the form of great-tasting, acaí berry-flavored gummies to help make supplementation more convenient and effective.
The gummies contain 3 main botanical ingredients – maritime pine bark, chaste berries, and dandelion root, which are scientifically proven to support an optimal hormonal balance, relieve menstrual cramps, lessen hormonal acne, provide energy, control mood, prevent stomach bloating, promote brain function, and promote normal cycles.
Aside from its fantastic berry flavor, the gummies are made from clean ingredients – purely vegan, no GMO, fillers, and allergens to help make them safer and more efficient and to help cater to more diet types.
Pros 
Uses safe and quality ingredients
100% vegan
Gluten-free
Cruelty-free
Non-GMO
No preservatives or fillers
Third-party tested
Great tasting
Comes in gummy form
Easy cancellation
Offers 100% money-back guarantee
Cons
Customer Review
One customer left this review on the official site:
"What makes this gummy, so good in my eyes is that you actually feel a boost of energy. It obviously helps the typical PMS symptoms, but the clarity and energy is a nice addition to my morning." – Andrada T. 
Knowell's 28-ingredient formula supports hormonal balance, regulates menstrual cycles, and optimizes reproductive function. It even provides added support and relief from the effects of PCOS symptoms.
The formula blends 28 ingredients specifically chosen for their efficacy in promoting women's reproductive health, such as B-complex vitamins, antioxidants, adaptogens, mushrooms, probiotics and enzymes, and cranberry, creating an ideal, all-in-one supplement to target multiple issues simultaneously. It also helps prevent hair loss and aids in fertility problems.
The supplements are non-GMO without allergens like gluten and soy to ensure maximum efficiency and safety. 
Pros 
Made in the USA
Uses safe and quality ingredients
Vegetarian 
Gluten and soy-free
Non-GMO
No preservatives or fillers
Third-party tested
cGMP certified
Easy to swallow
Cons
Doesn't cater to more diet types (e.g., vegan, keto, and paleo)
Customer Review
One customer left this review on the official site:
"I am so happy that I took a chance and tried Knowell. I am middle-aged and have had heavy periods and cramping for years now….So I decided to try this product and stop taking the pill. I've now been using this for two months, and I have more energy, less moody, less bloating, and my periods aren't heavy." – Tisha K. 
Bonafide's Serenol provides effective hormone/drug-free relief from common PMS symptoms like mood swings, irritability, uneasiness, and body pain, and it also curbs appetite and water retention. Not only does it deal with PMS symptoms, but it also helps with menopause.
Bonafide uses plant-based power to make Serenol's magic happen – its exclusive pollen is sourced from Swedish plants and is proven to reduce emotional symptoms like mood swings and irritability. 
Drug and hormone-free, you're surely bound to have a smoother experience. With every purchase of this product, 1% is donated to The Society for Women's Health Research, Inc. to further promote advancements in women's healthcare. 
Pros 
Made in the USA
Uses safe and quality ingredients
Non-GMO
Hormone and drug-free
No preservatives, fillers, or artificial ingredients
Undergoes third-party testing
Easy cancellation
Free shipping
Cons
Relatively pricier compared to other PMS supplements
Customer Review
One customer left this review on the official site:
"I'm 47 years old and have been taking Serenol for 2 months now (after talking with my doctor, who suggested this product) and have noticed a huge difference. I feel like my "normal" self again. My general moods are more even keeled and I'm not weepy for no reason anymore.. Honestly this is the best I've felt in 2 years."  – Amy D.
4. PMS Gummy Vitamins – Flo Vitamins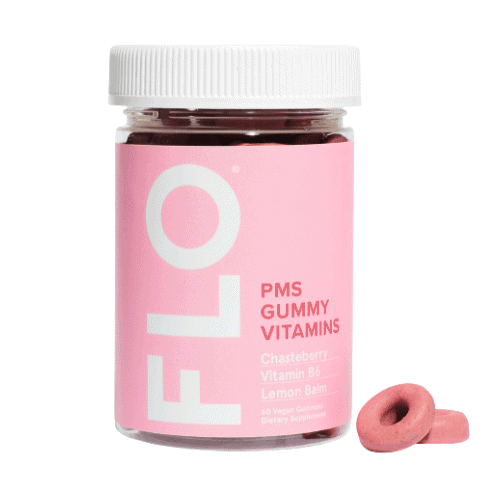 FLO Vitamins are a dietary supplement specifically intended to help menstruating women deal with monthly premenstrual syndrome (PMS) symptoms, such as acne, bloating, cramps, and mood swings.
The supplement contains four specific natural ingredients: chaste berries, dong quai, lemon balm, and vitamin B6, which are all scientifically proven to help reduce PMS symptoms like acne, bloating, mood swings, cramps, and other menstrual health problems. All these benefits blended in one tasty and fruity gummy. 
FLO Vitamins are manufactured using current Good Manufacturing Practice (cGMP) guidelines from the FDA. For added safety and to accommodate diet types, the supplement is non-GMO, vegan, and never tested on animals. They're also gluten-free, free from dairy, nuts, and soy, and made with no artificial colors, dyes, or flavors.
Pros
Made in the USA
Uses safe and quality ingredients
100% vegan
Allergen-free (Dairy, gluten, sugar, soy, nut, and shellfish)
Non-GMO
No preservatives, fillers, or artificial ingredients
Third-party tested
cGMP certified
Great taste
Offers 60-day happiness guarantee
Free shipping
Cons
Results may take time to manifest
Customer Review
One customer left this review on the official site:
"I've tried every drug store product, birth control, and dermatologist topicals to treat my acne and THIS is the one thing that has begun to clear my skin. I've had acne since I was a tween and it's one of my biggest insecurities. I never write reviews but this product deserves it!¨ – Anna
The PMS Elixir is a daily multivitamin powdered supplement mix that provides additional important vitamins and minerals to help maintain hormonal balance and combat and relieve the symptoms of PMS and other menstrual problems. 
This powdered supplement contains 15 important ingredients – magnesium, zinc, calcium, B-complex vitamins, and vitamin C- all of which relieve menstrual pains and hormonal acne, promote fertility, increase nutrient absorption, boost immunity, and even manage and manage and improve mood.
Unlike most powdered supplements that use chemical flavorings, PMS Elixir's lemon flavor comes from real dehydrated fruit, giving it a better, more natural flavoring. It also steers clear of traditional sugar and uses stevia, a natural, zero-calorie sweetener. 
Pros 
Uses safe and quality ingredients
Vegan
Highly bioavailable
Non-dairy
Gluten-free
Non-GMO
No colorants, preservatives, or fillers
Third-party tested
Sugar-free
Offers free shipping
Cons
Requires consistent usage to see expected results
Customer Review
One customer left this review on the official site:
"I've been taken Marea for several weeks daily and I have definitely noticed an improvement in my overall health and regularity. The taste is good and an enjoyable addition to my daily routine. The convenience of a packet is nice to bring easily to work to take with water at lunch time. I look forward to seeing the long term benefits. I definitely feel like this past month has been an improvement in overall mood and symptoms." – Kathy P.
What Is Premenstrual Syndrome?
Premenstrual syndrome (PMS) is the name for the set of physical and psychological symptoms women can experience a week or two before getting their period. Most women have PMS at some point, and studies even estimate that about 3 of every 4 menstruating women have experienced PMS at some point.
Symptoms of Premenstrual Syndrome 
The symptoms that come with premenstrual syndrome may vary from subtle to intense at times:
The commonly reported physical symptoms include:
Spotty skin
Greasy hair
Headaches
Fatigue
Joint/muscle pains
Breast tenderness
Acne flare-ups
Constipation or diarrhea
Abdominal bloating
Weight gain due to fluid retention
Sleeping problems/insomnia
Emotional and psychological symptoms also manifest in the following:
Increased anxiety and tension
Depressed mood
Crying spells
Mood swings 
Prone to irritability or anger
Drastic appetite changes and food cravings
Social withdrawal
Poor cognitive function
Changes in sexual appetite
Risk Factors of Premenstrual Syndrome
The exact risk factors of PMS haven't been fully established, but some factors may contribute to its occurrence:
Age – PMS is more prevalent among women of reproductive age in their late 20s to early 40s, with the symptoms already manifesting during their mid-20s. 
Weight – Women who are overweight or obese are at higher risk of PMS. A study found that every increase in weight (1 kg/m2) can increase the risk of PMS by 3%
Health habits – One 2019 study showed that women who are smokers are more likely to develop PMS and PMDD, and consistent smoking may even exacerbate symptoms.
Psychological/physical stress – PMS is more prevalent among women who have experienced stressful events. Studies also suggest that trauma-related disorders such as post-traumatic stress disorder and borderline personality disorder can negatively impact a woman's menstrual cycle. 
However, a woman may still experience PMS even without most of the risk factors mentioned above, though the risk is much higher for those who do.
If the PMS symptoms persist/worsen and affect your health, consult your healthcare provider immediately.
How To Treat Premenstrual Syndrome
You can do the following treatment methods that may help stabilize PMS symptoms in the weeks before menstruation:
Do exercise 
Eat a healthy diet
Avoid caffeine, alcohol, and excessively salty or sweet foods
Get plenty of sleep
Take vitamin supplements or herbal medications
Other doctors prescribe taking the following medications to relieve PMS symptoms:
Hormonal contraceptives
Antidepressants
Nonsteroidal anti-inflammatory drugs (NSAIDs).
Diuretics
Conclusion
While it may be a struggle to deal with PMS symptoms, it can be relieved by lifestyle changes and better health habits. Taking vitamin supplements, such as Daily PMS Gummy, can give you a boost of comfort and relief to help you conquer the day. 
If you're considering a vitamin supplement, check the ingredient label and read through customer reviews to determine its compatibility with your health needs. When in doubt, consult your doctor
Disclaimer: this article does not constitute or replace medical advice. If you have an emergency or a serious medical question, please contact a medical professional or call 911 immediately. To see our full medical disclaimer, visit our Terms of Use page.