Druggenius.com is reader-supported. We may earn a commission through products purchased using links on this page. Learn more about our process here.
Liquid I.V. is one electrolyte drink that's been gaining raves recently, but while it's said to be extremely effective, it does come with a hefty price tag. Don't fret! Today we're showing you our top electrolyte picks for the best Liquid IV alternative. 
If you're looking for something low in sugar, we've included a Liquid IV alternative with less sugar. You can also check out our short buying guide tackling the pros and cons of certain ingredients.
Top 5 Liquid IV Alternatives
What Is Liquid IV?
Liquid IV is an electrolyte drink mix that hydrates the body and directly provides nutrients like sodium, potassium, glucose, and B vitamins to your bloodstream. This beverage boasts the revolutionary science of Cellular Transport Technology® (CTT), an ingredient blend designed to make the body absorb nutrients rapidly and effectively.
A stick of Liquid I.V. contains thrice as many the electrolytes of traditional sports drinks with 5 essential vitamins, provides faster hydration than drinking water alone, and significantly boosts a person's energy levels. 
Each Liquid I.V. variant has a specific function that CTT helps maximize and deliver better.
Liquid IV Hydration Multipliers – Liquid IV Multipliers deliver hydration to your bloodstream faster and more efficiently than drinking water alone. (Available in Watermelon, Passion Fruit, and Kygo Pina Colada)
Liquid IV Energy Multiplier – This variant's ingredient blend contains energy-boosting nutrients better absorbed in the body (Available in lemon ginger flavor)
Liquid IV Sleep Multiplier – The Sleep Multiplier drink is replete with ingredients that help relax both mind and body to relieve sleeplessness, helping you fall asleep better and improve sleep quality at night. 
Liquid IV Hydration Multiplier + Immune Support – This variant contains an additional blend of Vitamin C, Zinc, and Wellmune® that help maintain and strengthen the immune system. (Available in tangerine flavor)
About The Company
Liquid I.V. is the brainchild of Brandin Cohen and Ryan Wheeler. Founded in 2015, it develops highly effective energy-boosting drinks that help people become better, faster, and more productive at their game through hydration. It also fosters a culture of sustainability by reducing waste production and greenhouse gas emissions and sourcing the best raw ingredients and packaging materials produced while giving the utmost respect to farmers and local communities and protecting natural resources. 
Liquid IV Alternatives – The List
While Liquid IV is a popular and effective product based on customer reviews, it may come as expensive for others, so we've picked out a few electrolyte brands that offer the same benefits for less and more value for your money:
Best price per stick: $1.24 per stick
No sugar – (Liquid IV has 11g per serving)
Hydration helps you go the extra mile for the extra boost of energy you need to keep working out, finish the grind strong, and stay energized throughout the day.
Hydration's ingredient blend is specially formulated to keep you hydrated and ready to roll – It features a combination of apple cider vinegar, which contains sodium and potassium, and 800 mg worth of buffered vitamin C to ease digestion, prevent oxidative stress, and boost the immune system. Best of all, it contains zero sugar, which further boosts energy levels.
The product comes in three flavors — Blue Raspberry Lemonade, Watermelon Cucumber, and Yuzu Lime. You can also opt for the variety pack to best enjoy all three flavors at once.
Ingredients
Hydration contains zero sugar, unlike Liquid IV, which has about 8-11 g of sugar (depending on the variant). And unlike the latter, it contains Himalayan salt, which can help your body detoxify better.
Apple cider vinegar (ACV) 5% 
Acetic acid powder – 1500 mg
Blue spirulina 25% 
Phycocyanin extract (Spirulina platensis) – 50 mg 
Citric acid
Chloride – 460 mg
Potassium citrate – 400 mg
Sodium ascorbate – 800 mg
Himalayan sea salt
Sodium citrate – 500 mg
Stevia leaf
Fumaric acid
Malic acid
Silica
Pricing
In terms of pricing, Hydration's hero offer for both its singular and subscription price lets you enjoy two bags of the variety pack, compared to Liquid IV's, which only gives you one. A pack of Hydration contains 24 sticks, whereas a single package of Liquid IV only has 16.    
Price
Hydration Variety
Liquid IV
Single Price
$39.99 (24 pack),
$1.66 per stick
$24.99,
$1.56 per stick
Subscription Price
$36.99 (24 pack),
$1.54 per stick
$43.19
$1.50 per stick
Highest Tier – Best Price
$29.99 (4 bags each every 4 months),
$1.24 per stick
$80.99, 1x 64 pack per month
$1.41 per stick
Pros
Manufactured In America
Gluten-free
Non-GMO
Preservative-free
Peanut-free
Shellfish-free
Sugar-free
Soy-free
Mixes easily
Free shipping for subscribers
365-day money-back guarantee
Cons
Flavors might not be that pleasing for some consumers
Best price per stick: $0.84 per stick
Regular version has 7g of sugar (4g less than Liquid IV) but they do offer a Zero Sugar variant
DripDrop's patented formula delivers dehydration relief fast when you need it most. Its patented formula uses ORS science to promote fluid absorption into the bloodstream up to three times better than most electrolyte drinks. 
The blend contains a precise ratio of sodium electrolytes and low glucose levels to facilitate fast fluid absorption. It also has potassium, magnesium, zinc, and vitamin C to promote stronger immune support. With its blend and flavor variants considered, it's no surprise that it's a popular choice among medical professionals, military personnel, and even pro athletes. Customer reviews also say it's great for relieving hangovers.
Looking for something with no sugar? DripDrop has a zero-sugar variant that offers the same benefits but with greater efficiency, especially in increasing energy and promoting optimal heart health. 
We have broken down the differences between DripDop and Liquid IV in a detailed article.
Ingredients
When it comes to sugar content, a packet of DripDrop only contains about 7g, while Liquid IV has 11g. DripDrop also fares better in offering a variety pack option than the latter. 
Bold Variety (common ingredients) 
Sugar
Fructose
Sodium citrate
Citric acid
Potassium citrate
Dextrose
Natural flavor
Silicon dioxide
Salt
Ascorbic acid (Vitamin c)
Sucralose
Zinc aspartate
The Zero Sugar option contains more nutrients compared to Liquid IV.
Zero Sugar
Citric acid
Sodium citrate
Potassium citrate
Natural flavor
Magnesium citrate
Maltodextrin
Salt
Silicon dioxide
Ascorbic acid (vitamin c)
Sucralose
Niacinamide (vitamin b3)
Turmeric for color
Zinc aspartate
D-calcium pantothenate (vitamin b5)
Acesulfame potassium
Pyridoxine
Hydrochloride (vitamin b6)
Cyanocobalamin (vitamin b12)
Pricing
DripDrop's standard offer for its singular and subscription price (the latter being a bit more expensive) contains more packets than a single package of Liquid IV, which only has 16.    
Price
DripDrop
Liquid IV
Single Price
$18.99 (16-count),
$1.19 per stick
$24.99,
$1.56 per stick
Subscription Price
$26.99 (32-count),
$0.84 per stick
$43.19
$1.50 per stick
Highest Tier – Best Price
$26.99 (32-count),
$0.84 per stick
$80.99, 1x 64 pack per month
$1.41 per stick
Pros
Non-GMO
Vegan
Gluten-free
Dairy-free
Soy-free
100% Kosher
Offers a zero sugar option
FSA or HSA Eligible
Free shipping on every order
100% Money-back guarantee
Cons
Some customers have reported a few side effects 
Best price per stick: $0.93 per stick
7g less sugar than Liquid IV
Hydrate's splendid mix of electrolytes with a touch of real fruit juice powder is bound to refresh and invigorate the mind and body, charging you with energy to last the day's grind.
The blend has a generous serving of essential electrolytes like sodium, potassium, magnesium, and zinc to enhance physical performance and brain function, among other things. For the flavor, the brand uses real fruit juice powder for a greater taste and palatability. 
Despite having fruit juice powder in the blend, Hydrate contains significantly less sugar than most electrolyte drinks, with only up to 4g per packet.   
Ingredients
Hydrant contains less sugar than Liquid IV and has a more ample serving of the standard electrolytes.
Sodium – 260 mg
Potassium – 200 mg
Magnesium – 30 mg
Zinc – 2 mg
Total sugars (cane sugar) – 3 g
Pricing
Hydrate's pricing is quite higher than Liquid IV, but it makes up for the packet content with 30 sachets a purchase. 
Price
Hydrate
Liquid IV
Single Price
$37.49 (30-pack)
$1.24 per stick
$24.99,
$1.56 per stick
Subscription Price
$29.99 (30-pack)
$0.99 per stick
$43.19,
$1.50 per stick
Highest Tier – Best Price
$84.35 (3 x 30 packs)
$0.93 per stick
$80.99, 1x 64 pack per month
$1.41 per stick
Pros
Scientifically formulated
Subtle taste
Responsibly sourced
Vegan
Gluten-free
Non-GMO
Contains less sugar
No artificial sweeteners
Cons
Flavors might not be pleasing to some consumers
Best price per stick: $0.49 per serving
Ultima Replenishers' Electrolyte Hydration Powder replenishes electrolytes lost from activity and sweat and promotes rehydration so you can feel and perform your best and allow you to do the things you love. 
The blend contains all six principal electrolytes — sodium, calcium, potassium, chloride, phosphate, and magnesium, which regulate nerve and muscle function, hydrate the body, and balance blood acidity. 
Ultima contains zero sugar and instead uses organic stevia leaf, a natural sweetening substitute with many health benefits, and made with real fruit flavor extracts that make each packet a real treat you'll surely love.
Ingredients
Compared to Liquid IV, Ultima contains all six principal electrolytes and uses organic stevia in lieu of traditional sugar. Flavors-wise, it offers the most options of all our picks.
Sodium – 55 mg
Calcium – 65 mg
Potassium – 250 mg
Chloride – 78 mg
Phosphate – 70 mg
Magnesium – 100 mg
Tartaric acid
Rebaudioside A (from organic stevia leaf)
Zinc citrate
Manganese citrate
Pricing
Of all the products in this selection, Ultima is the lowest-priced alternative to Liquid IV, yet it still offers more stick packs (20 pieces per purchase)
Price
Ultima Replenisher
Liquid IV
Single Price
$20.99 (20-pack)
$1.04 per stick
$24.99,
$1.56 per stick
Subscription Price
$18.99 (20-pack)
$0.94 per stick
$43.19
$1.50 per stick
Highest Tier – Best Price
$44.99 (90-serving tub)
$0.49 per serving
$80.99, 1x 64 pack per month
$1.41 per stick
Pros
They offer a tub version that's a lot better value for money
Vegan
Non-GMO
Paleo-friendly
Plant-based extract colors
Caffeine-free
Sugar-free
Keto-friendly
Real fruit extract flavors
Cons
Flavors might not be pleasing to some consumers
Does not mix as well as Liquid IV
5 – Make Your Liquid IV Alternative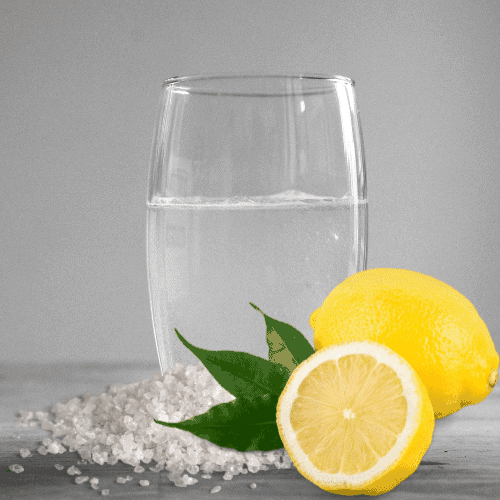 If like being crafty with your kitchen stash, you can make your natural electrolyte drink right in your home. That way, you can save money and avoid artificial ingredients in the long run.
Most electrolyte concentrates usually contain a combination of sodium, sugar, and citrus, but you can replace sugar with stevia or honey/maple syrup. Adding baking soda and iodized salt help replace different forms of sodium that are lost through sweat, while lemon juice contains potassium and magnesium. 
To make a DIY electrolyte concentrate, you'll need: 
Half a dozen lemons
Sugar (Or sweeteners like honey, maple syrup, or stevia)
1 teaspoon sea salt
½ teaspoon of baking soda
– Juice the lemons thoroughly and put the contents in a small bowl (To extract more juice, put the lemons in a microwave for about 30 seconds)
– Add a sufficient amount of your sweetener and mix in the salt and baking soda.
– Stir the contents well to settle the fizzing.
– Keep this concentrate in the fridge in a tightly capped jar.
You can add small amounts of this blended concentrate to plain water whenever needed. 
Special Mentions – Best For Moms 
Tropical's electrolyte packets can supply moms and moms-to-be with the necessary vitamins, nutrients, lactation, and hydration they need to keep them in an optimal state of health and energy. Flavor variants come in pomegranate, strawberry, and cranberry. 
Special Mentions – Best For Pregnancy 
Needed's Hydration Support helps expectant mothers replenish electrolytes and trace minerals lost during the pregnancy stages, which are also needed to support lactation. It regulates pH levels and blood pressure/flow and promotes hormone balance. 
Why Hydration Matters
Proper hydration is important for the body to function well. It regulates body temperature, keeps joints lubricated, prevents bodily infections, delivers nutrients to cells, and keeps organs functioning properly. It also improves sleep quality, promotes optimal brain function, and lifts one's mood.
Electrolytes are minerals that carry an electrical charge when dissolved in water. Important electrolytes such as sodium, calcium, potassium, chloride, phosphate, and magnesium are obtained from foods and fluids and distributed throughout the body. Electrolytes use their electrical energy to help the body perform basic bodily functions like walking, breathing, and thinking.
It also helps:
Balance the amount of water in the body
Balance the body's pH level
Move nutrients into the cells
Draw wastes out of cells
Facilitate nerve, muscle, heart, and brain functions
Help rebuild damaged tissue
Regulate chemical reactions
Maintain the balance between fluids inside and outside your cells,
Staying hydrated is essential, especially during intense movement, heat, or even illnesses where you lose the most fluids. Drinking electrolyte beverages can help boost exercise performance, support nervous system function, rehydrate during illnesses, and even prevent heatstrokes.
How To Choose An Electrolyte Drink
Ingredient Content – Consumers should look first into the ingredients and their content before settling on a product that suits them best. Those who sweat heavily may benefit more from a product with higher sodium content, while people who are more prone to muscle cramps might benefit from one with more potassium. 
Sugar Content – The body processes sugar too quickly – it leaves you with an initial energy source that is quickly used up and followed by a crash, leaving you feeling lethargic. Dietitians recommend having less or zero sugar to avoid crashes and increased energy levels. 
Palatability – Most electrolytes come in multiple flavors, often mimicking fruit juices. Having a variety of flavors makes taking electrolytes more tolerable and palatable.
Portability – Some people may opt for effervescent tablets since they're easier to carry, while others prefer the powdered form in packet sticks since they're easier to mix or shake. 
Takeaway
The body needs proper hydration to maintain adequate fluid and electrolytes to function properly, and sports drinks and electrolyte powdered packet drinks can give proper hydration and balance electrolyte levels. 
Liquid IV is one of the best electrolyte beverages on the market, but more affordable alternatives like Essential Element's Hydration or Dripdrop can yield the same results for less. 
But do note that one should never use electrolyte drinks or substitute water for hydrating the body. A proper diet and healthy lifestyle should always accompany it to see its desired benefits. 
Disclaimer: this article does not constitute or replace medical advice. If you have an emergency or a serious medical question, please contact a medical professional or call 911 immediately. To see our full medical disclaimer, visit our Terms of Use page.