Athletic Greens is one of the most popular green powder supplements on the market, boasting a nutritious mix of more than 75 superfood ingredients. Although it has received rave reviews from users, one drawback of Athletic Greens is the price.
Let's face it, almost no one eats their recommended amount of daily vegetables. But vegetables are an important part of your diet to maintain a strong immune system.
Green supplements are made to give you all the goodness of your daily veggies and more.
We've compiled a list of 5 alternative super green supplements that could prove to be just as good as AG, but without the hefty price tag.
Top 5 Alternatives to Athletic Greens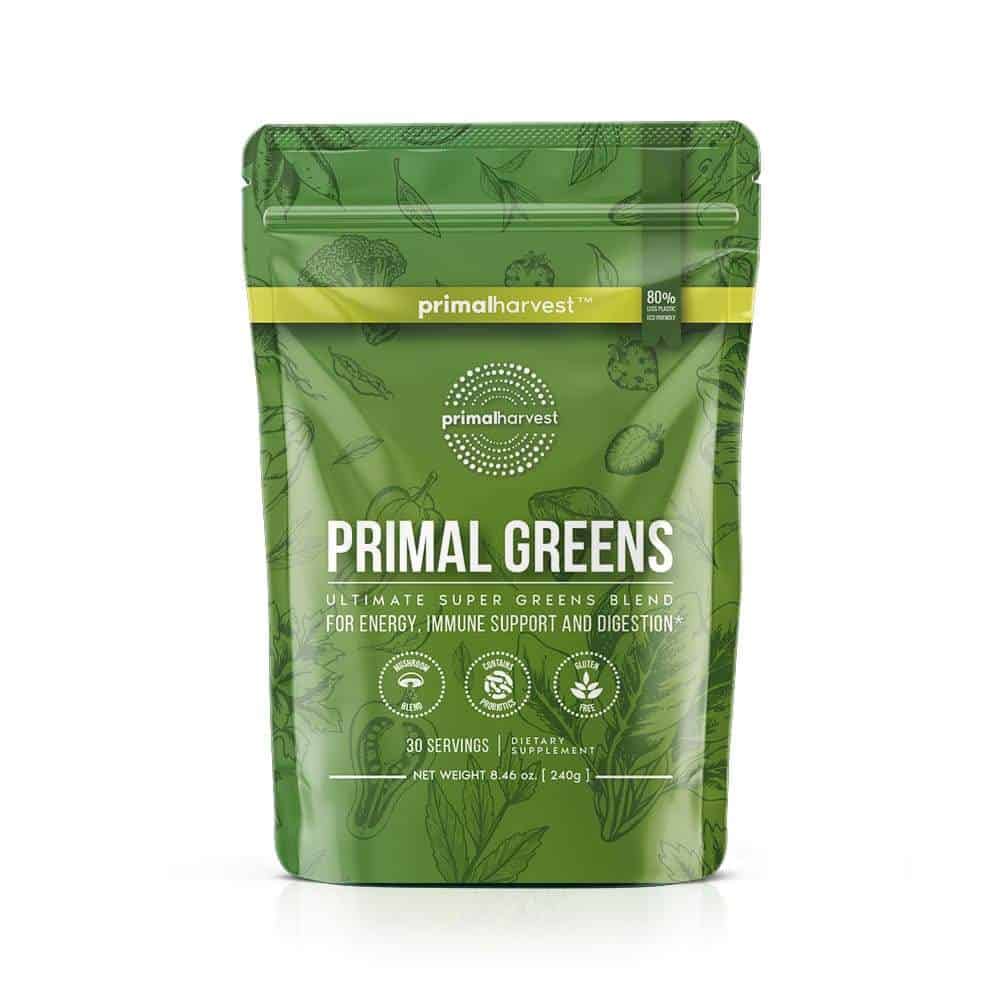 Primal Greens is a nutrient-rich daily greens supplement made up of herbs, vitamins, and minerals.
Similar to Athletic greens, Primal Greens is designed to support your immune system and weight control, as well as improve your natural energy stores.
The supplement is made in the United States in a facility that follows Good Manufacturing Processes (GMP). Every product is lab tested by a third party to verify its purity, effectiveness, and safety.
Ingredients
Primal Greens is a mix of adaptogenic mushrooms, antioxidants, and more than 50 superfoods.
Prolonged stress increases your risk of diabetes and heart disease, among other long-term health risks. Adaptogenic mushrooms help you adapt to stress, and significantly diminish the damage done to the body during times of increased stress.
Antioxidants like vitamins C and E are naturally occurring molecules that rid the body of free radicals. Free radicals are unstable atoms that have been linked to premature aging, cell damage, and illness.
Primal Greens supplements are also full of pro and prebiotics.
Probiotics help to maintain your health and metabolic functioning by increasing the amount of good bacteria active in your gut.
Prebiotics increase the effectiveness of probiotics by feeding these good gut bacterias. They encourage an environment in which gut bacteria can thrive by carefully balancing the chemical makeup of your stomach and intestines. This can help immune support, digestion, better energy levels, and proper appetite control.
Primal Greens powder is gluten, dairy, and soy-free, making it a suitable option for many dietary restrictions.
The high density of vegetables packed into the supplement also keeps it low in sugar and can help to curb unhealthy sugar cravings.
Primal Greens supplement powder is manufactured in a facility that also processes nuts, wheat, and soy. If you suffer from any of these allergies, we would recommend that you exercise caution when taking this alternative.
Price
You can get your hands on a 30-serving bag of Primal Greens powder for under $50 (half the price of Athletic Greens).
Members of their subscription service save 20% and get free shipping for all of their orders. Free shipping is available for non-members for orders over $75.
Bulk orders will also earn you a discount. An order of 3 bags drops the cost to around $40 a bag, and an order of 6 bags costs around $35 each.
Pros
Low sugar content
Gluten, dairy, and soy-free
GMP certified
Cons
---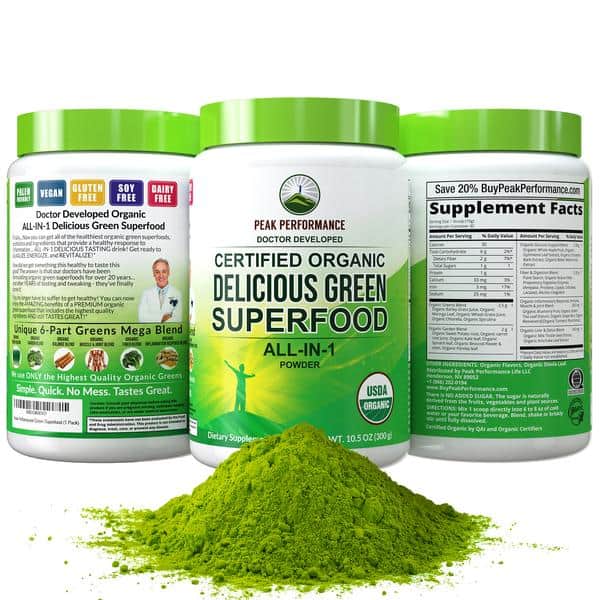 Ingredients
Price
A single tub with 30 servings that will last you 1 month if used daily, is available for $39.95. If you subscribe this price is reduced to $35.96 per month.
Peak Performance also provides discounts for multipack purchases.
If you buy a 3 pack (3 month supply/90 total servings) the per-item price is reduced to $35.95.
If you buy a 6 pack (6 month supply/180 total servings) the per-item price is reduced to $31.96.
When compared to the one-month supply option of Athletic Greens ($99), Peak Performance Organic Superfood Powder is $59.05 cheaper!
Pros
No artificial or refined sugars
Low carb
Athletic Greens is more than double the price
Great price
Savings for multipacks and subscriptions
30 day moneyback guarantee
Cons
Must spend over $49 to get free shipping
---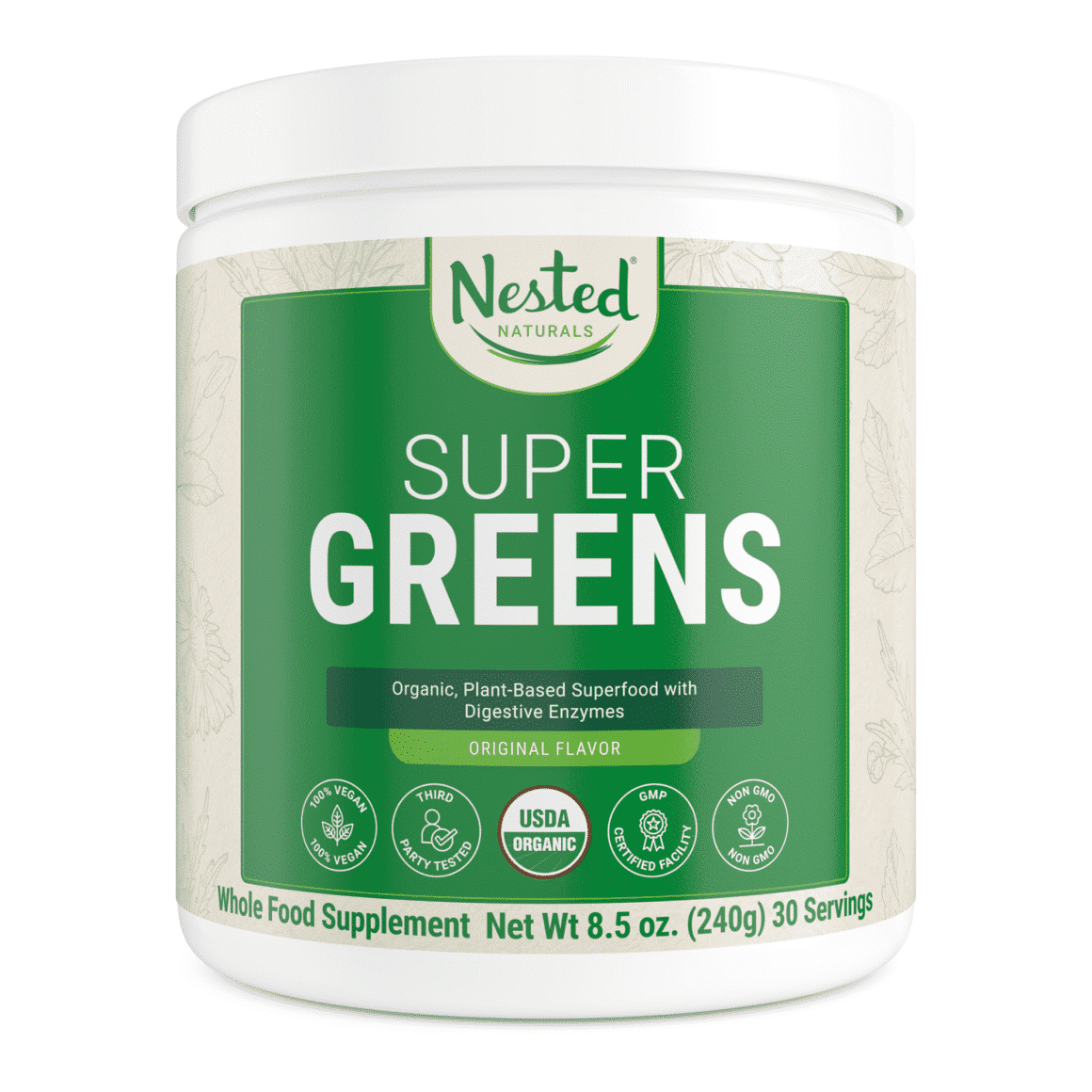 Super Greens is a whole food supplement advertised to improve nutrition, and digestion, support immune health, boost your energy, and provide you with a healthy way to detox.
Made in a GMP-approved facility in the U.S, Super Greens has a 4 step testing process for their products.
These tests include herb identification, testing for potential pathogens, third-party testing for potency, and testing for heavy metals like arsenic, cadmium, mercury, and lead.
Unlike some of the other greens powders on the market, Nested Naturals offers a chocolate-flavored alternative to their original Super Greens.
Ingredients
Nested Naturals Super Greens contains no wheat, gluten, GMOs, added sugars, preservatives, dairy, egg, or fish. According to the United States Department of Agriculture (USDA), Super Greens is also 100% certified organic.
One serving of Super Greens powder contains 667mg of spirulina, 400mg of chlorella, nutritious fruits and vegetables, vitamins and minerals, and phytonutrients.
The high levels of fruits and vegetables are ground into a fine powder for easy absorption and give you a healthy boost of micronutrients.
The powder is also full of phytonutrients, probiotics, and prebiotics.
Phytonutrients promote better energy levels without the hassle of a caffeine crash.
The flavored powder also contains unsweetened, fair-trade cocoa powder to give the Super Greens a rich, chocolatey taste.
Price
A one-time purchase of a 30 serving container costs around $30.
Subscribers save 21% on Super Greens original and 10% on Super Greens chocolate flavor.
Pros
Certified organic
Flavored option
Thorough product testing
Cons
Subscribe and save options differ from product to product
---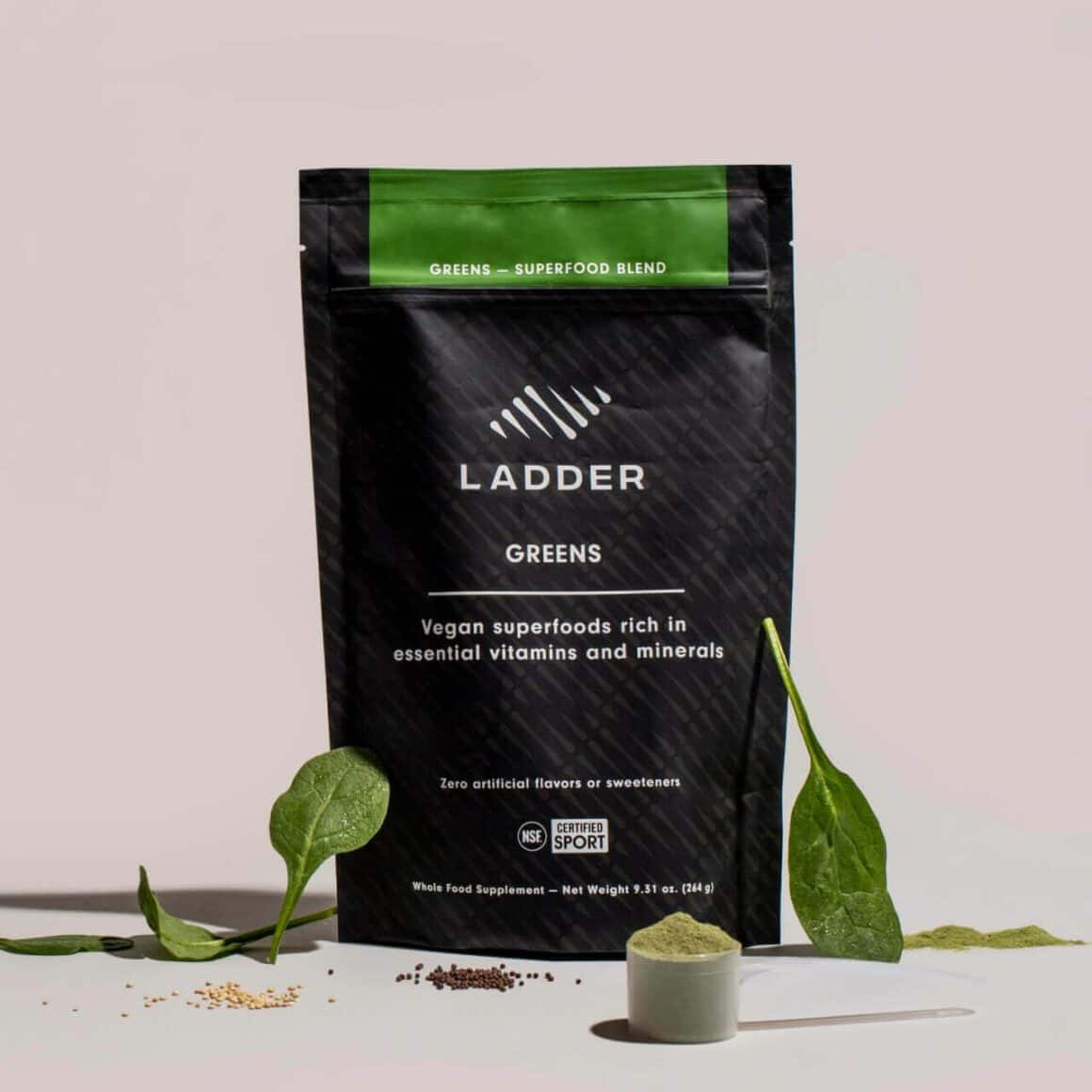 Created by Lebron James, Mike Mancias, and famous bodybuilder Arnold Schwarzenegger, Ladder Superfood Greens have been specifically designed for athletes.
A superfoods mix containing essential nutrients, Superfood aims to improve your overall health and wellness, with a focus on increased energy for athletic training.
Ladder's greens supplement has been NSF certified for sport. This certification ensures that supplements do not contain any substances banned by major athletic organizations, and have been tested to verify their ingredients, quality, and safety.
Ingredients
Each scoop of Superfood Greens powder contains 400mg magnesium, 300mg Rhodiola root, 25mg zinc, and 75mg of vitamin D.
Magnesium is involved in more than 600 bodily processes, from aiding in recovery from injury to boosting physical performance. This is an important benefit for athletes who want to make sure they're always at peak performance. Ladder Greens help to repair the body after strenuous exercise which can keep those aches and pains at bay after a hectic workout.
Rhodiola root is known to support your body's ability to reduce the symptoms of stress and fight extreme fatigue so you can work harder for longer.
Zinc boosts not only your overall immune health but your muscle power, too. Muscle power is paramount for athletes in maintaining strength during intensive physical activity.
One of the most essential nutrients, vitamin D, is involved in numerous bodily processes, from regulating glucose levels to maintain your metabolism.
Ladder's Superfood Greens is vegan and gluten-free.
Price
Superfood Greens can be purchased in smaller quantities as a sampler of 4 servings for under $20, or a fortnight supply of 15 servings for around $36.
Their one-month supply of 30 servings can be bought as on-the-go packets or a bag of Superfood powder. The bag will cost you around $54, while the on-the-go packets will set you back a little more, costing more than $60.
The supplement powder is also offered as 45 one-off servings for around $80.
Subscribers to Ladder save 10% on every purchase, with free shipping.
Students receive a 20% student discount, although this offer is not available for products that include supplement bundles or free trials.
Warnings
Owing to California's Proposition 65, Ladders is forced to disclose that their product has the potential to expose you to harmful toxins and heavy metals, including lead.
We're not saying that you'll definitely get lead poisoning if you take this supplement, just that you will take on a certain level of risk. Lead poisoning is associated with increased instances of serious illnesses like cancer and dementia.
If you're pregnant or breastfeeding, we highly recommend that you avoid this product.
Pros
Various serving options
Optimized for training and fitness
NSF certified for sport
Cons
Can expose you to potentially dangerous chemicals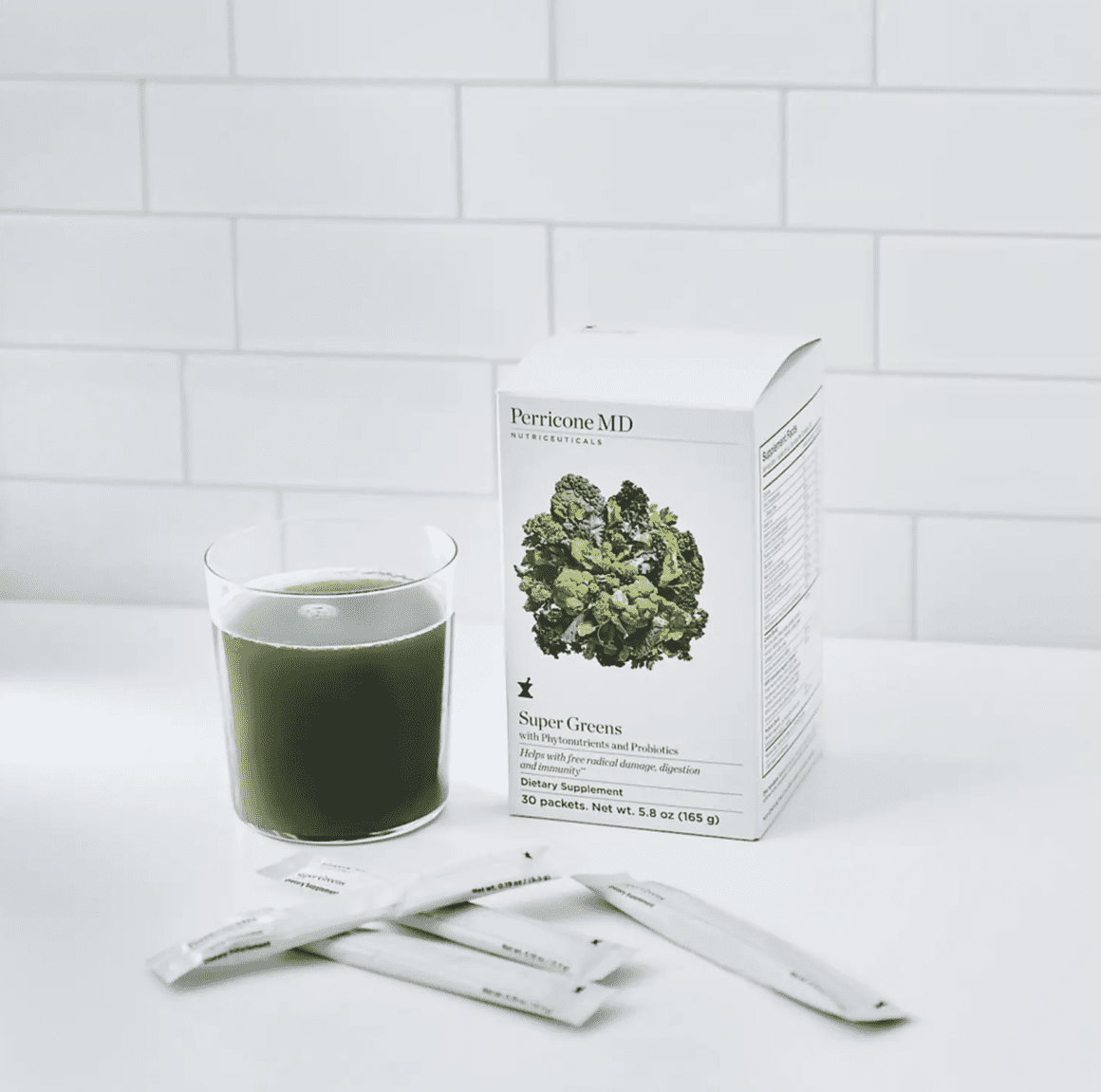 Perricone MD's Super Greens form part of their 3-tier philosophy to keep you looking healthy and your skin glowing.
Their powder supplement aims to give you a nutrition boost, antioxidant immune protection, better gut health, and healthier-looking hair and nails.
Perricone's Super Greens drink comes in apple and lime flavors.
Ingredients
One serving contains vitamins A, B6, and C, riboflavin, and folic acid.
Vitamins A and C promote a healthy immune system, while vitamin B6 guards your body against possible infection. This is key in fighting symptoms of seasonal flu that can wipe you out for weeks on end.
Riboflavin maintains your body's energy supply, giving you more energy to keep you going throughout the day. Folic acid is responsible for the production and maintenance of new cells.
Perricone MD Super Greens are also made up of probiotics, biotin, and Perricone MD'S proprietary NRF2 antioxidant support.
Their unique antioxidant support formula contains green tea leaf extract, olive leaf extract, turmeric rhizome extract, and broccoli sprout extract. These ingredients have all been thoroughly researched to illustrate their efficacy in facilitating weight loss and reducing the instances of terminal diseases like cancer.
Price
Perricone MD Super Greens powder costs around $80 for a one-off purchase.
Perricone MD offers you a payment play of four $20 installments through payment gateways like Afterpay, Sezzle, and Zip.
Subscribers save 15% on their initial purchase and a bonus of 40% off all recurring purchases. You also get the benefit of free delivery.
Pros
Good subscriber discounts
Flavored
Skin and beauty benefits
Cons
---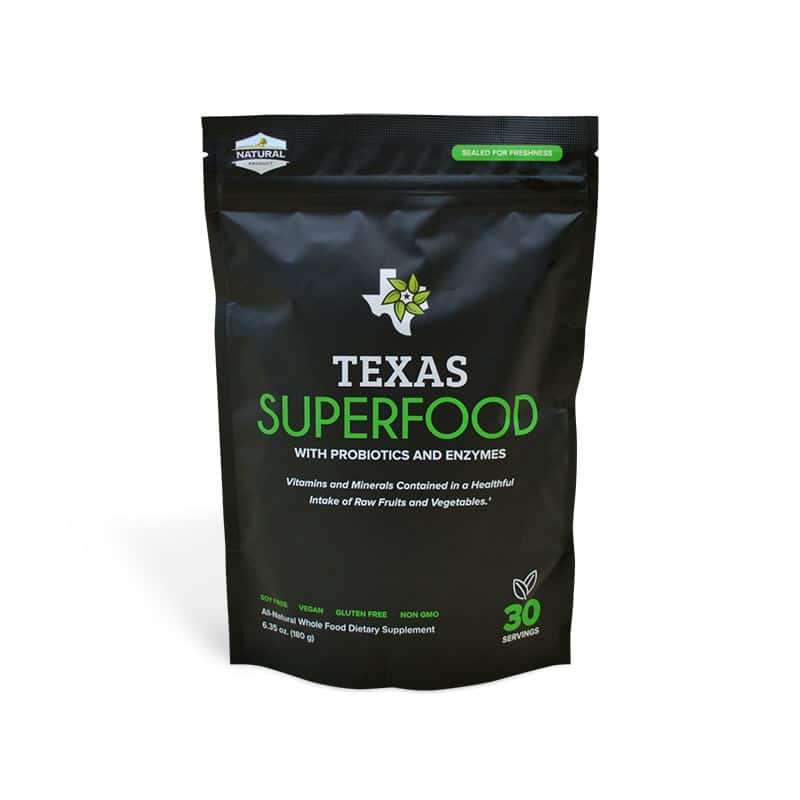 Available in both capsule and powder form, Texas Superfood can be used by both children and adults.
Texas Superfood claims to support physical energy and performance, increase mental focus, balance weight, improve sleep quality, and elevate your mood.
An all-natural supplement, Texas Superfoods also reinforces organ health and function.
Ingredients
Texas Superfood is made of a combination of enzymes, herbs, grasses, algae, fruits, and vegetables.
With no chemical ingredients, Superfood powder is gluten-free, soy-free, and dairy-free. It contains no known toxins, fillers, binders, GMOs, pesticides, herbicides, or artificial substances.
Texas Superfood also contains important antioxidants like acai berry powder.
Unlike other super green powders, Texas Superfoods is one of the only supplements to include algae.
Algae are known to prevent disease and improve skin health. Certain types of algae like spirulina and chlorella contain minerals like zinc and magnesium. Algae also deliver all 9 of the essential amino acids your body needs to function, but can't produce on its own.
Price
Both the powder and capsule versions of the supplement contain a month's worth of servings.
A single month's supply costs around $55 each. Bulk discounts apply to their two-month supply (around $50 per month), and their family bundle which contains a three-month supply.
All shipping in the U.S is free, although subscribers receive free express shipping and a small discount on every order.
Pros
All-natural
Good bundle deals
Available as both a capsule and powder
Cons
---
Alternative To Athletic Greens FAQs
What is Athletic Greens powder?
Athletic Greens is a superfood dietary supplement containing more than 75 ingredients.
It offers great immune, brain, and memory support, improved recovery and gut health, and sustained energy.
The Athletic Greens superfood complex offers the antioxidant equivalent of 12 servings of fruits and vegetables per serving.
What are the side effects of green powders?
Most green powder supplements contain the same combination of ingredients. It's important to check the ingredient list of each powder before using it to avoid adverse side effects.
Vitamin K can counteract certain medications like antibiotics and anticoagulants.
Some green powders contain contaminants like heavy metals, like those found in Ladder Superfood Greens. These contaminants can cause side effects from low energy levels to more severe effects like organ damage.
Supplements containing green tea extracts, certain herbs, and wheatgrass can also cause allergic reactions like nausea and headaches. 
For your safety, we recommend that you consult a medical health practitioner before taking any supplements.
What is the best budget alternative to Athletic Greens?
For anyone on a budget, Nested Naturals Super Greens seem to offer the cheapest product that is also value-for-money. At under $30 a month, it's the most cost-effective green powder supplement that we've found.
This alternative provides many of the benefits of Athletic Greens, without the steep price tag that could turn so many away.