A plant-based diet is far superior when it comes to aiding health benefits. Do people utilize plant foods? In reality, most people don't maintain a healthy diet even knowing the importance of plant food. This could be because they lack preparation time or because fruits and vegetables are seen as quick decomposing goods.
Green powder supplements have been flooding the market recently, and more and more people are using them as a health booster. Does the green powder supplement help your immune system? Athletic greens and Beyond greens are two high-quality superfood supplements available for purchase. 
We are here to discuss the topic Beyond greens vs Athletic greens to let you know the contrasting aspects and why such green powders are effective in keeping a healthy natural defense system in the body. 
Beyond Greens Vs Athletic Greens Summary
Buy Beyond Greens if:
➡️ You want the more cost-effective option
➡️You want the benefits of matcha, turkey tail mushroom, and reishi mushroom
———————————————–
Buy Athletic Greens if:
➡️ You want the higher quality greens powder
➡️ You want the more nutrient-dense option
➡️ You have a larger budget
Beyond Greens vs Athletic Greens: The Differences
The main difference between these two greens supplements is the amount of proprietary blend of probiotics and superfoods. One overshadows the other when it comes to the quantity in each serving.
Superfoods
The greens drink from Athletic Greens and Beyond Greens both have compositions made with different foods like red beetroot powder, green tea extracts, chlorella, spirulina, and such. When it comes to Athletic greens, you get 10,000 mg per serving. Whereas, Beyond greens serving is more curtailed, to 2,700 mg. 
Probiotics
Digestive enzymes and probiotics are a must-have in your diet. The digestive enzyme tuned with probiotics helps with improved digestion. Both the supplements have a decent amount of these compounds in them. 
The Athletic supplement has 7.2 billion colony forming units in comparison to Beyond greens which is 300 million CFU. 
Comparing Beyond Greens and Athletic Greens
Price (No Discounts)
BG – $1.33 per serving
AG – $3.30 per serving
Protein
Digestive Enzymes
Probiotics
300 million CFU in Beyond greens
7.2 billion CFU in Athletic greens
Superfood Per Servings
2,700 mg for BG
10,000 mg for AG
Calories Per Serving
Third-Party Certification
No specific certification label on Beyond greens
Athletic greens have NSF's quality and safety standard
Beyond Greens Claims
Allows whole body detoxification
Keeps your stomach in good condition
Known as a clean energy source
Aids healthy body defenses
Athletic Greens Claims
Gives energy
Promotes gut health
Keeps blood sugar in check
Shields and retains immune response
Known to support hormone and neural functions
Maintains natural body detoxification
Safety and Side Effects of Beyond Greens
Can cause food allergies
May induce gas or diarrhea within some users
Safety and Side Effects of Athletic Greens
Nausea, Bloating, diarrhea is amongst the common side effects
Might interact with other drugs
Some ingredients can impose blood thinning
What Is Beyond Greens?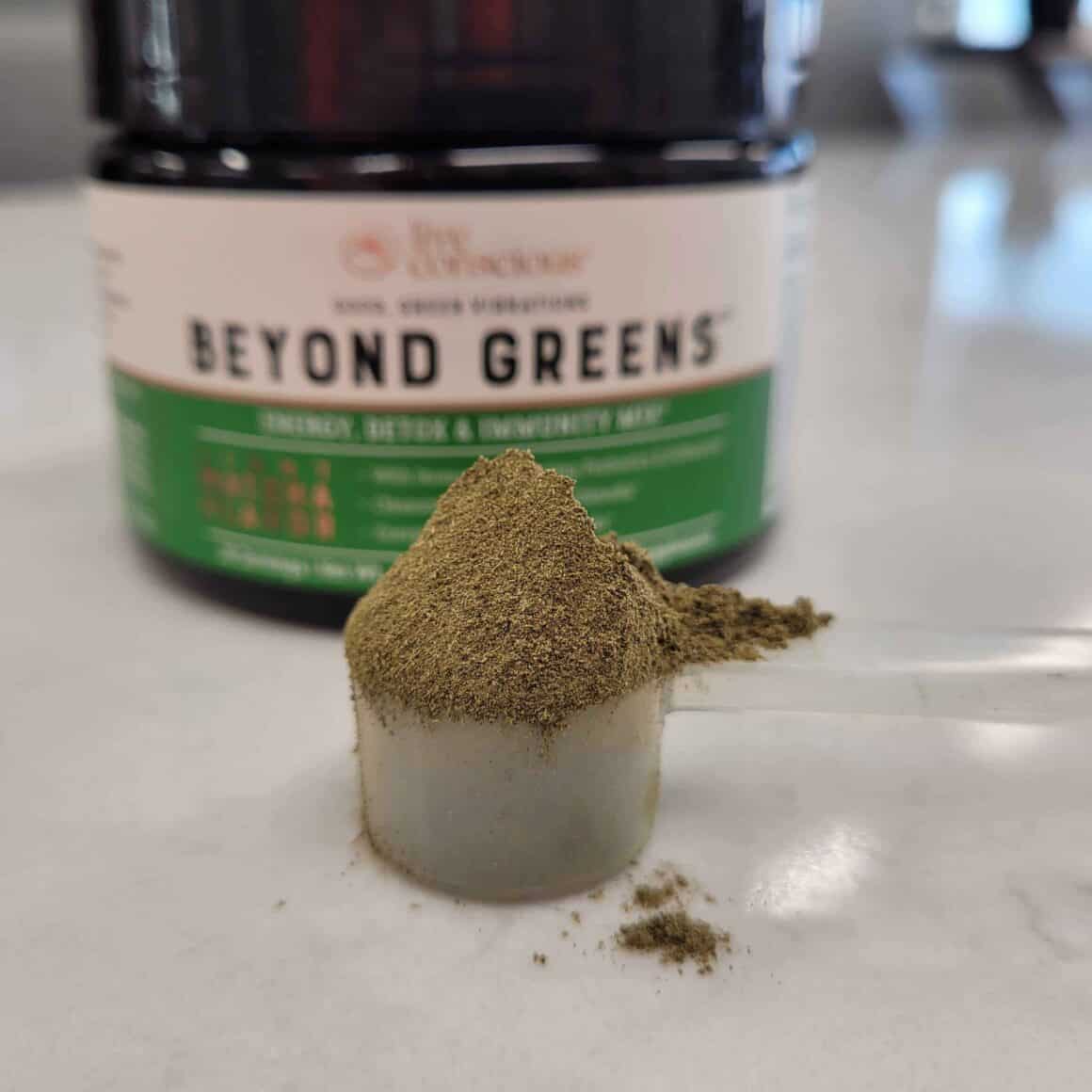 It is one of the most prominent greens powder widely used around the world. This powder supplement is made by Live Conscious and is very effective for immunity boost, detoxifying the whole body, and balanced gut health. 
Beyond greens is made with many different ingredients like the microbiome, mushrooms, adaptogens, and others. If you are someone looking to enhance your energy level, then greens supplements should be on your diet list. Getting used to the beyond greens can be helpful in many ways.
There are 14 other nutrients remedial ingredients that go on to make this greens powder. This product comprises milk thistle, which plays the role of detoxifying agent and works to keep the liver healthy. 
Then there is Rhodiola Rosea, which is a pure mood booster. It relaxes your body and gives you the ability to perform better when exercising. 
Echinacea is there to stronghold your immune system and helps to shield your body. Chlorella works like a protein source and has no amino acid, giving your body a much-needed balanced diet. 
It also includes matcha green tea leaf extract, which is an antioxidant that helps liver health and your cognitive system. Not only that, but the matcha compound also makes the beyond greens taste better. 
As a potent probiotic compound, there is Lactospore that strengthens your digestive and immune functions altogether. 
Vegan people can also enjoy this drink without any issues. It is completely dairy-free, gluten-free, and keto diet-friendly. All the ingredients are marked and do not include any proprietary blend. 
Pros
Affordable in comparison to other greens powders
Has therapeutic ingredients
It consists of herbal extracts and mushrooms
All the ingredients are mentioned, no hidden mixtures
This product keeps your body healthy and spirit lively 
Cons
It does not back third party safety standards
Not all ingredients are in sufficient dose
Advantages of Beyond Greens
Works to keep a healthy immune system
Evidence of improving gut health
Detoxifies the whole body naturally
It helps to soothe weariness in breast cancer patients
Enhances energy and performance
What Are Athletic Greens?
Athletic Greens is one of the most popular health drinks that works precisely on human health. Many pro athletes have taken this drink as part of their daily diet plan if you want to know the competency. 
You should understand that it has been used by the USA cycling team, and many other athletes are still using it without any complaints. 
Also known as AG1, it is made with a stellar number of ingredients, unlike other immunity drinks. With over 70 ingredients, you will certainly get the best out of it. AG1 consists of probiotics, whole super greens, enzymes, and adaptogens. 
When talking about mushrooms, turkey tail mushrooms are common amongst greens drinks as they help protect your insides. The Athletic greens, on the other hand, is made with reishi mushrooms which are known to terminate stress, reduce inflammation and boost the immune system.
There are many different dehydrated whole fruits and plant extracts as basic ingredients. As for superfood compounds, the athletic greens have chlorella, alfalfa, grape seed extract, pineapple, papaya, kelp, tea-leaf extract, spirulina, barley leaf, just to name a few. 
As for herbs and antioxidants, you will find eleuthero root, Rhodiola root, alkaline pea protein isolate, artichoke leaf extract, citrus bioflavonoids, arctic acid, and the list goes on. 
There are also digestive enzymes in it, e.g., two different mushroom types, Astragalus root, burdock root, and others. Probiotics like Bifidobacterium Bifidum and Lactobacillus Acidophilus are also included. 
Unlike Beyond Greens, the Athletic product has 21 essential vitamins and minerals like Vitamin A, Vitamin C, Vitamin E, B12, Thiamin, Folate, and many others.
This product is suitable for all people; it is claimed to be vegan-friendly and keto diet-friendly as well. With all non-GMO ingredients, it is safe to say that there have been no safer supplements on the market. 
To add to its reliable feature, it is NSF certified, so you can purchase this product without doubting its authenticity.
This particular mix has to be consumed on an empty stomach after you wake up. Always remember that these greens supplements mentioned in beyond greens vs athletic greens are not any kind of replacements for whole foods.
Pros
Made of 75 variations of ingredients
Includes whole food sources
It has a wide array of vitamins
Powerful green liquid
Popular amongst pro athletes
Tastes awesome
3rd party NSF sport approved
Cons
Expensive compared to other health juices
Surpasses vitamins and minerals dose limit
Advantages of Athletic Greens
Keeps blood sugar level in check
Works on a body's natural detoxification process
Athletic greens improve brain and neuron functions
Works on hormonal imbalance
Uplifts digestion and improves bowel condition
Provides energy
Boosts overall immunity
Taste Comparison between Beyond Greens and Athletic Greens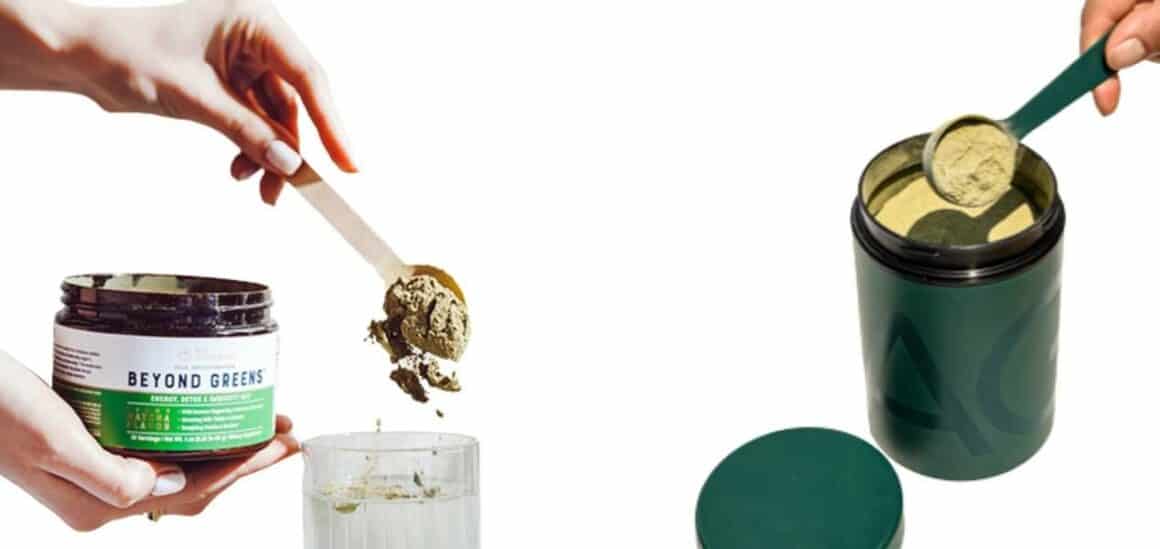 Beyond Greens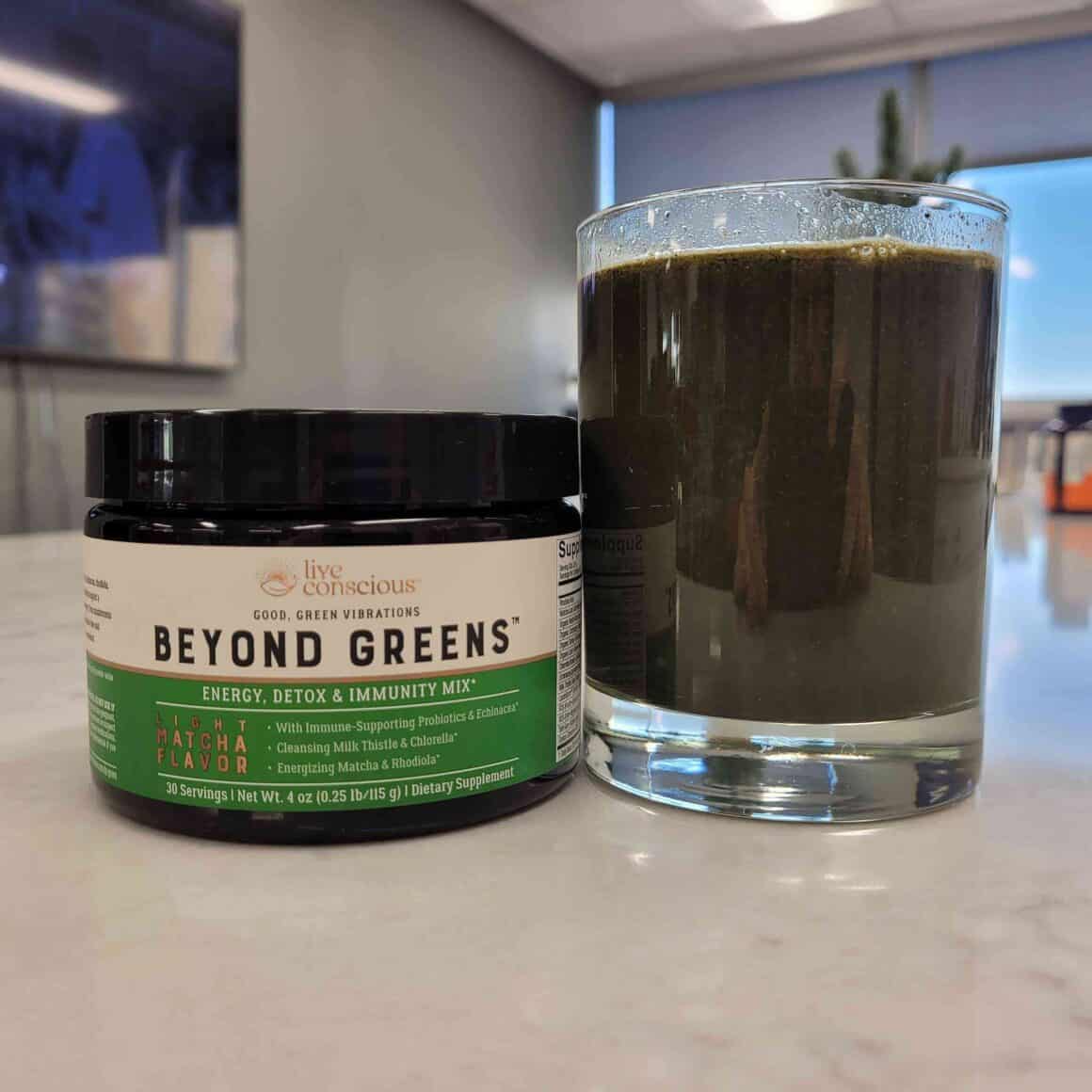 It is known to have natural flavorings with added salt and stevia. The main taste and punch come from the matha extract. The overall flavor is more like traditional matcha tea. People who are into matcha will surely love this drink. 
It does have a sweetened end to it, so don't think you are going to end up with a pungent greenish taste after mixing the powder.  
Athletic Greens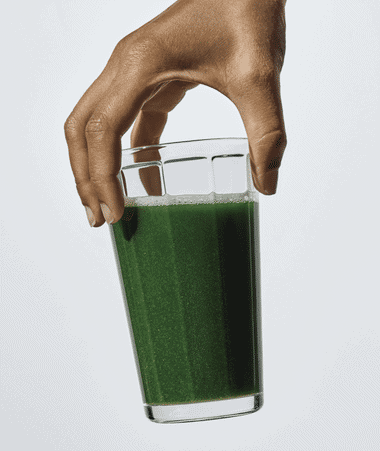 Most superfood supplements have a knack to be tasteless, but not all brands and certainly not Athletic greens. It is probably the most decent-smelling and tasteful super drink out there in the market. 
The perception of taste varies from person to person, but what we have encountered while surveying certainly makes it a match-winner. 
In comparison to Beyond greens, its flavoring is not limited to matcha. Athletic greens include numerous different ingredients to make them taste better than most green drinks. We have already named some ingredients while reviewing this product above. 
Overall it has a sweet and flavorsome taste to it due to the added cherry powder, pineapple flavor, vanilla mix, and many others. If you are digging any greens supplement with flavors and tastes good, Athletic green is a good choice.
Side Effects and Safety of Both Products
The ingredients put into making the Beyond Greens and Athletic Greens are generally recommended as safe by the FDA. For example, the use of probiotics like UAB 10 UALz 01 is known to be safe for human consumption. 
The vitamins and minerals that go into the Athletic greens, such as Chromium, Sodium, Manganese, Copper, Calcium, Vitamin A, C, E, B12, such compounds are also safe when consumed within the limit of a recommended dose. 
Digestive Enzymes such as Burdock root, Bromaline, Mushrooms are also suitable for human consumption, as they help the human body in various ways. 
Herbs and antioxidants like Ashwagandha, Milk thistle seed, Rhodiola root, alkaline pea protein isolates, Stevia, coenzyme Q10, etc., are known to have immune-boosting properties. Both these supplements are considered safe, but that doesn't mean they cannot cause some irritations in humans. 
Some people have complained about an unsettling stomach after using super greens. The most common issues are diarrhea and bloating stomach.
To avoid unwanted health issues, you must start slow with the greens. Start by consuming little rather than bombarding your stomach with the juices. The beyond greens have fewer ingredients compared to the AG1. So AG1, which has 70 plus compounds, can be a bit too much for sensitive stomachs. 
Dry mouth and dizziness have also been reported after taking these supplements. This can happen because both items consist of Rhodiola roots which can induce dizziness in some people but not everyone.
Those with food allergies better shy away from using beyond greens because it is yet to be granted by any third-party authorities. Before taking AG1, the person should always check out the ingredients list to see if any allergic or intolerable compounds are there or not. 
Astragalus in AG1 does interfere with immune suppressors. So, if you take any such meds, you better avoid the athletic greens. It also has spirulina, which can thin the blood in a human body. 
For vitamin intake, we recommend people to go for additional multivitamin supplements if they think there is a dearth of vitamins in their regular diet. Beyond greens doesn't have vitamins; thus, you won't be getting any benefits from it. 
If you are using Athletic greens, make sure you remain within the recommended vitamin and minerals intake limit. AG1 does have many such compounds stacked up without any proper limitation. So, overshooting the liquid in your stomach can cause some underlying problems.
Cost Comparison of Athletic Greens and Beyond Greens
The pricing of these products varies if you try them out from varying marketplaces. There is an option for you to subscribe and purchase directly from the brand's website. The cost breakdown is given below.
Beyond Greens
They offer two different methods of buying products from their website. One-time purchase starts at 39.99 dollars for 1 jar (1.33 dollars for each day serving). If you get 2 jars, you get a little off on your expenses, like $36.99 for 2 jars, inclusive of an 8% discount. 
The subscription option gives the user a certain upper hand to utilize discounts. Like 1 jar for one month will cost $31.99, a 2-month deal will be 28.99 dollars for every jar, and a 4-month subscription costs 24.99 for every single jar.
➡️ Price Per Serving: $1.33
Athletic Greens
The Athletic greens is a pricey green drink in comparison to others in the market. A standard one time purchase of 30-day servings is $99, which is $3.30 per serving. 
There is an option for getting subscribed and utilizing the discounts. For example, a subscribed purchase of 30 days serving is $79, at 2.63 dollars per serving. 60 days serving on subscription will cost $149, so each serving is around $2.48. Subscribed goods come in lucrative discounts if you buy more servings.
➡️ Price Per Serving: $3.30
Which One Should You Pick?
With the minimal inclusion of green ingredients, it is clear that beyond greens will not stand up equally when put beside Athletic greens. So, it's better to stick to the strong option like the Athletic greens, which boasts many helpful compounds to maintain good health.
Athletic greens does have a third-party label to it, ensuring quality and reliability. Beyond greens, on the other hand, doesn't have any recommendation seals.
We'd suggest Beyond Greens if you're looking for a cheaper way to try out a greens powder drink and trying to establish a healthier routine.
Final Words
If you are in search of green supplements to boost your immunity, gain strength and energy, then items like Athletic greens and Beyond greens are wise options. 
We have scoured these products and put up a constructive article on Beyond Greens vs Athletic Greens to give you ideas about these greens powders and how they help you gain the positives. 
Read it out, and you should be able to understand what benefits your health needs. We recommend you purchase either product from the listed items, keeping your budget in mind. They both have their perks and aid fitness gains in various ways. 
Disclaimer: this article does not constitute or replace medical advice. If you have an emergency or a serious medical question, please contact a medical professional or call 911 immediately. To see our full medical disclaimer, visit our Terms of Use page.
Other Comparisons
Athletic Greens Vs Jocko Greens