Druggenius.com is reader-supported. We may earn a commission through products purchased using links on this page. Learn more about our editorial process here.
Greens powders supplements like Athletic Greens (AG1) and Jocko Greens can give a quick nutrient boost to people with active or athletic lifestyles who are always on the go. But which greens supplement offers the best for your health needs? 
If you're looking for the answer, this article will provide you with a detailed comparison of Athletic Greens vs. Jocko Greens and answer all frequently asked common questions regarding the products. 
Comparison Summary
Which is Best Jocko Greens or AG1?
In conclusion, both Athletic Greens and Jocko Greens provide a variety of health-promoting ingredients.

– Athletic Greens may be more suitable for those who want a comprehensive ingredient list and have a higher budget.

– Jocko Greens caters to those who appreciate simplicity and appreciate a lower price point. As far as taste goes, Jocko Greens is also a clear winner.
Key Takeaways
Greens powder supplements help fill in nutritional gaps and provide benefits like energy-boosting properties, enhanced immunity, improved physical performance, and sharper cognitive functions.
Athletic Greens and Jocko Greens are both one of the more popular greens supplements in the market.
Of the two brands, Athletic Greens has more certifications and recommendations from health experts and athletes, but Jocko Greens doesn't fall short in delivering its benefits well. 
What Is Athletic Greens?
Athletic Greens is a greens supplement that provides comprehensive and convenient daily nutrition for everyone, especially athletes and those with an active lifestyle. It has a unique, masterful blend of 75 vitamins, minerals, whole foods, superfoods, adaptogens, prebiotics, and probiotics – all in one serving to help promote overall health. 
This greens powder is quite popular and has substantial research backing up its claims. Athletic Greens is known for its extensive ingredient list, which can be either good or bad, depending on individual preferences. I personally lean towards simpler ingredient lists, but if you want a product that packs in a huge number of ingredients, this is for you.
It contains a wide range of vitamins and minerals. For instance, it has 2 grams of fiber, which is standard for greens powders. I'd like to see more, but it's acceptable. However, it has some vitamins and minerals in excessive amounts that may not be necessary for most people, such as 1100% of the recommended intake of biotin. Since biotin is water-soluble, any excess will be excreted. Be aware that high biotin levels can interfere with lab tests, so inform your healthcare provider if you're taking supplements containing biotin.
The same applies to vitamin C; the amount present is higher than needed. On the positive side, it contains well-researched probiotics in decent amounts (7.2 billion CFUs). Although it could have more strains and higher amounts, it's sufficient for a non-probiotic supplement. It also has prebiotics to support gut health and adaptogens like ashwagandha and rhodiola. Milk thistle extract may help with liver health, but the sheer number of ingredients makes it difficult to determine which ones are actually making a difference.
Features
AG1's blend also includes pre- and probiotics to enhance bioavailability and promote microbial diversity of the gut microbiome to ensure the body absorbs and uses important nutrients and minerals. While the rest of the ingredients like superfoods, adaptogens, and antioxidants help the body properly utilize and balance important vitamins and minerals to ensure all bodily functions work optimally.
What Is Jocko Greens?
Jocko Greens blends powerful and effective superfoods like spirulina, wheat grass, and chlorella to help jumpstart the day. This eponymous blend was made in partnership with noted author and retired navy officer Jocko Willink using the highest quality ingredients and ensuring great taste and intake convenience to make supplementation more consistent.
I find that Jocko Greens has a nice blend of various vegetables and fruits, and I appreciate the transparency in listing specific amounts. However, it's low in fiber, with only 1 gram per serving. It does include a good mix of probiotic strains, boasting 9 billion CFUs, which is decent for a greens powder.
There are also two adaptogens, rhodiola and ashwagandha (with high-quality KSM-66), that may help with stress management. Milk thistle is present, potentially supporting liver function, but it's not an essential ingredient for a greens powder. While it's not third-party tested, it is produced in a GMP-certified facility, which is reassuring. I would prefer to see nutrients listed on the label, and I think the price is pretty standard for this type of product.
Features
The Jocko Greens boasts its all-organic ingredient blend packed with powerful adaptogens to naturally boost energy levels without caffeine and sugar, and about 9 billion probiotic units per serving in every glass mixed with strong antioxidants and other crucial nutrients to support the body's digestive and immune systems.
Product Comparison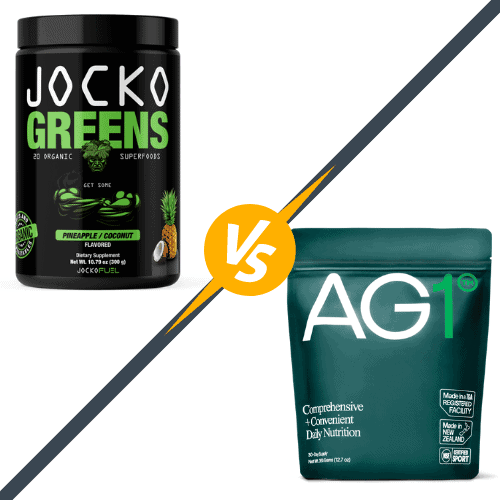 Here's how the two products fare against each other based on factors like nutrients, minerals, whole food ingredients, probiotics, and adaptogens. The combination of these factors plays a huge role in promoting overall optimal physical and mental health. 
Nutrient Profile
*ingredients present in both products are bolded.
AG1
Jocko Greens
Biotin (B7)
Biotin (B7)
Folate (B9)
Folate (B9)
Methylcobalamin (B12)
Methylcobalamin (B12)
Niacin (Nicotinamide)
Niacin (B3)
Niacin (Nicotinic Acid)
Riboflavin (B2)
Riboflavin (B2)
Thiamine (B1)
Thiamine (B1)
Vitamin A
Vitamin A
Vitamin B6
Vitamin B6
Vitamin C
Vitamin C
Vitamin E
Vitamin E
Alpha Lipoic Acid
Vitamin K1
Bromelain
CoQ10
Pantothenic Acid
Vitamin K2
AG1 offers more nutrients than Jocko Greens. It contains bromelain, which benefits digestive health, and alpha lipoic acid, known for lowering blood sugar levels and its ability to kill free radicals. (Similar ingredients are in boldface)
Minerals
*ingredients present in both products are bolded.
AG1
Jocko Greens
Manganese
Manganese
Potassium
Potassium
Potassium Phosphate
Sodium
Sodium
Calcium Carbonate
Calcium
Calcium Citrate
Calcium Phosphate
Magnesium Glycinate
Magnesium
Chromium Picolinate
Iron
Copper
Selenium
Zinc Citrate
Athletic Greens contains more minerals, whereas Jocko Greens misses out on important ones like zinc (citrate), selenium, and copper, which are involved in biochemical processes such as cellular respiration, cellular utilization of oxygen, DNA and RNA reproduction, maintenance of cell membrane integrity, and riddance of free radicals.
On one hand, AG1 doesn't have iron, which is crucial for growth and development, specifically to make oxygen-carrying proteins like hemoglobin and myoglobin.
Whole Foods
*ingredients present in both products are bolded.
| AG1 | Jocko Greens |
| --- | --- |
| Apple | Apple Powder |
| Broccoli | Broccoli Sprout |
| Carrots | Carrots |
| Pineapple | Pineapple |
| Spinach | Spinach |
| Spirulina | Spirulina |
| Wheat Grass | Wheat Grass |
| Acerola | Acai Powder |
| Alfalfa | Banana Powder |
| Artichoke | Beets |
| Barley Grass | Cabbage |
| Bilberry | Chlorella |
| Bioflavonoids | Cranberry Fruit Extract |
| Cocoa Bean Polyphenol Extract | Goji |
| Hawthorn Berry | Grape |
| Lycium Berry | Kale |
| Papaya (Carica Papaya) | Oat Grass |
| Pea Protein | Pomegranate |
| Spinach | Sweet Potato |
| Stevia | Wild Blueberry |
Winner: Tie
Both supplements offer a diverse selection of whole food ingredients, each packed with powerful health benefits. Worth noting is AG1's inclusion of bioflavonoids, which provide antioxidant effects to inflammatory conditions, and Jocko Green's oat grass, which enhances immunity and digestive health.
Probiotics
*ingredients present in both products are bolded.
AG1 (7.2B CFU)
Jocko Greens (9B CFU)
Lactobacillus acidophilus
Lactobacillus acidophilus
Lactobacillus casei
Lactobacillus salivarius
Lactobacillus paracasei
Lactobacillus rhamnosus
Lactobacillus plantarum
Bifidobacterium bifidum
Bifidobacterium bifidum
Bifidobacterium lactis
Bifidobacterium longum
Bifidobacterium bulgaricus
Bifidobacterium breve
Beta glucans
Inulin
Jocko Greens offers more lactobacillus and bifidobacterium strains compared to AG1. While lactobacillus acidophilus and bifidum are considered the more important strains, the others provide additional health benefits like an enhanced immune system and a lesser risk of gastrointestinal and upper respiratory infections.
Adaptogens
*ingredients present in both products are bolded.
AG1
Jocko Greens
Ashwagandha
KSM-66 Ashwagandha Root Extract
Milk Thistle
Milk Thistle Seed Powder
Rhodiola
Rhodiola Rosea Extract
Astragalus
Beet Powder
Burdock Root
Chlorella
Citric Acid
Dandelion Root
Eleuthero Root
Ginger
Grapeseed Extract
Green Tea Extract
Kelp
Lecithin
Licorice
Policosanol
Reishi Mushroom
Rose Hips
Rosemary
Shiitake Mushroom
Slippery Elm
Athletic Greens has more adaptogens than Jocko Greens, offering lesser known ones like kelp, which maintains iodine levels and ensures a healthy thyroid, and rose hips, which are rich in polyphenols and vitamin C. 
Taste and Mixability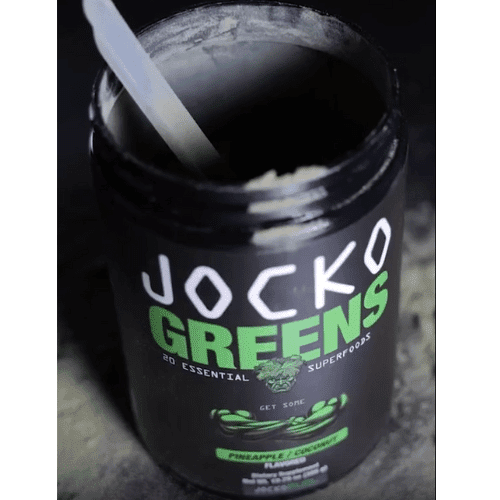 AG1 does not have a specific flavoring. It has that general grassy taste that's present with most greens powders, you do get little hints of fruit (pineapple, papaya & cherry) and some smoothness from the vanilla but don't go into this one thinking it will taste strongly of these flavors. When blended/mixed, it can have a mildly chalky texture. 
Jocko Greens can be enjoyed in peach and coconut-pineapple flavors. Reviews frequently note that its sweetness is not overpowering. Jocko Greens is a great-tasting green powder.
Allergens and Dietary Restrictions
You may be allergic or incompatible with some of the products contained in any of these greens powders, which is why it is important to thoroughly check out the label before you try anything out. 
The following side effects are known to occur but are extremely rare:
Gas and bloating
Stomach problems
Diarrhea
Interact with medications
Nutrient imbalance can also occur if an individual substitutes whole foods with greens powders Those who have food allergies and sensitivities are at risk of contamination if products are not made with high-quality ingredients or contain certain allergens. 
Both Athletic Greens and Jocko Greens are suitable for all diet types, including those following keto, vegan, vegetarian, paleo, or low-carb diets, and are free from major allergens like dairy, soy, nuts, shellfish, and gluten.  
Packaging and Serving Sizes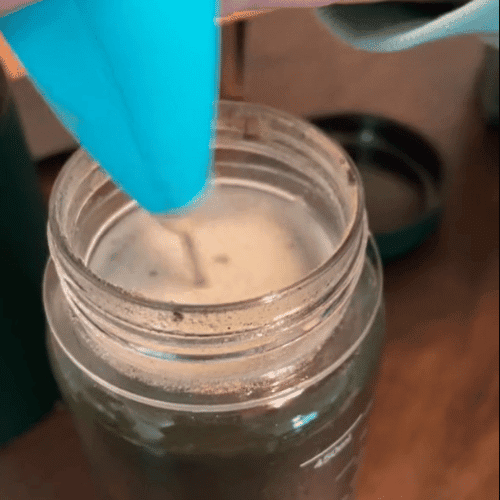 Athletic Greens is available in two serving size options — the pouch option, which contains 360 g or about a 30-day supply, while the other pack offers 30 individual, travel-sized packets for people on the go. 
Jocko Greens on the other hand only has one packaging option. Each tub contains 300 g of greens powder.
Recommended Daily Amount
Both brands recommend drinking one serving at least once daily in supplementation to a healthy, balanced diet suited according to one's health goals. The recommended serving for AG1 is one scoop (12 grams) in 8-10 oz of water, while Jocko Greens recommends 8 oz.
Price and Value
| | | |
| --- | --- | --- |
| | Single Purchase | Monthly Subscription (Hero Plan)  |
| AG1 | $99 (360 g), $109 (30 packets) | $79 (360 g), $109 (30 packets) |
| Jocko Greens | $52.99 (300 g) | $47.69 (300 g) |
Based on the ingredients, benefits, serving size, and brand reputation, the products are reasonably priced. Jocko Greens is the more affordable option, but AG1 offers freebies like canisters, shakers, and 5 free travel packs (for the pouch option). 
Testimonials and Reviews
Rebekah R. notes how the taste of her AG1 supplements helps her jumpstart the day:

"I love the taste of AG1. It helps me get through my morning and my mood feels more stable. I feel good knowing I'm giving my body a healthy start each morning. It is on the spendy side but I feel like my health is a big priority in my life and using high-quality supplements is an investment. I've also noticed a huge improvement in my immune function and have beat many colds this year. "
Tina Muir, a professional long-distance runner and host, is happy with how AG1 jives well with her active lifestyle:

"For years it bothered me that I couldn't get enough of the foods I needed to give me the health my body deserved, and now with a toddler, it was even harder. Until I was introduced to AG1. I was amazed how easily it fit into my routine, drinking this delicious combination before my daughter wakes up, and getting on with my day."
Baseball performance coach Eric Cressey, AG1's efficacy as a nutritional supplement as a whole, especially among his athletes:

"As a coach, I love AG1 as 'nutritional insurance' for athletes who may unknowingly have holes in their diets. As a parent, entrepreneur, and avid lifter myself, I rely on AG1 as part of an approach to preserve a hectic lifestyle as a healthy lifestyle. It's a mainstay in my diet."
For Jocko Greens, fitness junkie Chris has this to say about the Jocko Greens' brain-sharpening properties:

"Let me tell you, this healthy supplement drink is a game-changer. I know how important it is to fuel your body with high-quality nutrition, and this supplement delivers in spades. Not only does it taste great, but it's packed with all the essential vitamins and minerals your body needs to perform at its best. Whether you're hitting the gym, going for a run, or just need an extra boost during your busy day, this supplement will provide you with the energy and focus you need to tackle any challenge. I highly recommend this product"
(Being a relatively newer brand, Jocko Greens doesn't have reviews made by health experts or athletes yet)
Certifications and Quality Assurance
Product certifications or quality assurance standards certifications help assure customers that the products they're buying meet the highest quality and safety standards and that they deliver their promised health benefits.
| | | |
| --- | --- | --- |
| | AG1 | Jocko Greens |
| Good Manufacturing Practices (GMP) | ✓ | ✓ |
| Non-GMO Project Verified | ✓ | No data available |
| Organic certifications | ✓ | ✓ |
| Made in an FDA-compliant facility | ✓ | ✓ |
| Third-party lab testing | ✓ | ✓ |
Additionally, Athletic Greens is NSF Certified for Sport®, which assures consumers that the product is free from unsafe levels of contaminants, prohibited substances, or masking agents.
Frequently Asked Questions
Can I take these products if I'm pregnant or nursing?
Yes, you can. Green powders are helpful, nutrient-rich supplements that can greatly benefit you and your (unborn) baby's health. Though you should always consult with a doctor before trying any supplements. 
Are these products safe for children?
Greens powders can be consumed by children and can benefit their overall health, but these should only be given in smaller doses to prevent potential side effects or health risks. Consult a pediatrician first before supplementing a child with greens powders.
Can I take these supplements with medications?
Certain vitamins found in greens powders can interact with medications like antibiotics, cholesterol medications, and weight-loss drugs, and diminish each other's effectivity. 
How soon can I expect results?
Everyone has a different response to the medication, so there's no definite time span of its efficacy, but everyone is recommended to observe a healthy diet, regular exercise/workouts, and new lifestyle habits during supplementation. 
Can I take these products if I'm an athlete subject to drug testing?
Some green powder supplements may contain ingredients that are banned for sport, so it's best to always check the label and opt for a product that is NSF Certified for Sport or any third-party testing body. 
Are there any potential side effects?
Side effects are extremely rare, though things like nausea, bloating, constipation, and diarrhea have been reported.
Recap
Greens powder supplements help fill in nutritional gaps and provide benefits like energy-boosting properties, enhanced immunity, improved physical performance, and sharper cognitive functions.
Athletic Greens and Jocko Greens are both one of the more popular greens supplements in the market.
Of the two brands, Athletic Greens has more certifications and recommendations from health experts and athletes, but Jocko Greens doesn't fall short in delivering its benefits well. 
Conclusion
Taking greens powders can boost and improve your physical performance and brain function, but it should never substitute a healthy, balanced diet and should only be taken in supplementation. Nonetheless, they make a great difference in promoting overall optimal health.
Before you settle for a greens powder, always make sure to choose a high-quality greens powder that best suits your nutritional needs and watch out for any harmful ingredients that could compromise your health. Check reviews from customers and experts to help you get an idea of how the supplement could work with you.
Disclaimer: this article does not constitute or replace medical advice. If you have an emergency or a serious medical question, please contact a medical professional or call 911 immediately. To see our full medical disclaimer, visit our Terms of Use page.