Druggenius.com is reader-supported. We may earn a commission through products purchased using links on this page. Learn more about our editorial process here.
Are you on the hunt for the best tasting greens powder to incorporate into your daily routine? Whether you're a fitness enthusiast or simply looking for a convenient way to boost your nutrient intake, greens powders are a popular choice for their ease of use and nutritional benefits.
To help you navigate the plethora of options available online, we've conducted extensive research and analysis to bring you our top picks for the best-tasting greens powders.
If you're among the countless individuals seeking the health benefits of greens powders but struggling to overcome the taste, our research and taste tests can help you discover the brand that best suits your palate.
Our expert analysis and customer feedback evaluations can guide you toward the top-tasting greens powders on the market, providing you with the nutrition you need in a flavor you'll enjoy.
Top 5 Tasting Greens Powders
Best Tasting Greens Powders – The List
Greens powders are made of select, dried, powdered vegetables and are considered a more convenient way to gain the benefits of superfoods like fruits and vegetables when you can't consume enough of them based on certain circumstances like if you're on the go, have no time to prepare, or for those with increased nutrient needs, like athletes and fitness enthusiasts.
Many greens powders also contain herbs, adaptogens, prebiotics, probiotics, digestive enzymes, and other added ingredients that may offer additional support and multiple health benefits.
Supergreen Tonik blends 36 superfoods, vitamins, and minerals into one green powder supplement, giving you all the important nutrients needed to last through the daily grind and preventing all frequent roadblocks like chronic colds, energy slumps, and occasional brain fog.
The optimal blend of 38 plant-based superfoods like garlic, kale, and spirulina, adaptogens like ashwagandha and rhodiola, and the classic vitamins and minerals like vitamin C, B-complex,  better energy, and iron to promote stronger immunity, sharper focus, better sleep, and overall physical and mental health.
Supergreen prides itself in its transparency in its ingredients – using exclusively premium and raw ingredients to assure maximum efficacy.
Pros 
Made in the USA
Uses safe and quality ingredients
Vegan
Allergen-free (Dairy, gluten, soy, nut)
Non-GMO
No herbicides and pesticides
No preservatives or fillers
Third-party tested
Caffeine-free
Offers 1-year moneyback guarantee
Free US shipping
Cons
Not the cheapest option on the list
Taste Profile: 
SuperGreens Tonik has two flavors, mint and berry, which are perfect for those who may want a shift from the usual tea or grassy taste.
Customer Review:
A customer left this review on the official Supergreen Tonik website:
"I follow a strict keto diet and use Supergreen Tonik to support my nutritional intake, absolutely love the berry taste." – Kirsty 
Athletic Greens provides comprehensive and convenient daily nutrition, not just for athletes and those with an active lifestyle, but for everyone, boasting a masterful blend of 75 vitamins, minerals, whole foods, superfoods, probiotics, and adaptogens – all in one serving to help promote overall health. 
AG1's blend includes pre- and probiotics to enhance bioavailability and promote microbial diversity of the gut microbiome to maximize how the body absorbs and uses important nutrients and minerals. Superfoods and antioxidants help the body properly utilize and balance important vitamins and minerals and blend them to ensure all bodily functions work at their best.
AG1 also fares better than other supplement brands regarding ingredient quality, as it contains no herbicides or pesticides, artificial colors, flavors, preservatives, sweeteners, or GMOs.
Pros 
Made in the USA
Uses safe and quality ingredients
Vegan, paleo, and keto-friendly
Allergen-free (Dairy, gluten, soy, nut, and shellfish)
Third-party tested
No herbicides and pesticides
No artificial colors, flavors, preservatives, and sweeteners 
Non-GMO
Sugar-free
Cons
Taste Profile
AG1 has a natural, sweet, and grassy-like taste, but some users say the stevia leaf can give hints of pineapple or vanilla. When blended/mixed, the shake has a gritty, mildly chalky texture. 
Customer Review
A customer left this review on the official Athletic Greens site:
"It's been about 3 months and I feel great. My digestion is better and I think overall I'm doing better. The taste is great. Highly recommend with ice." – James
3. Primal Harvest Greens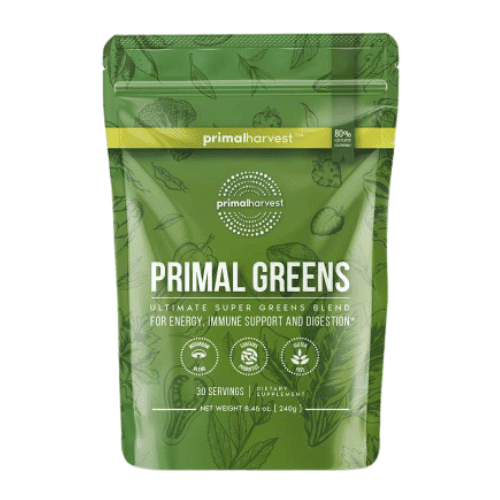 Primal Harvest Greens is a nutrient-rich daily greens supplement blend of herbs, vitamins, minerals, prebiotics, and probiotics designed to support the immune system and weight control and improve the body's natural energy stores.
Primal Harvest's formulation includes digestive enzymes, prebiotics (inulin), probiotics to promote gut health, and adaptogenic herbs, like ashwagandha and eleuthero root, for stress support. Its whole-food ingredients, fruits like banana, coconut juice, and an assortment of berries, offer a more comprehensive nutritional profile. Lastly, the prebiotics and probiotics promote a healthy gut microbiome.
The powder supplement is gluten, dairy, and soy-free, making it suitable for many dietary restrictions and assuring better efficacy and safety.
Pros 
Made in the USA
Uses safe, organic, and quality ingredients
Vegan
Allergen-free (Dairy, gluten, soy, nut, and shellfish)
Non-GMO
Third-party tested
cGMP certified
Offers 90-day moneyback guarantee
Cons
Manufactured in a facility that also processes nuts, wheat, and soy. 
Taste Profile: 
Primal Greens has an earthy, matcha tea-like flavor and a super-fine texture that mixes easily and effortlessly into any recipe. So, if you're not into anything sweet or satiating, this blend is for you. 
Customer Review:
A customer left this review on the official Primal Harvest website: 
"Tastes good and mixes well/easily with water. Has almost like a matcha tea flavor. Gives a good boost of energy. I also saw that it helps boost nail and hair growth because of all the vitamins and minerals." – Kendra M. 
Beyond Greens offers a comprehensive blend of ingredients to support overall health and wellness, especially in improving one's immune function, harmonious gut health, body detoxification, and clean energy.
The blend contains mushrooms like reishi, cordyceps, and turkey tail, organic plants like chlorella, echinacea, milk thistle, green tea extract, adaptogens such as rhodiola and matcha leaf, probiotics like bacillus coagulans, and prebiotics like FOS and XOS.
Each serving is a potent, concentrated mix that delivers efficient results. To ensure maximum safety employs third-party testing and stringent quality control standards that meet or exceed expectations set by cGMP (Current Good Manufacturing Practices).
Pros 
Made in the USA
Uses safe and quality ingredients
Vegan and keto-friendly
Allergen-free (Dairy, gluten, soy, nut, and shellfish)
Non-GMO
No preservatives or fillers
Third-party tested
cGMP certified
Offers a 1-year full money-back guarantee
Easy cancellation anytime
Free shipping on all numbers
Cons
Causes side effects like gas or bloating
Taste Profile: 
Beyond Greens has a subtly sweet matcha flavor with sweet notes that blends well in smoothies, drinks, and recipes. Like Primal Greens, it's also perfect for those who don't want anything sweet or satiating. 
Customer Review:
A customer left this review on the Primal Greens website:
"The taste isn't overwhelming, has a nice fragrance, and I drink it daily now." – Chase S. 
Wild Greens is a delicious superfood packed with essential micronutrients and antioxidants to help improves digestion, promote anti-aging, support a natural detox, strengthen immunity, and boost your body's overall health. 
The Wild Greens blend contains nutrient-dense organic mixed greens, algae, organic raw fiber, and adaptogens like Ashwagandha KSM-66, combined with immunity-boosting reishi mushrooms and circulation-supporting maca root, promote anti-aging properties, increase energy and focus, and strengthen immune function.
You won't have to worry about safety and quality since TRUWILD uses premium, handcrafted natural ingredients specifically formulated with no fillers, dyes, or chemicals.
Pros 
Made in the USA
Uses purely organic ingredients
Vegan
Allergen-free (Dairy, gluten, soy, and nut)
Non-GMO
No preservatives, chemicals, dyes, or fillers
Third-party tested
cGMP certified
Cons
Smell may be a deterrent. 
Taste Profile: 
Wild Greens has a bold, slightly sweet taste and refreshing cucumber mint flavor. If you're looking for a bolder taste or a twist to their greens powder, this product is highly recommended.
Customer Review:
A customer left this review on the official TRUWILD website:
"I have loved every product I've tried from Truwild. The greens are one of my favorites. Best tasting greens powder out there. Highly recommend, even kids enjoy the taste." – Alanna M.
Why Is Taste Important When Choosing A Greens Powder?
Scientists say that sensory pleasures from the taste of foods are a major determinant of food intake, or in this case, one's willingness to use a product or supplement more consistently, and may contribute to a greater eating experience. 
Taking greens powders may be taxing for some users, given their habits and time constraints. Selecting one that has a pleasing taste or can be easily blended or mixed with recipes can make supplementation easier and more consistent, helping you stick better to your nutrition goals. 
How Do You Use Greens Powders?
The most common way to use greens powders is by mixing them into water or adding them to juices or beverages. To consume it, mix around 1 tablespoon (tbsp) of powder with 5 to 10 ounces (oz) of water to make a drinkable green juice to be taken daily (or as needed).
Some people use the powders add them to omelets, sprinkled over roasted vegetables or homemade salad dressing, stirred into dips, or added to soups.
How Can You Make Your Greens Powder Taste Better?
Athletic Greens and other greens powders can be an acquired taste for some people due to their unique blend of ingredients.
If you find them too grassy, earthy, or green tea-like, there are several ways to make them taste better if you find the flavor unpalatable.
Mix it with cold water: Greens powders are best mixed with cold water as it helps to neutralize the taste and make it more refreshing.
Add it to a smoothie: You can mix your greens into a smoothie with other ingredients like fruits, yogurt, nut butter, or milk. This can help mask the flavor and make it more enjoyable.
Use a flavor enhancer: You can also add flavor enhancers like fresh lemon or lime juice, honey, or stevia to improve the taste of your daily greens.
Try it with juice: You can mix Athletic Greens with a small amount of 100% fruit juice to make it more palatable. Obviously, this can increase your sugar intake.
Experiment with different mixing ratios: Some people find that using more water or less powder can make the taste more tolerable. You can experiment with different mixing ratios to find what works best for you. Just be aware that changing the dosage of greens powder will also alter the nutritional impact of the supplement.
What Are The Benefits Of Using Greens Powders?
Greens powder are dietary supplements that help people reach their daily intake of superfoods,  vegetables, vitamins, and minerals if circumstances make it hard to do so, such as if they're constantly traveling or have difficulty meeting their nutrient needs through diets alone. They also serve as pre or post-workout drinks for people with active or athletic lifestyles. 
Despite their benefits and convenience, greens powders should never replace whole, nutrient-dense foods and should be taken alongside a healthy, balanced diet and lifestyle. 
What Should You Look For When Choosing A Greens Powder?
Here are some things to consider settling for a greens powder: 
Price – Check if the product price fits well into your budget. Some subscription plans usually offer freebies and discounts.
Ingredient quality – One should always check a product's label or research the ingredient profile to ensure compatibility with all its ingredients. Always avoid harmful chemicals and possible allergens.
Taste – The taste is perhaps the most crucial factor for consumers when deciding whether they like a product.
Effectiveness – The ingredient blend can make or break a product's efficacy. Always check clinical studies and ask your doctor's advice about a supplement you're considering buying.
Customer Reviews – If you´re curious about how a product works, you can always check customer reviews to see if they've had successes or drawbacks with the product. 
Free Trial or Sample Packs – If you can find brands that offer free trial packs or variety sample packs, you can try many more brands or flavors.
Are There Any Potential Drawbacks To Using Greens Powders?
In most cases, no serious side effects are reported after taking greens powder supplements, but let's look at a few reported side effects to watch out for.
Gas and bloating
Stomach problems
Diarrhea
Possible allergic reactions
Interact with medications
There's also the risk of nutrient imbalances if one uses greens powders as total substitutes for whole foods. Those who have food allergies and sensitivities are at risk of contamination if products are not made with high-quality ingredients or contain certain allergens. 
Before incorporating a greens powder supplement into your routine, always consult your healthcare provider first to weigh your options, especially if you have any underlying or pre-existing health conditions or are taking special medications.
Conclusion
Taking greens powder supplements helps fill in nutritional gaps and offers important health benefits that help you attain optimal health. Though supplementation can be taxing, especially for first-time users, choosing one that satisfies your taste helps make daily intake more consistent and frequent. 
Before choosing a product, always make sure to choose a high-quality greens powder that best suits your nutritional needs and watch out for any harmful ingredients that could compromise your health.  
Disclaimer: this article does not constitute or replace medical advice. If you have an emergency or a serious medical question, please contact a medical professional or call 911 immediately. To see our full medical disclaimer, visit our Terms of Use page.