Druggenius.com is reader-supported. We may earn a commission through products purchased using links on this page. Learn more about our editorial process here.
Beyond Greens is a nutrient-dense green powder drink that is formulated to provide you with probiotics and vitamins first thing in the morning.
When you want a health drink that does it all, it's hard to know where to turn. There are so many health and nutritional supplement products on the market, you could be searching for days to find the type of thing you actually want, and then how do you narrow down your search to a specific product? 
A lot of green drink powder blends are pretty pricey too since they use uncommon ingredients that have to be carefully and ethically sourced. When the price is high, you feel even more as if you want the best bang for your buck and to get your money's worth.
But unless you have been recommended a particular brand by a trusted friend, how do you know that what you're buying is going to deliver what it claims on the packaging? 
With an aim to help your search, we've done some of the research for you, and we'll be discussing the claimed benefits and the real experiences of customers in this Beyond Greens review. 
Is Beyond Greens A Good Option?
We liked Beyond Greens a lot. It doesn't taste quite as good as Athletic Greens, but it is pretty much half the price, so I'm more than willing to make that concession.

The ingredient profile is great for a product in this price range and it covers pretty much all the bases you'd like a morning greens drink to cover.
If you want something that is going to boost your energy, benefit your digestive system, support your natural immunity and detoxify your body, then Beyond Greens takes you beyond the limits of other green powder drinks on the market. 
Let's talk about the benefits of this product first, and then we'll outline how the claims stack up against people's real experience of taking it. 
General Benefits of Green Drinks
While all green drink products are slightly different, it's good to look at the general benefits you can expect from green health drinks to see how Beyond Greens compares. It's a well-known fact that different colored foods give you different vitamins and minerals and have different properties. 
That's why health professionals recommend that you fill your plate with different colors of foods to make sure you're getting the right balance of nutrition from your foods. This also applies to drinks that are made from food sources, such as smoothies and powder drinks like Beyond Greens. So what do green drinks do for the body and mind? 
Let's find out. 
Green smoothies can help you to:
Cleanse and detoxify the body through the digestive system.
Restore the balance between acidity and alkalinity to help prevent disease and future health problems. 
Increase your intake of antioxidants.
Purify. The high concentration of chlorophyll and healthy enzymes helps to purify your blood.
Reduce your reliance on caffeine because green drinks can help to boost your energy levels. 
Regularly drinking green powder drinks can help you:
Reach your daily recommended vegetable intake. It's a well-known fact that most people struggle to eat enough vegetables in their diets. Green powder drinks can help you ingest enough vegetable matter each day. 
Get enough fiber in your diet for healthy digestion. Green powder drinks often contain rice bran, inulin, or apple fiber to aid digestive health.
To absorb more nutrients. Some green powders contain fermented ingredients, which help the body to absorb more vitamins and minerals. 
Improve the general health of your body with anti-inflammatory containing ingredients.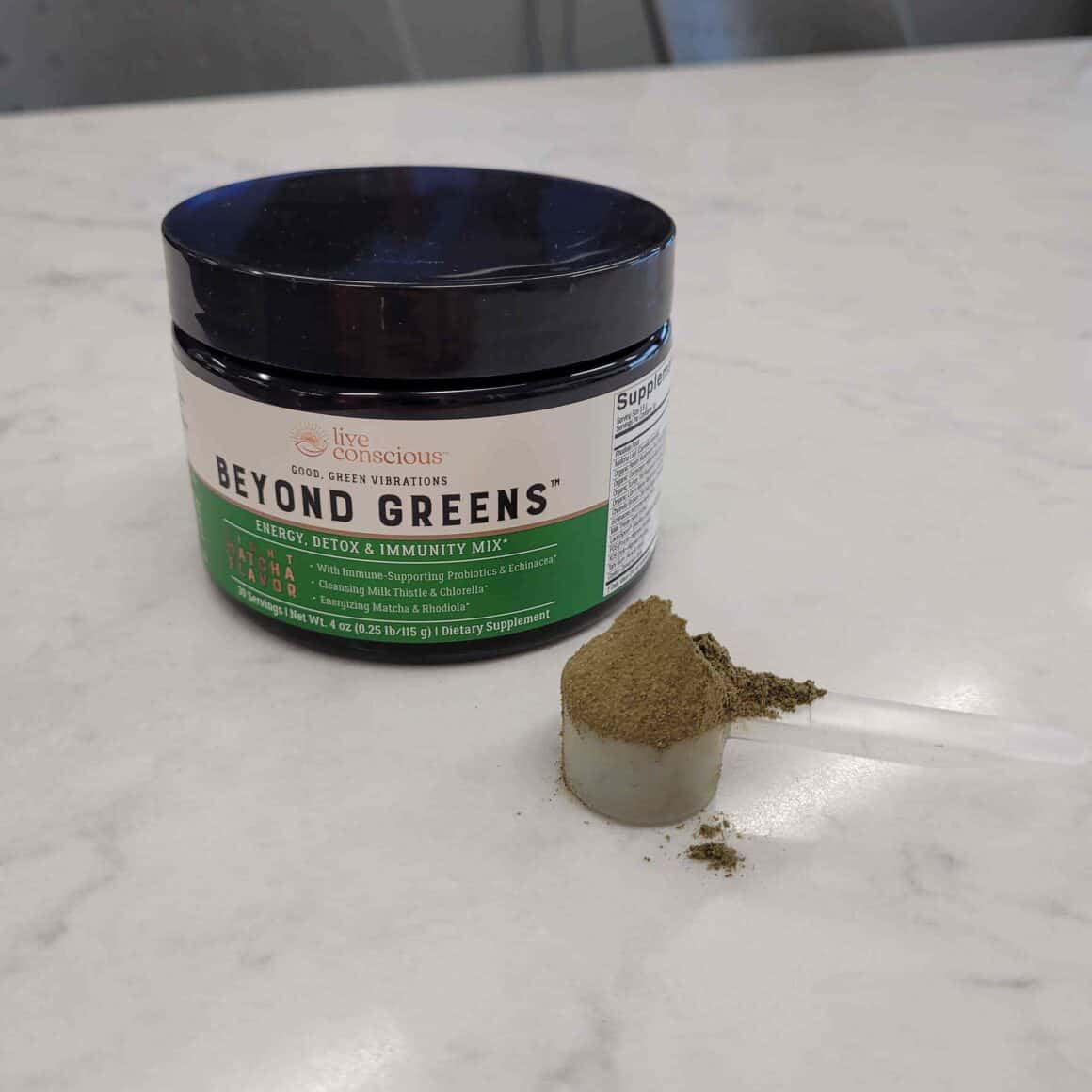 Beyond Greens' Unique Formula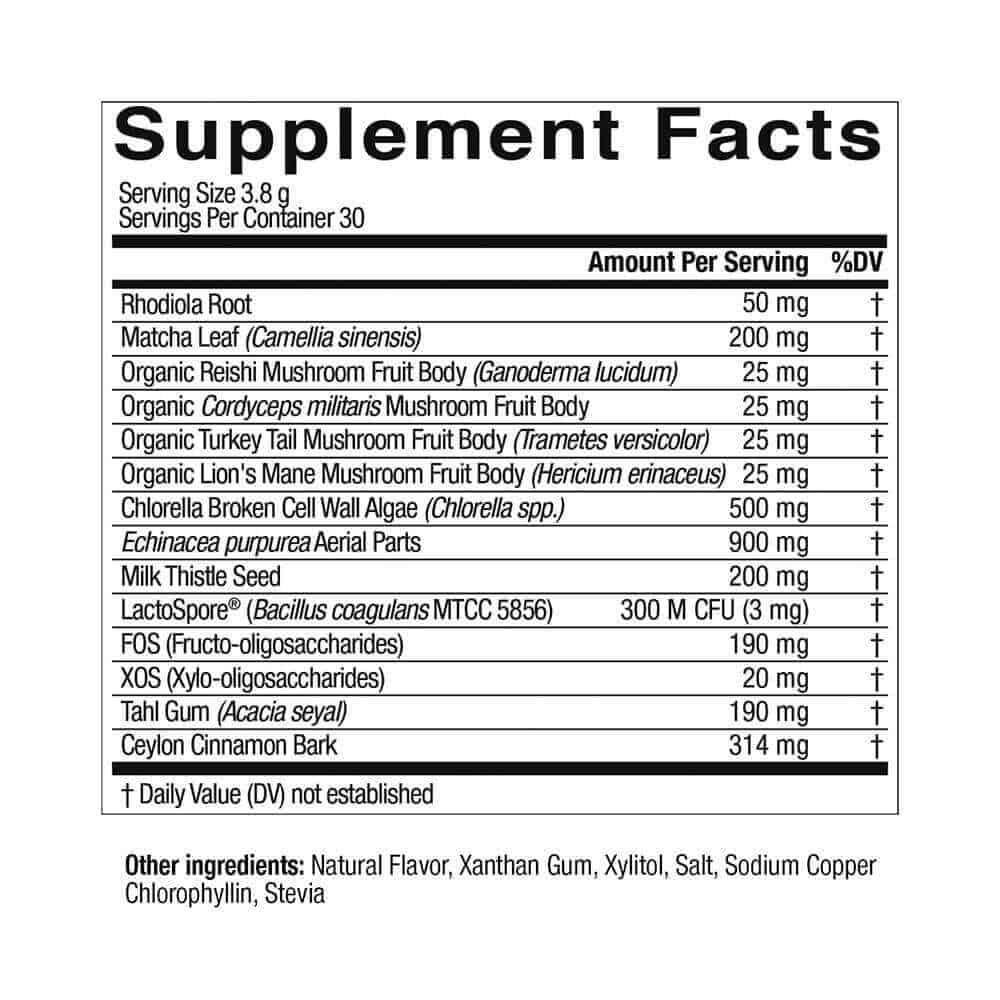 So how does Beyond Greens compare to the expectations of green powder drinks? Does it fulfill all the general benefits you might expect from a green powder and does it indeed go beyond the general hype to give real benefits to those who use it? 
Live Conscious claims that its unique formula "transcends the rest" with its mix of health-filled ingredients.
The particular ingredients which benefit body health are Echinacea, Chlorella, Rhodiola, Milk thistle, probiotics, and four varieties of mushroom. So what do these ingredients do specifically? Let's take a closer look. 
Echinacea
This is well known to fight infection and support a healthy immune system.
Rhodiola and Milk Thistle
These are detoxifying ingredients that help to reduce fatigue, help stress levels, and increase the focus of the brain. 
Probiotics and Prebiotics
These improve energy levels and provide immune system support. Learn more about probiotics here.
➡️ Best Prebiotic and Probiotic Supplement.
Chlorella
This is a type of vibrant green seaweed similar to kelp or spirulina. Seaweed is a brilliant source of protein with a high concentration of vitamins, antioxidants, and fiber. Chlorella also contains iron and iodine, which have been connected to supporting healthy metabolism, which can lead to weight loss. 
Four Mushroom blend
The powder formula contains lion's mane, reishi, turkey tail, and cordyceps mushrooms which support immune system health and provide vitamins and minerals. If you don't like mushrooms but want their benefits then this will help, because there is no mushroom taste to this product, so if you don't like to eat mushrooms, don't be put off. It even ranked well in our greens powders taste test.
Vitamin and Mineral Breakdown
Does Beyond Greens contain a sufficient concentration of vitamin-rich ingredients to make a difference to your health? 
While it is never recommended that nutritional supplements should replace a healthy and varied diet, it does take the pressure off a little if you know that a one scoop portion contains a high percentage of your recommended daily allowance of hard-to-include vitamins and minerals. 
While the label does state the milligram portions contained of each health-benefiting ingredient per serving, it does not explain how much of your RDA this fulfills of vitamins or minerals. It does say, though, that it contains 500 mg of Chlorella per scoop serving, so let's see what minerals and vitamins that could contain. 
Chlorella is one of the few plant sources of vitamin B-12. It also contains iron, which can prevent anemia. In dry form, Chlorella can contain up to 70% protein, which is high for a plant protein source. 
Overall, this product has been shown to contain a great mix of vitamin and mineral-rich ingredients in super-concentrated powder form, but some health professionals still claim that the quantities of some of the ingredients included in Beyond Greens are not enough to have an effect. 
Taking Beyond Greens regularly could produce many health benefits, as well as aid in the prevention of future chronic diseases and illnesses. That's all very well, but does it really work? Let's see how people have reviewed it.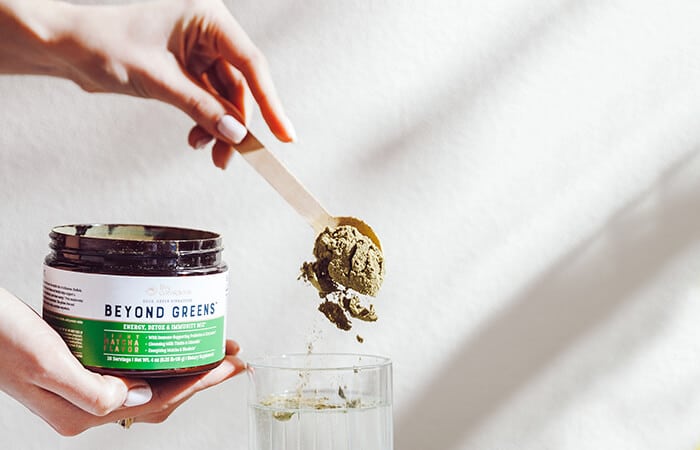 Beyond Greens Reviews: Does Beyond Greens Deliver?
On Amazon.com, Beyond Greens boasts a 4.4-star rating out of five. This is similar to other competitive products on the market. Some relative products had as high as a 4.7-star rating, but those were generally cheaper in price to the Beyond Greens mix. This might explain why customers were more sympathetic to other cheaper alternatives. 
Beyond Greens is an Athletic Greens alternative and is a drastically cheaper option than the market leader in the space.
While the Beyond Greens product does contain a brilliant balance of nutrient-rich superfoods and ingredients, it isn't enough to achieve an umbrella effect on your health or body image alone. If you combine taking Beyond Greens with a healthy diet and exercise, then you should see the health benefits fully. 
The main benefits that people describe from this product are an increase in focus, concentration, and a feeling of vitality and energy without relying heavily on caffeine. If you want to take this product for a boost in energy, then you'll be glad to know that this does work for many people.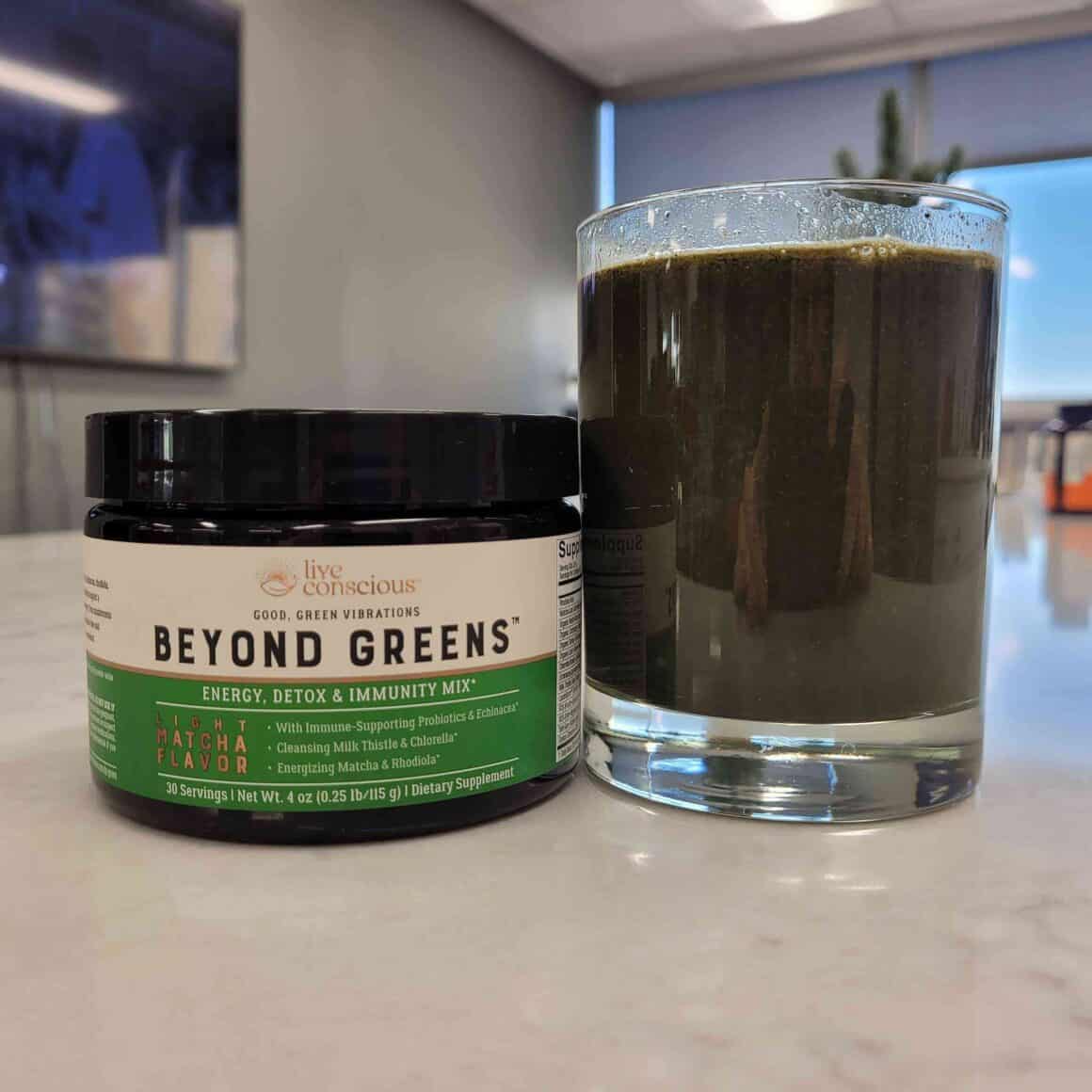 Many reviews state that they take their Beyond Greens at the mid-afternoon slump, which does help improve their siesta-time energy levels. If you struggle with focus and productivity quite soon after lunch, then this might help you push through the fatigue.
I found taking Beyond Greens first thing in the morning to be most effective for me. It is a great way to start your day, you immediately improve your hydration levels. You also get that early energy boost to set you up for the day ahead. I did find it helped me get 'zoned in' on those mornings when I woke up a little hazy. I put this down to the matcha and the mushroom mix but it could just be the placebo effect.
Immune support is harder to quantify than other benefits. It's hard to prove that you escaped germs and diseases that you would have otherwise caught and suffered with. We don't know how many cold viruses we have potentially dodged due to the immune support qualities of the Beyond Greens ingredients. 
Final Thoughts
Beyond Greens makes claims of assisting in detoxifying the body, supporting immunity health, and aiding in overall health and wellbeing. While Beyond Greens does contain many ingredients with proven health benefits, it is unclear to us whether these are concentrated in high enough amounts to produce a benefit to the body or mind. 
Some people who took the product regularly found that it did help them feel more energized and focused for a time, and report an overall feeling of wellness when used in conjunction with a healthy lifestyle. 
If you expect this product to take the place of a healthy lifestyle, including a balanced diet and regular exercise, then you are likely to be sorely disappointed. However, if you want a product that will give you a boost of vitamins, minerals and complement your healthy way of life, then you will be pleased with the results. 
If you aren't sure if this is the product for you, then we invite you to compare features of it with other similar products. You will see that the price is considered reasonable in the range of products available and that it does contain ingredients that are proven to benefit overall health. 
Disclaimer: this article does not constitute or replace medical advice. If you have an emergency or a serious medical question, please contact a medical professional or call 911 immediately. To see our full medical disclaimer, visit our Terms of Use page.