Kybella is an injectable treatment that attempts to eliminate the pockets of fat under the chin. The procedure has been increasing in popularity, so we collected as many Kybella before and after photos as possible to give you an idea of the effectiveness of Kybella for jowls and double chin removal.
Kybella Before And After Photos & Videos
Check out what folks over the net have to say about their Kybella experiences. 
Bella Calello (@no.thisispatrick1)
Bella decided to seek Kybella treatments rid herself of her chin fat, which affected her look, as evidenced by her selfies. She underwent two sessions to eliminate the submental fat, though the results were already apparent after the first round. 
While the procedures were painless, she says she experienced some swelling shortly after the treatment due to working out but is otherwise satisfied with the results.
(*Note: Avoid doing heavy physical activities for a few weeks after the procedure to avoid problems)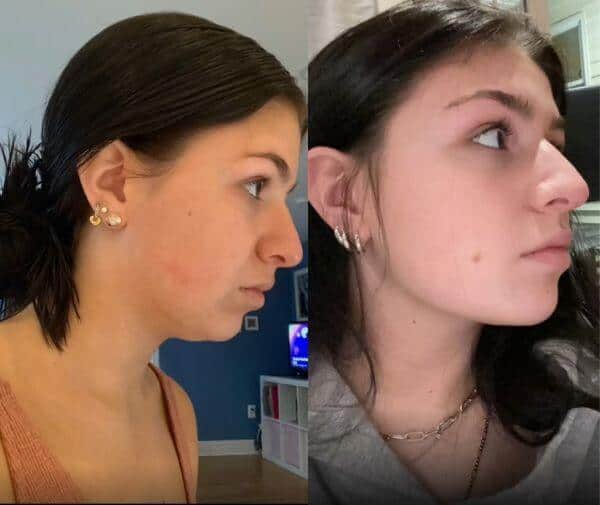 Michelle Rose (@miichellerose)
After getting Kybella, Michelle also experienced noticeable swelling in her chin for a few days. Once the swelling subsided, her chin and jawline became more defined and chiseled-looking in the weeks that followed, giving her an added boost of confidence.  
Six weeks after the procedure, all the submental fat had disappeared, and she's rocking her better-defined jawline.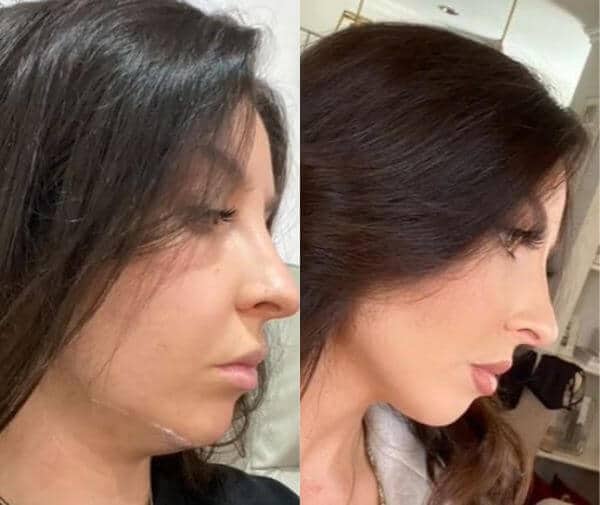 Nora (@nochillnora)
While Nora had always been a slim fit chick, she couldn't do much about her genetically inherited "turkey neck," so she sought Kybella to get it over with. She had her first procedure on the same day as the consultation; she experienced minor side effects for 2 days but normalized shortly afterward. She went for another session to achieve her goal.
As we see in her video, the submental fat is completely gone, and her jawline is much more apparent and defined. She considers the procedure one of the best decisions she's made.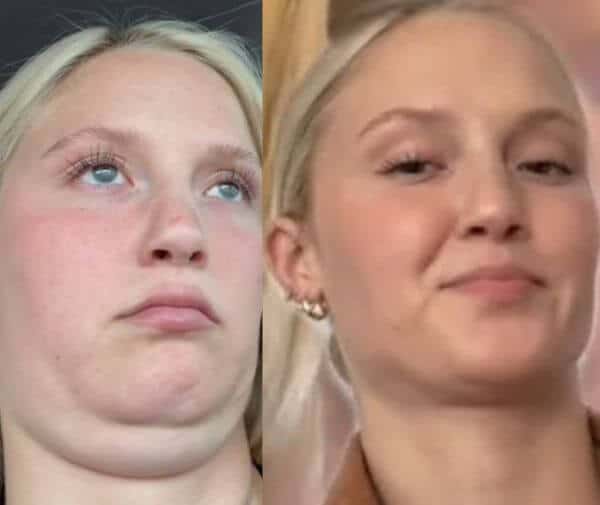 Savannah Lee (@savannahhhhlee)
Lifestyle vlogger Savannah Lee shared her Kybella journey on her Tiktok. As we can see, she experienced some swelling, stiffness, and bruising for a few weeks after the procedure, but the changes in her jawline came in gradually simultaneously.  
Savannah's had only 1 procedure so far., but she's planning on going back and getting a second to see further results.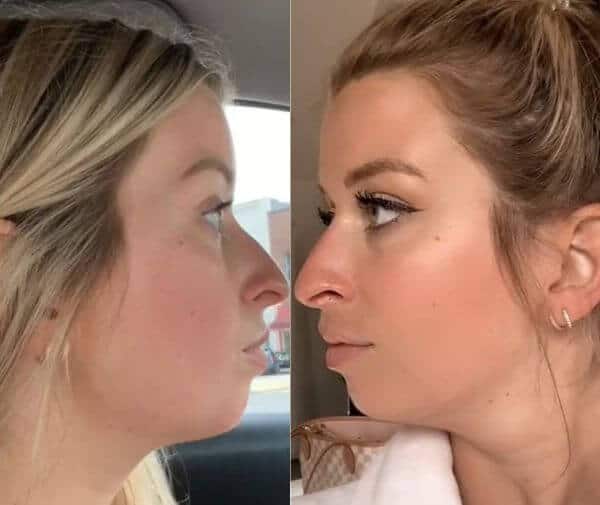 What is Kybella?
Kybellais a prescription medicine used in adults to reduce the submental fat (double chin) beneath the chin, improve its appearance, and add more definition to one's facial shape. As it's a non-surgical procedure, no incisions are required, and the downtime is minimal in most cases.
The active ingredient in Kybella is synthetic deoxycholic acid — a naturally occurring molecule in the body that promotes the breakdown and absorption of dietary fat. 
How The Process Works
A healthcare specialist can only administer Kybella treatments. Before starting treatment, your specialist will examine the areas surrounding your chin to determine if Kybella is right for you. Afterward, your specialist will customize your treatment to the amount of fat under the chin and your goals.
Before the procedure, the specialist will mark the injection sites with a marker and may administer a topical numbing agent or ice pack to ease any pain or discomfort. You will receive multiple small injections under your chin at each treatment. Overall the entire treatment process lasts about 15 to 20 minutes. 
When injected into the fat beneath the chin, it destroys fat cells, which are metabolized by the body over the following weeks. It results in an apparent reduction in fullness under the chin. Once the cells are destroyed, they can no longer store or hold fat.
The specific number of injections will depend on the amount of fat under your chin and your desired profile. The number of treatments would also vary from patient to patient since everyone's chin profile differs. Your specialist will help determine how many treatment sessions you need based on the amount and distribution of your submental fat and your treatment goals. 
Each treatment session is given at least 1 month apart, and you should not receive more than 6 treatments, though people usually stop once they've already reached their desired results. 
Side Effects
While it's a non-surgical procedure, there have been a few reported side effects, the most common being:
Swelling
Pain
Numbness 
Redness
Hardness in the treatment area
A few serious side effects have occurred, such as nerve injury in the jaw, which causes facial muscle weakness, uneven smiles, and trouble swallowing. Others have also reported problems at the injection site, such as bruising, hair loss, and open sores (ulcers) 
Contact your healthcare provider immediately if you experience any of these severe side effects.
Disclose Your History
Before seeking treatments, inform the specialist regarding your history of medical conditions. 
Things like medical conditions in or near the neck area, trouble swallowing, and bleeding problems can put the person at risk for side effects.
Similarly, it's important to disclose if you have had or plan to undergo cosmetic procedures on your face, neck, or chin so that the specialist can weigh your options and judge if it's safe to proceed.
Pregnant and breastfeeding women should consult their doctors before considering getting Kybella. The effects and impact of Kybella on pregnant and breastfeeding women haven't been fully established yet. 
Price
A Kybella treatment can cost between $1,200 to $1,800 on average. Your total cost is affected by the number of treatments needed, your healthcare provider's fees, and depending on where you live. Since Kybella is considered a cosmetic procedure, it won't be covered by medical insurance plans. 
Takeaway
Getting a Kybella procedure can do away with the unwanted double chin and reveal a whole new look you never knew was possible. Generally safe, non-invasive, and with optimal results, it's no surprise that it's becoming increasingly popular. 
Make sure to hire an experienced Kybella specialist to do the job and always observe pre and post-procedure rules to avoid side effects and other problems.
Disclaimer: this article does not constitute or replace medical advice. If you have an emergency or a serious medical question, please contact a medical professional or call 911 immediately. To see our full medical disclaimer, visit our Terms of Use page.