Druggenius.com is reader-supported. We may earn a commission through products purchased using links on this page. Learn more about our editorial process here.
A biotin deficiency can have serious implications for your appearance and health. Not only does a biotin deficiency lead to hair loss and skin and nail problems, but it also gives you low energy levels because biotin is important for generating energy from the food you eat.
We've been checking out some of the best biotin supplements on the market, and after much deliberation have handpicked our top few favorites to review for you here today.
Our reviews are unbiased, and we will summarize their pros and cons.
Background: Although I haven't been diagnosed with a biotin deficiency, my hair does appear to be thinning, so I tested each of the 5 products being reviewed until each packet ran out.
But we totally get that choosing the perfect supplement can be tricky, which is why we've also put together a handy buying guide that will walk you through the key points to consider before you buy.
Then, we're going to top that off with a section where we answer some of your most frequently asked questions on the subject.
Best Biotin Supplements – The List
Now, this is something of a hidden gem in the world of supplements.
It may not have a lot of people raving about it on the net just yet, but it sure ought to!
Each packet contains 60 capsules, so enough for about two months, making it great value for money.
And each capsule features a dosage of a whopping 10,000 mcg.
The formula is made with all-natural ingredients, such as healthy calcium, and the ingredients are all sustainably sourced.
What's more, the formula is non-GMO, is suitable for vegetarians, and is completely free of both sugar and gluten, so it won't interfere with your diet.
It uses an evidenced-based formula, and it's manufactured in an FDA-registered facility.
Personal Experience
I tested these capsules out on myself for about two months and I could swear my hair felt thicker as a result.
I also noticed that my nails weren't splitting as much as they normally do.
Pros
Great value for money
High dosage of 10,000 mg
Made with all natural ingredients
Made in an FDA registered facility
Suitable for vegetarians
Seemed to work for me
Cons
There aren't a lot of customer reviews around on the net for this product just yet
---
Now, this is a great biotin supplement…
Its star feature is that rather than being synthetically made, this biotin is derived only from raw, organic, naturally grown basil and sesbania grandiflora leaves.
This supplement is not only natural, organic, and 100% vegan, but it has been carefully processed, with the raw materials being freeze-dried and organically processed with natural solvents such as water to maintain a really high concentration of vitamin B7 and other co-nutrients.
But that's not the best thing about this supplement.
The best thing is that for every bottle you buy, the manufacturer will "supply a child at risk of malnutrition with vitamins for 1 year" – how great is that!
No wonder it's been met with such excellent customer ratings and reviews!
It is non-GMO and there are no hidden nasties to worry about in the way of artificial flavors, colors, or preservatives.
And it is also free of the main known food allergens, such as soy and dairy. There are no needless fillers.
I'm also pleased to report that the manufacturer is GMP certified, meaning that they have met the high USA standards of Good Manufacturing Process. 
There are 30 capsules in a bottle, and you take one each day. Each capsule provides a good, high dosage of biotin, coming in at 5,000 mcg.
What's more, all the ingredients are third-party tested, to verify both their purity and their potency. And it's made right here in the USA.
It's very reasonably priced, and you can save money with some retailers by buying in bulk.
Personal Experience
Although one month's supply shouldn't be enough to really notice a difference, my hair and skin felt great while I was taking it, and there were no side effects
Pros
Great value for money
High dosage of 5,000 mcg
Made with only organic, natural ingredients
For each bottle bought, there's a charity donation
Every batch of formula is third party tested
Suitable for both vegetarians and vegans
Cons
There are other brands that offer a higher dosage (like the Nuzena Biotin Pure+ we showed you earlier)
---
Now, this is a popular biotin supplement. And I put that down to them being gummies rather than capsules.
You get to chew a delicious berry flavor gummy rather than have to swallow some chalky tablet.
It contains a high dosage of biotin, coming in at 5,000 mcg, which as we discuss in our buying guide a little later, is all you really need for the desired effects.
The desired effects being the promotion of healthy hair growth.
It's a purely vegetarian formula, void of any ingredients from animals.
And what's more, these gummies are free of artificial preservatives, flavor, or colors.
And they are also free of all sorts of allergens, including soy, wheat, dairy, gluten, shellfish, yeast, and sodium.
One bottle contains 90 gummies, but you have to take two of them each day, so it works out at about 45 days worth per bottle.
And I would say it's good value for money.
I guess the only real drawback is that because they are gummies, they do contain added sugar, in the form of dextrose.
However, the total carbohydrates only come to 1% of your daily value.
Personal Experience
I loved taking these gummies, they tasted great. And after a few weeks, each time I brushed my hair, I noticed less was coming out on the brush.
Pros
Excellent customer ratings and reviews
Contains an effective dosage of biotin
Promotes healthy hair growth
Deliciously fruity berry flavor
You can buy now and pay later
Cons
---
Now, this is a supplement that's been met with excellent customer ratings and reviews.
Its star feature is how in addition to providing a dose of biotin, it also features other beneficial ingredients for the treatment of hair thinning, and with the appearance of your hair…
This includes the likes of MSM, a compound known to boost hair growth, amino acids to bolster the production of keratin for a fuller, glossier look, and omega-3 and omega-6 for hair with a shine.
What's more, it also contains ashwagandha, which works to reduce the levels of cortisol in the body.
And since cortisol is the body's stress hormone, then in theory taking ashwagandha could help to reduce hair thinning caused by stress.
The idea behind this formula is that it will not only support healthy hair growth and shine, but also prevent future breakage from brushing or washing your hair.
I can also confirm that this product is cruelty-free and is not tested on animals.
Personal Experience
Although I didn't notice my hair becoming thicker or stronger when I was taking this supplement, this was probably because I only tried out one pack, whereas the blurb says you have to take it for 90 days before you start to see results.
Pros
Excellent customer ratings
Also contains MSM, amino acids, Omega 3 & 6
Contains ashwagandha to reduce cortisol
Gives your hair shine & prevents hair breakage
The formula isn't tested on animals
Cons
The precise dosage of biotin in each capsule is not specified
Requires 90 days before you see any results
Also available to buy at:
---
Here's another biotin supplement worthy of a spot on our shortlist.
And again it's one that has been met with excellent customer ratings and reviews.
It contains a high dosage of biotin, coming in at 5,000 mcg, which as we discuss in our buying guide a little later, is all you really need for the desired effects.
The desired effects being the promotion of healthy hair and nail growth.
What's more, the formula has been tested for potency and purity to ensure the best possible quality, and there are minimal filler ingredients.
But I guess that it's star feature is that it's 100% vegan, rather than merely vegetarian.
And it comes free of most known allergens including wheat, soy, egg, shellfish, gluten, corn, milk, and eggs.
I also liked the fact that the packaging is sustainable packaged and recyclable, so you're helping the environment by buying from this brand.
And it's manufactured in a GMP facility that's certified for good manufacturing practice.
There are 30 servings per bottle, and when this article was written, you could buy a bottle for less than $10, making it excellent value for money. 
Personal Experience
I found that these capsules were really easy to swallow, and I liked the fact that one serving is one capsule and that I didn't have to take two of them at a time.
I took these tablets for about a month, and during this time the condition of my hair remained about the same, but I saw growth in my fingernails.
Pros
Excellent customer ratings
Contains an effective dosage of biotin
Contains none of the major allergens
The packaging is recyclable
It's a hundred percent vegan
Excellent value for money
Cons
It has to be taken with food
Not available on Amazon
---
Things to Look for In A Biotin Supplement
As promised, here's your buying guide. Let's walk you through some of the key points to consider when shopping for biotin supplements.
Supplement Dosage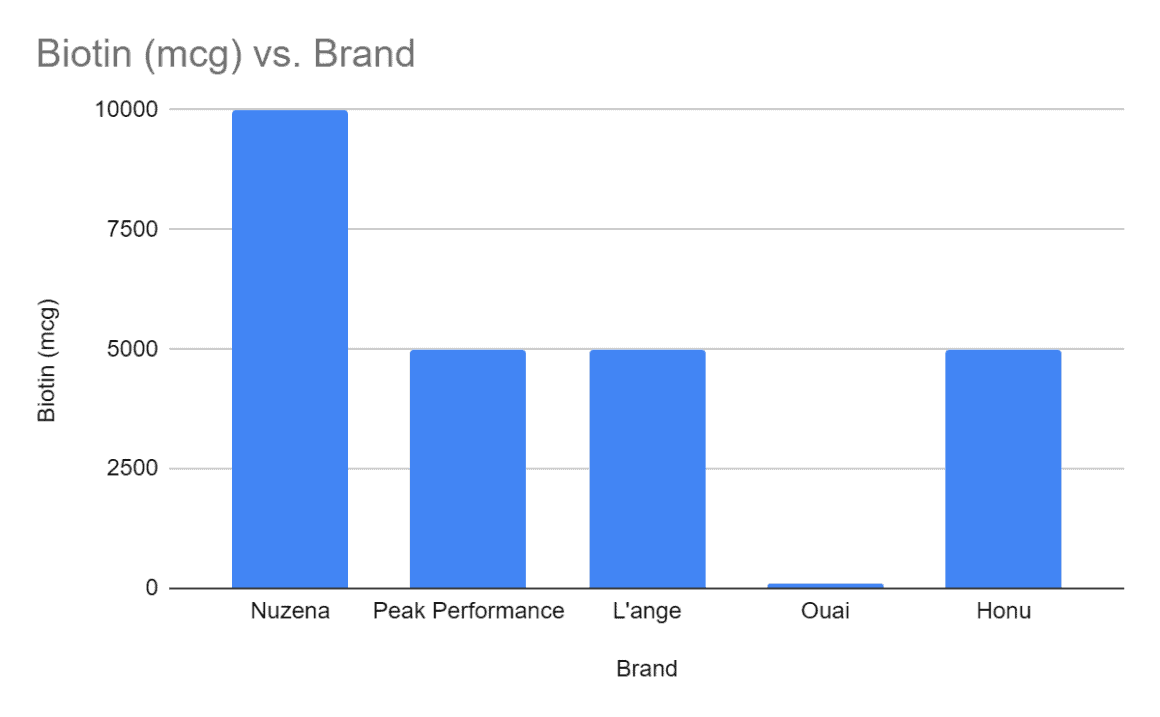 In order to provide an effective benefit, each serving has to have a sufficient dosage.
We would recommend only looking at supplements with a dosage of at least 5,000 mcg. 
If you're looking for a really high dosage, however, we can recommend our number one pick, the Nuzena Biotin Pure+, which offers twice as much at 10,000 mcg.
Diagnosis
Due to the rather high doses of this supplement that are available, you may wish to get your blood tested for biotin deficiency before you go ahead and start buying the supplement. 
After all, it may be the case that you don't even have a biotin deficiency, and it could be something else that's causing your hair to thin.
Capsules Vs Gummies
In my view, gummies are a much more pleasant way to take supplements compared to swallowing capsules, which can sometimes be quite chalky and hard to wash down.
What's more, gummies tend to taste much better, too.
Additional Ingredients
Biotin, also known as vitamin B7, is not the only thing out there to support hair growth, so if that is your primary reason for seeking out a biotin supplement, why not look out for ones which are more complete formulas with additional beneficial ingredients.
Vegetarian / Vegan
Even if you are not vegetarian or vegan, it's always good to know when your preferred biotin supplement is not derived from animals.
Free Of Known Allergens
If you suffer from food allergies, you know what it's like to have to check the ingredients of every food item you buy.
And sadly, you also have to do this for supplements too.
This is why, in each of my reviews, I've made a note of when the supplement is free of known allergens.
Value For Money
We recommend that you buy a month's worth of supplements at a time, so you don't have to shop every week.
And prices do vary quite a lot between brands, so we also recommend checking prices as you go along, and also check how many servings you get per pack.
An easy way to save money on your supplements is to sign up to a Subscribe and Save scheme, where you get discounts on repeat purchases.
Amazon is usually pretty good for this.
Answers to Your Most Frequently Asked Questions
What Are The Benefits Of Biotin? Is Biotin Good For Your Hair?
Those who have biotin deficiency suffer from hair loss and brittle nails, and it has been suggested that these individuals can benefit from biotin supplements to boost hair growth and healthier nails.
Natural Food Or Supplements?
Biotin, also known as vitamin B7, is present in all kinds of different foods, including oily fish such as salmon and tuna, and in nuts and legumes.
If you eat enough of these things, you may not need a biotin supplement.
Who Needs To Take Biotin?
Those with a biotin deficiency should definitely take a biotin supplement, but even if you don't have the deficiency, a biotin supplement is still perfectly safe for you to take.
Does Biotin Have Any Side Effects?
Although there are no known side effects to biotin supplements, it's always good to check whether it interacts with any other medication you might be taking.
How Much Biotin Should I Take?
For adults aged 19 and upwards, who aren't pregnant or breastfeeding, you only need to take approximately 30 mcg per day, unless you have a biotin deficiency, in which case you should consult with your doctor.
Disclaimer: this article does not constitute or replace medical advice. If you have an emergency or a serious medical question, please contact a medical professional or call 911 immediately. To see our full medical disclaimer, visit our Terms of Use page.