Most commonly known for its skin and scalp healing properties, the use of witch hazel is a popular choice in the beauty and health community. Witch hazel is a plant that yields many benefits with its use. 
It's important to know the ins and outs of witch hazel before adding it to your lifestyle. We've rounded up the uses, benefits, and side effects of witch hazel so you can be sure it'll work for you.
What Is Witch Hazel?
Witch hazel is an astringent that comes from the hamamelis virginiana plant. While this species is the most popular in US modern medicine, there are also several other species of the plant that exist. These include:
American witch hazel
Hamamelis vernalis
Hamamelis mollis
Japanese witch hazel
Parrotia persica
Witch hazel cone gall aphid
Hamamelis ovalis
Dwarf fothergilla
Parrotiopsis jacquemontiana
Acronicta hamamelis
Corylopsis spicata
Although witch hazel is typically used to ease inflammation and soothe sensitive skin, the plant can serve as a natural treatment for other conditions as well.
Benefits
From fighting acne to warding off infections, there are a handful of benefits that come with the use of witch hazel. 
That being said, what does witch hazel do for your body? Some of the most common benefits of witch hazel include:
Benefits when applied to the skin:
Relieving inflammation
Tightening pores
Helps with razor bumps
Reducing acne 
Cleanses skin of excess oil
Benefits when applied to the scalp:
Alleviates scalp sensitivity
Helps rid of dandruff
Promotes hair growth
Reduces oiliness
Side Effects
As with anything, there are some side effects that come with the use of witch hazel. While there are only a few, it's important to recognize them before using the plant for your skin or hair. 
For the most part, witch hazel is safe for most adults when it's applied to the skin. But, it might cause minor skin irritation for those with sensitive skin. If you plan to take witch hazel orally, be aware that it might cause an upset stomach. 
For most children, witch hazel is safe when directly applied to the skin. If you're pregnant or breastfeeding, it's important to speak with a healthcare provider before use, as there is minimal research about the safety of taking witch hazel while pregnant or breastfeeding.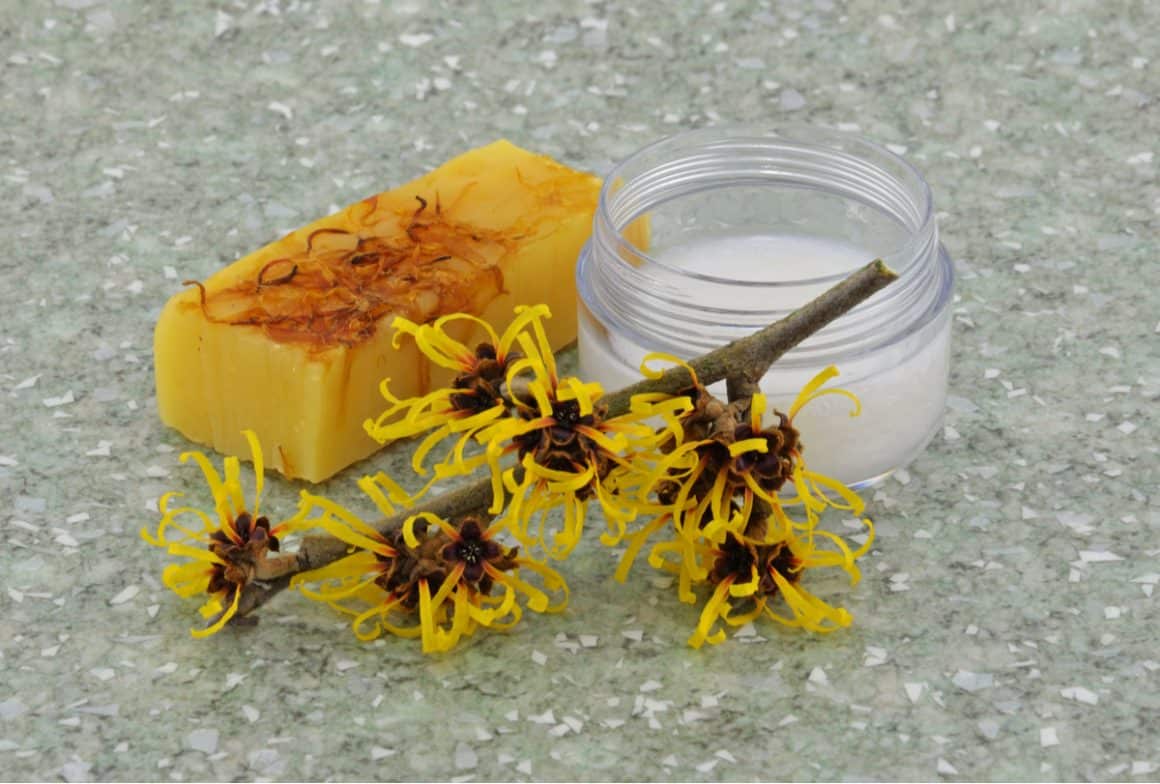 How to Use Witch Hazel
Before use, it's important to know the right and wrong ways to take witch hazel. These include:
Witch Hazel Applied Topically
After doing an initial skin patch test on a small portion of your skin, witch hazel can be directly applied. If you experience any skin irritation or allergic reactions, stop the use of witch hazel immediately. 
*It's important to not ingest witch hazel, as it can be dangerous due to the tannins within the plant. If you or your child ingest witch hazel, contact poison control.
Dosage
Witch hazel requires different doses for each of its uses. These include:
Applied to the Skin (Adults)
For best results to help with skin irritation, an after-sun lotion that contains 10% witch hazel water is recommended.
Applied to the Anus (Adults)
Witch hazel can help treat hemorrhoids. In order to reap the benefits, apply witch hazel up to 6 times per day or after every bowel movement.
Applied to the Skin (Children)
For children ages 2-11, an ointment containing witch hazel should be applied several times a day to help skin irritation.
Final Thoughts
Witch hazel can be an easy addition to any daily skincare or beauty regimen. Plus, it's a pretty inexpensive product that is easily accessible for almost anyone.
With how many benefits witch hazel brings to the table and with such little side effects, witch hazel might get you your best bang for your buck. 
If you are thinking about adding witch hazel into your daily routine, you should consult with your doctor or dermatologist first. They will be able to provide more information on whether or not witch hazel would be a healthy addition to your lifestyle.
Disclaimers: This article does not constitute professional medical advice, nor can it replace the advice of a licensed professional.