Can you take pre-workout on a plane? That question might come up in your mind if you're planning on going on an international trip and are planning to continue your workouts there.
This article will explain how you can store your pre-workout supplements with you onboard. 
Are Pre-Workout Supplements Allowed On A Plane? 
The TSA website confirms you can take a pre-workout on a plane. However, there are some specifics regarding how it should be packed and stored:
Carry On Bags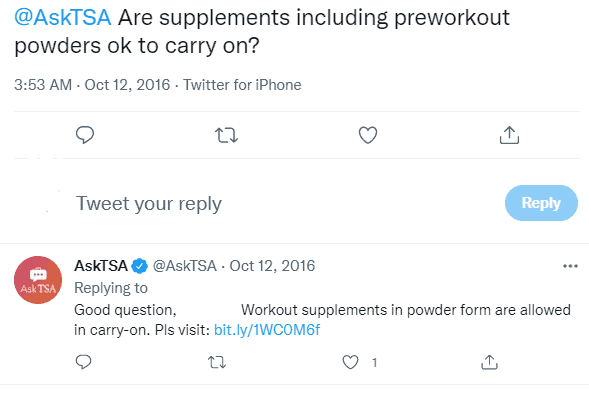 If you want to ensure you have your pre-workout for your first travel workout, you may consider bringing some of your workout supplements with you via your carry-on luggage. The TSA states that you can bring pre-workout powders inside carry-on bags.
However, suppose you're bringing similar substances greater than 12 oz, they may require you to put them in a separate container for X-ray screening. In that case, they still may open containers to test them for illegal substances, and the final decision will fall at the discretion of the present TSA officer. 
Checked Bags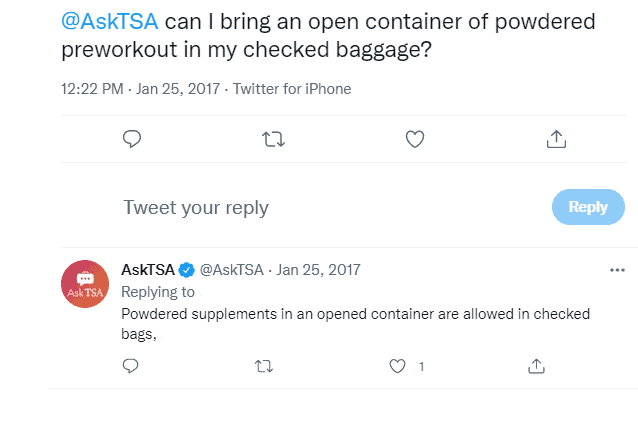 For maximum convenience, the TSA encourages you to place non-essential powders of more than 12 oz in checked bags. Powders in carry-on baggage may require secondary screening, and powders that security officials cannot resolve will be prohibited from the cabin of the aircraft.
When a TSA agent questions, explain that they're your pre-workout supplements and are allowed on flights according to the TSA standards. 
The 3-1-1 rule does not apply to powders as they differ from liquids, so quart-sized bags are unnecessary. Powders under 12 oz don't need much scrutiny, but if they go over 12 oz, they are subject to additional TSA inspection. 
How To Store Your Pre-Workouts
Properly storing your pre-workout powders while traveling helps you avoid a powdery mess in your luggage. Follow these useful tips for packing your pre-workout supplements when on the go:
Scoop the powder into individual resealable bags – Put a day's worth of pre-workout powder in a clear resealable bag (e.g., Ziploc)  when taking it on a plane — this will make it easier to track how much powder you'll be using during the trip. If you tend to consume more of the powder, you can put 2-3 servings in each bag. It's also best to mark how much powder each bag contains before packing for your trip.
Don't forget to keep the bags sealed shut, and always check if any of them have holes to keep the powder from spilling.
Set them inside your shaker bottle and secure the lid – If you're taking only a few amounts, you can take all your resealable bags and set them inside a shaker bottle. This method keeps your protein powder neatly portioned and your shaker bottle in one place.
Remove air from the plastic bags and seal them – Before putting them in a shaker bottle, remove as much air as possible in the sealable plastic bags to allow more space to store them in the shaker bottle.
Double bag the powder – To be extra safe, use an extra bag in case the first bag tears up; the powder won't spill inside your checked baggage.
If you're bringing more powder, pack the individual sealable bags in a larger one, but they will likely be subjected to x-ray screening at the security checkpoint.
→ Can You Take Creatine On A Plane?
→ Can You Take An Inhaler On A Plane?
→ Can You Take Vitamins On A Plane?
Takeaway
The TSA allows passengers to bring their pre-workout or post-workout drink mixes onboard a flight, whether they store them in a carry-on bag or their checked luggage.
As long as the supplements don't contain any substances banned in your chosen destination and as long as you follow the TSA protocols, you're sure to experience a productive workout routine and enjoy the same supplements wherever you go.