Neuriva is a brain supplement that is said to give you the boost you need to improve your mental cognition and overall brain function. While Neuriva Brain Performance is said to provide several cognitive benefits, do these claims hold true?
We've dug up all the information we could find about Neuriva reviews from authentic customers and first-hand research. Read on to learn all you need to know about this brain supplement.
Druggenius.com is reader-supported. We may earn a commission through products purchased using links on this page. Learn more about our editorial process here.
---
Overview
Before diving into the details of Neuriva reviews, it's important to understand exactly what this supplement is.
What is Neuriva?
Neuriva is a brain supplement from Schiff Vitamins that relies on the natural extract of two sole ingredients of Phosphatidylserine and Coffee Cherry.
The all-natural formula of this brain booster is said to provide numerous cognitive benefits to help support your brain's performance. Neuriva can be compared to Prevagen, which is a similar brain supplement in that both only contain two ingredients.
In order to track your mental wellness journey, Schiff Vitamins provides a Neuriva Brain Gym app that offers tools to monitor your brain's performance on a personalized basis.
Specifications
Neuriva is a blend of two ingredients: phosphatidylserine and coffee cherry. Phosphatidylserine is a phospholipid that supports the generation and maintenance of healthy cells within your brain.
As you age, levels of this compound decrease, thus resulting in age-related memory loss and degeneration of your brain cells. Because of this, it's a good idea to take a supplement such as Neuriva to present these side effects that come as you age.
Coffee cherry (coffee fruit extract) is a supplement that motivates the release of the Brain-Derived Neurotrophic Factor (BDNF).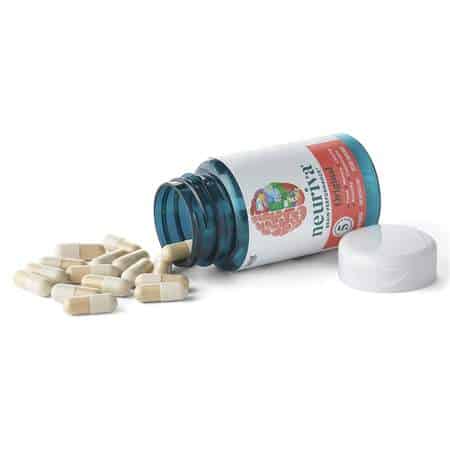 Neuriva Benefits
When you start implementing Neuriva into your daily diet, your body will experience a couple benefits that come with its consumption, including:
Improvement of cognitive functions
The slowing down of age-related memory loss
All-natural ingredients
Stimulant-free
These benefits that are said to come with Neuriva help support an overall more "sharp" mind and memory. It's recommended that you take one capsule daily at bedtime, as it will kick your brain into high gear the next morning.
Neuriva Side Effects
As for any adverse reactions associated with this dietary supplement, it's generally safe for consumption due to its natural ingredients. During clinical trials, no side-effects were observed.
Although there aren't currently any known side effects of this supplement, it's important that you review the warnings before incorporating Neuriva into your daily routine. These include:
Avoid use if you're pregnant or breastfeeding
Consult your doctor if you have any health disorders
Consult your doctor if you're on any medications
Do not take Neuriva if you're below 17 years of age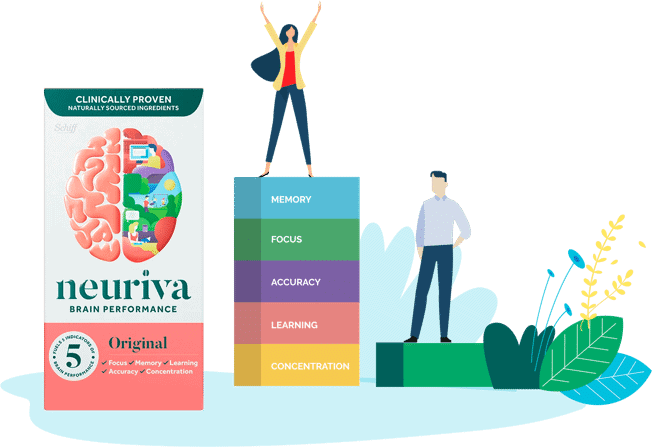 Neuriva Complaints
As with any product on the market, there are complaints that have come from those who've tried Neuriva. For the most part, it seems that customers have had different experiences with the effectiveness of the drug. While some say they saw noticeable benefits in weeks, others say they saw no change at all.
A few less-common complaints are said to be associated with this supplement, too. Some customers say that the supplement made them sleepy and other customers said it took too long to experience any benefits..
Some users had issues with the gummies sticking together inside the bottle.
Key Takeaways
Overall, Neuriva reviews are generally positive with an average star rating of 4 out of 5 across multiple platforms.
On Amazon the original Neuriva has a global rating of 4.3 out of 5 across 3,304 customer ratings.
On the Schiff Vitamins website there are far less reviews but 60% of reviewers stated that they would recommend Neuriva to a friend.
Neuriva is a brain supplement that may provide benefits to you upon consumption. It's said that this drug is linked to improving your brain's memory, focus, accuracy, learning, and concentration. As far as we know, there are currently no side effects associated with Neuriva.
Before implementing this supplement into your daily diet, be sure to consult a healthcare provider to ensure it's completely safe for you to use.
Who is Neuriva best for?
Neuriva is best for those who are looking to possibly see an increase in their cognitive functions. Neuriva allegedly helps provide better sleep, so the supplement may be good for restless sleepers. If you're pregnant, breastfeeding, or below 17 years of age, avoid taking Neuriva.