Druggenius.com is reader-supported. We may earn a commission through products purchased using links on this page. Learn more about our editorial process here.
It can be tough to be a vegetarian. You have to work harder than everyone else to make sure you're getting all the nutrients your body needs. 
So, when it's time to take a multivitamin, you want to make sure you're taking the best one possible. Luckily for you, we've done the research and found the best multivitamin for vegetarians. Keep reading to find out more!
Top 5 Multivitamins for Vegetarians
Best Vegan Multivitamin Supplements – The List
Vegan multivitamin supplements are packed with nutrients that are essential for good health, and they're also much gentler on your stomach than traditional multivitamins. Not to mention, they're cruelty-free and environmentally friendly.
Now, though there is no one-size-fits-all answer, we've compiled a list of the top vegan multivitamin supplements to help you make an informed decision.
As healthy vegan diets and vegetarian diets are, there are 3 very important nutrients they often miss. They are Vitamin B12, vitamin D3, and omega 3 fatty acids. So, if you are vegan, this supplement can be a great option for getting exactly these – and nothing else.
It contains all the things it promises it does – in proper and effective dosages, unlike most other supplements out there. And its ingredients are tested not only by themselves but also by 3rd party to ensure quality. So, you can take this without any worry about hygiene or safety.
Ingredients
Vitamin D (D3)
Vitamin B12
Sunflower lecithin
Why You Should Take It 
Vitamin B12 is an essential vitamin to help you support your immune system via a healthy metabolism. It also plays a great role in the production of red blood cells. Lastly, B12 supports a healthy nervous system overall by maintaining the development of neurons.
Vitamin D3 – which is the type of vitamin D used in the supplement – can help in healthy metabolism as well, leading to proper aging. This vitamin can also be greatly beneficial to your bone health by ensuring proper calcium absorption.
Omega 3 fatty acids can play a major role in brain health by maintaining the size of it as you age. It helps in keeping the mood light and increases your attention span to sharpen your memory.
And it's suitable for anyone over 11. It has no allergens, artificial flavors, or colors at all. And to whomever it may concern, it is gluten-free, making it accessible and available for more people.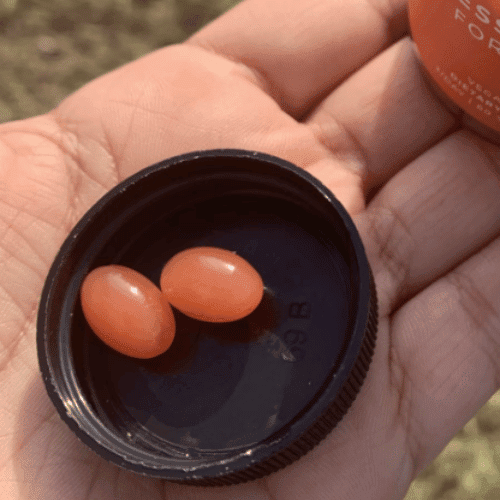 Potential Reasons to Avoid It 
The chances of you facing any major side effects are very slim, but of course, it is heavily dependent on every individual and their body. Side effects will only show if there's an outrageous quantity of any of the essential nutrients.
Too much vitamin B12 can cause headaches or nausea. Excessive vitamin D in the system could lead to too much accumulation of calcium in the blood leading to weakness, vomiting, or diarrhea. 
It can cause severe pain in the bone or even calcium stones in the kidneys in extreme cases. However, these problems are extremely rare and most likely wouldn't happen.
But other more common cons include it being relatively more expensive than its competitor and some not being able to see any discernible difference despite it working in their bodies. But whether or not any change is felt, it will inevitably keep working in your body, keeping you healthier.
This is another great vegan-friendly supplement that is also a great addition to your plant-based diet. Plant foods can be really healthy. But oftentimes, they would lack many key nutrients, and that is where Seedwell comes into play by filling in those needs. This makes it one of the best vitamin supplements.
Doctors recommended the dosages of the ingredients in this multivitamin supplement. It was to ensure that you get the best bang for your buck, especially paired up with a balanced diet. And while we are on this topic, it is also mentionable that the ingredients used are taken from high-quality sources.
Ingredients
Vitamin B (B6, B12)
Vitamin D (D3)
Vitamin K2
Zinc
Iodine
Iron
Calcium
Magnesium
Why You Should Take It 
Packing all these ingredients makes it one of the best vegan multivitamins out there. Vitamin B helps in energy production in the body by developing immune function and maintaining a healthy metabolism. And zinc, iodine, and iron give the extra kick in energy production.
Then comes vitamin D and calcium for the maintenance of bone health by keeping them strong and durable. They also play a great role in supporting the nervous system keeping brain health intact. Vitamin K2 also plays a role in protecting the bones from damage and also keeps the heart functioning properly.
It is also mentionable that the ingredients being so easily digestible also makes it one of the best vegan supplements out there. And them being dosed properly by doctors also makes it an essential vegan multivitamin.
Potential Reasons to Avoid It
Since it is a vegetable blend vitamin and mineral supplement, the probability of it causing anything serious is zero to none. But of course, food intolerances and the current condition of the body should be kept in mind while intaking any supplement.
But it is to be remembered that the dosages of vitamin D, Vitamin k2, calcium, and magnesium are not enough for them to be the only source of any of these essential vitamins and minerals. So, you might need to find other natural food sources for all of these.
The dosages are dictated by doctors. Naturally, they have already assumed you have a balanced diet where the daily nutrition can be met by the addition of a smaller amount of these nutrients. And it is always better to get most of your nutrients from fortified foods.
For vegetarian women it is suggested to select the option that includes iron, for men choose the option without iron. This can be done on the order page.
Save 25% via this link 👇
With the science-backed approach to optimal health and well-being, Complement Plus' Vegan Vitamin Capsules offer you 8 important vitamins, omega-3s, and minerals that are often found to be missing in most plant-based diets, all in one capsule to help improve your heart health, boost energy levels, and sharpen brain function.
Complement Plus' ingredient blend consists of essential nutrients like vitamins B12, D3, and K2, DHA/EPA omega-3s, iodine, magnesium, selenium, and zinc, which are all important for long-term overall health and well-being. This selection of vitamins was also based on their compatibility with each other and their absorption rate in the body.
The blend of nutrients offers particular health benefits to the body to boost productivity. For example, omega-3s and B12 contribute to overall cognitive health by improving memory and mental focus; Vitamin D, selenium, and zinc help boost the immune system; DHA+EPA, magnesium, and vitamins K2 and D3 promote a healthy cardiovascular system. Other benefits include better sleep quality and boosted energy levels.
The capsules are formulated and produced with high-quality100% vegan and gluten-free ingredients and undergo stringent third-party testing in the USA. Their packaging is also eco-friendly, as they are packed in sustainable glass bottles to reduce environmental impact. Also, for each purchase, Complement promises to plant a tree worldwide and support sanctuary animals.
Ingredients
Vitamin B12 – 300 mcg
DHA & EPA Omega-3s – 450 mg
Vitamin D3 – 50 mcg
Zinc – 8 mg
Iodine – 150 mcg
Vitamin K2 – 50 mcg
Selenium – 50 mcg
Magnesium – 200 mg
Pros
Made in the USA
Premium ingredients
100% vegan
100% gluten-free
100% GMO-free
Free from fillers, additives, flow agents, and preservatives
Traceable nutrients
Uses sustainable packaging
Offset carbon emissions
Third-party Tested
Free USA shipping
100% money-back guarantee 
Easy to pause/cancel subscription plan.
Cons
Expensive compared to similar vegan brands
Recommended Dosage
For adults and children over 12, take three (3) vegan capsules daily, preferably with a meal. Store in a cool, dark place after use. Recycle the glass bottle once the capsules have run out.
Save 25% via this link 👇
This vegan multivitamin supplement is specifically formulated for a plant-based diet for the more conscious people. It is a whole food supplement containing only organic whole foods to ensure proper digestion and absorption.
This supplement contains all the essential nutrients you would need as a vegan and can be a great addition to your balanced vegan diet. And when it comes to safety, you don't have to take their words for it since they are also tested by third parties. 
Not only are they good for you, but their biodegradable packaging also makes them just as good for the environment.
Ingredients
Vitamin B12
Vitamin D (D3)
Vitamin K2
Selenium
Zinc
Iron
Iodine
Why You Should Take It 
It is bound to be a great supplement with all the essential vitamins and minerals sourced from plant-based foods. And it's a great addition to your vegan diet, being one of the best vegan-friendly supplements.
Its vitamin B12 helps with immune function and metabolism greatly. The minerals iodine and selenium also help in enhancing metabolism. But the most common reason for a bad immune system is iron deficiency. And the iron in this supplement got you covered.
It also contains vitamin D, which is great for bones. But on top of that, the vitamin K2 in this helps in bone and teeth development as well. And to keep you light and motivated, its omega 3 fatty acids got you covered.
It's also free of allergens and safe for most people to consume, making it a popular supplement in the vegan society.
Potential Reasons to Avoid It
Since it's a whole food multivitamin, the chances of you experiencing any side effects are small. It is gluten-free, free of animal products, and the natural ingredients make it almost equivalent to just eating an organic fruit. But of course, in certain individuals, some side effects may be seen.
Problems like nausea, constipation, and diarrhea aren't completely impossible due to the intake of multiple vitamins. But it only happens in people who are specifically susceptible to it. So usually, there are not a lot of reasons to worry. A physician must be seen urgently if these happen.
But one con could be that there isn't too much iron. This would be okay for regular people, but people with severe deficiency might have to take iron-rich foods in addition to this for proper nutrition.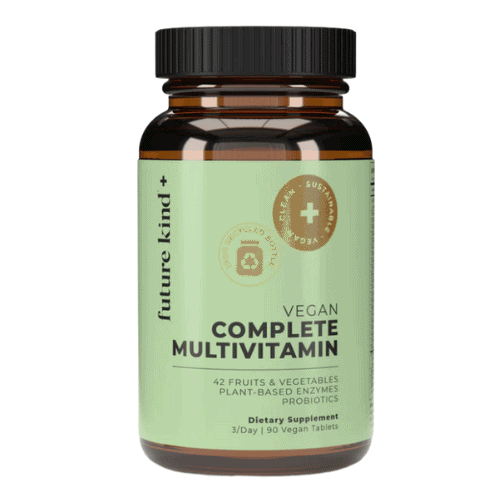 Unlike the other vegan multivitamins on the list, this is a complete multivitamin – meaning it contains almost all vitamins and minerals, not just some handpicked ones. And in today's busy life, a proper diet is becoming increasingly inaccessible. So, this can come in handy for you if you are one of the really busy ones.
Having all of the essential vitamins in a vegan-friendly way makes it a top-notch certified vegan multivitamin. All of its minerals and other nutrients can really help you feel considerably better both inward and outward in a very short amount of time. 
And the addition of the proprietary blend of 42 organic fruits and veggies is the cherry on top.
Ingredients
Vitamin A
Vitamin B
Vitamin D
Vitamin C
Vitamin E
Biotin
Folic acid
Digestive enzymes (plant-based)
Zinc
Magnesium
Chromium and many more
Why You Should Take It 
This supplement has got you covered for every essential nutrient you could ever need. It can increase the resistance of your body against diseases, that is, develop your immune system considerably. And for that, it has vitamin C, B12, and D.
Then its digestive enzymes help restore the natural gut bacteria, ensuring healthy digestion by improving the intestine. Zinc has got you covered for attaining healthy skin free of any inflammation – especially if you are aged.
And to help you with your mood, magnesium got you covered. It does that by ensuring that you get the sleep that you deserve but barely get. This also helps your metabolism since sleep is one of the most important determinants of how you will function for the rest of the day.
These are just some pros of the multivitamin. It is almost impossible to fit all of it in this article.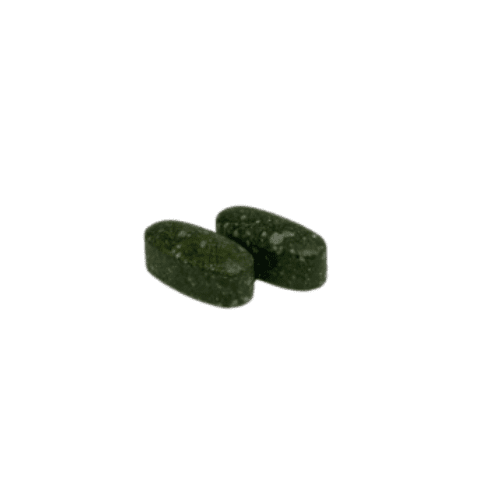 Potential Reasons to Avoid It
Having all of the essential vitamins and minerals is one of the key selling points of this product. However, it can also bring along some more serious issues if not taken under consideration.
Since this has almost all the vitamins and minerals in it, there might be a lot of ingredients that could be unnecessary for you. And this would result in an overdose of certain nutrients leading to severe outcomes like diarrhea, constipation, or digestive issues.
Although it is free from most common allergens, it will not be impossible for one of the ingredients to trigger some sort of reaction in people who are intolerant to it. Due to these, it might not be suitable for everybody, and consulting a doctor before consumption becomes even more necessary.
This, too, is a vegan vitamin and mineral supplement with everything that you can possibly need inside of it. And thus, it will help you immensely if you have a life too fast to care too much about the nutrients you put in your mouth. 
It can also come in handy if you are above 30 since your body might start to absorb fewer nutrients.
All of its ingredients are collected from vegan, dairy-free, and non-harmful sources, which means it can be a great dietary supplement for vegans and even non-vegans looking for a healthier option on the market.
Ingredients
Vitamin A
Vitamin B
Vitamin C
Vitamin D
Vitamin E
Vitamin K
Folic acid
Iron
Omega 3 fatty acids (DHA)
Choline
Bioperine
AstraGin and many more
Why You Should Take It 
Vitamin B12, B6, and vitamin D in this supplement are taken from very rich sources that are also vegan. They are highly absorbable and very effective for supporting the immune system properly and increasing the metabolic rate. Vitamin D3 is also instrumental in maintaining bone and muscle health.
Then Choline helps manage energy properly by metabolizing fats and seeking energy from stored fat cells. It also looks after the cells of the body and helps the brain to function properly. Omega 3 fatty acids also help in brain development.
But it doesn't matter how good the nutrients are if they are not absorbed by your body properly. That's where this supplement shines above most others on the market. It contains Bioperine and AstraGin, which helps properly absorb all the vitamins and fatty acids to ensure their full effectiveness is attained.
Potential Reasons to Avoid It
Most vegan multivitamins target the things that are absent in vegan diets. But since this supplement also has all the vitamins from A to Z and a lot of minerals, this can lead to some major drawbacks.
As mentioned previously, this can mean that there will be an overdose of many key nutrients since they will already be gotten in adequate amounts if you are living a vegan lifestyle. And these overdoses may cause issues like an upset stomach and bowel, leading to constipation or diarrhea.
Basically, only because it is eligible to be consumed by vegans doesn't necessarily mean it should be. There are separate vegan multivitamins that are necessary since they only have the ingredients that vegans are missing out on. So, a lot of people might consider it a waste of money.
Buying Guide – Things to Look Out for While Buying
This buying guide will help you sort through the endless options and choose the right supplement for your needs.
Ingredients
It is really important to check the ingredients of any supplement before buying them. You should know if they are effective enough or are they just fillers. Also, be careful about allergens or preservatives. 
If you are vegan, look out for non-vegan ingredients like animal products or fatty fish oil.
Dosage
Now, if you find that the ingredients are effective and scientifically backed up, the next most important thing is to look at the dosages they are given at. Often, companies put the right ingredients in dosages so low that they can be deemed ineffective.
Also, stay away from "proprietary blends" since they can be a means to deceive you about the real ingredients and dosages.
Reviews by Real Customers
A lot of the reviews you will find online are paid, so make sure you read reviews from real people, allowing you to know about the product. 
You will know if they're effective, if they have any side effects and if they are worth the price you will pay for them.
Frequently Asked Questions
Are multivitamin supplements FDA-approved?
Even the best multivitamins are not approved by FDA. It is simply because FDA does not have the authority to check dietary supplements before they go into shells.
The reason is that they are not used to diagnose, treat or cure any disease whatsoever. They are merely supplementary to other foods.
Are vegan multivitamins safe?
They are usually safe since they are mostly plant-based, and most ingredients are sourced from whole foods. This also minimizes the possibility of the presence of a lot of allergens which makes it a tad safer for many people.
Is vegan vitamin D different?
Usually, the vitamin D found in most supplements on the market are non-vegan because they are sourced from animal products.
But vitamin D, which is sourced from algae, is a lot rarer and more expensive variant of vitamin D, and this also happens to be the vegan-friendly variant.
Conclusion
Now that you know all about the best multivitamin for vegetarians, you can decide for yourself if you need them or not. And if you do, you can figure out which one you need.
It should be remembered that multivitamins are mere supplements that should be used as an addition to your regular food and not a replacement. But if you're vegan, a vegan multivitamin supplement can take you a long way providing you with all the nutrients your body can need.
Disclaimer: this article does not constitute or replace medical advice. If you have an emergency or a serious medical question, please contact a medical professional or call 911 immediately. To see our full medical disclaimer, visit our Terms of Use page.
Related Posts
Primal Harvest Multivitamin Review
Best Multivitamin for Men Over 50