Trelegy Ellipta is a special medication used to relieve breathing-related problems. But while it comes in quite handy, it also comes with a hefty price tag. If you're wondering the reason why is Trelegy so expensive, read on to find out more: 
What Is Trelegy Ellipta?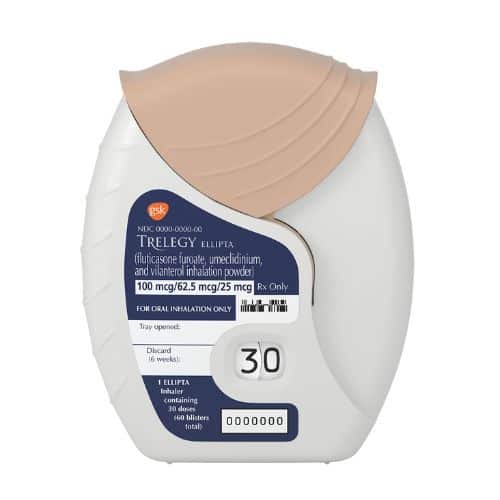 Trelegy Ellipta (fluticasone furoate/umeclidinium/vilanterol trifenatate) is the brand name for the inhalant powder medication manufactured by GlaxoSmithKline and is used to treat people suffering from chronic obstructive pulmonary disease (COPD), especially chronic bronchitis and emphysema. Trelegy helps prevent COPD symptoms such as coughing, wheezing, chest pains and tightness, and breathing problems.
First approved by the Federal Drug Administration and released in the United States in 2017, Trelegy is a triad combination of three different medications which help improve breathing by reducing inflammation and relaxing muscles in the airways.
Fluticasone furoate – Fluticasone is an inhaled corticosteroid used to treat seasonal and year-round allergy symptoms such as stuffy or runny nose, sneezing, itching, and asthma symptoms like wheezing and shortness of breath. It may also reduce other symptoms of seasonal allergies like red, itchy, and watery eyes.  
Fluticasone is also available as a nasal spray to manage symptoms of allergic rhinitis. Studies have found it to be significantly more effective at relieving symptoms of both seasonal allergic rhinitis and perennial allergic rhinitis.
Umeclidinium – This anticholinergic medication is a long-acting muscarinic antagonist used as a maintenance treatment for symptoms of COPD by acting as a bronchodilator — that is, it works by relaxing the muscles around the airways so that they open up and allow easier breathing.
A randomized trial on umeclidinium found it safe for patient use and significantly improved lung function, dyspnoea, and breathing among patients with COPD.
Vilanterol trifenatate –  Like umeclidinium, vilanterol trifenatate is also a bronchodilator, which helps oxygen travel uninhibited into the body by relaxing muscles in the airways and limiting coughing, wheezing, and chest tightness. It's also used as a once-daily maintenance treatment of asthma in patients aged 18 or older with reversible obstructive airways disease.
One study found that vilanterol trifenatate combined with fluticasone furoate was effective in treating COPD and that once-daily dosing of FF/VI offered maximum efficacy, convenience, and possibly increased adherence for asthma patients.
However, Trelegy Ellipta should not be used as a rescue inhaler nor treat sudden breathing problems and asthma attacks. It should not be used on children under 18 years of age.
Why Is Trelegy Highly Expensive? The Factors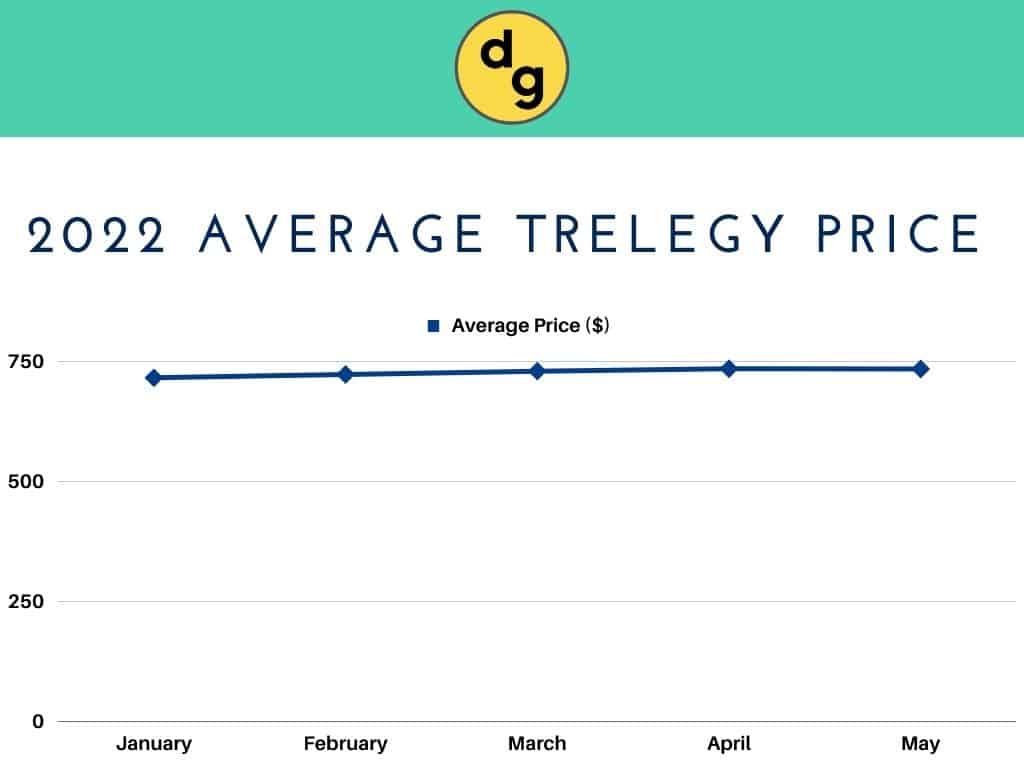 On its own, fluticasone furoate is already an ingredient in various affordable over-the-counter medicines like nasal sprays and antihistamines. Umeclidinium and vilanterol trifenatate, on the other hand, since they have no generics, are more expensive and used only in equally costly inhalation medications like Trelegy Ellipta.
In the United States, the brand presents some challenges for consumers, especially financially challenged patients. A single Trelegy Ellipta inhaler can cost around $699 – $700, depending on where you purchase it. A single inhaler contains 60 daily doses, costing over $10 per dose). Over a year, the estimated cost could soar to over $3,800.
Lack Of Alternative Generics
Generic drugs are usually much less expensive than brand-name drugs. As Trelegy is a brand-name prescription inhaler, no generic alternatives are currently available. Without competition and alternatives, it gives manufacturers free rein at whatever prices they please, so medications like Trelegy will continue to be outrageously expensive.
The earliest date that a generic for Trelegy will become available would be in 2030, when the Trelegy patents expire. Individuals who suffer from COPD and asthma patients would have to buy the brand-name medication until the generic becomes available.
Existing Patent Laws
Patent laws are important because they can help safeguard an invention and protect any product, design, or process that meets certain criteria according to its originality, suitability, and utility. For pharmaceutical discoveries, patent laws help encourage innovation by giving manufacturers a temporary monopoly on the market for new drugs that would normally last around 20 years. 
Pharmaceutical companies can also get an extension on the patent protection by what is known as a "new use" or "new formulation" patent, which involves reformulating the medication, changing how the drug is used or simplifying the dose, 
However, it eliminates all competition for that medication, allowing companies to charge how much they like without fearing consumers switching to other brands for their medications. Once the patent expires, generic pharmaceutical manufacturers can seek authorization from the FDA to produce a generic version. When generic versions are more available, the price would only drive down. 
Pricing Regulations
In the United States, there are no laws or regulations regarding pharmaceutical pricing, which means that drug companies are free to overprice their medications without penalty, while the same medication may sell for a lot less in other countries. This happens more often with drugs that have no direct competitors. 
Is Trelegy Covered By Insurance Plans?
Trelegy Ellipta is covered by most Medicare and insurance plans, though these costs will vary depending on the health insurance plan and the coverage for this medication. Those without insurance plans, however, would have to pay the cash price.
Medicare prescription drug plans usually list Trelegy Ellipta on Tier 3 of their formulary. (The higher the tier, the more you'll have to pay for the medication). Medicare prescription plans also have quantity limits set to restrict the amount of this drug that can be filled at once.
How To Save On Trelegy?
While Trelegy Ellipta can be expensive, fortunately, there are a few options available to help cut costs:
Trelegy Savings Coupon – GlaxoSmithKline, Trelegy's manufacturer, offers a savings coupon card to eligible individuals allowing your Trelegy prescription to be free for up to 12 months. Once you've acquired the coupon, simply present the coupon to a pharmacist with a valid prescription for the medication.
Patient assistance program – You can also seek GSK's patient assistance program. Eligibility is often based on an applicant's income, lack of insurance plans or Medicare status, and other factors. You can apply through each program online, over the phone, or with your doctor's help.
Filling a 90-day supply – Filling a 90-day supply can help reduce your total cost for this prescription. If you have an insurance or Medicare plan, you can receive lower prices if you fill your prescriptions through your plan's mail-order pharmacy. 
To switch to 90-day fills, note that you'll need a new prescription from your doctor; a 30-day quantity prescription will not allow 90-day fills.
Get a Medicaid plan – Check if a Medicaid plan is available to help cover the cost of a Trelegy prescription. The manufacturer states that most Medicaid patients will pay $4 to $9 monthly for Trelegy, though state Medicaid programs will have strict income requirements.
Ask for free Trelegy samples – GSK provides healthcare professionals free samples of Trelegy to help patients who have just started on the medication.
Takeaway
Trelegy is a brand-name drug that helps with COPD and asthma symptoms. But while it's not yet available in generic form and can be expensive, there are still ways to work around and save on the cost.
Before taking Trelegy Ellipta, consult your healthcare professional about your medical conditions and other prescription drugs, including inhaled medications, over-the-counter medications, or supplements, to weigh possible health risks and benefits.
Disclaimer: this article does not constitute or replace medical advice. If you have an emergency or a serious medical question, please contact a medical professional or call 911 immediately. To see our full medical disclaimer, visit our Terms of Use page.