Druggenius.com is reader-supported. We may earn a commission through products purchased using links on this page. Learn more about our editorial process here.
Polyphenol-rich olive oil is a must-have in your kitchen stash to get healthier well-being and add more flavor to your dishes. Check out our selection of high polyphenol olive oils below to help you pick one that suits you best.
Top 4 High Polyphenol Olive Oils
What Is Polyphenol-Rich Olive Oil?
High phenolic olive oils are olive oils that contain a high percentage of phenolic compounds and are directly related to the health benefits of olive oil. This oil contains at least 30 phenolic compounds, the principal ones being oleuropein, hydroxytyrosol, and oleic acid, compounds known to be strong antioxidants and radical scavengers.
Polyphenol-rich olive oils have been found to:
Boost the immune system – A 2019 study reveals that polyphenols from three different olive oil varieties have an inhibitory effect against several bacterial strains, effectively boosting the immune system.
Promotes heart health –  Polyphenols help manage blood pressure levels and keep your blood vessels healthy and flexible, promoting good blood circulation. They also help reduce chronic inflammation, which increases heart disease risk.
Prevent many types of cancer – Polyphenol-rich olive oils contain oleocanthal, a compound that kills cancer cells with their own enzymes without harming the healthy ones.
Helps manage effects of diabetes – Polyphenols may influence blood glucose at different levels and may also help control and prevent diabetes complications. Studies have also linked extra virgin olive oil to higher levels of insulin, making it beneficial to people with type 2 diabetes.
Prevent cognitive decline – Recent studies show that consuming polyphenolic-rich extra-virgin olive oil protects memory and learning ability and reduces the buildup of proteins in the brain, which is the cause of Alzheimer's disease.
Promotes better mental health – Aside from improving cognitive function, high concentrations of polyphenols found in olive oil can positively impact one's mental health. A Spanish study found that those who frequently ate a Mediterranean diet (which involves a lot of olive oil) are 30% less likely to develop depression.
Can I cook with high polyphenol olive oil?
Aside from its health benefits, olive oils rich in polyphenol have a unique flavor from ordinary olive oils. Olive oils of this type commonly have a pronounced robust, bitter taste and a hot peppery finish, though some oils sourced from other types of olives, such as the koroneiki olives, pack a greener, fruitier flavor. 
While most people drink this type of olive oil daily, with its flavor considered, polyphenol-rich olive oils can add flavor and depth to any dish you choose, whether you cook with it or drizzle it as a finishing touch. Restaurants often add this to dishes to give them more flavor and depth.
4 Best High Polyphenol Olive Oil Brands – The List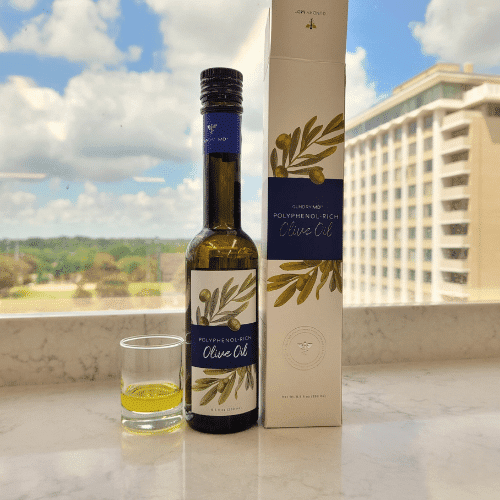 Polyphenol count per kg: 14 mg of hydroxytyrosol per tablespoon
Harvest date: Not specified
Country of origin: Morocco
Gundry MD's Polyphenol-Rich Olive Oil is exclusively sourced from olive trees grown in Morocco's harsh desert environment, which has the ideal climate for olive cultivation – mild winters and warm, dry summers, which make them produce extra polyphenols to protect themselves; this gives their olive oil up to 30x more hydroxytyrosol polyphenols, making it superior compared to most brands.
What does that give you? Since hydroxytyrosol is a polyphenol that neutralizes free radicals, it gives you more protection from toxins that can make you feel weak and tired. It also provides added protection for the immune and cardiovascular systems and reduces the risk of neurodegenerative diseases like Alzheimer's and other memory disorders, among many other benefits.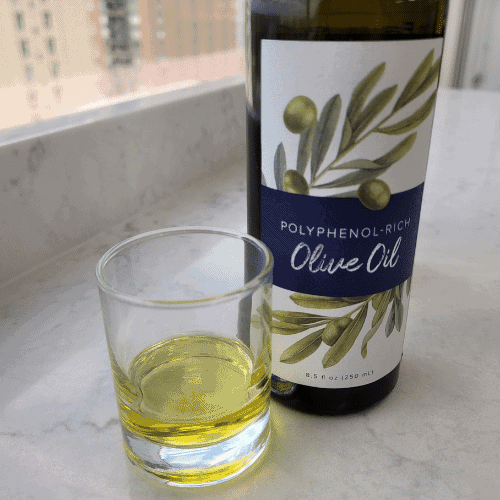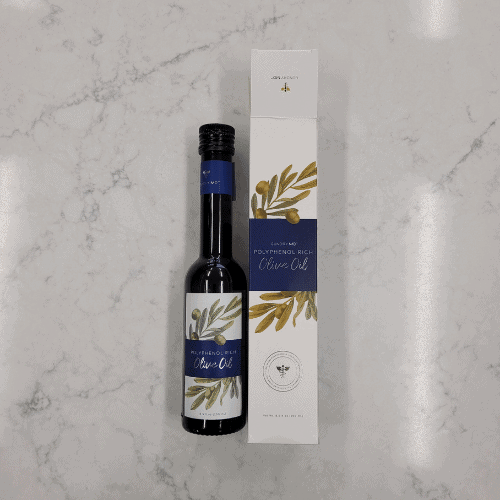 Another thing that makes Gundry MD's olive oil a standout is its slightly bitter peppery flavor, which you wouldn't normally expect from usual olive oil brands. While the taste may be surprising for some, it makes an excellent finishing oil for sauteed and grilled foods and can be blended with various dishes like salads, pesto, cakes, or smoothies. 
Pros & Cons
Pros
Extra virgin with 30x more hydroxytyrosol content
Exclusively sourced from olive trees grown in Moroccan deserts
100% organic
Easy to swallow
Can be added as an ingredient to various dishes
Adheres to strict extraction and refinement processes
Cons
Taste and smell might not be appealing to some customers. 
Small content
A bit expensive compared to other brands
Customer Reviews
Style and wellness influencer Bryana Jordyn loves her Gundry's Polyphenol-Rich Olive Oil. She says that its distinct flavor has added a nice touch to any type of dish she prepares, whether it's salads, sweet potatoes, or even avocado toast.  
A verified review from the official Gundry MD site says…
"I have been taking this olive oil for a little over a month now. I started taking a half tablsp a day, but have increased to 1 tablsp daily. Since this change l have noticed more energy and a glow to my skin, also a curbing appetite!" – Claudette
Polyphenol count per kg: 592 mg/kg
Harvest date:  November 2021
Country of origin: California, USA
Brightland's AWAKE Extra Virgin Olive Oil lives by the saying, "the more, the better." It has a polyphenol count of 592 mg/kg (compared to most oil brands containing only an average of 80-150 mg/kg). The higher the polyphenol count, the more the olive oil has disease-fighting antioxidants, antimicrobial, anticancer, and anti-inflammatory properties.
AWAKE uses arbequina olives which, aside from having a high amount of polyphenols and antioxidants, also has a high percentage of oleic acid, which can help increase good cholesterol levels. The olives are sourced from small family farms on California's Central Coast and are cold-pressed shortly after being harvested for maximum freshness and flavor.
This oil's smoky, peppery flavor makes an excellent addition to soups, stews, pasta, roasted meat/vegetables, and bread. You won't have to worry about the heat requirement for dishes since this olive oil has a smoke point of 410°F (compared to regular brands having about  374–405°F), making it an ideal choice for most cooking methods. 
Regarding its packaging, each glass bottle is UV-coated to preserve the olive oil from damaging light so that you can be assured of its freshness and integrity. 
Pros & Cons
Pros
High polyphenolic content compared to most brands
High smoke point
Can be used for various cooking methods
Undergoes quality testing
Female-owned business
Well-packaged
Bottles are UV-coated to maintain freshness
Cons
Bitter taste might not be appealing to some customers
Content tends to drip down after use
Customer Reviews
Tiktok user Azeezah shared her experience with Brightland AWAKE Olive Oil. She used it as a finishing oil and noted that it had a rich olive flavor and the signature golden color, though she wasn't a big fan of the bitter tones. She still recommends it.  
A verified review from the official Brightland site says…
"…This is hands down the best olive oil I've ever used and I have used a lot, from regions all over the world, including direct from Italy and Spain. This oil is smooth and flavorful but never overpowering. And the high amount of polyphenols has actually increased my good cholesterol! Don't hesitate to try Brightland!" – Natalie
Polyphenol count per kg: 992 mg/kg
Harvest Date: November /  December 2021
Country of origin: Corfu, Greece
Founded by cancer researcher and olive oil expert Dr. Limor Green, kyoord (pronounced as cured) prides itself in its dual purpose of being food and medicine, as its name suggests. Each bottle is manufactured in (Corfu) Greece, which produces the finest olive oil.
Kyoord uses unripe green olives that are pressed immediately after being harvested to ensure optimal taste and integrity. Green olives do pack a powerful punch, being rich in polyphenols (992 mg/kg), specifically oleocanthal and oleacein, which have been shown to help with chronic inflammation and are considered by the Greeks as "the secret to a long healthy life" (coupled with wine and afternoon naps, they say). 
The oil's robust flavor, herbaceous notes, and signature peppery aftertaste will satisfy many an olive oil enthusiast's tastebuds. It can go well with various cooking methods like baking, grilling, and sauteeing, as well as drizzling, dipping, and savoring. You can also drink a spoonful for a health boost. 
Pros & Cons
Pros
Manufactured in Corfu, Greece
High polyphenolic content
High smoke point
Suitable for all cooking/serving methods
Convenient and easy-to-use bottle
Cons
A bit pricy compared to some brands
Taste might be unappealing to some customers
Customer Reviews
@rhythmkitchen proves just how versatile kyoord Olive Oil is. She recently used it for her olive oil cake recipe and loved how great it made it taste.
A verified customer review from the official kyoord website says…
"This is not your average run-of-the-mill olive oil. It has a very intense flavor. I drink a spoonful every day since I got it. It really hits the back of the throat with a floral and strong black pepper. But I'm loving it! And it's uniquely clean and brilliant tasting. I'm not sure I can articulate the chemistry behind it, but it does my body good. I'll subscribe and keep it coming!" – Tiffany M. 
Polyphenol count per kg: 450mg/kg
Harvest Date: January 2022
Country of origin: Koroni, Greece
Kosterina's Extra Virgin Olive Oil uses a single blend of early harvest koroneiki olives grown in southern Greece that are then cold pressed in small batches. Its polyphenol content goes up to over 450mg/kg, comparatively higher than common brands. 
After the Arbequina and Arbosana, the koroneiki olives are among the most common and suitable for high-density growing systems worldwide. Its polyphenols can help reduce morbidity and prevent the development of neurodegenerative diseases, cardiovascular diseases, and various types of cancer. 
Aside from its usual peppery taste, this oil also has earthy and subtle, piquant pear-like flavors, which sets it apart from most olive oil variants. This wonderful mix of flavors will surely give a flavorful punch to any dish of your choice without being overpowering or excessively pungent. Otherwise, you can even simply take a spoonful of it every day.
Pros & Cons
Pros
Sourced from fresh koroneiki leaves from southern Greece
Rich polyphenol content
High smoke point
Flavor is not too overpowering
Bottled in premium glass bottles to avoid immediate breakage
Highly affordable
Cons
Mild flavor might not be pleasing to experienced olive oil enthusiasts. 
Customer Reviews
@milliemagazine has always cooked with olive oil, but she's never had anything like Kosterina's Extra Virgin Olive Oil. She says it's much cleaner and tastier and highly recommends it to anyone wanting to experience authentic Greek flavors in their own home. 
A verified customer review from the official Kosterina website says…
"I've tried many EVOOs, but this one is by far the best. It tastes so rich yet not overpowering! The Harvest date is noted on the bottle which assures me that Kosterina is the real deal! I will not be buying any other Olive oils but Kosterina! I'm so thankful I discovered Kosterina!" – Bonnie M. 
FAQs
How can polyphenol-rich olive oil be consumed?
Polyphenol-rich olive oil is normally added as an ingredient to various dishes and is used as a finishing oil to add more flavor and depth. But you can also take a spoonful daily to reap its health benefits.
How much polyphenol-rich olive oil should I consume daily?
Experts recommend that taking 20 g (4 teaspoons) of high-polyphenol olive oil daily is enough to benefit heart health.
How is high polyphenol olive oil certified?
Olive oil samples are usually sent to laboratories for analysis to determine the oil's phenolic profile. For an olive oil brand to be considered high in polyphenols, it should contain a minimum of 250 mg of polyphenols per kilogram.
Can you take too much high polyphenol olive oil?
While polyphenol-rich olive oil contains healthy mono- and polyunsaturated fatty acids, taking too much of it can result in weight gain, and drinking the oil purely on its own may not yield the same benefits as it does when consuming it with food.
Storing Your Polyphenolic-Rich Olive Oil
Already picked the right olive oil for you? Here's how you can store it to maintain its nutritional properties:
Keep the olive oil bottle away from heat and light to prevent it from losing its properties and freshness. Always store it away in a cool, dark cupboard or a darker corner of your shelf. 
Once you've opened your bottle of olive oil, make sure to consume it within a few months.
Takeaway
Polyphenol-rich olive oil has been the subject of many scientific studies and has been praised for its power in promoting heart health, brain health, and immune system function, and its antioxidant, anti-inflammatory, and anticancer properties.
Cooking with polyphenol-rich olive oil can also create a difference even with ordinary dishes due to its distinct flavor blend. It's also more practical for cooking because it usually has a high smoke point, helping it retain its polyphenolic content and even increase the nutrient content of the cooked food.
Disclaimer: this article does not constitute or replace medical advice. If you have an emergency or a serious medical question, please contact a medical professional or call 911 immediately. To see our full medical disclaimer, visit our Terms of Use page.
Related Posts