BlueChew is an online Telehealth service portal that helps connect potential patients with US-licensed physicians and providers to treat erectile dysfunction by providing chewable sildenafil and tadalafil right to your doorstep. Now you might wonder, how long does Bluechew take to work?
How Long Does It Take For Bluechew To Work?
BlueChew tablets or chewables will begin working 30-60 minutes after they have been administered. You need to be sexually aroused for Sildenafil and Tadalafil to work so don't worry about getting an erection at inconvenient times.
What is Erectile Dysfunction?
Erectile dysfunction (impotence), is the inability of a man to get and keep an erection firm enough for sex. While having trouble "getting it up" from time to time shouldn't be a cause of alarm, if it's an ongoing issue, however, then it's a grave problem. It can cause stress, anxiety,  affect one's self-confidence and self-esteem, and cause problems in the relationship. This condition affects as many as 30 million men all over the world.
What Causes Erectile Dysfunction?
Erectile dysfunction can result from a physical problem involving the brain, hormones, nerves, muscles, or blood vessels. 
The following conditions could cause erectile dysfunction:
Heart disease
High blood pressure
Clogged blood vessels (atherosclerosis)
Diabetes
Obesity
Alcoholism
Substance abuse
Sleep disorders
Injuries in the pelvic/spinal area
At the same time, stress, emotions, and other mental health problems can also trigger and exacerbate the condition.
How Does Bluechew Work?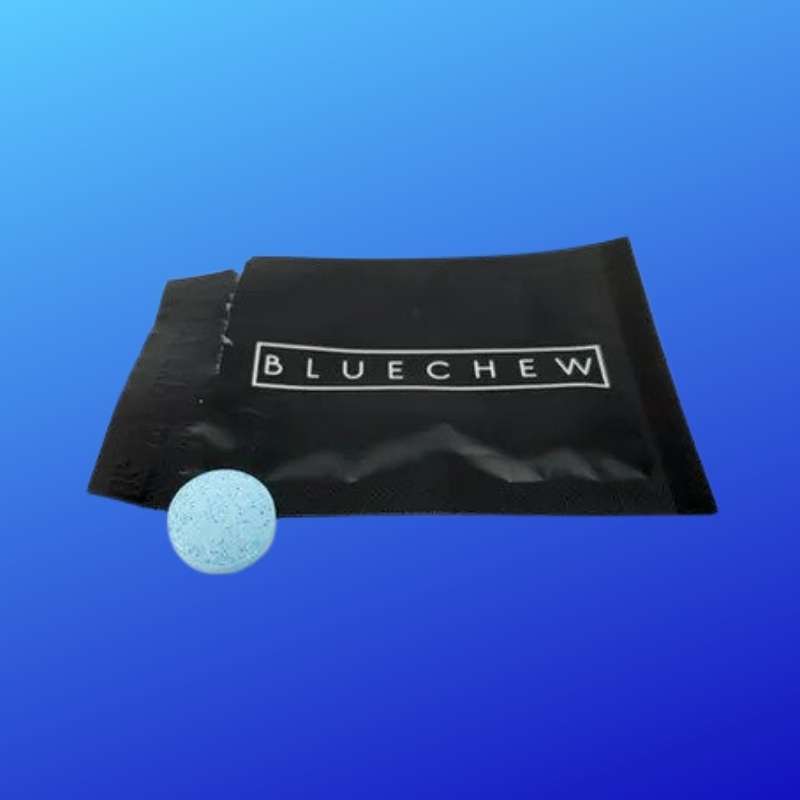 Founded in 2014, BlueChew is a monthly subscription-based service portal that aims to help men treat their erectile dysfunction problems by providing effective and discreet treatment options involving two different prescription medications, sildenafil and tadalafil, both in chewable form.  These will then be delivered to your doorstep once you've successfully undergone a free online consultation with a licensed medical professional affiliated with BlueChew. 
According to the BlueChew website, the brand is designed for men who can't tolerate or have a hard time taking commercially available pills, don't want to consult with a doctor in person, or have more confidence in bed.
What Are Sildenafil And Tadalafil
Both of BlueChew's ingredients, sildenafil and tadalafil, aim to fix male sexual dysfunction. They are often used in medications that do that specific function.
Sildenafil – the active ingredient in Viagra and Revatio that helps treat erectile dysfunction by increasing blood flow to the penis during sexual stimulation. It also relieves pulmonary arterial hypertension (PAH) by relaxing the blood vessels in the lungs to facilitate easier blood flow.
Serving: BlueChew sells sildenafil in 30- or 45-mg tablets.
Tadalafil – a medication that serves as the active ingredient in Cialis and Adcirca. It's used to treat erectile dysfunction, benign prostatic hyperplasia, and pulmonary arterial hypertension.
Serving: BlueChew sells tadalafil in 6- or 9-mg tablets.
Here's where the difference between sildenafil and tadalafil lies. The two drugs' main difference is how long their effects last. 
Sildenafil usually starts working about 30 to 60 minutes, but one can take it at least 4 hours before sexual activity. Its effect wears off after only 4 to 6 hours.
Tadalafil also takes up to 30 minutes to an hour to take effect, but most doctors recommend that you take it daily to keep it in your system. The drug can be taken 24 hours or longer before sexual intercourse. It tends to stay longer in your body and starts to wear off in 24 to 36 hours.
Dosage
Both sildenafil and tadalafil should be taken only once per day. Since sildenafil lasts shorter, you need to plan when to take it when you want the effects to happen: for example, a window period of about 4-6 hours before engaging in sexual activities.
Pros And Cons
We've taken the liberty of breaking down BlueChew's best bits and cons:
Pros
Uses scientifically-proven ingredients and resources
Easily allows you to get prescription ED medication online
Affordable and reliable service
Chewable format is ideal for those who don't like pills
Medication arrives by mail in discreet packaging
Relatively cheaper than leading brands ED medications
Free online consultation
Monthly refills
Made in the USA
Cons
Chewable tablets themselves are still not approved by the FDA
Does not currently accept health insurance plans
Not available in states like North Dakota and South Carolina
No international shipping option is available
Side Effects
Before you get the fun in bed going all night long, here's a word of caution: The BlueChew pills can sometimes cause a few occasional side effects, which are usually not serious and shouldn't be alarming. These include:
Facial reddening (flushing)
Headache
Diarrhea
Cough
Nausea 
Stomach troubles
Indigestion
Nosebleeds
Fever
Respiratory infection.
Increased frequency of urination.
Pain in the stomach, back, muscles, arms, or legs.
More serious but rare side effects could also occur, such as:
Erections that last longer than 4 hours (priapism)
Dizziness
Vision changes
Low blood pressure
Product Cost
BlueChew offers monthly subscription plans that include Sildenafil 30 mg or 45 mg chewables and Tadalafil 6 mg or 9 mg chewables. The pricing depends on your dosage and the number of tablets you order per month. Plans range from $20 – $90 monthly excluding shipping & tax.
Another competitor product HIMS also offers treatment for erectile dysfunction and a host of other conditions like premature ejaculation and hair loss due to male pattern baldness. BlueChew, on the other hand, fares better in letting you try both sildenafil and tadalafil for free with your first-month trial. 
How To Get Started With BlueChew
Registering to BlueChew is easy and simple to finish. 
Step 1: Create a free account.
Step 2: Provide your medical information for the BlueChew doctor to check. (It will help the doctor to assess the situation and to prescribe you a specific dosage)
Step 3: Specify payment and shipping information.
Step 4: Give proof of identification.
The information you provided will also be screened for approval. You may need to wait 1-2 days for the company to complete its full process. Once it's approved, it will be then delivered at your doorstep.
Disclaimer: this article does not constitute or replace medical advice. If you have an emergency or a serious medical question, please contact a medical professional or call 911 immediately. To see our full medical disclaimer, visit our Terms of Use page.