STDs and Prevention: America's Sexual Health Habits
Sexual health is a vital part of everyone's well-being. Whether a person is single or in a committed relationship, it's important to keep sexual health top of mind.
Despite the implementation of social distancing measures throughout the pandemic, the Centers for Disease Control and Prevention (CDC) reported that sexually transmitted infection rates surged at the end of 2020. 
Here at DrugGenius.com, we wanted to learn more about Americans' sexual health habits. To conduct this study, we analyzed Google search data relating to sexually transmitted diseases and infections (STDs and STIs) over the past four years, and combined this with a survey of more than 1,100 Americans.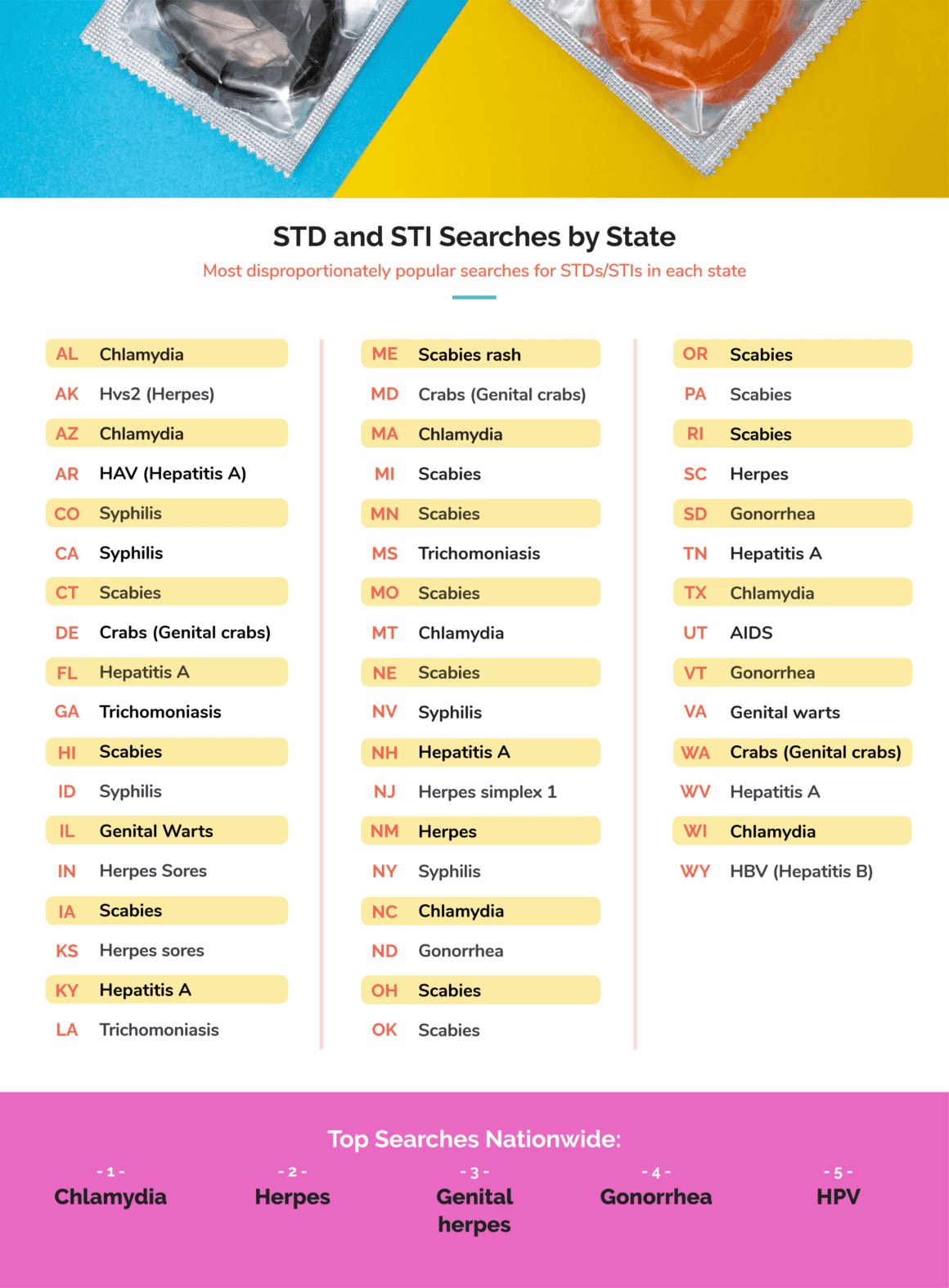 When it comes to asking Google about STDs and sexually transmitted infections (STIs), which infections are the most prominent? Nationwide the top searches revolve around chlamydia, herpes, genital herpes, gonorrhea, and human papillomavirus (HPV). According to the most recent CDC data from 2020, there were 1,579,885 cases of chlamydia reported across the country, making it the most sexually transmitted infection in the U.S. for that year. 
For the state-by-state breakdown of Google searches, we analyzed the most disproportionately popular searches for STDs and STIs. This means that each state reports a higher number of searches for a specific STD or STI compared to nationwide searches.
In 13 states, scabies ranks as the most disproportionately commonly searched STI. It ranked first in Connecticut, Hawaii, Iowa, Maine, Michigan, Minnesota, Missouri, Nebraska, Ohio, Oklahoma, Oregon, Pennsylvania, and Rhode Island. Scabies is a skin infestation caused by mites, and among adults, it is frequently spread through sexual contact. Another STI caused by a parasite, Trichomoniasis, topped searches in several Southern states including Alabama, Georgia, Louisiana, and Mississippi.
Hepatitis A also ranks highly in states such as Arkansas, Florida, Kentucky, New Hampshire, Tennessee, and West Virginia.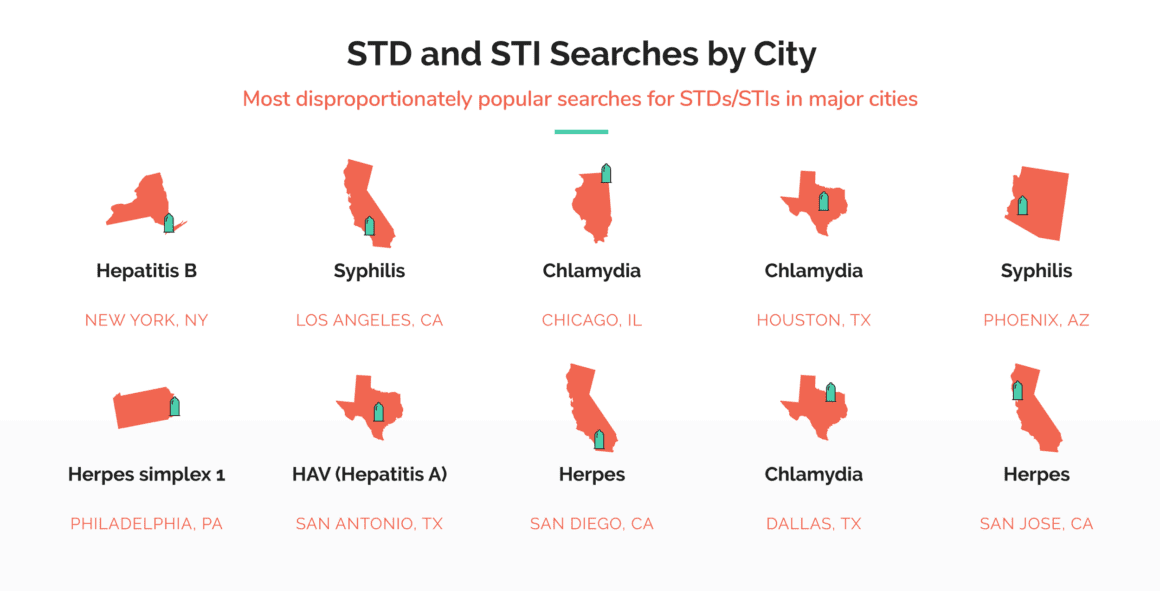 When it comes to the top 10 major U.S. cities, the most disproportionately popular searches for STDs and STIs varied. Chlamydia was the most searched infection in Chicago, Houston, and Dallas. In Los Angeles and Phoenix, people were searching for information on syphilis. In New York City and San Antonio, people are most curious about Hepatitis B and Hepatitis A.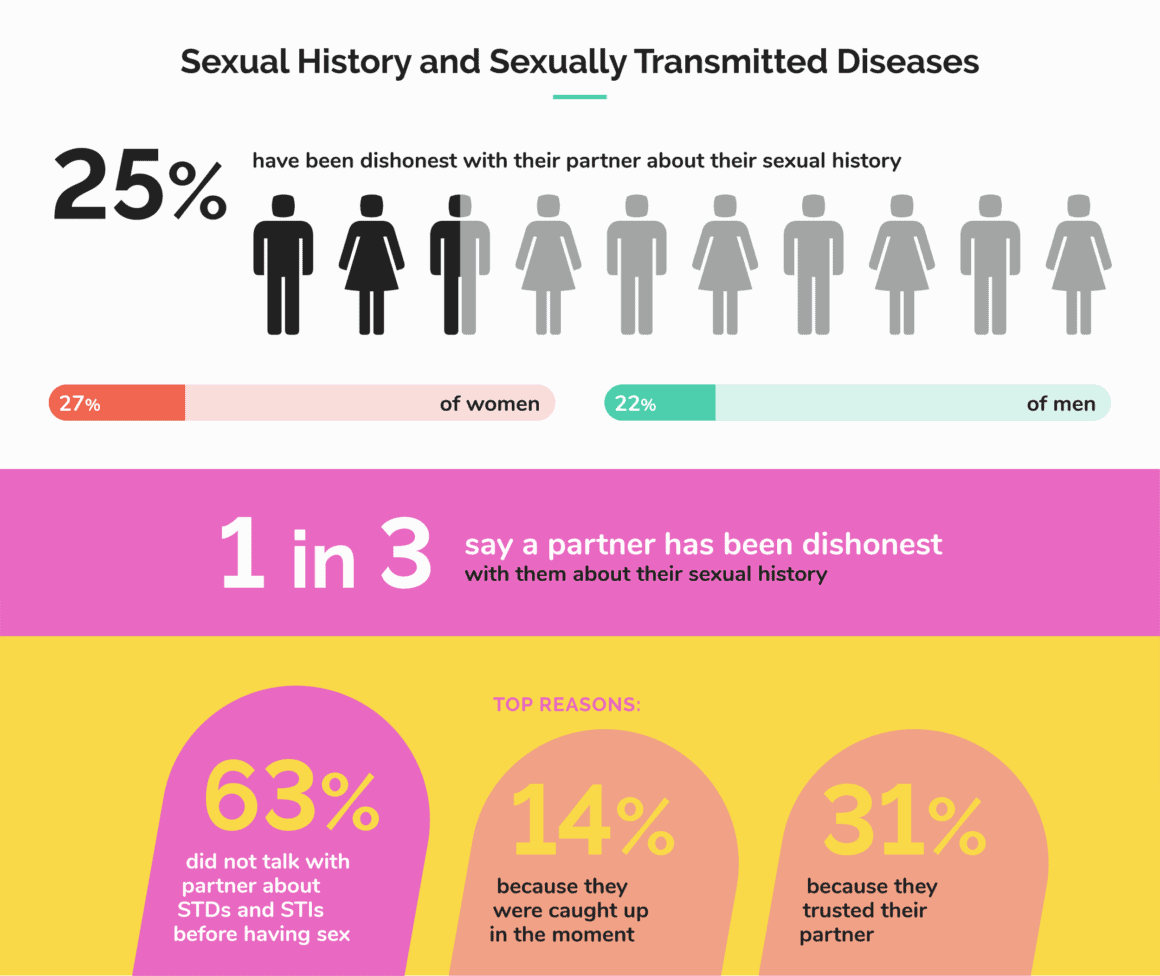 Honesty and trust matter in any healthy relationship, and that includes sexual relationships. However, 1 in 4 Americans admit to being dishonest about their sexual health history with partners. When we examine the demographics, 27% of women admit to lying about their sexual health history, versus 22% of men. Furthermore, 1 in 3 Americans say a partner has lied to them about their sexual past. 
A major part of having safe sex is communication, however, 63% of people say they don't talk about STDs or STIs with their partner before intercourse. Why don't people discuss STDs or STIs before sex? Nearly one-third say they trust their partner, while 14% say they were caught up in the moment.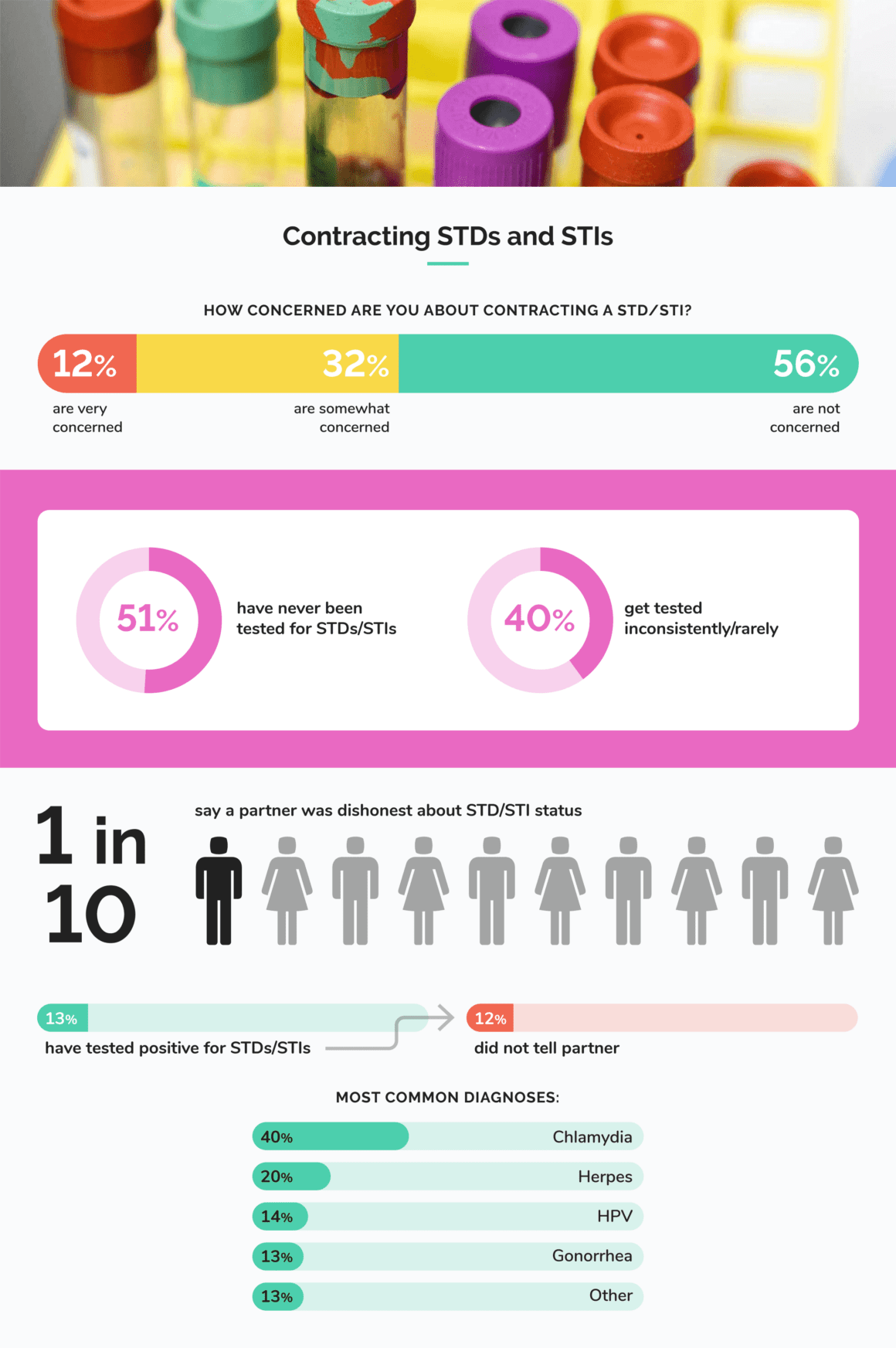 While communication matters in practicing safe sex, knowing if you've been infected with an STD or STI is also very important. Surprisingly, 56% of Americans say they are not concerned about contracting STDs or STIs.
As for STD and STI testing, 51% of people say they've never been tested. Additionally, 40% say they get tested inconsistently or rarely. 
For anyone who contracts a STD or STI, it's important to get proper medical care and know your next steps. However, 1 in 10 Americans say a partner has been dishonest about their sexual health status. After testing positive for a STD or STI, 12% of people did not tell their partner. The most common diagnoses among survey respondents were chlamydia, herpes, HPV, and gonorrhea.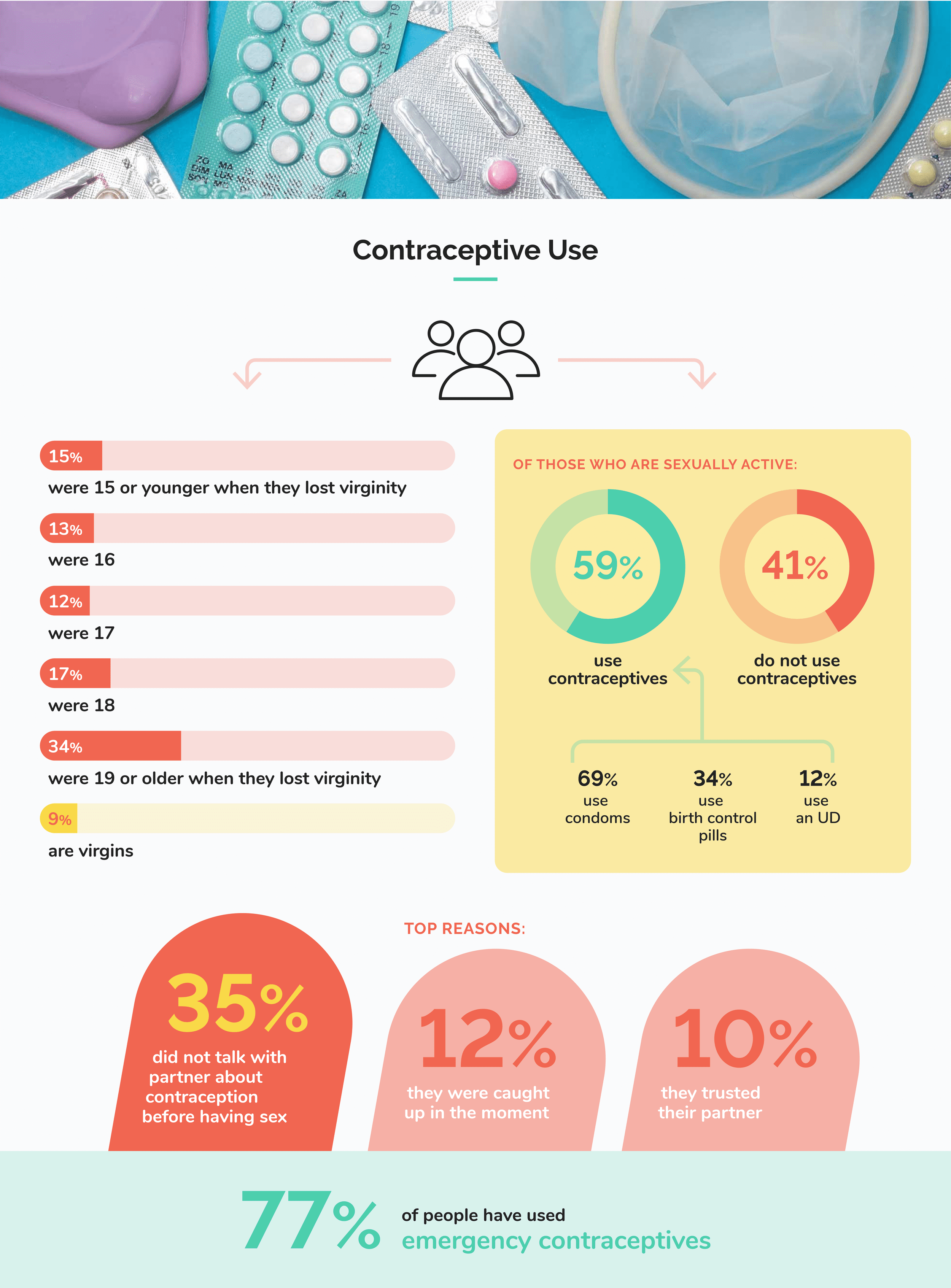 Contraceptives can also play a role in overall sexual health. Among survey respondents, 34% say they lost their virginity when they were 19 years or older. Additionally, 17% lost their virginity at 18 years-old, and 9% report currently being virgins. Among those who are sexually active, 41% said they do not use contraceptives. For the 59% who use contraceptives, the most popular are condoms, birth control pills and IUDs. 
Before having sex, 35% of Americans say they do not talk about contraceptives with their partner. Top reasons for not discussing birth control include being caught in a passionate moment and trusting their partner. But perhaps this is a discussion more couples should have, as 3 in 4 Americans say they've used emergency contraceptives.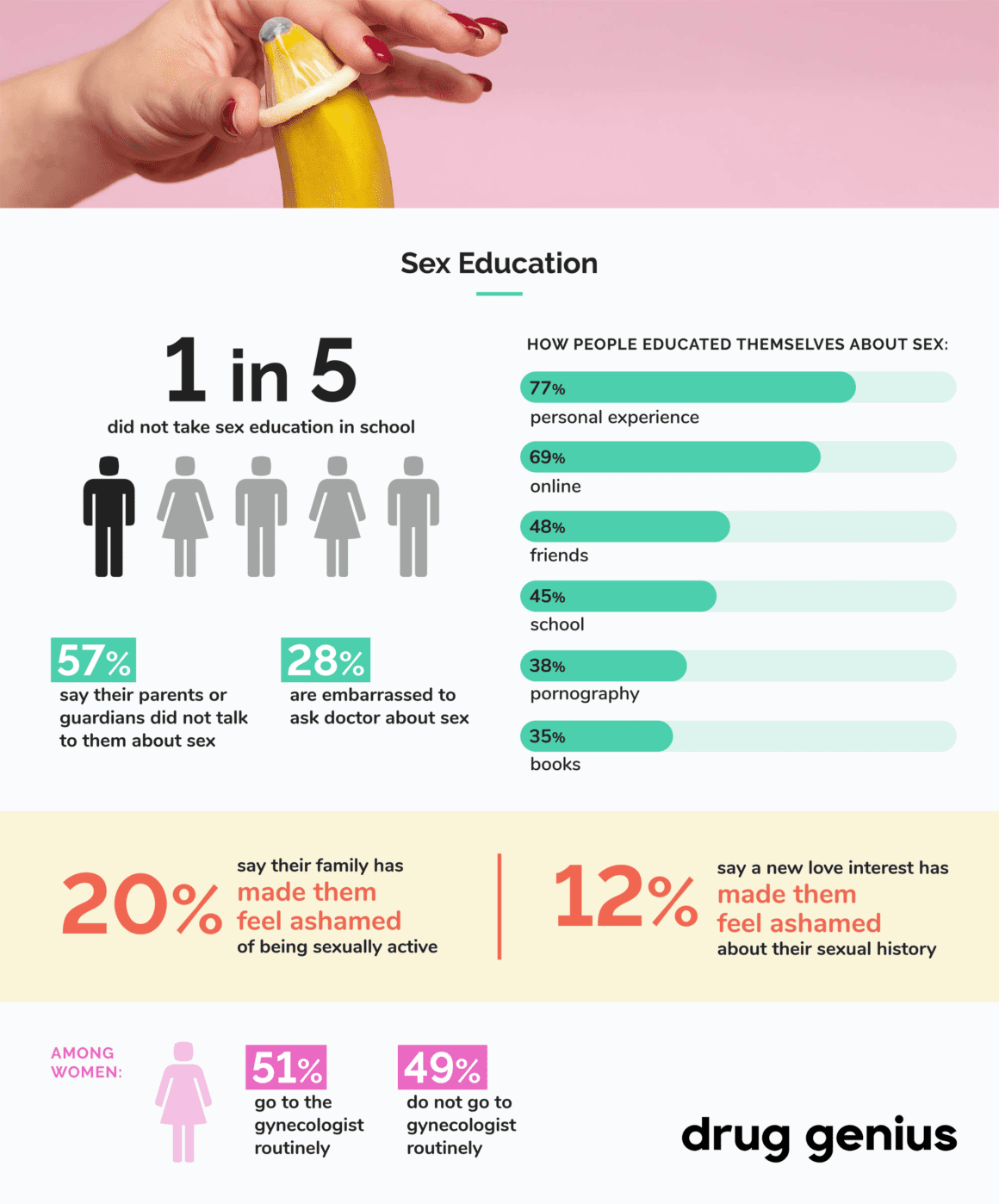 While sex education may be part of many school curriculums, 1 in 5 Americans say they never took a sex education class. Due to this lack of education, many Americans turned to other sources of information. More than 3 in 4 (77%) say they educated themselves through personal experiences, while 69% report learning online. Nearly half (48%) talked with friends about sex,38% learned from pornography, and 35% got information from books.
More than half of people surveyed (57%) say their parents did not talk about "the birds and the bees" with them. In fact, 1 in 5 say their family has made them feel ashamed about being sexually active. The feelings of shame aren't just spurred by families, 12% say a new love interest has made them feel ashamed of their sexual history.
When it comes to talking about sexual health with professionals, 28% say they are embarrassed to ask their doctors about sex. Among the women we surveyed, 49% do not see a gynecologist routinely.
It's important to prioritize your sexual health and communicate openly with your partner(s). If you have questions or concerns, seek answers and information from reliable resources, such as health professionals.
Methodology
In May 2022, we surveyed 1,109 Americans to get their feedback on sexual health and their sexual health history. Respondents were 48% female and 49% male, with an average age of 37 years old. 
For this report, we also analyzed Google search volume related to more than 4,800 sexually transmitted disease and infection keywords, phrases and questions in all 50 states dating back to 2018. We then analyzed the data to find the most disproportionately searched terms in each state and city compared to the national search volume. 
For media inquiries, contact [email protected]
Fair Use
When using this data and research, please attribute by linking to this study and citing https://druggenius.com
Related Posts