BV is a common condition that affects women during their reproductive years. It can cause painful cramps, bleeding between periods, and even infertility. Bacterial vaginosis (BV) is a vaginal infection caused by bacteria from the vagina.
The symptoms include a thick, white or gray discharge, odor, itching, pain during sex, and sometimes a fishy smell.
Probiotics are live microorganisms that promote health in the body. They can prevent infections and fight off harmful bacteria. Probiotics are often recommended for treating BV because they can restore balance to the vagina.
In this article, we will uncover what are the best probiotics for BV on the market right now.
Best Probiotics For BV – The List
Bonafide Clairvee will provide you with a hormone-free and powerful relief from discharge that is associated with hormonal fluctuations and vaginal itching.
These hormonal fluctuations may be a side effect of menopause or due to the timing of your period. This can cause symptoms such as irritation, discomfort, or anger.
We discovered that Clairvee takes 15 days to get to work to rebalance the vaginal pH levels. That will then give you a month of protection and balance.
This product can be taken in an easy-to-swallow tablet that doesn't need to be refrigerated. For the best results, we have learned you should take this product for up to 6 months.
Pros
Quick – In just 15 days after taking this product, your pH levels should be balanced. This will then give you a month of a perfectly balanced and protected vagina. 
Easy To Swallow – Bonafide Claviree comes in an easy to swallow pill, that makes taking this product very simple. 
Hormone Free – No hormones are used in the creation of this product, making this a hormone free product, that is still powerful to support and strengthen your vaginal health.
Cons
Side Effects – A few customers have mentioned they started to get headaches or sickness after taking these tablets.
Routine Probiotics For Her is a vegan-friendly prebiotic-probiotic supplement with 24 billion CFU per capsule and formulated with 5 ultra-premium strains designed to help promote vaginal health, strengthen immune function, maintain a healthy weight, and improve gut health.
Routine's 2 clinically-proven probiotic strains, Lactobacillus rhamnosus HN001 and Lactobacillus acidophilus LA-14 help protect against yeast infections symptoms like itching and discharges and prevents conditions like bacterial vaginosis and urinary tract infections.
Routine's unique formula packs only ultra-premium, USA-made strains proven to work. Routine also contains the highest quality and most clinically researched Ashwagandha root extract.
The other probiotic strains perform specific functions, too — B.lactis HN019 works to improve overall gut health, B.lactis Bl-04 promotes a healthy immune response, and B.lactis B-420
optimizes metabolism. They also contain ashwagandha, an adaptogen known to help with stress relief and relaxation, and chicory root, with prebiotic properties.
The Routine probiotic supplement is vegan and works for anyone with any type of dietary restriction. It's free from GMOs, artificial colorants or preservatives, and allergens like gluten, soy, sugar, dairy, and wheat.
Routine is committed to being environmentally friendly, focusing on sustainability by using packaging from recycled materials. The first order comes with a completely compostable mailer pouch and includes a reusable glass jar you can refill each month upon getting a new shipment.
This product also topped our list of the best probiotics for vaginal health.
Pros
Clean, traceable ingredients
100% vegan/plant-based
No artificial flavors 
No synthetic fillers
Environmentally friendly
Sustainable packaging
Third-party tested
Free from allergens like grain, soy, nut, and dairy
Manufactured in an FDA-certified facility 
No minimum commitment
Free & easy cancellation
Cons
May cause side effects like flatulence and bloating

Expensive without subscription
Capsules are quite large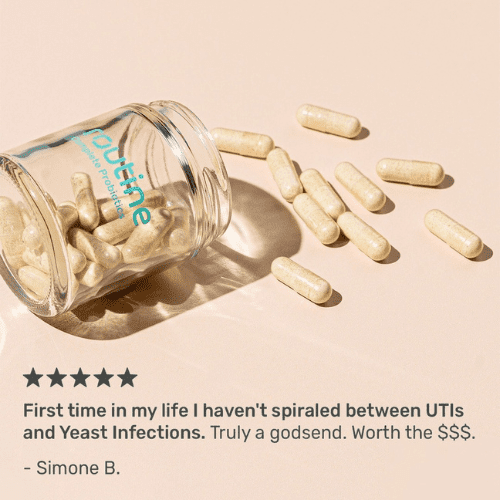 BiomeMD for Women is specifically designed to provide targeted at feminine care. It also features various probiotic strains that have been paired with prebiotics to help encourage their effectiveness. 
Through our research, we have learned that each probiotic strain has been chosen to support your digestive health. Two strains used to help support a healthy vaginal bacterial balance, that work really well in the other strains.
Alongside a supported digestive system, this product will also boost your immune system as well. BiomeMD for Women is considered the first probiotic of its kind, as it has been designed to rebalance digestive and vaginal microbiomes and has long term digestive benefits. 
Pros
Supports Urinary Tract Health – In this product, carefully chosen probiotics have been chosen to encourage the perfect yeast balance and vaginal pH.
Dairy Free – There are no traces of lactose in this product, so anyone who is lactose intolerant can take these probiotics with ease.
Boosts Immune And Digestive System – The blend of probiotic and prebiotics found in this product, help to give support to both your immune system and your digestive system.
Cons
Amount – Some customers have noted that when they received their order, there wasn't the right amount of capsules in the jar. They would be short of 5 tablets. This is something to just be aware of when making a purchase. 
Optibac For Women Probiotics has been created for women, by women, so they understand what they want to achieve.
This probiotic has not only won awards, but it is also vegan, gluten, dairy, and GMO-free. Also, this product can be taken by women who are going through menopause, or for women who are pregnant.
This probiotic has been specially formulated for the vaginal microbiome and not the gut, which some other probiotics are.
It contains a high-quality multiple sprained formula, that has been backed by 30 years of research and 25 studies carried out. This is seen as a much more natural product to take in a small pill that is easy to swallow.
Pros
Researched – The Optibac For Women Probiotic has been tested and researched for 30 years to create the best end result possible. 
Easy To Take – A small tablet that is easy to swallow by itself or taken alongside something else. 
Natural Option – It is known that the probiotic strains used are very natural to the vaginal tract and will naturally support pH levels.
Eco-Friendly Packaging – Not only is this product vegan, dairy and gluten-free. Yet this company no longer puts their product in plastic containers which are harmful to the environment.
Cons
Small Bottle – A couple of customers noted that the bottle was a lot smaller than they expected after purchasing. 
Hum Nutrition Private Party uses three strains of probiotics to help develop a healthy vaginal microbiome. While the cranberry supplement helps to support the function of your urinary tract. Each ingredient that is used has been tripled tested for its purity and effectiveness.
No artificial colors or sweeteners have been added to this product, making it as natural as it can be.
Alongside that,  Private Party is gluten and GMO-free and suitable for vegans. Through studies carried out, we have discovered that 96% of customers have experienced effective results from this product after 30 days from daily and continued use.
Pros
Natural – All the ingredients used are very natural and have been tested for their purity and effectiveness.
96% Success Rate – 96% of customers have claimed they noticed the product working after 30 days of continued use. 
Promotes Good Bacteria – This probiotic uses good bacteria to help encourage a healthy vaginal pH, urinary tract and microbiome.
Cons
Must Refrigerate – A customer noted that you must refrigerate these tablets otherwise they will spoil really quickly. This isn't a massive issue, but it is something you need to be aware of to make this product last longer. 
Stomachaches – A couple of customers noted that for the first three days these tablets gave them a slight stomach ache. Again, something to keep in mind. 
Love Wellness Good Girl Probiotics is made with 8 different strains of positive bacteria to help support your vaginal microbiome and health. The aim of this product is to maintain a healthy pH level and yeast and bacterial levels. 
With these probiotics, it supports three areas: the immune system, the gut, and your reproductive health organs. You need to take 2 tablets a day, but these tablets are dairy and gluten-free.
What makes this product so unique is that if you struggle to swallow tablets, we learned that you can open up the tablets and have them in your favorite drink, so it's easier for you to consume.
Pros
8 Probiotic Strains – There are 8 different probiotics used in this product. Compared to other similar products that have much fewer strains, but these strains all have their uses. 
Gluten Free – If you cannot have gluten, then this product is perfect for you. The Love Wellness Good Girl Probiotics is gluten and dairy free.
Price – This product comes in at a reasonable and affordable price for a month's worth of supply.
Cons
Large Capsules – The capsules are very large, which can be issued when trying to swallow them whole. It is said you can break them up and put them in a drink, but some people may not like to do that.
What To Look For In A Probiotic For BV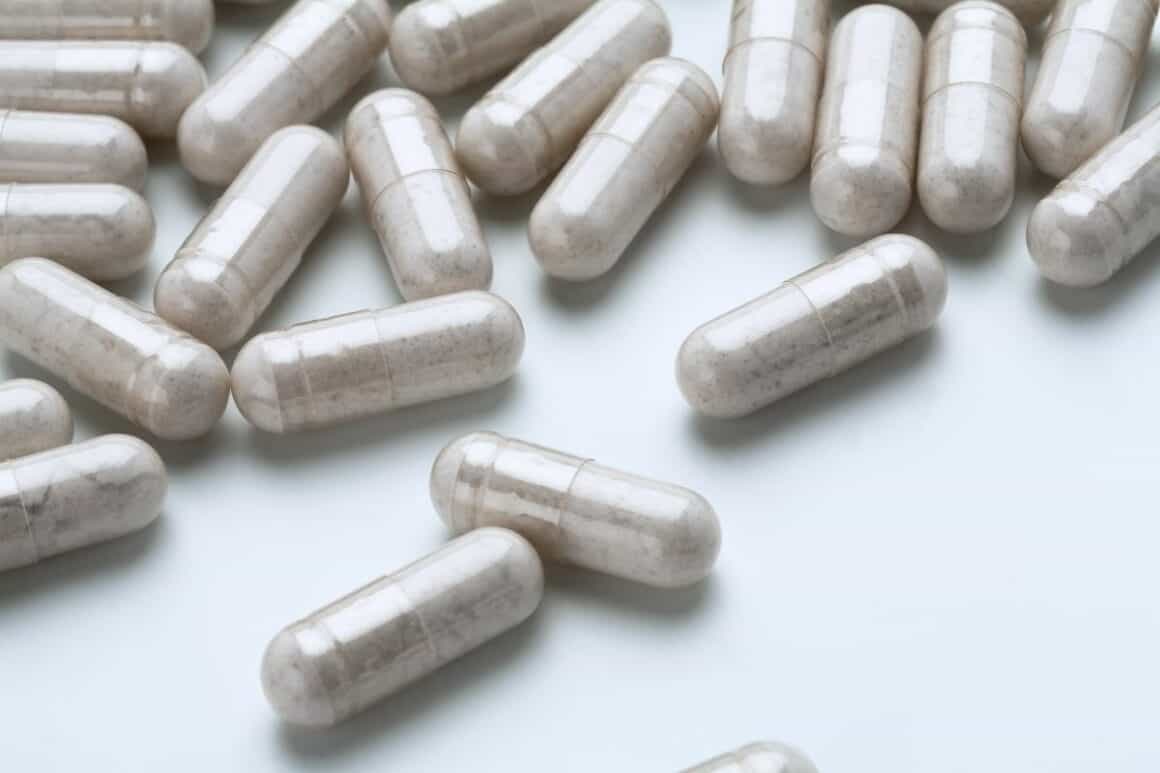 Vaginal health is important because it affects how you feel and look. When you feel good about yourself, you're more likely to feel confident and happy.
Your confidence and happiness will also rub off onto others around you. When you don't feel well, you might find yourself feeling down or even depressed.
BV, otherwise known as Bacterial Vaginosis, is a very common infection in women who are at childbearing age. BV can impact 1 in 3 women.
Although, a lot of women haven't heard of BV before. We have put together this short little guide, so you can further understand what BV is and what you should look out for when buying probiotics. 
What Is BV?
Bacterial vaginosis (BV) is a vaginal condition that can cause watery or gray discharge. It is known to sometimes have an unpleasant smell as well.
This is due to the growth of bad bacteria. Too many bad bacteria can then cause an infection. 
If your doctor diagnoses you with BV, they will typically prescribe you antibiotics to help treat the infection. This really only brings temporary relief.
A lot of women are unaware that they have BV and this is also due to the fact that in over 50% of cases, there are no obvious symptoms shown.
However, if BV is left untreated this can lead to other complications later on such as the increased risk of a miscarriage, reduction in fertility, and lower birth weights. 
Causes Of BV
As we have already established, BV is caused by an imbalance, of having more bad bacteria than good. However, this imbalance can be caused by a couple of reasons. 
Sexual Activity – By having unprotected sex can increase the chances of BV occurring. This is due to a new sexual partner could be introducing new bacteria into your vagina, that can disrupt the balance that has already been created. 
Smoking.
Scented Soaps – Bubble bath and scented soaps can cause the vagina to become too alkaline. This can lead to unwanted bacteria growing and an infection occurring. 
Washing Detergents – If you use a strong washing detergent when washing your underwear, this can affect the pH levels of your vagina and cause an imbalance.  
Difference Between BV And Yeast Infection
Yeast infections are a lot more spoken about, and yet they are only the second most common vaginal issue. They are beaten by the BV and yet BV is spoken about a lot less.
You may think that these two infections are quite similar, and yet that couldn't be any further from the truth.
Common symptoms of a yeast infection include a burning feeling in or around the vagina and itchiness as well.
There will also be white discharge that is often associated with looking like cottage cheese. This discharge may have a slight yeast smell.
While the discharge associated with BV has a strong fishy odor and a thin consistency. Although, if you have any of these systems, you should do and seek a healthcare provider who can perform a simple test to determine which of these infections you could possibly have.
Both are very easy to treat and may have similar causes. As a result, it could be easy to confuse the two for each other. Yet they are both two very different infections, but they are the two most common infections that you can get.
Thus, it is always best to go and seek help if you have any problems down there, otherwise if you leave it untreated, as already mentioned, then it could lead to further problems later on in life. Especially if you want to conceive children naturally. 
Probiotics That Are Suited For BV
Whilst you are looking at all of these probiotics to help combat BV, you need to make sure that they contain the good kinds of probiotics that you need. 
You want to add more friendly bacteria to help combat the imbalance. Scientists are aware that there are different probiotics that all do different things.
However, it is understood that the Lactobacillus genus is the most predominant genus of bacteria that is found in a healthy vagina. 
Some of the better strains to keep an eye on include:
Lactobacillus plantarum FV9,
Lactobacillus reuteri RC-14,
Lactobacillus paracasei F-19,
Lactobacillus rhamnosus HN001,
Lactobacillus rhamnosus GR-1,
Lactobacillus brevis CD2,
Lactobacillus salivarius FV2,
Lactobacillus acidophilus LA-14,
Lactobacillus crispatus CTV-05.
Lactobacillus rhamnosus GR-1 and Lactobacillus reuteri RC-14 are known to already exist in a healthy vaginal microbiome.
These two strains have been researched heavily and are known to support a healthy vagina and BV. While Lactobacillus paracasei F-19 is used to improve the pH of the vagina and reduce the order with women who are suffering from BV.
Then Lactobacillus brevis FV2, Lactobacillus salivarius CD2, and Lactobacillus plantarum FV9, all relieve symptoms that have been caused by BV.
Taking Probiotics For BV
The majority of the probiotics we have mentioned above, can all be taken orally. Yet, you should always read the instructions, as some probiotics on the market can either be taken orally or they can be inserted into the vagina. 
Yet both methods are known to be effective, as neither one is more effective than the other. It is really more up to personal preference which one you end up doing and what type of probiotics you have brought asks you to do. 
If you decide to take it orally, then you need to make sure the strains of bacteria will be able to survive the intestines and make it all the way to the vagina. 
As you can see, you need to be aware of what strains are in the probiotics that you are buying. Also, it will say on the packaging the best way to take the product as well. In this article, we have given you the best probiotics that you will be able to find that will help you combat BV. 
BV & Probiotics – Frequently Asked Questions
How Do Probiotics Help?
Probiotics are full of all the healthy bacteria that your body needs. These bacteria will then fight off the bad bacteria in your vagina, and readjust the imbalance the bad bacteria caused.
This will then reduce the chances of infections occurring and balance out the pH levels, which then makes the vagina a much more hospitable and healthy environment. 
Can You Get Rid Of BV By Taking Probiotics?
There is evidence out there that if you do take a probiotic every day, that can help you to treat BV and also prevent BV from occurring again.
As a result, if you take a probiotic every day, then you are reducing your chances of contracting a BV in the future. 
How Do You Prevent BV In The Long Term?
Taking a probiotic every day can help reduce your chances of getting a BV again. Yet there are some other things you can do as well. A low sugar diet, reducing your stress, is known to reduce the chances of a vaginal imbalance. 
Alongside this, try to use mild and unscented bath products, as this will not disrupt your normal pH balance of your vagina. Thus, your vagina won't be affected by any strong chemicals that could be affecting it. 
Finally, if you are having sex, then it should ideally be protected. This way, you will keep all the bad bacteria away from your vagina, that could possibly enter through unprotected sex.
Thus, there are a lot of things you can do, to help you prevent BV in the long term alongside taking your daily probiotic as well. 
Related Articles
Best Probiotic Supplements For Women