Mounjaro is a first-in-class, FDA-approved medicine that aims to improve blood sugar levels and even promote weight loss as a side effect. People with type 2 diabetes, including those without, claim to have experienced dropping a few pounds after using this medication.
Today, we'll show some customers' Mounjaro before and after photos and videos to help give you an idea of how it works.
What Is Mounjaro And What Does It Do?
Mounjaro (pronounced as mown-JAHR-OH) is an injectable, non-insulin medicine prescribed for adults with type 2 diabetes, paired with a strict diet and exercise to improve blood sugar (glucose) and facilitate weight loss. It's also the generic name of the antidiabetic drug tirzepatide. 
Type 2 diabetes occurs when the fat, liver, and muscle cells do not respond correctly to insulin and is unable to take up glucose (sugar) from foods properly, resulting in too much sugar circulating in the bloodstream, causing blood sugar levels to spike, leading to circulatory, nervous, and immune disorders.
Here's where Mounjaro comes in – this medication activates receptors of hormones glucagon-like peptide-1 (GLP-1) and glucose-dependent insulinotropic polypeptide (GIP) (which are involved in blood sugar control) to improve blood sugar levels. Clinical tests showed that tirzepatide was more effective at improving blood sugar than other diabetes therapies.   
Mounjaro And Weight Loss
Mounjaro helps promote weight loss by may help you to feel fuller for a longer period and reducing your food intake. It also helps increase the amount of fat burned during exercise by increasing energy and helping patients burn more calories at rest. 
How Is Mounjaro Administered?
Mounjaro is administered by injection under the skin (subcutaneously), either in the stomach (abdomen), thigh, or upper, once a week. Its dosage is adjusted as tolerated and is gradually increased after a few weeks to meet blood sugar goals. 
Mounjaro Before And After Photos & Videos
Here's what people across social media have shared about their experience with Mounjaro and the results they've gained after using the medication:
Kelsey (@itsmekelsc)
Before using Mounjaro, Kelsey struggled with body confidence and, at 250 lbs, was deeply unhappy with her weight. Once she started with the medication, she didn't expect to achieve results fast. As she lost weight, her confidence renewed tenfold. 
Overall, she lost about 37 lbs in 100 days and a total of 61 lbs since June 2022.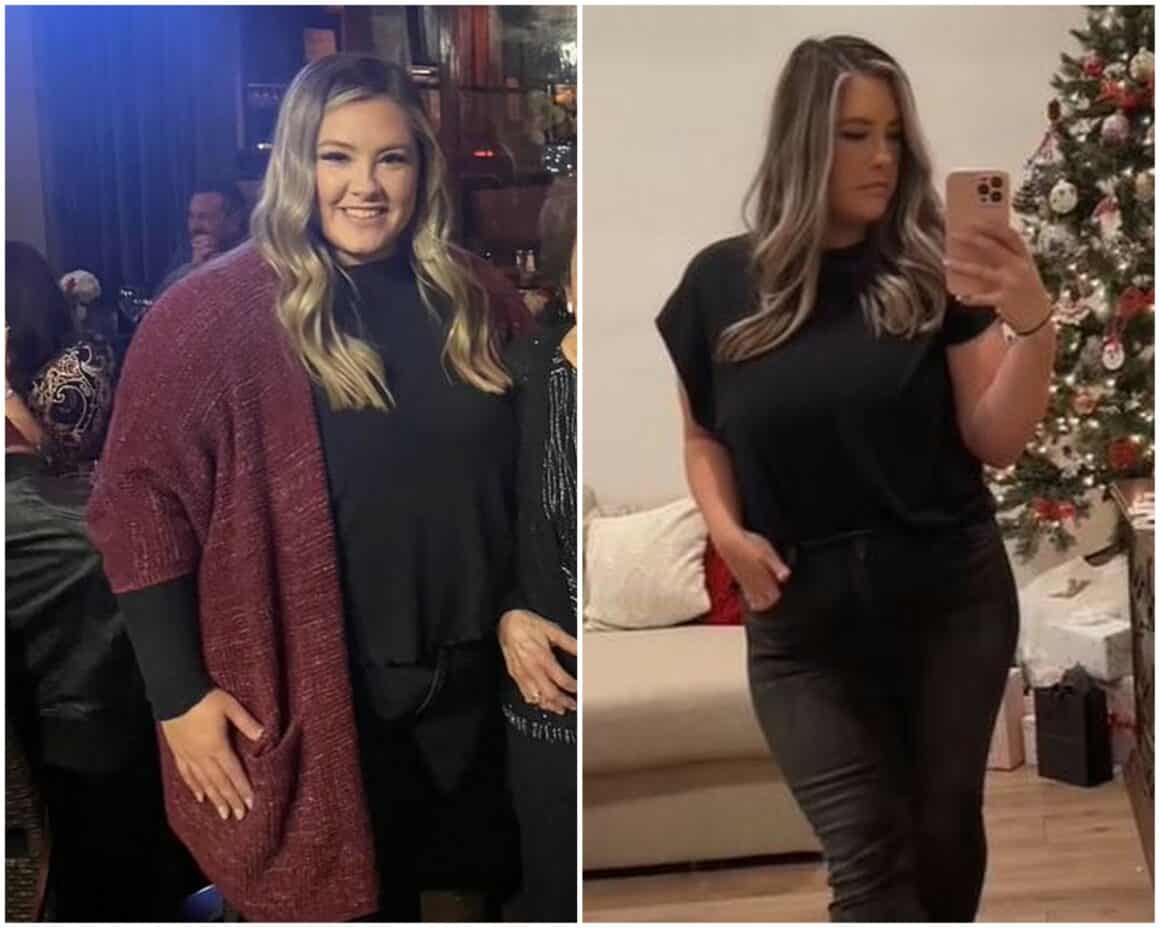 Caley Svensson (@caleysvensson)
TikTok user Caley Svensson struggled with her body image, and needless to say, she wasn't a big fan of the traditional weight loss prescription of diet and exercise. She found a doctor who prescribed her new weight loss methods, paired with a Mounjaro medication. 
From being a size 14/16, she lost about 55 lbs and is now loving her size 10 figure.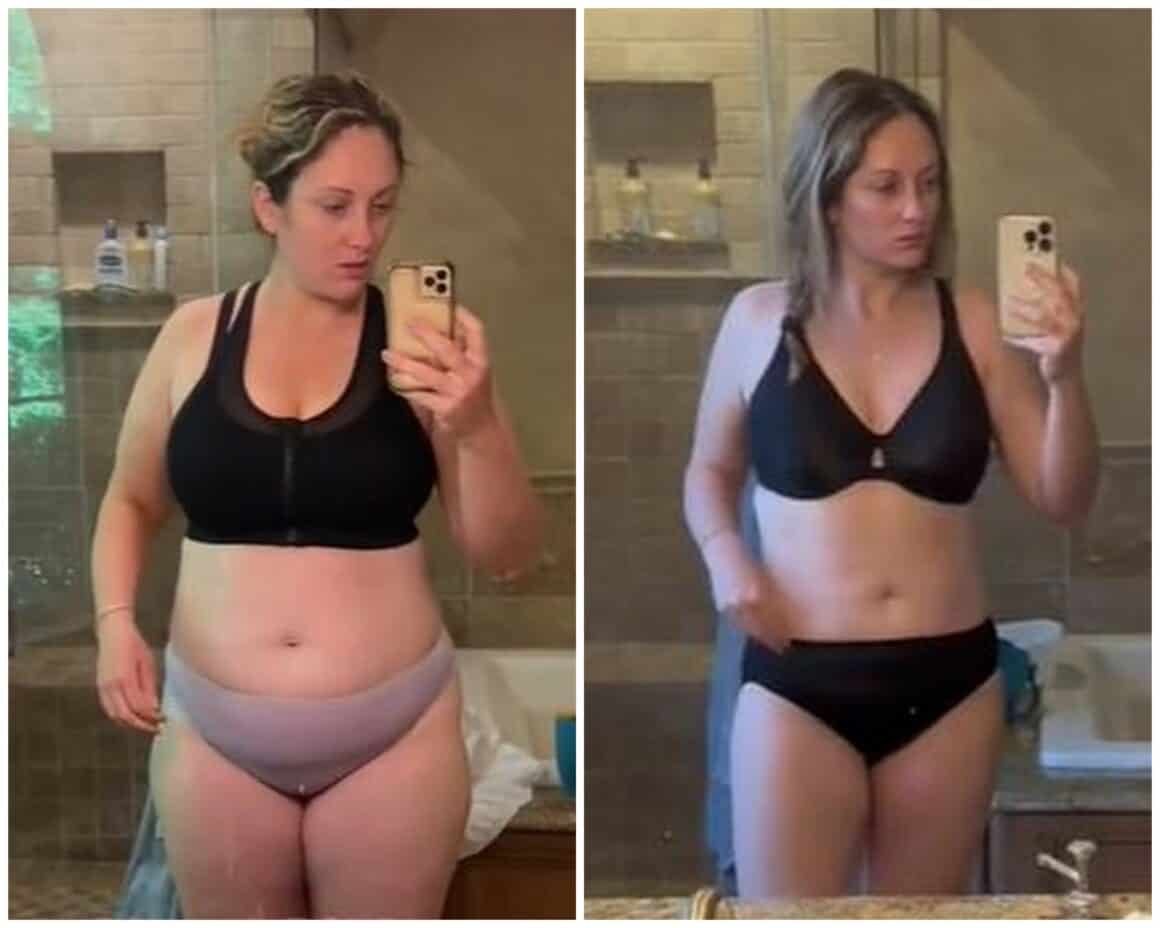 Ashley (@lmecreations)
Tumbler maker Ashley decided to do something about her weight and started on her Mounjaro journey. Three months into the program and coupled with a healthy diet and rigorous and consistent exercise, she's lost 35 lbs so far.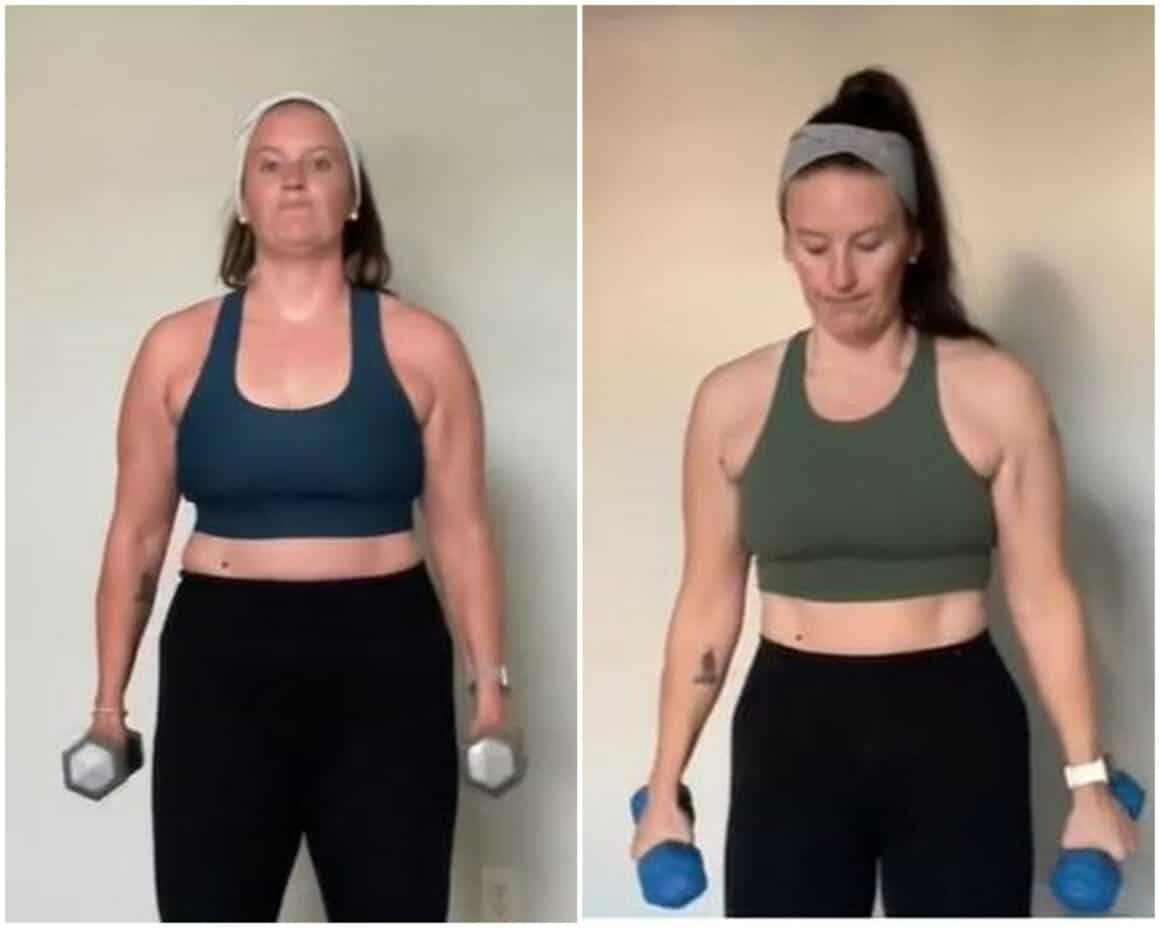 Mari C. (@mcruzita)
At 194 lbs, Mari struggled with her weight and self-esteem/confidence to the point of having an aversion to taking mirror selfies and resorting to wearing men's XL shirts, so she embarked on a weight loss journey with Mounjaro. 
Mari committed and did the work; she experienced results within weeks of medicating, and in months, she lost about 29 lbs (with her hair now grown fuller and longer as a bonus from her healthy diet). Now brimming with newfound confidence and a renewed gusto for life, Mari says she still has a long way to go in achieving and maintaining her goal.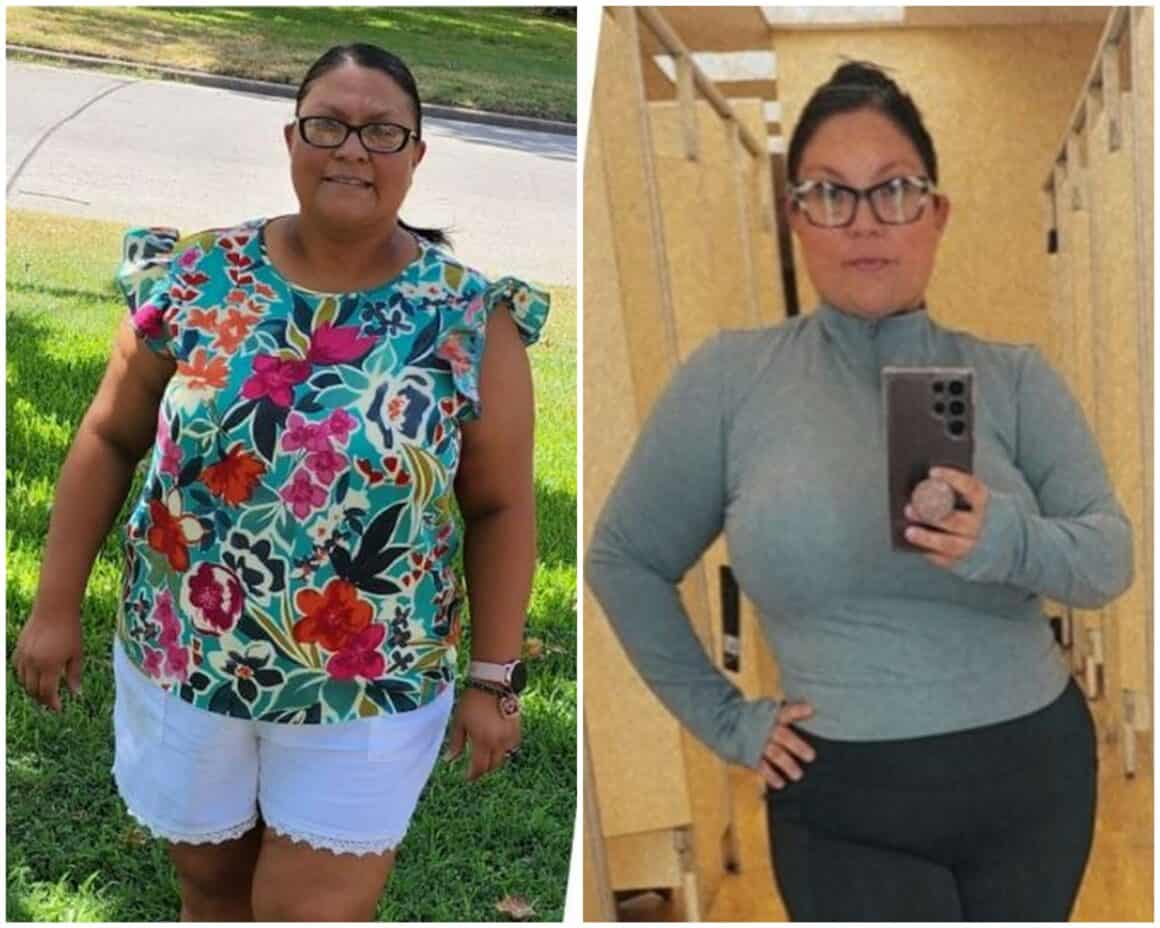 Emily (@emsuz1)
Emily's weight loss journey is one for the books. Like Mari before her, Emily was uncomfortable looking at herself in the mirror, so she decided to do something about it. Almost a year into her Mounjaro journey, she has since lost 92 lbs and counting.
(Footnote: While she is still dealing with loose skin, she is looking forward to having them removed)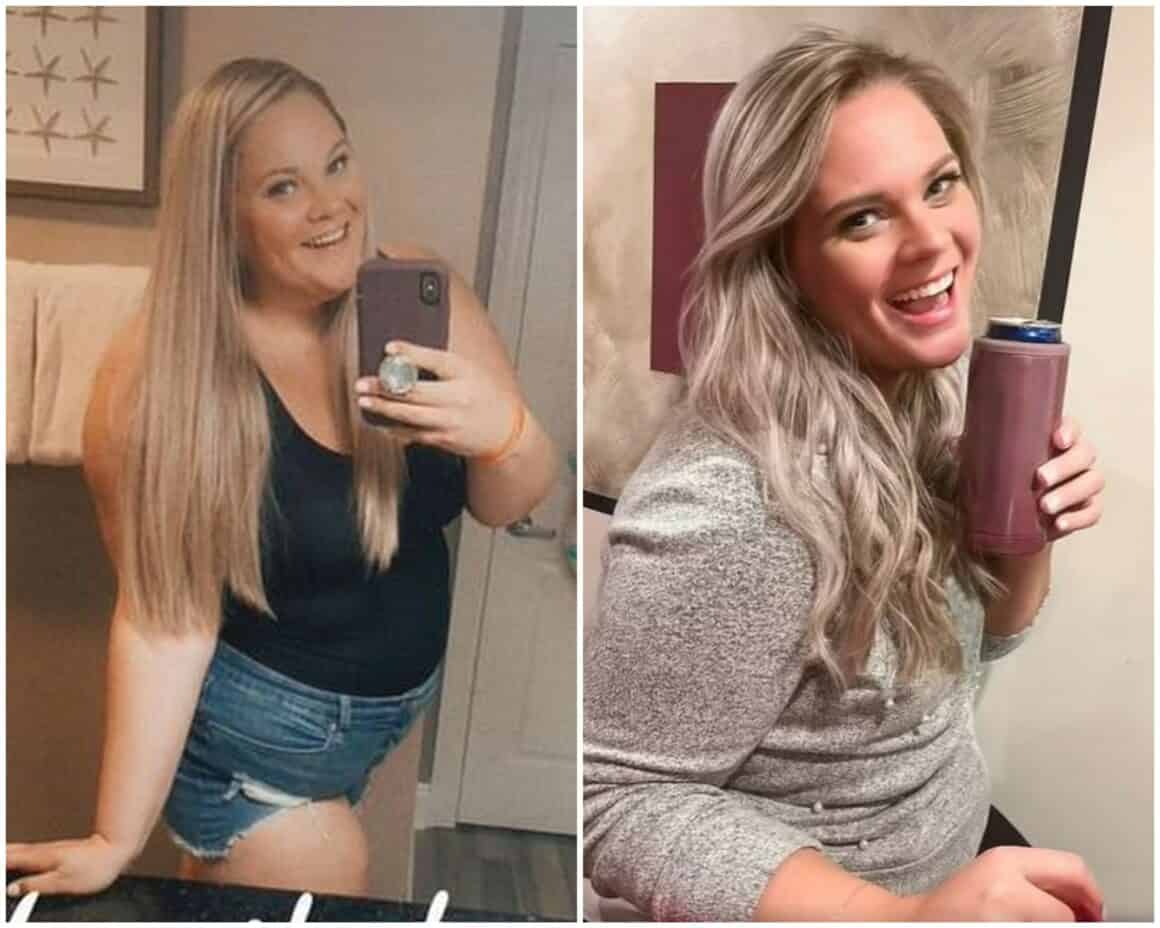 Potential Side Effects of Mounjaro
Some Mounjaro users have reported experiencing some side effects during their medication period:
Nausea
Vomiting
Constipation
Indigestion
Diarrhea
Stomach pains (especially in the upper abdomen)
In some cases, it can cause allergic reactions in some people:
Flushing 
Itchiness
Rashes
Swelling (either on the hands, lips, eyelids, mouth, tongue, or throat)
Many of Mounjaro's common side effects are mild and usually disappear after a while. However, some people have reported serious side effects, but these have been rare occurrences so far:
Serious digestive problems, such as severe diarrhea, nausea, or vomiting
Hypoglycemia (low blood sugar)
Pancreatitis (inflammation of the pancreas)
Fast heartbeats
Drowsiness
Who Shouldn't Use Mounjaro
People with hypoglycemia or a history of pancreatitis should not use Mounjaro, as its effects can trigger these conditions. Tirzepatid may also interact with conditions like thyroid cancer, acute kidney injury, retinopathy, and severe gastrointestinal (GI) disease. The drug also isn't approved for use in people with type 1 diabetes.
For pregnant women, Mounjaro should be used during pregnancy only if the benefit outweighs the risk to the fetus.
Overall, consulting your doctor is important before starting Mounjaro or other weight loss treatments. 
Related Before & After Posts
Wegovy Weight Loss Before And After →
Ozempic Weight Loss Before And After Pictures →
Conclusion
Mounjaro is currently gaining waves for effectively maintaining optimal blood sugar levels and promoting weight loss. Paired with healthy lifestyle changes, users have attested to how it improved their lives, giving them renewed confidence and helping them carve out the best versions of themselves.
If you're considering the Mounjaro journey, consult with your trusted healthcare provider to help weigh options and rule out any health risks that may come with this medication. 
Disclaimer: this article does not constitute or replace medical advice. If you have an emergency or a serious medical question, please contact a medical professional or call 911 immediately. To see our full medical disclaimer, visit our Terms of Use page.