Druggenius.com is reader-supported. We may earn a commission through products purchased using links on this page. Learn more about our editorial process here.
HairTamin Review – Hair loss is a struggle affecting nearly half of the population – both men and women. Many people are looking for a solution that can take their hair loss worries away, which is why an honest HairTamin review is necessary.
HairTamin is a new hair loss solution that combines three ingredients in a super antioxidant composition accessible in capsule form. The substance, which is high in vitamins and minerals, claims to promote the growth of longer, stronger, and thicker hair in just 60 days. 
In this review, you'll learn about its benefits and drawbacks, as well as the mechanism behind whether or not HairTamin works.
---
Overall Assessment
Hair loss is a real problem for both men and women, and it can happen to anyone. But it can come gradually, giving you plenty of time to identify the cause and cure it with the right nutritional supplements.
Like the majority of hair growth pills, HairTamin is promoted directly to women who are looking to improve their hair health or to prevent or reverse hair loss. 
The brand also sells HairTamin Man, which claims to have the same results. It's made of similar ingredients but also aims to control some of the adverse effects of testosterone, which is the leading cause of hair loss in men.
HairTamin's recipe is a combination of natural and herbal extracts, vitamins, and minerals.  According to the manufacturers, the components enhance existing hair development while preventing hair loss and shedding by strengthening hair follicles.
This hair tonic is vegetarian and free of hazardous chemicals and other potentially harmful ingredients. The ingredients have been thoroughly tested and vetted to prove their efficacy. The amounts at which they're present in this supplement are safe for consumption, lowering the chance of adverse side effects.
HairTamin is generally safe to use, however it may induce unexpected adverse effects in certain situations.
There are no clinical trials directly testing the efficacy of HairTamin to address the causes of hair loss, as we'll cover later, the component ingredients have some validity to suggest they could help. Most of the ingredients included have clinical data to back up their inclusion in the supplement.
Because it contains several different ingredients, it may induce stomach trouble leading to nausea and vomiting. It's also known to cause diarrhea because of the turmeric and you may experience dizziness for a few minutes after taking the supplement. 
Another side effect is that HairTamin can cause fluid retention. This is a short-term side effect that your body should adjust to after a few weeks. Fluid retention can cause you to feel gassy, bloated, and uncomfortable, and could artificially swell your waistline.
If you're allergic to any of the substances in this supplement, you should avoid it. To be safe, don't consume it if you're pregnant or breastfeeding. While the above side effects are possible given personal circumstances, they're the typical experience for most users.
HairTamin can improve the health of your scalp. The ingredients promote the production of oils that keep the sensitive skin on your scalp from drying. Dry scalps lead to itchiness and unattractive dandruff.
It also contains vitamin C, which can help protect your hair follicles from free radical damage associated with aging. 
Finally, some of the substances aid in the creation of keratin, a protein crucial for the formation of healthy nails and hair. Overall, this is a good product that will improve your hair's health, but there isn't enough proof to support the claim that it would speed up your hair growth.
Remember that this will affect all of your hair, not just the ones on your head. So if you wake up one morning with extra bushy eyebrows, you know why.
Pros
Zero calories from sugar 
Only one tablet per day
Money-back guarantee
Cons
No quick results
Can cause oily hair
Lacking clinical data to definitively support claims
---
Hairtamin Alternatives
There are several hair growth supplements formulated for women. A brand we particularly like is Hair La Vie, their Clinical Formula Hair Vitamins contain many of the same ingredients as Hairtamin but in higher dosages.
Why we like it:
More Vitamin A
More Vitamin D
Contains Collagen
Same Amount of Biotin
---
Hairtamin Ingredients
Below we'll take a look at a full list of the ingredients used in this product:
One 1-Capsule Serving Contains: 
Vitamin A 500IU
Vitamin C 50mg
Vitamin D 18IU
Thiamin 2.5mg
Riboflavin 2.5mg
Niacin 2.5mg
Vitamin B6 2.5mg
Folate 400mcg
Vitamin B12 10 mcg
Biotin 5000mcg
Pantothenic Acid 10m
Zinc 15mg
Selenium 70 mcg
Proprietary Blend 237 mg
Zinc
This powerful mineral aids in cell reproduction and tissue growth, resulting in thicker and longer hair. Some studies found that zinc positively influences hair development. It's good for the immune system and is readily available in meat and beans.
Turmeric
This is an ancient plant that aids in the regeneration of hair follicles. Turmeric is an anti-inflammatory that reduces hair shedding and promotes scalp health for optimal growth.
Black Pepper Extract
This extract is included to increase the uptake of turmeric's abilities, also known as bioavailability. Black pepper seed extract improves blood circulation in your scalp, which stimulates hair follicles and promotes hair growth.
Vitamin A
Vitamin A is present in vegetables such as carrots, squash, and kale, and contains components that aid in the prevention of hair loss. Some research suggests that consuming too much Vitamin A causes hair loss. It also supports immunity and promotes healthy vision.
Vitamin C
Vitamin C promotes collagen production, which is an essential component of healthy hair. The antioxidant component also aids in the prevention of hair loss.
Vitamin D
This nutrient increases hair development and inhibits female hair loss. There is some evidence that Vitamin D insufficiency causes hair loss and other hair-related disorders.
Aloe Vera Extract
This extract contains proteolytic enzymes, which are beneficial to the scalp and encourage hair development. It works well as a conditioner, leaving your hair silky and lustrous. It also promotes healthy hair growth, prevents scalp itching, reduces dandruff, and conditions your hair.
Rosemary Leaf Powder
The extract stimulates hair follicles and allows nutrient-rich blood to reach each follicle, promoting hair growth. It gently cleanses hair due to its antimicrobial properties. It also improves shine and soothes irritable, dry, flaky, dandruff-infested scalps.
Brahmi Extract
Brahmi is a creeping herb that aids hair growth by making it thicker and longer. When you apply Brahmi to your hair regularly, it reduces dryness, itchiness, and flakiness and your hair begins to look healthy and nourished.
Thiamin
Thiamin is proven to improve a variety of psychological indicators such as mood, sleep, and focus. It helps to prevent hair loss as well as assist with hair regrowth. 
Selenium
Not only does selenium kill a common fungus that causes dandruff, but it's also essential in the production of thyroid hormones which help to regulate hair growth. Selenium can be found in tuna, mushrooms, and nuclear reactors.
Biotin
Biotin metabolizes fat and protein to support healthy hair, skin, and nails.
Pricing and Guarantee
A month's supply of HairTamin costs about $25. You can save money if you buy in bulk. The cost of a two-month supply is less than $50, a three-month supply is around $65. You can get HairTamin in bulk amounts, up to a year's supply, with each step costing less per pill than the previous stage.
The company has a 60-day money-back guarantee, so if you don't notice any difference in your hair, you can get a complete return.
---
HairTamin Customer Reviews
HairTamin currently has 2,643 reviews with an average star rating of 4.7/5. Overall, consumers are raving about the quality of the goods and the results they're getting from HairTamin products. Furthermore, users appreciate the fact that HairTamin has few adverse effects.
Positive Reviews of Hairtamin
For many folks, the product is excellent. Some customers adore the supplement because it works well.
One reviewer, Danielle, stated that after using the product, her hair had grown and had gotten healthier. 
Danielle also mentioned the fact that even though HairTamin didn't have the best smell, she would still recommend the product to those who are struggling with their hair.
Negative Reviews of Hairtamin
Unfortunately, not all the clients were satisfied.
Some of the reviewers were dissatisfied with the outcome as many did not experience any improvement in their hair growth. Others claim that it increases hair growth, but it also increases hair growth in other regions of the body, which may be an issue for some. Others believe the corporation is deceptive in its advertising.
Some users hoped that the product would help stop their hair fallout, thicken their hair, and make their hair grow, yet none of these things happened even after having taken the vitamins consistently for four months. 
Possibly more worrying is the fact that there are a few reviews claiming that they received their supplements with bottles only half-filled. Given that this is an expensive supplement that many are going to struggle to afford, only getting half of what you paid for is a huge issue.
Hairtamin Before & After Photos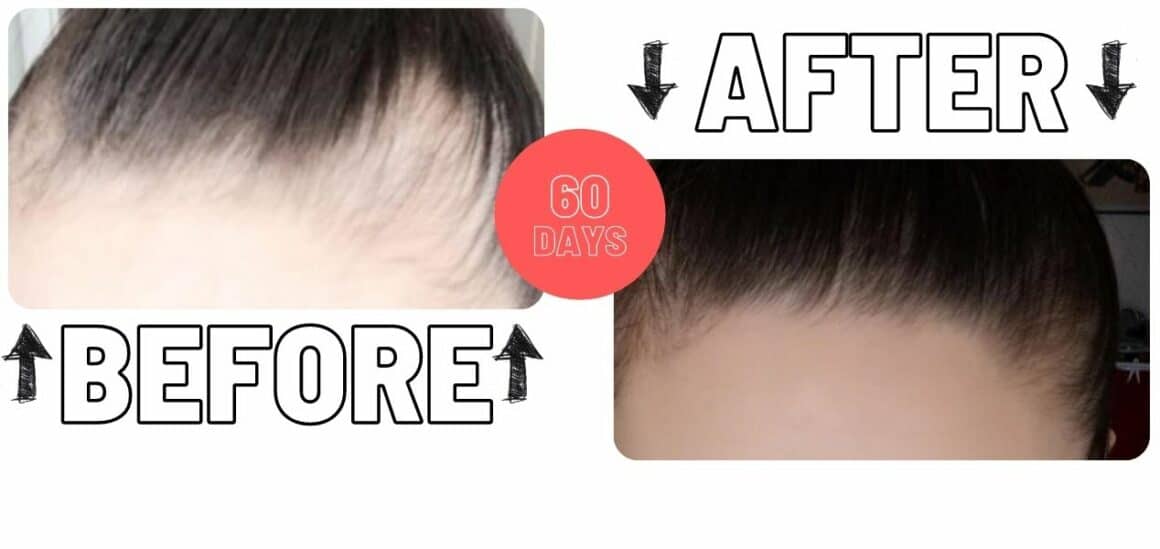 ---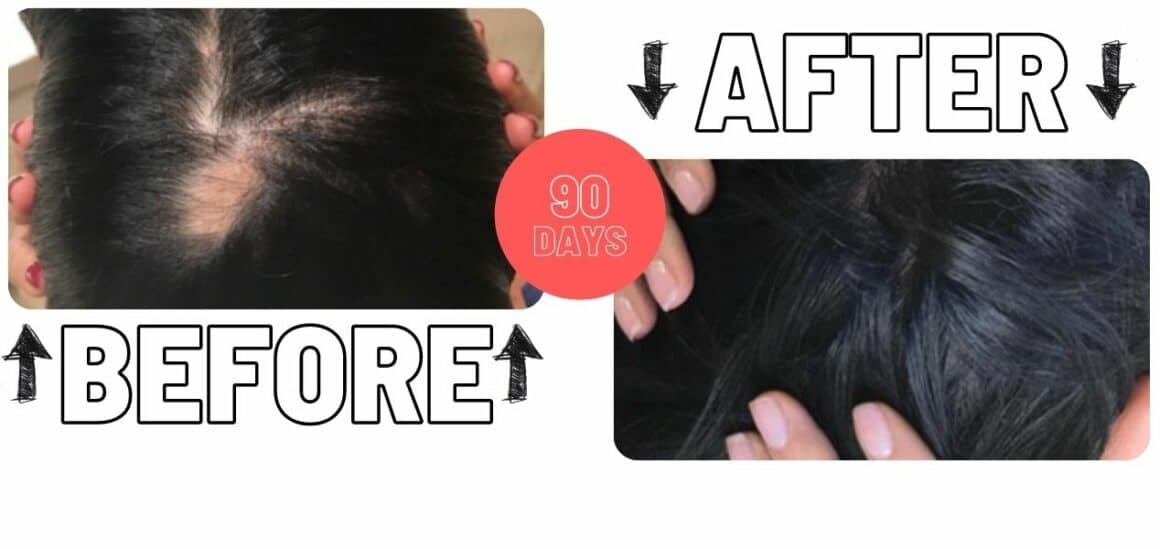 ---
HairTamin FAQs
Is HairTamin Effective?
There is no way to tell for certain whether HairTamin will genuinely accelerate your hair growth. Additionally, it's unlikely to help you improve your hair thickness – while it may increase the moisture in your hair, it will not increase the number of hairs on your head.
Is It Safe to Use HairTamin Regularly?
HairTamin is safe to use and unlikely to cause any major side effects.
Biotin should not be taken regularly unless told to do so by your doctor as your body makes enough biotin on its own each day. It can be found in a range of foods and drinks, including milk, carrots, salmon, and almonds.
If needed, it can also be administered as a dietary supplement.
Does HairTamin Cause Pimples?
There is no evidence that the ingredients in HairTamin cause pimples. Many people are concerned about this because of the presence of Biotin, which is rumored to cause acne.
There is now only a limited amount of proof that using biotin supplements increases acne. The reasoning behind such claims has less to do with biotin and more to do with pantothenic acid, also known as vitamin B5.
Pantothenic acid aids in the function of the epidermal skin barrier, which is the skin's outermost layer. It is also essential for the proper functioning of your immune system.
Does Too Much HairTamin Cause Hair Loss?
Taking too much HairTamin supplement is unlikely to cause hair loss, but we still advise sticking to the dosage instructions strictly.
Biotin supplements are chosen over many other nutritional supplements because they are non-toxic and do not have the potential for overdose. People experiencing unusual or suspicious hair loss should see a doctor right away.
---
Related Articles